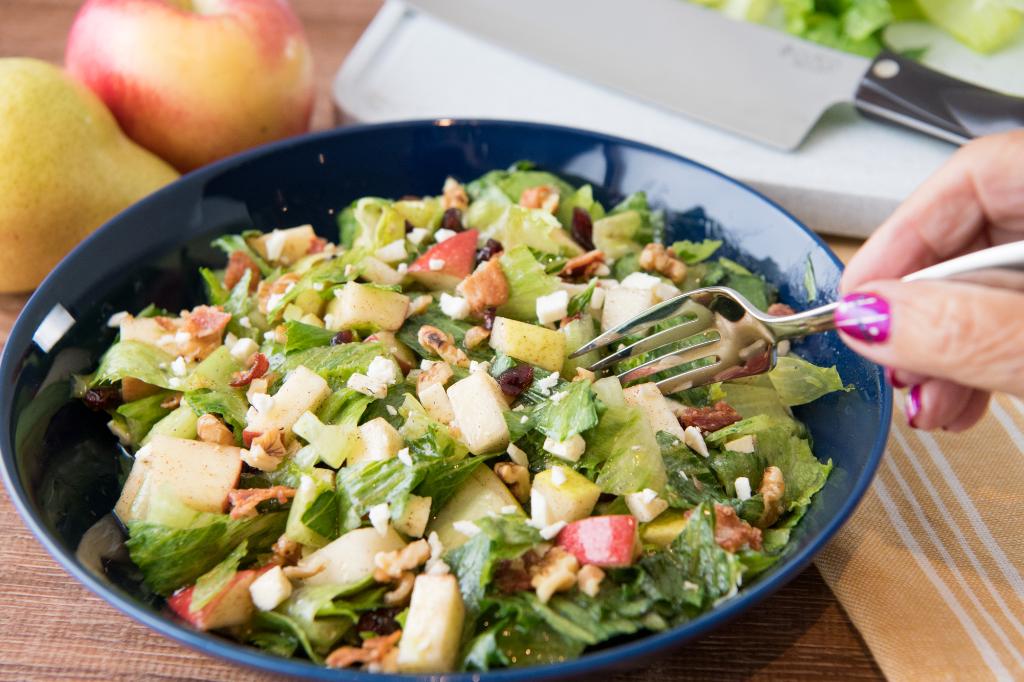 Does fall make you think about crisp apples, juicy pears and cranberries? We usually think about eating them right out of hand or using them in pies, crisps and breads. How about spices like cinnamon, ginger, cloves and nutmeg? Again, we usually use them in cooking and baking. But how about using these ingredients and then some in a salad?
This Fall Fruit Chopped Salad combines a variety of flavors that play well together. Use the Vegetable Knife to chop through the thick ribs of the Romaine and toss them into a large bowl.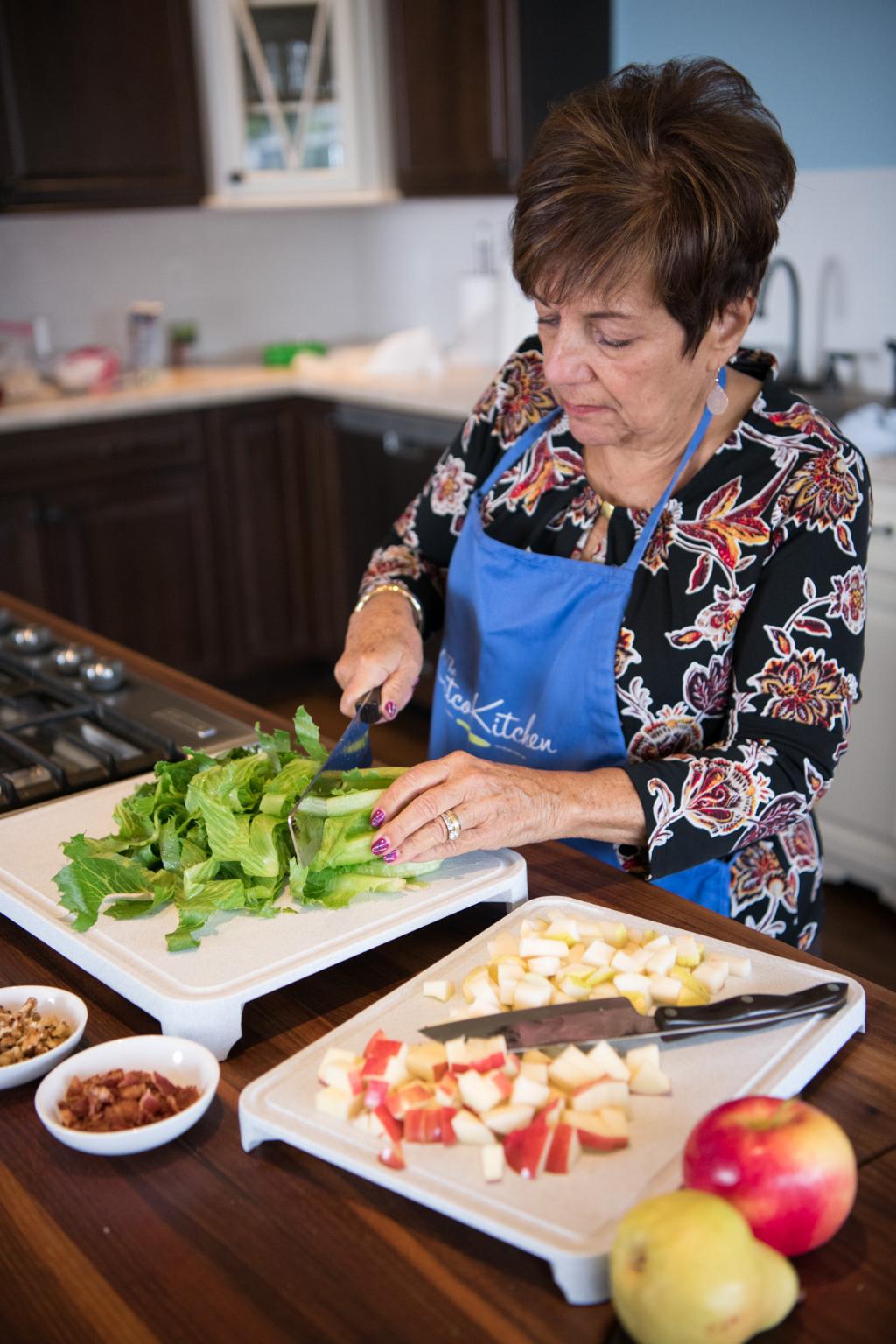 Chop the fruit, nuts and bacon with the 5" Petite Santoku and add them to the bowl. The Traditional Cheese Knife with its Micro Double-D® edge can easily slice through whatever cheese you decide to use. Finally, use the Mix-Stir to whisk the ingredients for the dressing.
I think the dressing "makes" this salad. The cinnamon is like a secret ingredient. People taste it but they're not quite sure what it is. When I told everyone they would be eating a salad, there were a few turned up noses since they all go for heartier fare. Once they tasted it, there were a lot of, "this is so good."
As a side-bar, make sure you watch the nuts closely while toasting them. I decided to toast mine on the stove. My first attempt ended with tossing the nuts in the garbage as they went from being slightly toasted to burned in a matter of seconds. I think the next time I make this, I'll try toasting them in the oven and see if that goes better for me.
However, I think this salad is definitely a keeper. I hope you do too.
Ingredients
Salad
1/4 cup walnuts or pecans, toasted and chopped
6 cups romaine lettuce, chopped into bite-size pieces
3 slices center-cut bacon, cooked and chopped into small pieces
1 pear, chopped
1 apple, chopped
1/4 cup dried cranberries
1/4 cup crumbled feta, blue or Gorgonzola cheese plus more for sprinkling, if desired
Honey-Cinnamon Dressing
1 cup extra virgin olive oil
1/3 cup apple cider vinegar
3 tablespoons honey
1 teaspoon cinnamon
1 teaspoon salt
Pepper to taste
Directions
To toast nuts: Heat a frying pan over medium-high heat. Add walnuts in a single layer. Cook, stirring frequently until walnuts start to brown and smell toasted (about 5 minutes). Transfer to a plate in a single layer to cool, then chop.
Alternate method: Preheat the oven to 350 F. Place nuts in a single layer in an ungreased shallow pan or rimmed baking sheet such as a cookie sheet. Bake 5 to 10 minutes or until they are golden brown. Remove from pan to cool, then chop.
Easy way to cook a few slices of bacon: Take the bacon from the fridge 15 to 20 minutes before cooking. At room temperature, bacon just cooks up better. Lay out the bacon strips without overlapping in a cold pan. This helps the fat render slowly, for consistently cooked strips. Cook over medium heat — again, good for even rendering. Turn the strips as needed until they reach the desired crispness, 8 to 12 minutes. Drain well on a paper-towel-lined platter.
Whisk all dressing ingredients together.
Combine all salad ingredients in a large bowl. Drizzle with dressing. Toss well and serve immediately.
[Optional] If desired, top individual servings with additional cheese.
Recommended Tools