Easy Tomato Salad with Capers and Feta Cheese
Featured 37 days ago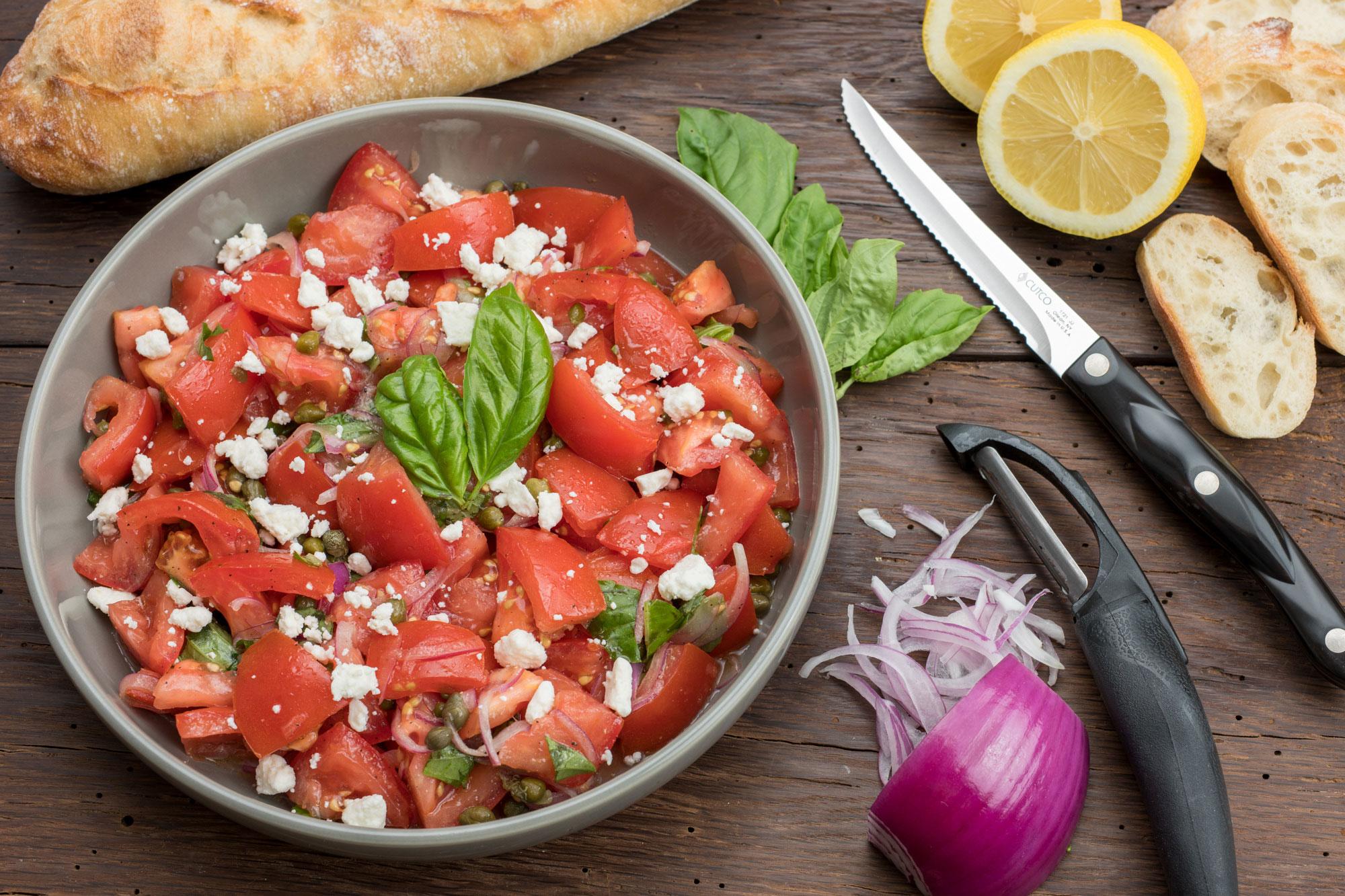 If you're like me, when it comes to cooking, the easier the better. After graduating high school, it seemed like life got busier. It wasn't until my second year of college when I finally started experimenting with cooking after, of course, gaining the freshman fifteen. I decided that fast food was no longer going to be a part of my lifestyle. This Easy Tomato Salad is everything I would've looked for that second year of college.
There seems to always be an abundance of tomatoes at my house and I needed to find a way to use them. I'm not a huge tomato fan, but I was willing to try mixing in other ingredients to see what I could make. The juice from the tomatoes mixed with the lemon juice, olive oil, salt, pepper and garlic powder makes the perfect combination. I recommend letting it sit for about 30 minutes. It tastes even better if you can make it a day before serving it and let it sit overnight. Surprisingly for me, the capers didn't make the salad too salty, but added just the right amount of saltiness that I was looking for.
The best thing about this salad is that all I used to make it was my Trimmer, Vegetable Peeler, and a cutting board. The Trimmer is always my go-to knife, and perfectly slices through the tomato without squishing it, giving me the perfect dice.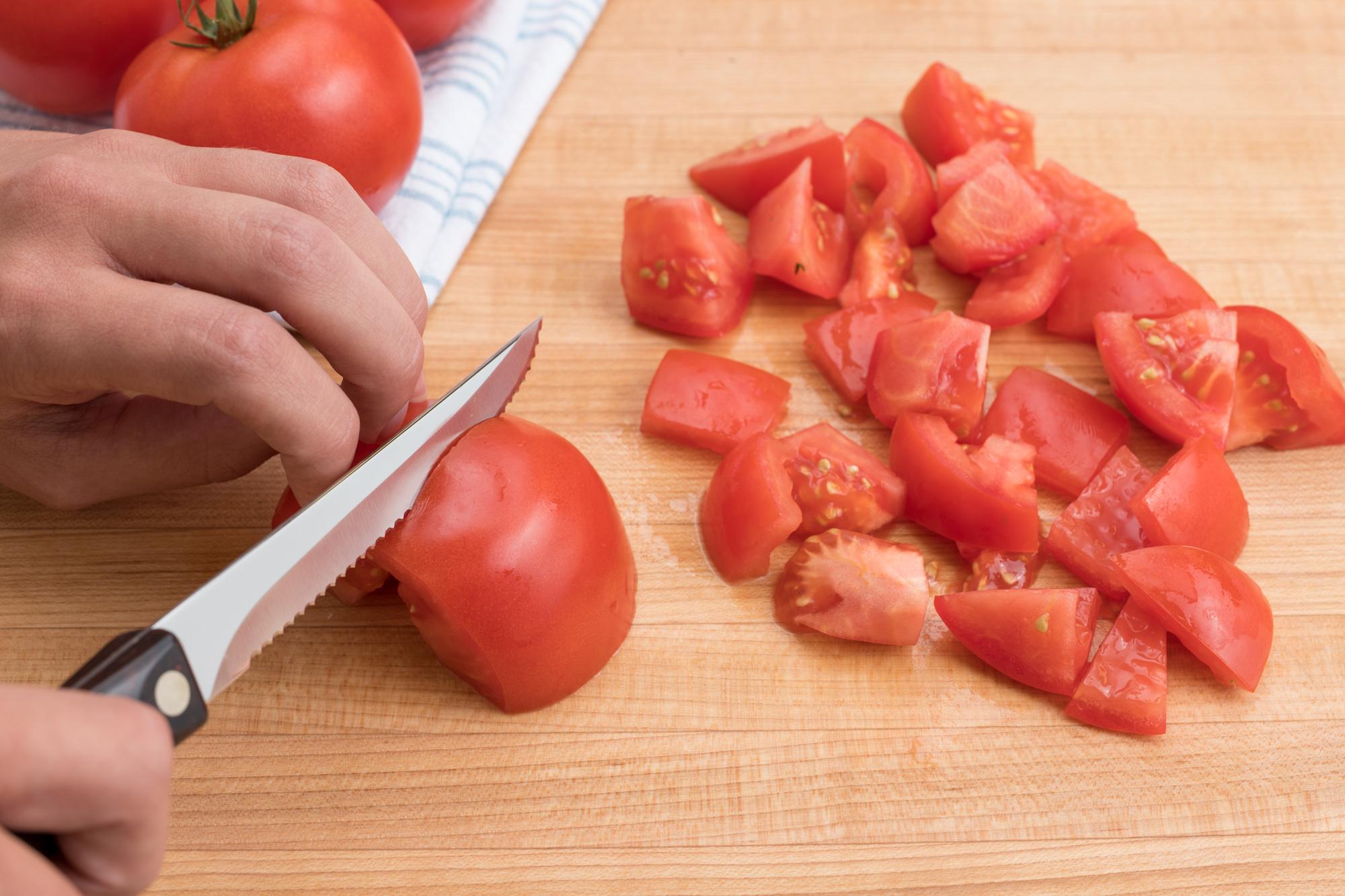 Since I wanted to serve this as a side salad, I went with a larger dice on the tomatoes. You can serve this as a "salsa" with pita chips by cutting the tomatoes even smaller. It would also be tasty served over rice, pasta or chicken. My favorite part of this dish was dipping crusty bread in the juices. Just fabulous. Be careful, you may end up eating the whole loaf.
For the onion, a little trick I learned was to use my Vegetable Peeler to slice it, giving me perfectly thin slices. I am always looking for little tips and tricks to make the job easier, and this in particular is one I plan to use in the future.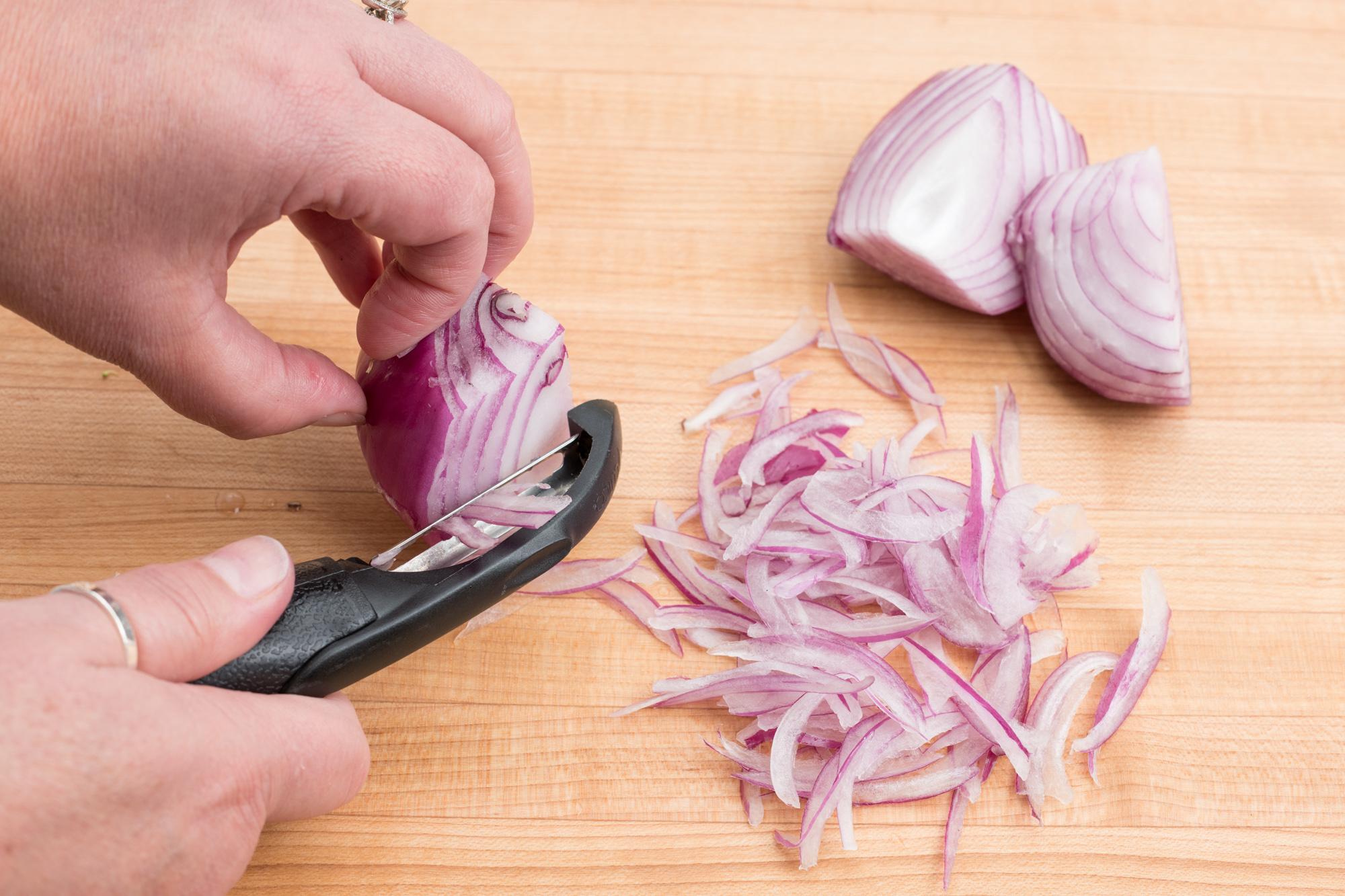 This tomato salad is the perfect make-ahead dish that can be served in many different ways, and it also tastes great. It takes no time to put together, and an extra bonus is that clean-up is a snap. I hope you enjoy this salad as much as I did!
Originally published Sept. 27, 2019.
Ingredients
2 pounds medium-size tomatoes, large dice (about 6 cups)
8-10 fresh basil leaves, torn
3/4 cup thinly sliced red onions
1/2 cup capers, drained
1/2 teaspoon garlic powder
1/4 cup extra-virgin olive oil
1 lemon, juiced (about 1/4 cup)
3/4 teaspoon fine sea salt
3/4 teaspoon black pepper
1/2 cup feta cheese (optional)
Small baguette (optional), for dipping
Directions
In a large bowl, gently mix together the tomatoes, basil, red onion, capers and garlic powder.
Drizzle the olive oil and lemon juice over the tomato mixture and sprinkle the sea salt and pepper over the mixture.
Lightly toss to coat and taste, add more salt, pepper or garlic powder if needed. Add the feta cheese and mix gently.
Let the salad sit for 30 minutes for the flavors to blend.
Serve or refrigerate for up to 2 days. Serve with a baguette for dipping.
Recommended Tools