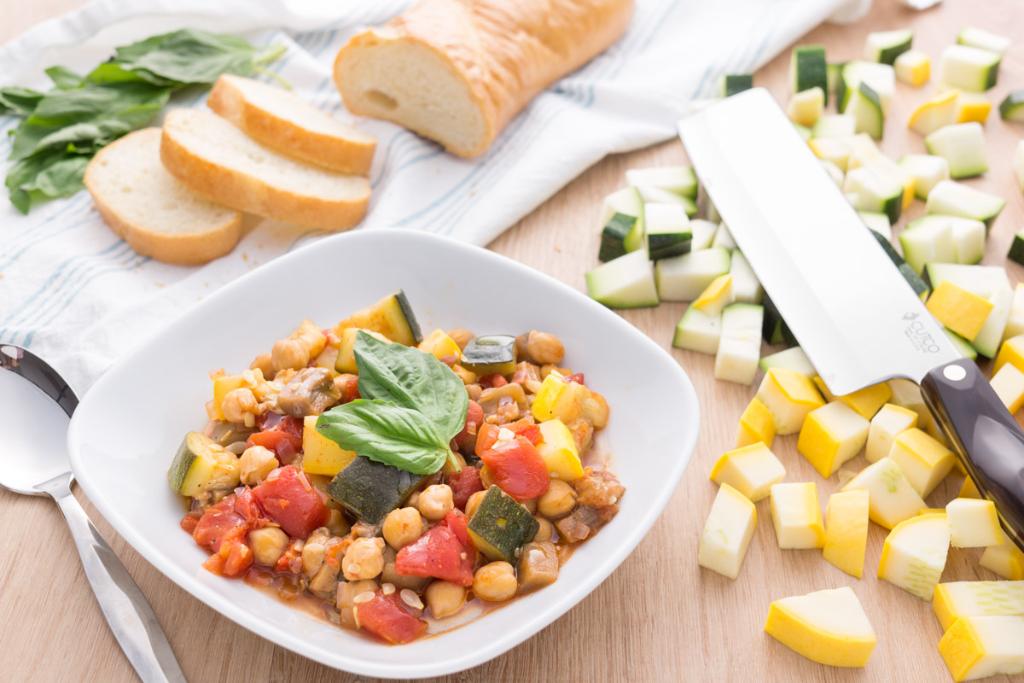 Ratatouille is a hearty French vegetable stew made with colorful Mediterranean vegetables like zucchini, yellow squash, bell pepper, eggplant and onions, simmered in a base of diced tomatoes.
It's the perfect dish to make when you have an abundance of extra vegetables in your garden. You can use a good portion of them in this meatless, but hardy dish. It tastes wonderful when first made but even better the next day when all the flavors have a chance to marry.
As usual, Cutco makes prepping easier and quicker with its accessories and knives. The Vegetable Peeler removes the skin from the eggplant with little effort.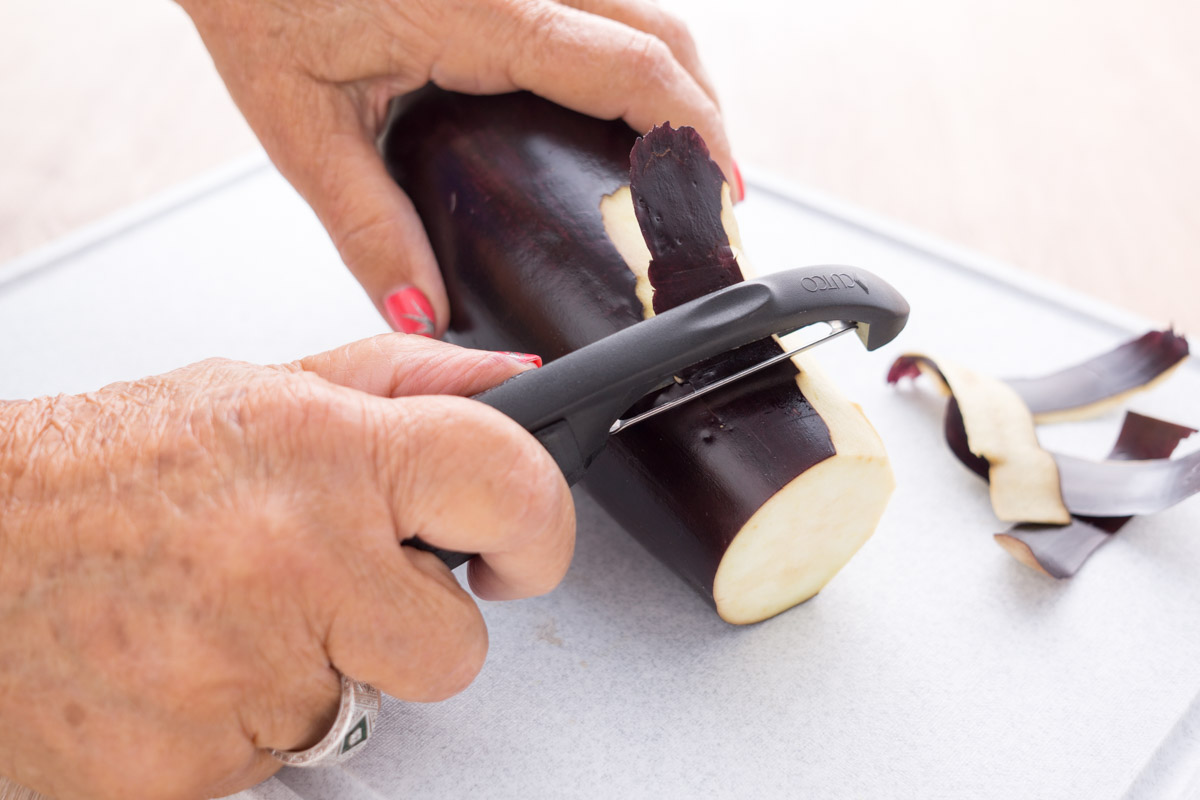 The Vegetable Knife is the knife to use for the vegetable prep. Use it to chop, slice and dice all the vegetables. Its wide blade is perfect for scooping up the ingredients from the cutting board and moving them to the pan.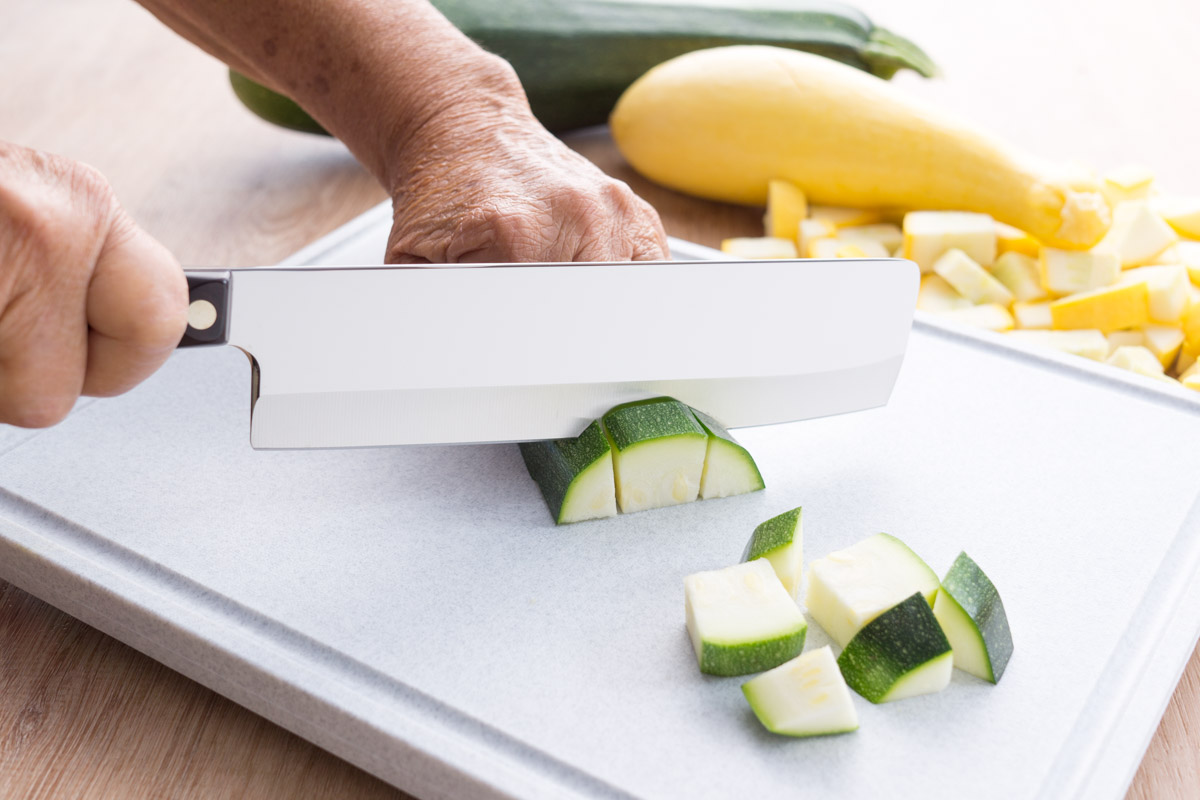 The chickpeas add protein and fiber making it a filling as well as a healthy dish. While delicious on its own, it can also be served over rice, couscous or risotto.
Ingredients
2 (15-ounce) cans unsalted diced tomatoes, divided
2 (15-ounce) cans unsalted chickpeas, rinsed and drained
1 1/2 tablespoons extra-virgin olive oil, divided
1 tablespoon minced garlic
1 teaspoon kosher salt, divided
1 cup chopped red onion
1 cup chopped red bell pepper
1 large zucchini, cut into 1-inch pieces (about 2 cups)
1 large yellow squash, cut into 1-inch pieces (about 2 cups)
1 small eggplant, peeled and cut into 1-inch pieces (about 1 cup)
1 tablespoon red wine vinegar
1/2 teaspoon smoked paprika
1/2 teaspoon black pepper
2 tablespoons fresh basil leaves (optional)
Directions
Drain 1 can tomatoes in a colander over a bowl, reserving 1/2 cup liquid. Drain remaining 1 can tomatoes; discard liquid. Combine tomatoes, reserved 1/2 cup liquid, and chickpeas in a bowl.
Heat 1 tablespoon oil in a large skillet over medium-high heat. Add garlic, 1/2 teaspoon salt, and next 5 ingredients (through eggplant); sauté 7 to 8 minutes or until slightly tender. Stir in tomato mixture and remaining 1/2 teaspoon salt; cover, and cook 5 minutes.
Uncover pan; stir in vinegar, paprika, and black pepper. Cook 5 minutes or until vegetable mixture is slightly thickened. Ladle into 4 shallow bowls; drizzle servings evenly with remaining 1 1/2 teaspoons oil. Sprinkle with basil leaves, if desired.
Serve with slices of crusty bread for dipping.
Recommended Tools