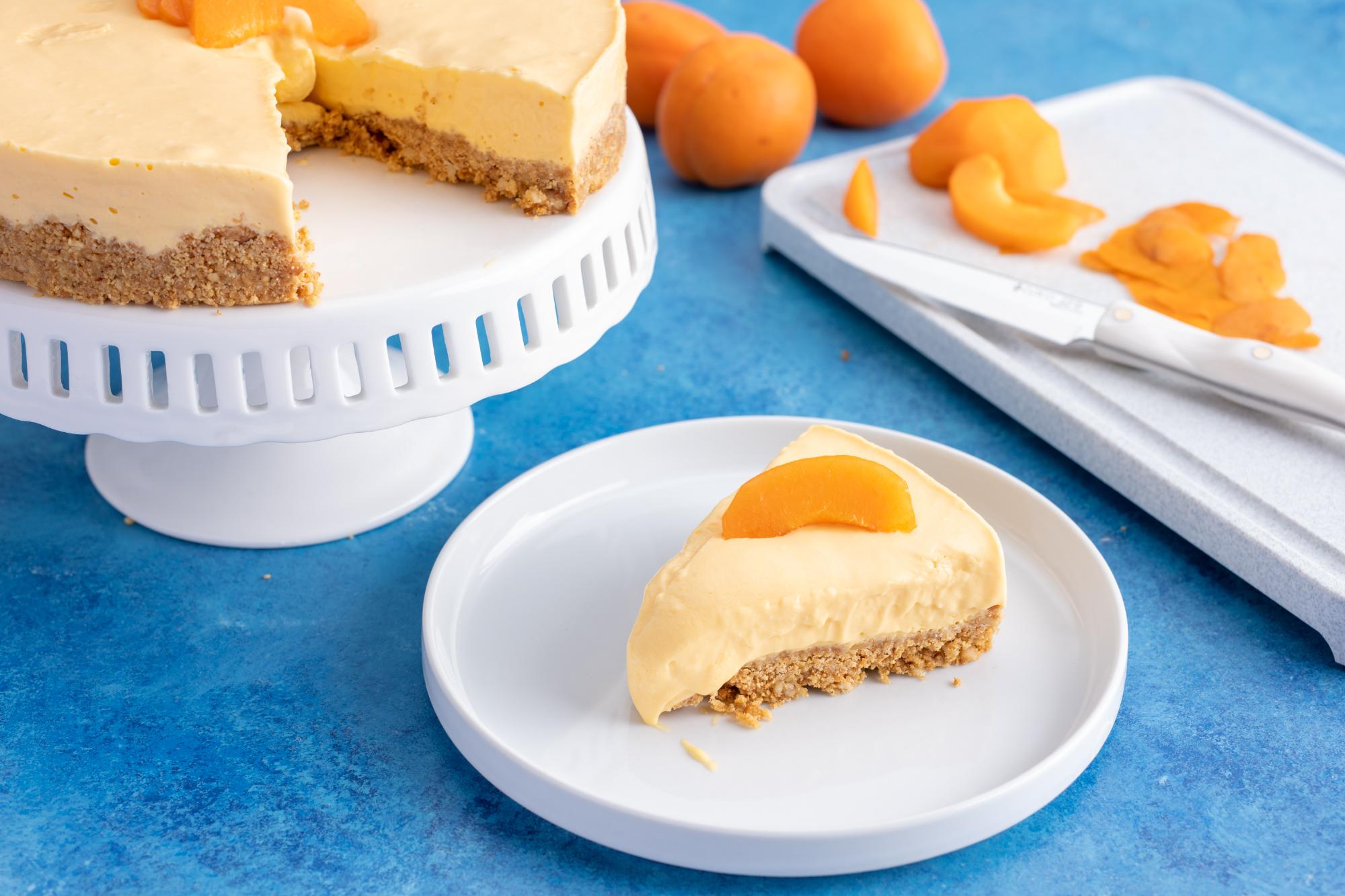 I actually like to bake desserts and completely destroy my kitchen with flour and sugar all over the place. For some reason, I find baking both relaxing and rewarding. However, there are times when I want just the reward – a really nice easy dessert without all the effort and mess. I'm also partial to any dessert that incorporates fruit as I find it refreshing after a heavy meal. This No-Bake Apricot Cheese Tart accomplishes both of these requirements and is a refreshing change.
Apricots are not a fruit I've cooked with a lot. I love apricot jam on my toast but that was about the extent of my apricot experience. What I've since learned is that while they are comparable to a peach, they also share a tart flavor similar to a plum. They are very nutritious and packed with vitamins, fiber and antioxidants.
The flavor in this particular apricot tart is highlighted by the fruit, of course, but also the toasted pine nuts and Greek yogurt. I do like to add just a hint of cognac or brandy to this dessert but you can omit it if you prefer.
To toast the pine nuts, I placed them in the Cutco Skillet on low heat and kept a close eye on them until they turned a light brown. You can also toast pine nuts under the broiler, just make sure to watch them carefully as they burn quickly. Once the pine nuts were toasted and cooled, I reached for the 7" Santoku knife to finely chop the nuts.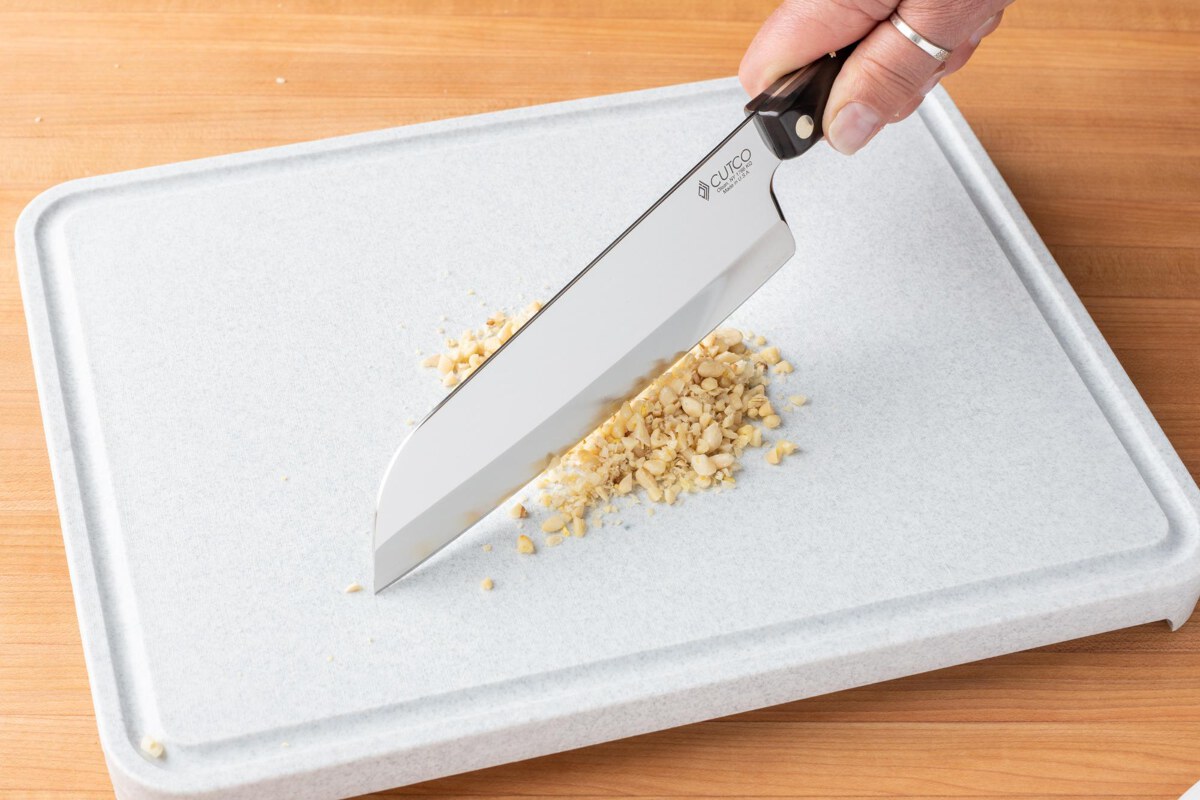 The pine nuts add a smoky flavor to the crust that pairs nicely with the creaminess of the cheeses and richness of the apricot mixture.
Apricots are much smaller than peaches and for this recipe, you do need to peel the fruit. I found the 2-3/4" Paring Knife to be the perfect tool to easily remove the skin from the apricots.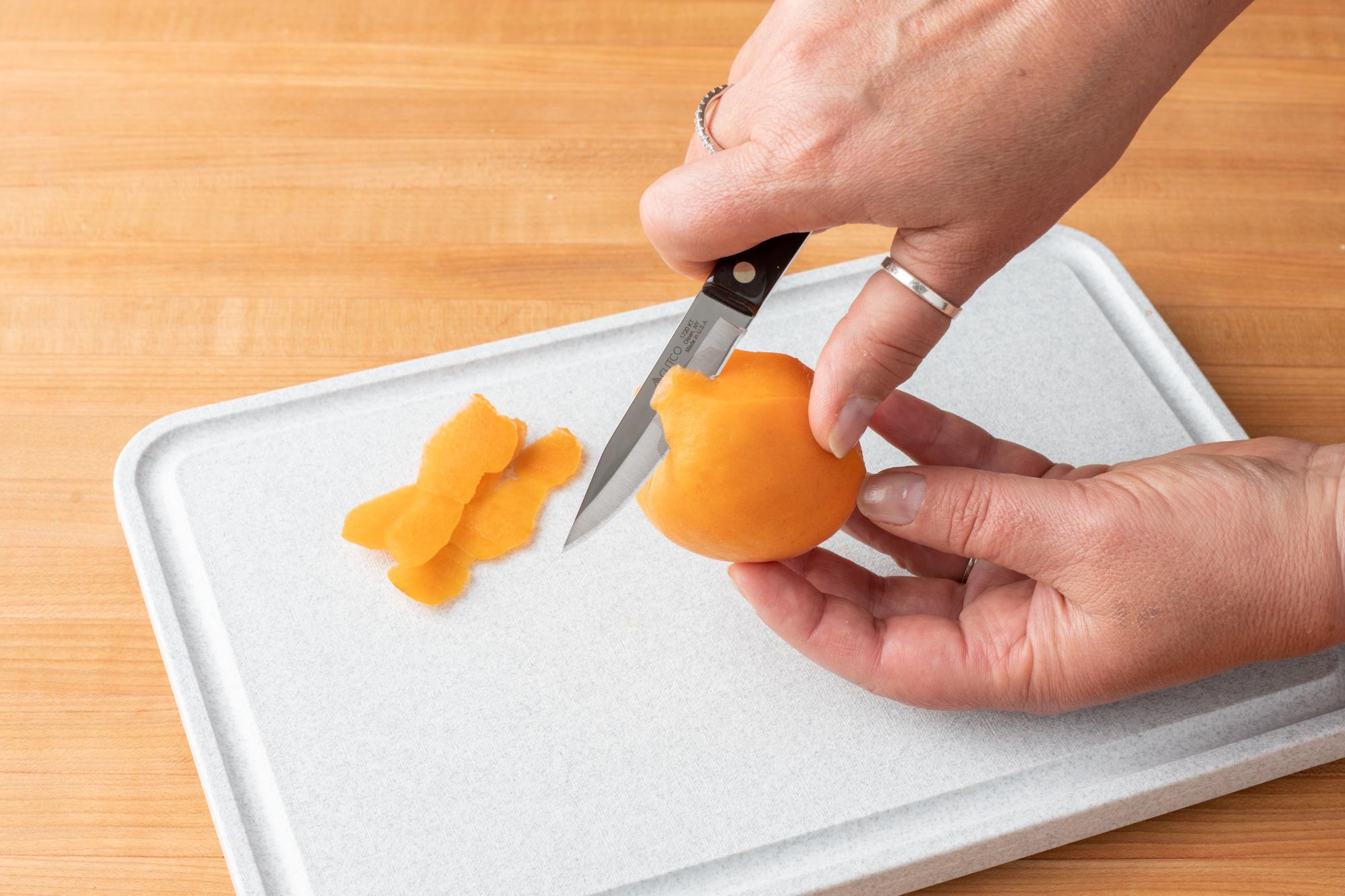 I then switched to the 4" Paring Knife to dice the apricots, taking care to evenly dice the fruit for uniform cooking.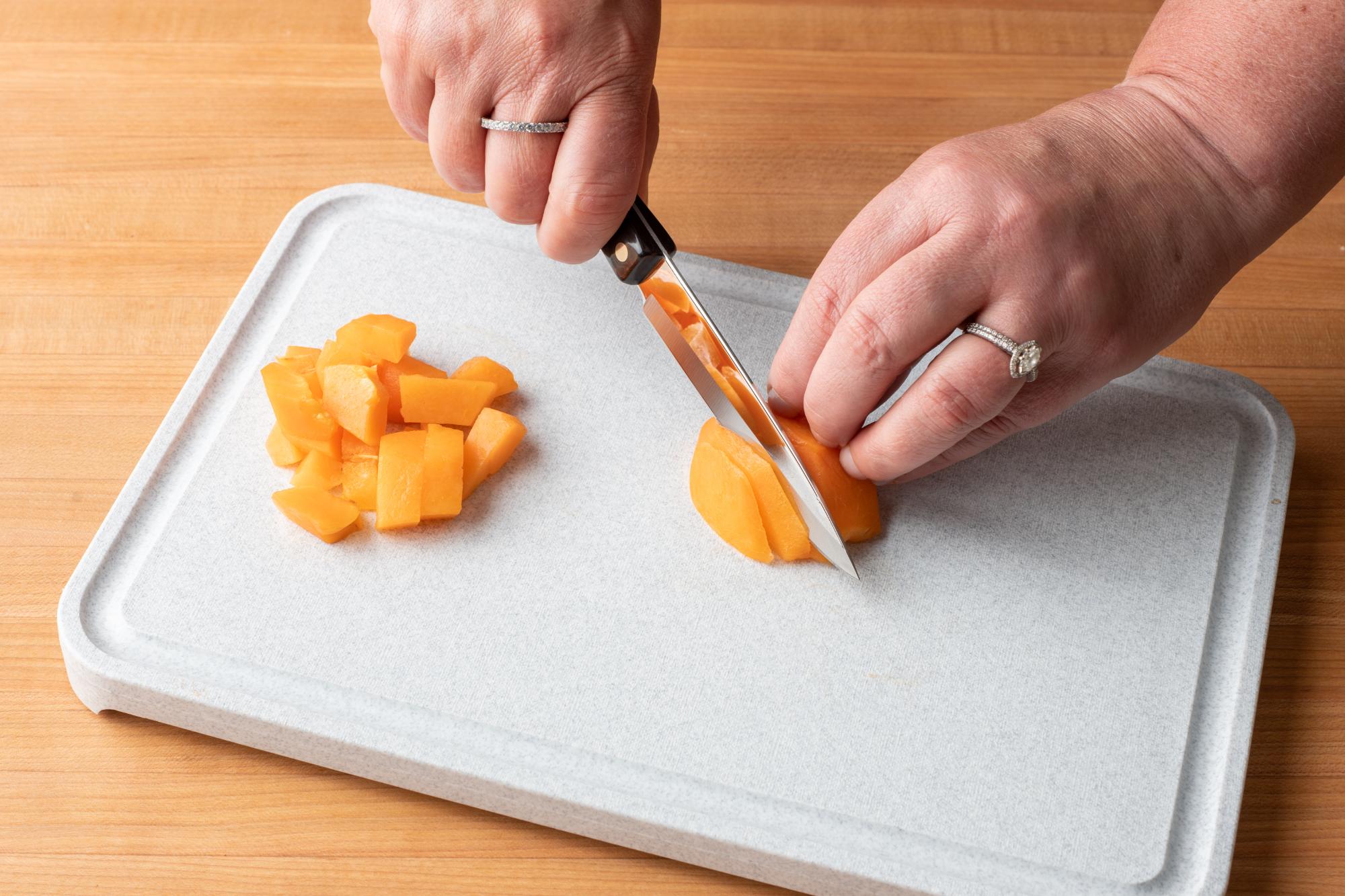 Once you start cooking the apricots, you'll want to stir the mixture occasionally and make sure all of the fruit is softened. You'll know your sauce is ready when you drag a spoon through it and the sauce parts leaving the pan exposed. It's critical to get the sauce thick enough for this no-bake tart to set.
The combination of mascarpone and cream cheese along with the Greek yogurt provides a smooth creamy texture with a hint of tang. These flavors work together nicely with the apricot sauce and the graham cracker and pine nut crust for a dessert that is not overly sweet but oh so satisfying.
Our hint for getting this No-Bake Apricot Cheese Tart to set properly is to place it in the freezer until it's firm. When you're ready to serve it, pull it out of the freezer and let it rest a few minutes before cutting and serving with a slice of apricot on top.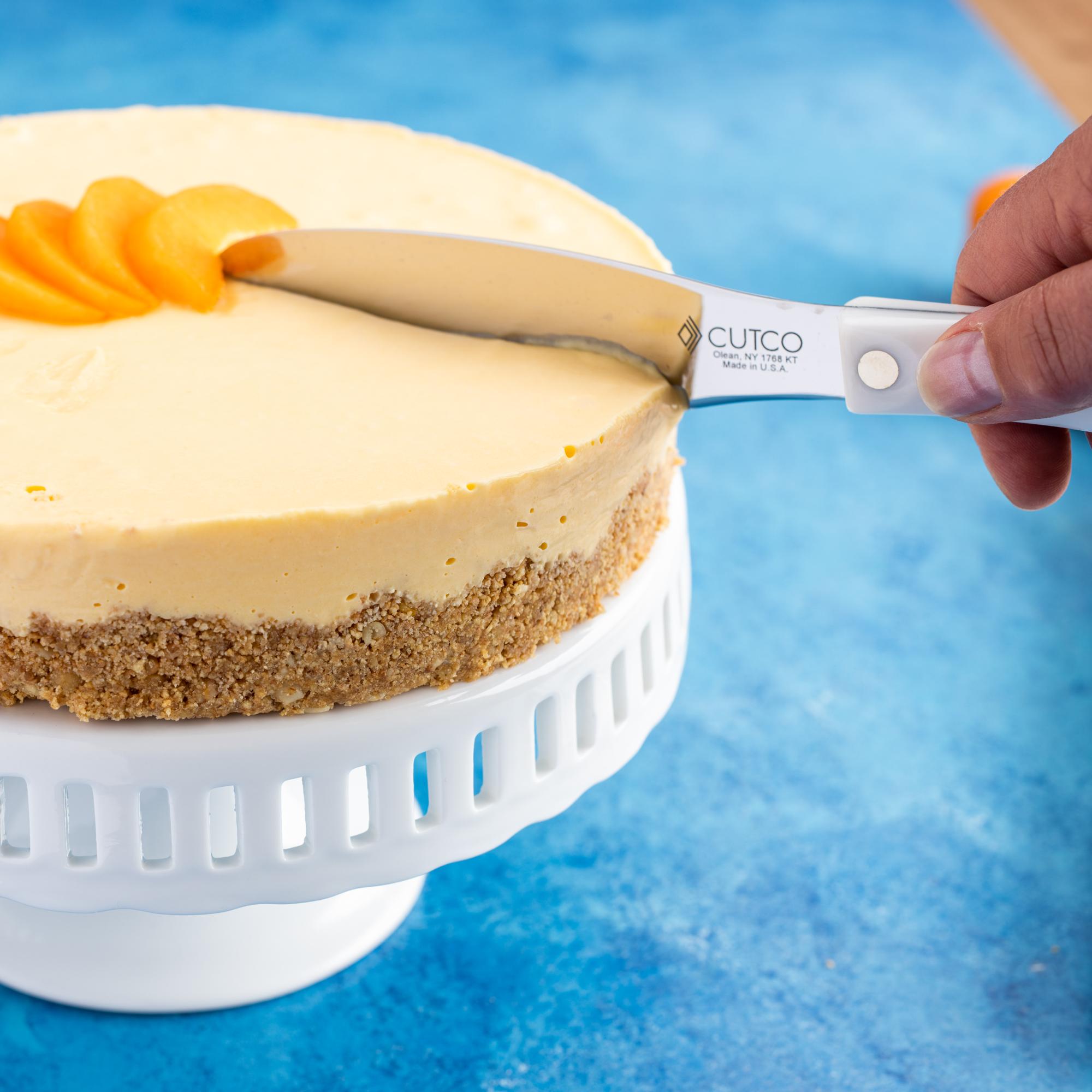 Give this easy dessert a try and you may become a fan of the apricot!
Ingredients
Crust:
3/4 cup graham cracker crumbs
1/4 cup butter, melted
1/8 cup toasted pine nuts, chopped fine
1 tablespoon honey
Filling:
10 medium apricots, peeled and diced
2/3 cup sugar
1/3 cup water
8 ounces Mascarpone cheese, softened
8 ounces cream cheese, softened
4 ounces full-fat Greek yogurt
1 teaspoon cognac or brandy
Directions
Make the crust:
Combine the crust ingredients and press into an 8-inch springform pan. Place in the refrigerator.
Make the filling:
Sauté the apricots, sugar and water over medium heat until the fruit is very soft and you have a thick sauce. Cool.
Combine the apricot sauce, cheeses, yogurt and cognac in a food processor or blender, and blend until very creamy.
Spoon the fruit and cheese mixture into the prepared crust.
Place tart in the freezer until firm – pulling out to slice and serve.
Recommended Tools