Easy Cucumber and Chickpea Salad With Dill Dressing
2078 days ago
Skip to recipe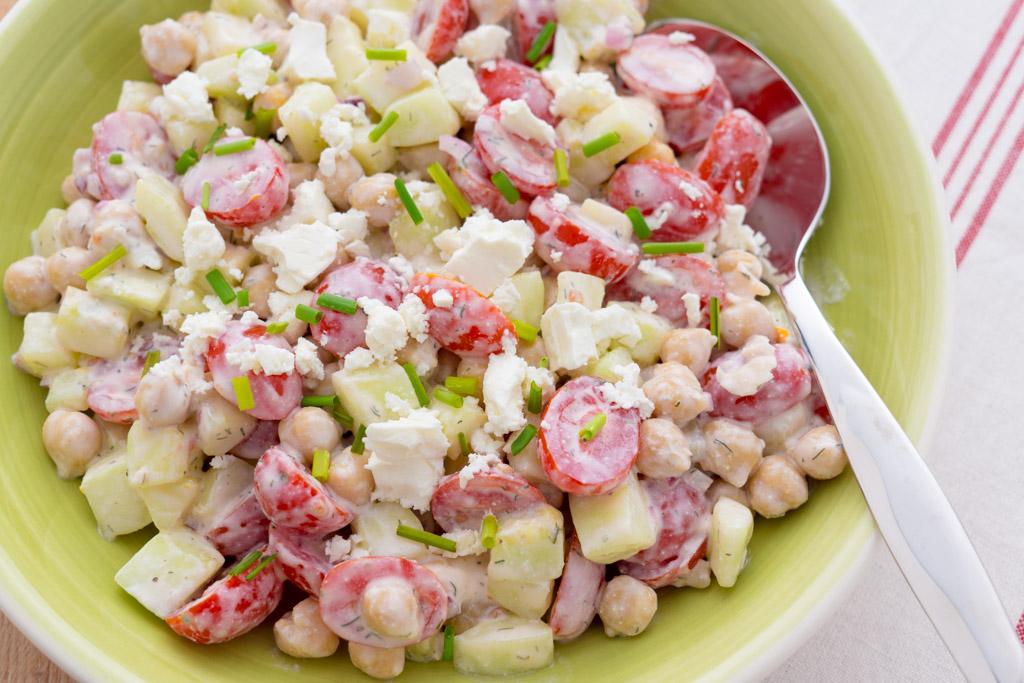 I'm always looking for new and different side dishes to serve alongside grilled chicken, steak or even hot dogs and hamburgers. This Mediterranean-style Cucumber and Chickpea Salad goes well with all of them and can be made without going near the stove during the hot and steamy days of summer.
Don't let the use of nonfat cottage cheese in the dill dressing deter you from making it. I'm not a big fan of cottage cheese but the food processor makes it smooth and creamy and when combined with the other ingredients, it's a healthier dressing than store-bought and more importantly, it's delicious.
Take advantage of the fresh summer produce available at farmer's markets for the cucumbers, tomatoes and onions and then let Cutco knives and accessories make prepping quick and easy.
A few swipes with the Vegetable Peeler removes the skin from the cucumbers in no time.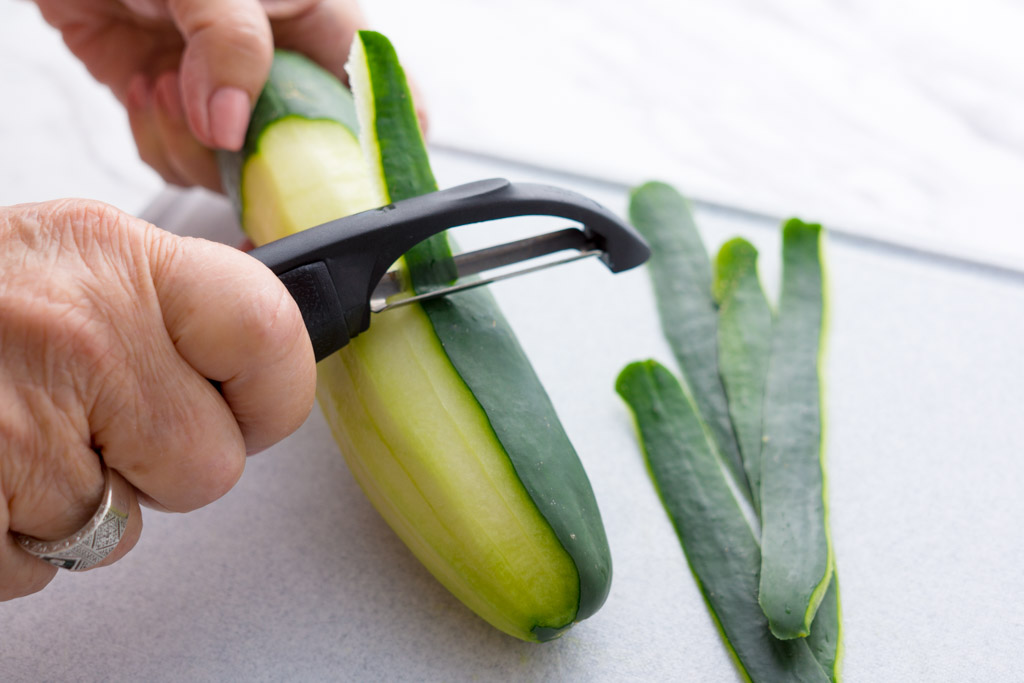 I then used the 5" Santoku Knife to slice and dice them into uniform pieces.
The 4" Paring Knife also worked well to half the tomatoes and dice the onion.
Combine all the fresh vegetables with the chickpeas, feta and dressing and you have refreshing and easy summer side dish.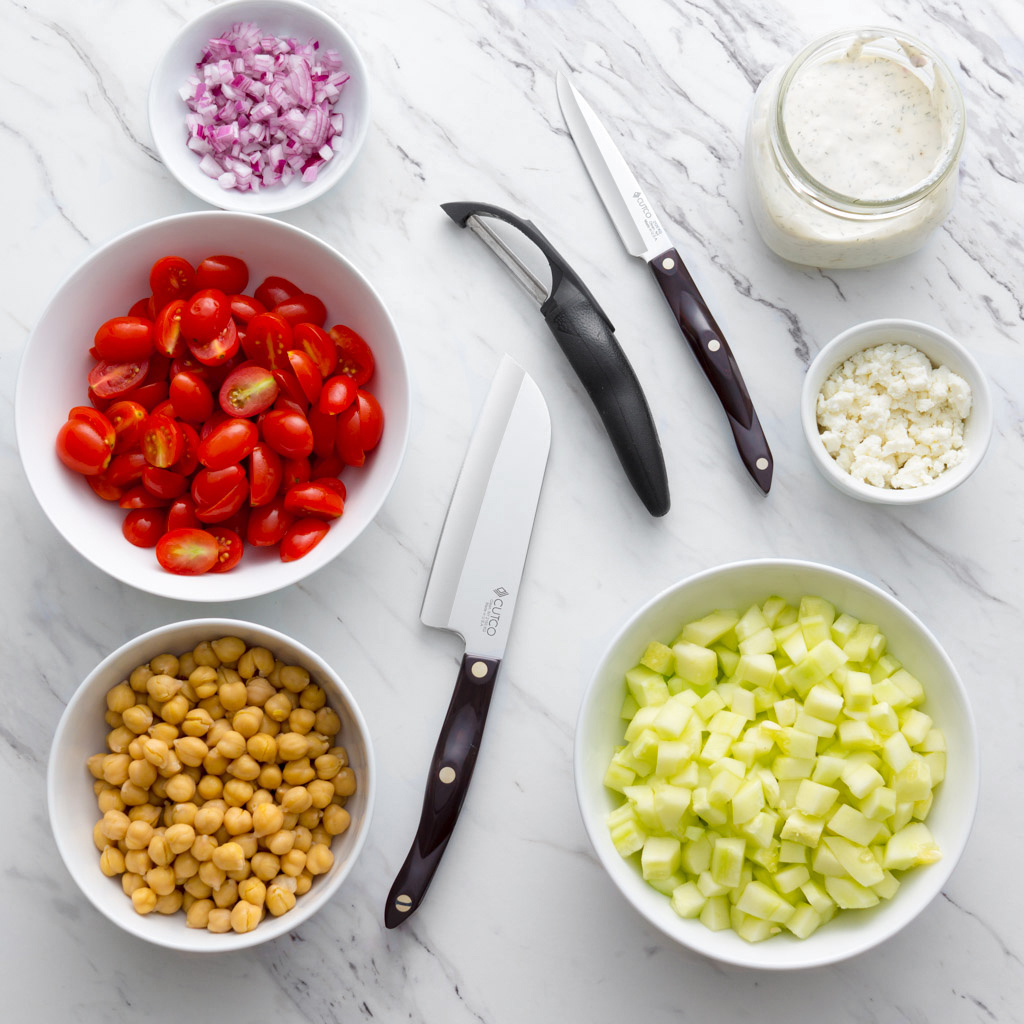 Easy Cucumber and Chickpea Salad with Dill Dressing
Print Recipe
Ingredients
Dill Dressing
1 small shallot, peeled
3/4 cup nonfat cottage cheese
1/4 cup reduced fat mayonnaise
1 tablespoon white wine vinegar
1/4 cup low-fat or non-fat buttermilk
1 tablespoon chopped fresh dill or 1 teaspoon dried dill
1/4 teaspoon salt
1/4 teaspoon freshly ground pepper
Salad
1 15-ounce can chickpeas, rinsed
2 cups peeled, seeded and diced cucumber
2 cups grape tomatoes or cherry tomatoes cut in half
1/4 to 1/2 cup crumbled reduced fat feta cheese
1/4 cup diced red onion
Directions
Use a food processor to prepare the dressing. With processor running, add the shallot through the feed tube and process until finely chopped.
Add the cottage cheese, mayonnaise and vinegar. Process until smooth, about 3 minutes.
Add the buttermilk while the processor is running.
Scrape down the sides and then add the dill, salt and pepper and process until combined (makes about 1-1/4 cups of dressing).
Combine chickpeas, cucumber, tomatoes, cheese and onion in a medium bowl. Add 1/2 cup of dill dressing and toss to coat. Season with additional salt and pepper if needed.
Extra dressing can be refrigerated for up to a week.
Recommended Tools