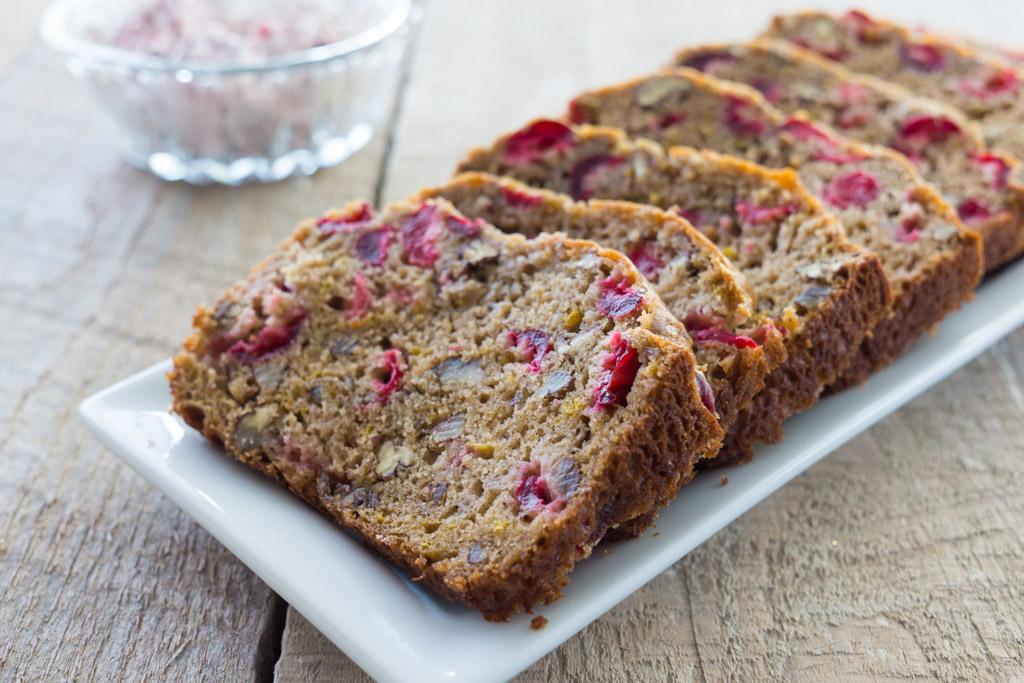 The holidays are a busy time, so I look for recipes that are quick and easy, like this one for Easy Cranberry Bread. It's festive, delicious and comes together quickly. Serve it during a holiday dinner or brunch, or wrap it up in some pretty cellophane and a bow for a homemade gift.
There are so many delicious quick bread recipes out there, you could probably bake a loaf every day for a year and only scratch the surface.
Almost all quick breads have the same basic ingredients: flour, leavening agent (like baking powder and/or baking soda), eggs, fat (butter, margarine, shortening, or oil), and liquid such as milk. Ingredients beyond these basic ingredients are included for variation in flavor and texture.
One of my favorites is cranberry bread, which is especially nice to gift during the holidays. You can whip up a few loaves in no time. You don't even need a mixer and, other than the cranberries, you probably have all the ingredients in your pantry or cupboard. You can choose to eat your slices plain or with the cranberry spread. The spread is also delicious on bagels or toast. I recommend you use a mixer to make it. It's much easier and incorporates the ingredients into a smooth, creamy texture.
A loaf of this Easy Cranberry Bread, with the recipe, a small container of cranberry spread and the Spatula Spreader would make a lovely homemade gift for a hostess, friend or neighbor.
Ingredients
Easy Cranberry Bread
1 1/2 cups flour
3/4 cup light brown sugar
1 1/2 teaspoons baking powder
1/2 teaspoon baking soda
1/2 teaspoon cinnamon
1/2 teaspoon nutmeg
1 cup halved fresh cranberries
1/2 cup chopped pecans or walnuts
1 tablespoon grated orange peel
2 eggs
1 teaspoon vanilla extract
3/4 cup milk
3 tablespoon melted butter
Cranberry Spread
1 8-ounce package cream cheese
1/4 cup whole cranberry sauce
1/2 cup chopped pecans
1/2 orange, zested and juiced
Directions
Grease an 8 1/2" x 4 1/2" loaf pan or spray with non-stick cooking spray.
Preheat oven to 350°F.
Combine flour, brown sugar, baking powder, baking soda, cinnamon and nutmeg in a large bowl. Stir in cranberries, nuts and orange peel.
Mix eggs, milk, melted butter and vanilla in a small bowl. Stir into flour mixture just until combined. Spoon into pan.
Bake 55-60 minutes. Cool 15 minutes on wire rack. Remove from pan. Store tightly wrapped in plastic wrap at room temperature.
For the Cranberry Spread: Beat cream cheese with electric mixer until fluffy. Stir in cranberry sauce, pecans, orange zest and juice. Keep refrigerated.
Recommended Tools