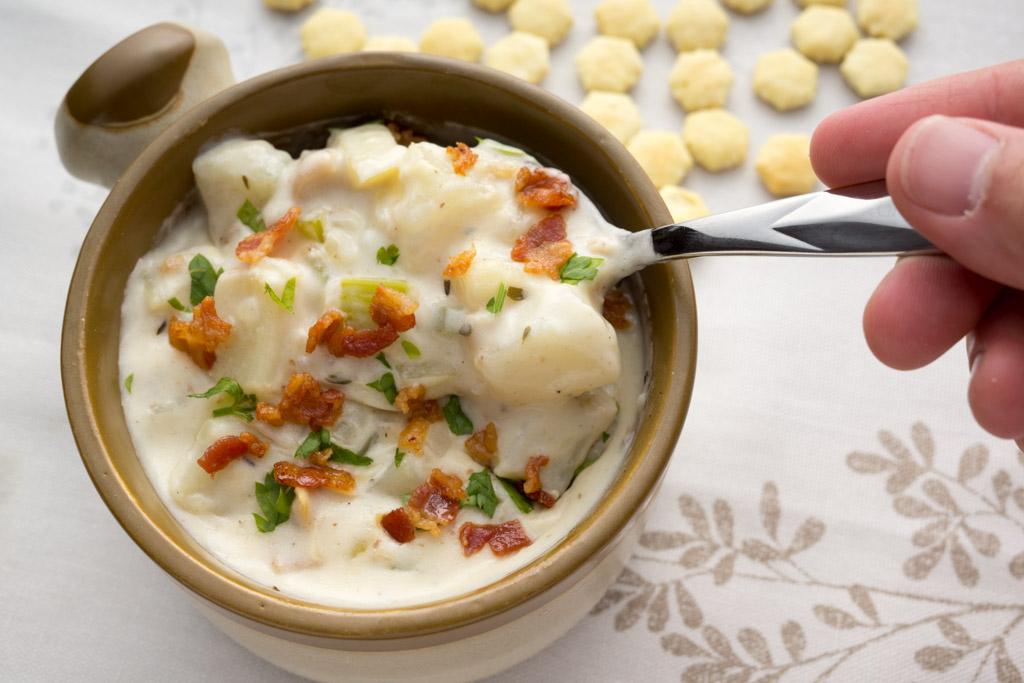 Soups and chowders are delicious any time of year. You can serve just a cupful before the main part of a meal or serve a bowlful as a meal. This Clam Chowder recipe is easier than you think and is unbelievably creamy, flavorful and chock full of clams.
As usual, Cutco will be with you every step of the way when making this chowder. I used the Santoku-Style knives for this one. The sharp 5" Petite Santoku with its shorter blade was comfortable to use and just the right size for dicing the bacon, onion and potatoes. For the garlic, the wider, blade of the Santoku-Style 3" Paring Knife, similar to a sheep's foot paring knife, worked great for prepping the garlic. Use the Mix-Stir to whisk the liquid ingredients into the chowder. Its coiled design quickly incorporates everything together.
Ladle this rich soup into cups or bowls, garnish with the crispy bacon and parsley and get ready for your taste buds to thank you. If you would like, toss in a few oyster crackers for a little more crunch. Our team here loved it. One suggestion was to add a little cayenne pepper to give it a spicy kick.
Ingredients
6 slices thick cut bacon, diced
2 tablespoons unsalted butter
2 cloves garlic, minced
1 medium onion, diced
2 stalks celery, chopped
1/2 teaspoon dried thyme
3 tablespoons all-purpose flour
1 cup whole milk
1 cup vegetable stock
2 6.5-ounce cans chopped clams, juices reserved
1 bottle clam juice
1 bay leaf
2 russet potatoes, peeled and diced
1 cup half and half
Kosher salt and freshly ground pepper to taste
2 tablespoons chopped fresh parsley leaves
Directions
Heat a Dutch Oven over medium high heat. Add diced bacon and cook until brown and crispy. Transfer to a paper towel-lined plate and set aside. Reserve 1 tablespoon of bacon fat.
Melt butter in the same pan, add garlic, onion and celery. Cook, stirring frequently, until onions are translucent, 2-3 minutes. Stir in thyme and cook until fragrant, about 1 minute.
Whisk in flour until lightly browned. Gradually whisk in milk, vegetable stock, reserved clam juice, bottled clam juice and bay leaf. Cook, stirring constantly, until slightly thickened. Stir in potatoes.
Bring to a boil; reduce heat and simmer until potatoes are tender, about 12-15 minutes.
Stir in half and half and clams and heat through. Season to taste with salt and pepper.
If chowder is too thick, add more half and half until desired consistency is reached.
Ladle into bowls, garnish with bacon and parsley. Serve with oyster crackers, if desired.