Easy, Cheesy Brussels Sprouts Gratin
Published 123 days ago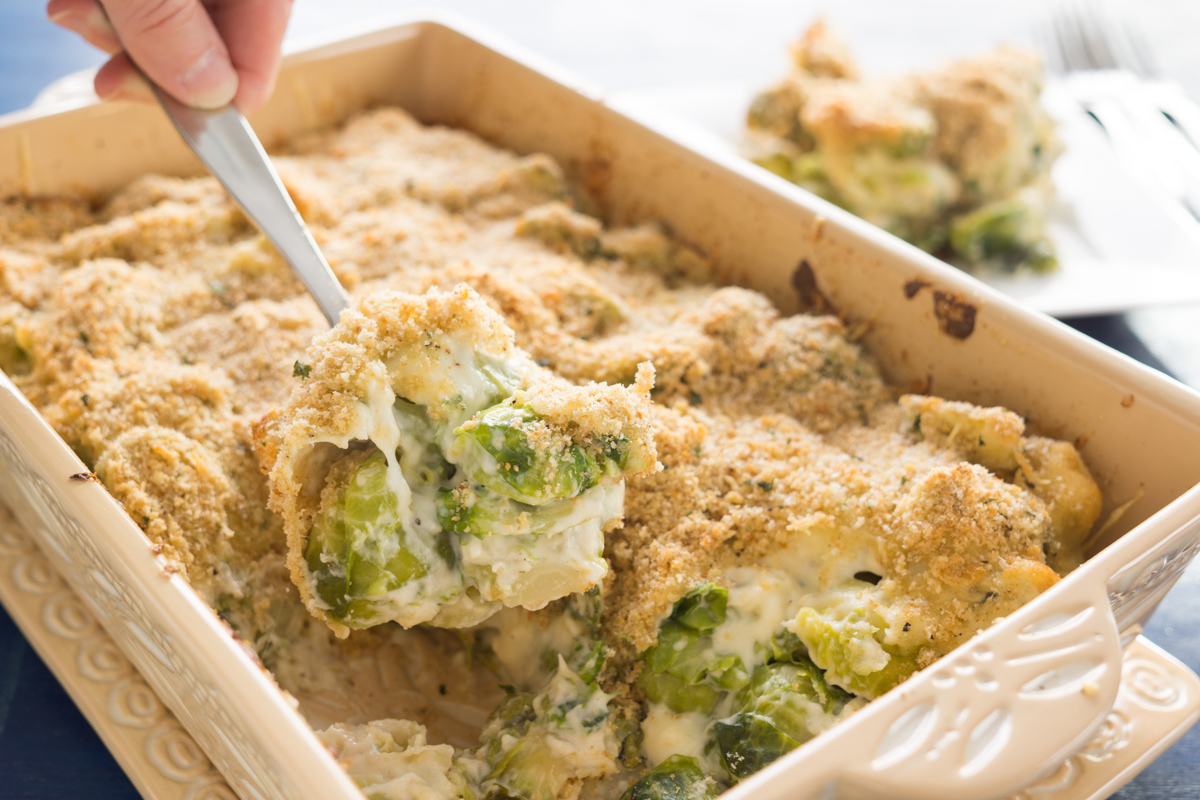 Brussels sprouts. I've never known a vegetable to produce such an immediate reaction on both sides of the spectrum. Love them or hate them, there doesn't seem to be an in between. I happen to be on the love side of the Brussels sprouts discussion. I'll eat them anywhere or anytime. My husband, not so much. We were probably married 15 years before he would even consider the idea of eating a Brussels sprout, and he is not a picky eater.
I think the issue with them is how they are cooked, and this Easy Cheesy Brussels Sprouts Gratin recipe is the perfect solution. Everything is better with cheese and yet, this gratin allows the sprout to shine. Our taste-testers in the kitchen had no problem going back for seconds on this appetizing and easy side dish.
Preparing the Brussels Sprouts
The step that will take the most time is trimming and halving three pounds of Brussels sprouts. Make sure to have a sharp knife. The 5" Petite Santoku worked like a charm, making quick work of this task. Boiling the Brussels sprouts in the 6.3 Qt. Dutch Oven Bottom also went quickly.
A quick tip when you're preparing the cheese sauce. Make sure to constantly stir the half-and-half mixture with the Mix-Stir over medium heat. You don't want this to burn or boil. The idea is to slowly thicken the mixture to a sauce before adding the cheese.
Try this recipe and you may just have a few Brussels sprouts converts in your household.
Ingredients
3 pounds Brussels sprouts, trimmed and halved
Kosher salt
2 tablespoons unsalted butter
3 garlic cloves, chopped
1/4 cup all-purpose flour
1 cups half-and-half
5 ounces Jarlsberg cheese, shredded, divided
5 ounces Kerrygold Swiss cheese, shredded, divided
Kosher salt
Fresh ground pepper
1/2 cup bread crumbs
Directions
Boil Brussels sprouts in a large pot of boiling water (salted) for approximately 5 – 8 minutes (until crisp and slightly tender). Drain and run under cool water. Spread the sprouts in a single layer onto a dish towel to allow them to dry completely.
Melt the butter in a large saucepan over medium heat and cook the garlic until fragrant (about one minute). Sprinkle the garlic with flour and whisk for about one minute. Slowly whisk in the half-and-half. Simmer this mixture, whisking constantly until thickened (approximately 6 – 7 minutes).
Remove from the heat and whisk in about one third of each of the cheeses. Fold in the dried Brussels sprouts and season with salt and pepper.
Transfer to a buttered 3-quart baking dish. Top with remaining shredded cheese and then top with bread crumbs. Bake at 375°F until bubbly and the top is golden brown (25 – 30 minutes). Let stand five minutes before serving.
Recommended Tools