Crispy Skillet Potatoes With Steak and Eggs
2451 days ago
Skip to recipe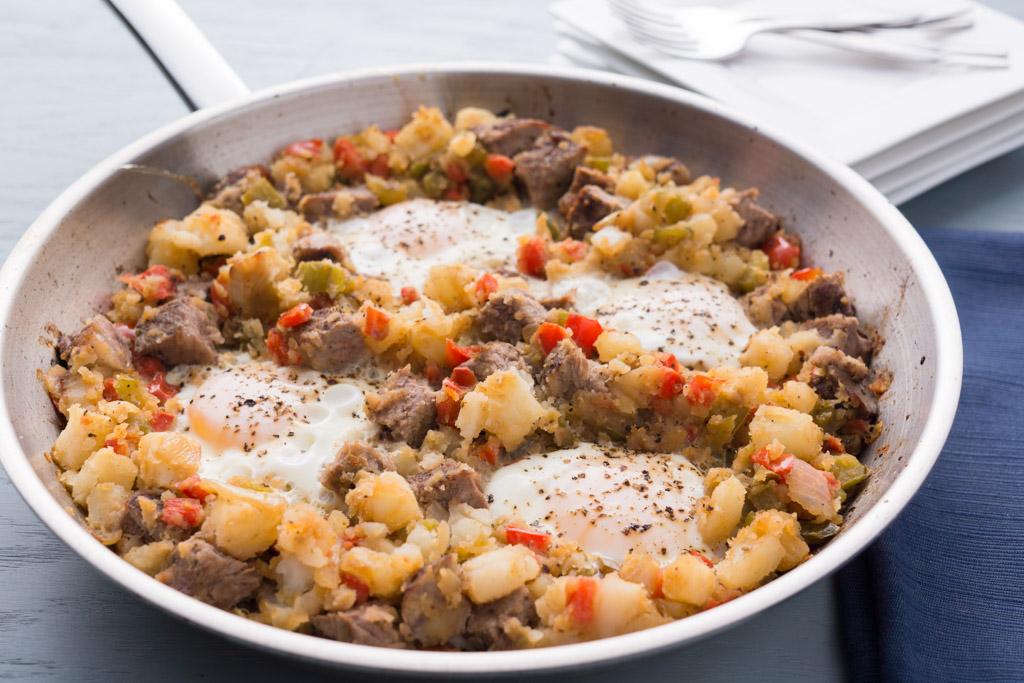 Lazy Saturday and Sunday mornings are the perfect time for a hearty brunch dish, like this recipe for Crispy Skillet Potatoes with Steak and Eggs. If you're ambitious, you can even prep some of the ingredients the night before.
Other than parboiling the potatoes, everything gets cooked in one pan. I peeled the potatoes but you could certainly skip this step. Just scrub them and cook with the skins on.
Use a sharp chef knife, like the 7-5/8" Petite Chef, to cut the potatoes, onions and peppers. When making cuts, move the knife forward and down for controlled cutting.
Brew some hot coffee, toast some salt-rising bread to dip in the runny egg yolk and enjoy this easy-to-make, super satisfying brunch recipe.
Ingredients
2 russet potatoes, peeled and cut into 1-inch pieces
1 tablespoon vegetable oil
1 pound New York strip steak
Kosher salt
Freshly ground pepper
1 onion, chopped
1 red bell pepper, chopped
1 green bell pepper, chopped
1 teaspoon smoked paprika (chipotle pepper powder)
4 eggs
Directions
Place potatoes in a medium sauce pan, cover with water, bring to a boil and simmer just until tender, about 10 – 15 minutes.
Heat oil in a large skillet over medium-high heat. Season steak on both sides with salt and pepper. Add to skillet and cook 4-6 minutes per side for medium rare; 7-9 minutes per side for medium. Remove steak from the skillet and allow it to rest.
Add the onion and bell peppers to the pan and cook over medium heat until they start to soften, about 5 minutes. Add potatoes and paprika and season with salt and pepper. Cook until the potatoes are crispy around the edges. Using a 6-3/4" Petite Carver or Trimmer, cut the steak into 1-inch cubes and stir into the potatoes.
Using a spoon, make four holes in the hash pushing the potato mixture aside until you can see the bottom of the pan. Crack an egg into each hole and season with salt and pepper. Place a cover on the skillet and cook about 5 minutes. Serve warm.
Hint: Always let steak come to room temperature (70 degree F.) before cooking or grilling. A cold steak will contract when it hits the heat and cause it to toughen. Remove the steak from the refrigerator at least 30 minutes before cooking it. Pat the steak dry with a paper towel. The steak should be completely dry before cooking. If the steak is wet, you will essentially be steaming it.
Recommended Tools