Creamy Rotisserie Chicken Salad With Dill and Cranberries
837 days ago
Skip to recipe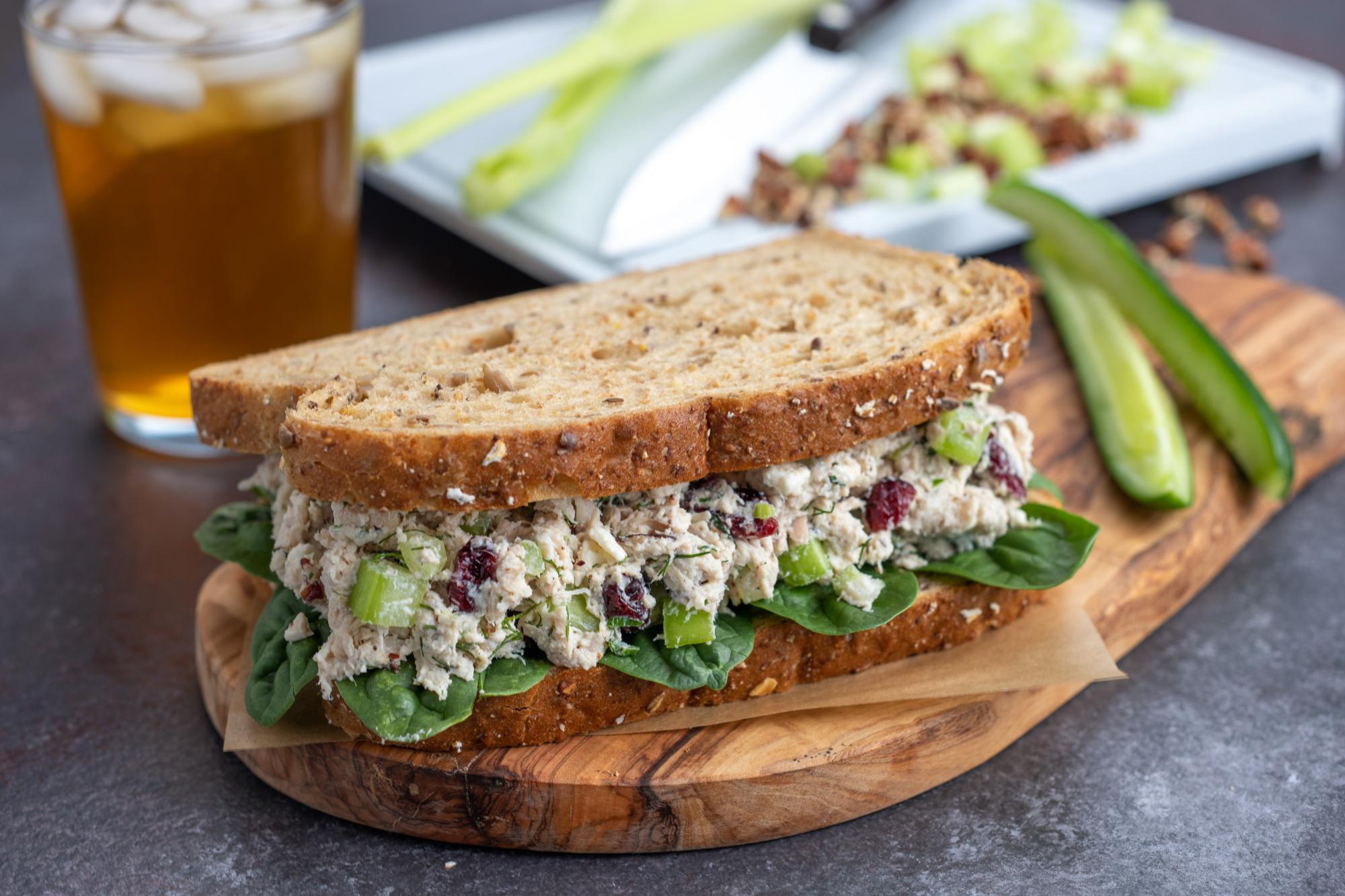 One meal I always struggle with from a preparation standpoint is lunch. I need my lunch to be quick and easy. While I'm typically in the office, I find myself running home to let our dogs out and then coming back and having minimal time to actually eat. I also get to a point where I really can't face another salad, and because we're now in winter, I want something more substantial. A friend passed along this Rotisserie Chicken Salad recipe and thank goodness, as I now have my go-to lunch.
This sandwich filling includes dill and cranberries and uses one of my favorite ingredients – a rotisserie chicken. It seriously doesn't get any easier than picking one up over the weekend and then prepping this Creamy Dill Rotisserie Chicken Salad with Cranberries on a Sunday for all of my lunch-time meals. The great thing is that I can change the recipe easily by varying the nuts I use and even the cheese. I've also served it on bread, in a pita and in a lettuce cup. There are so many variations for such an easy lunch.
What makes this rotisserie chicken salad special is the dill dressing. It really kicks up the flavor and I actually make extra dressing to freshen it up throughout the week. I love the crunch that the toasted pecans and celery bring to it, as well as the sweet tart flavor of the cranberries and creaminess of the feta cheese.
But back to the easiest ingredient – the rotisserie chicken. Pick one up from your local grocery store. It really doesn't matter the flavor, as you're going to remove the skin. When it comes time to prep it, take a look at our great tutorial on How to Cut a Rotisserie Chicken if you need some tips. Make sure the chicken is warm and use two forks to shred the meat. If your chicken is cold, warm it up in the microwave to make it easier to cut and shred.
For my pecans, I used pecan halves and roasted them over low heat in a skillet. Make sure to watch carefully so you don't burn the nuts. You're looking for a golden color. Then I grabbed my 7-5/8" Petite Chef knife and used a rocking motion to chop them up. You could use walnuts or pine nuts. Change it up to suit your taste.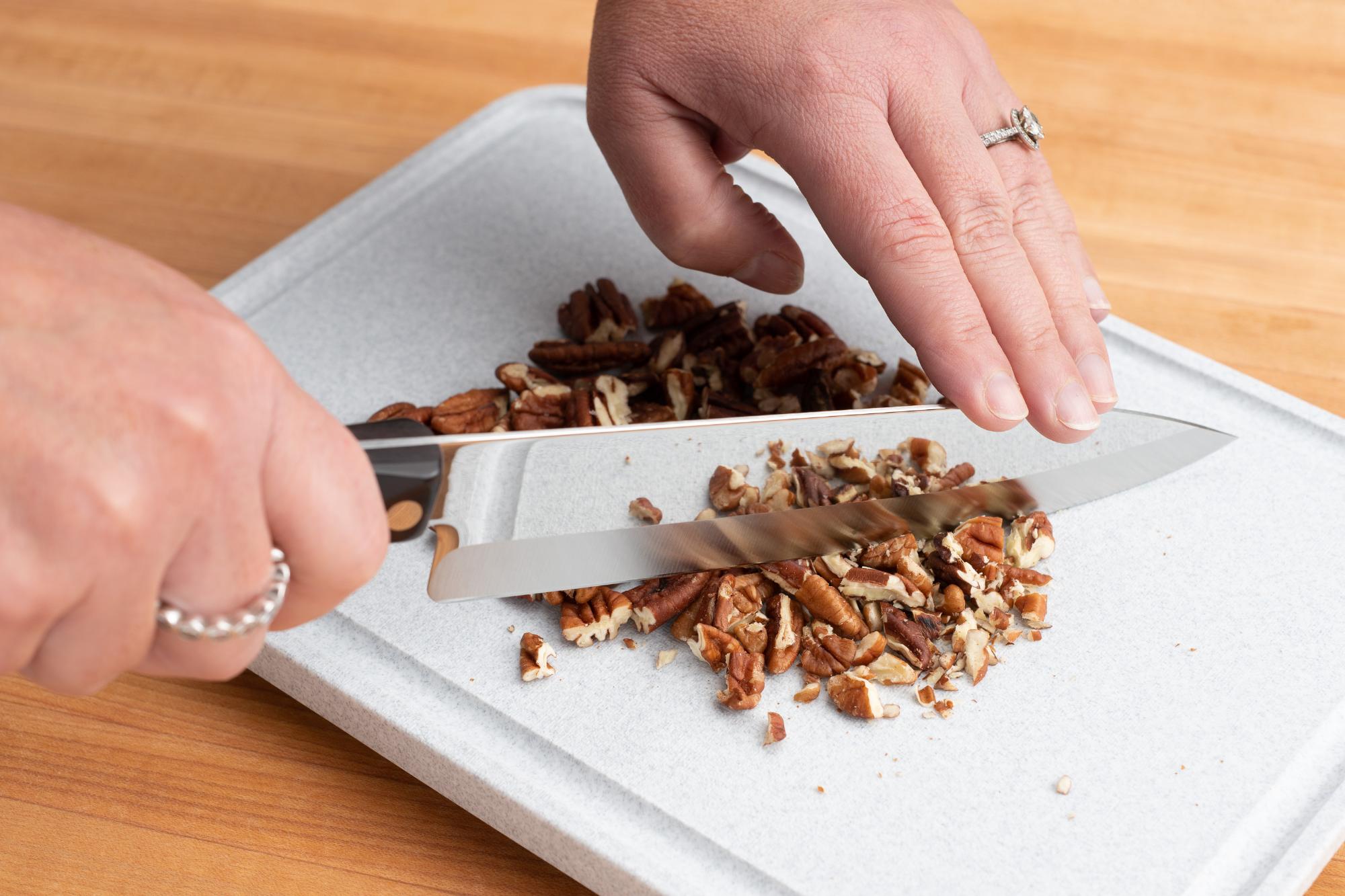 For the celery, I cut each stalk into strips using the 7" Santoku and then diced the strips. I didn't want large chunks of celery so I went for a small dice. I'm just looking for a little crunch in each bite.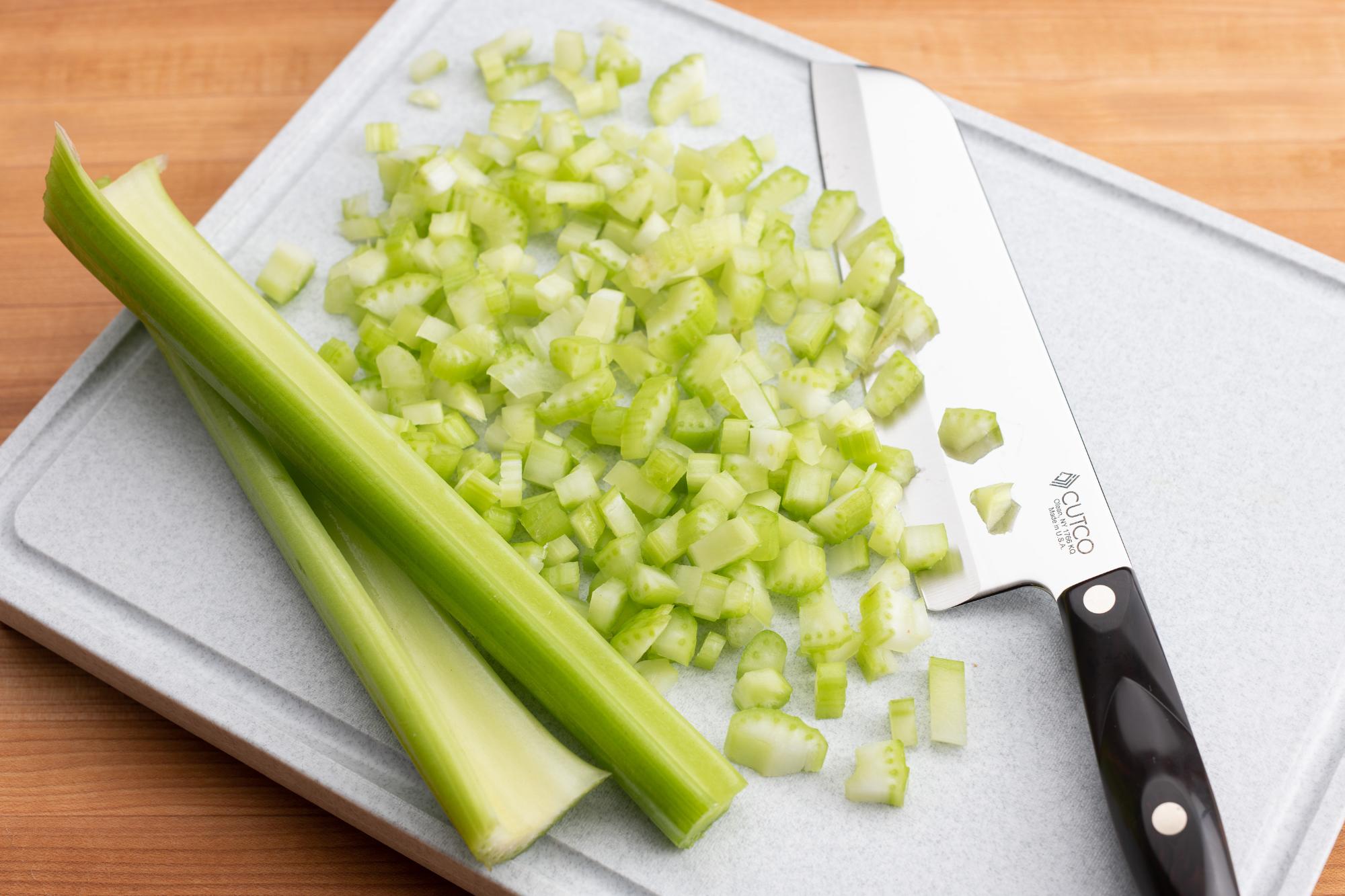 Once the prep work for the salad was complete, I put all the ingredients into a bowl and gave it a good mix. Setting that aside, I made the dressing. A little tip is that I actually double the dressing recipe and leave half of it in reserve to add to the salad throughout the week so it doesn't get dry.
Mix the salad with the dressing, put it in an air-tight container and you have lunch for the week. Or you can do what we did in the Cutco kitchen and proceed to eat it directly out of the bowl. We served it on a soft rustic bread but this salad works rolled up in lettuce, in a pita or served on any bread you prefer. An easy lunch, this Creamy Dill Rotisserie Chicken Salad with Cranberries is a recipe I plan to keep on file for quite some time. Enjoy!
Ingredients
For the salad:
1 rotisserie chicken, shredded (approximately 4 cups)
1/2 cup dried cranberries
1/3 cup chopped toasted pecans
2 green onions, minced
4 celery stalks, diced
1/3 cup crumbled feta cheese
For the dressing:
1/2 cup nonfat Greek yogurt
2 tablespoons mayonnaise
3 tablespoons chopped fresh dill
1 1/2 tablespoons chopped fresh basil
1/8 teaspoon garlic powder
1 tablespoon apple cider vinegar
2 tablespoons fresh lemon juice
Salt and fresh ground pepper to taste
Directions
In a large bowl, combine the shredded chicken, cranberries, pecans, green onion, celery and feta cheese and stir until thoroughly combined.
In a separate bowl, whisk together the Greek yogurt, mayonnaise, dill, basil, garlic powder, vinegar, lemon juice, salt and pepper.
Gradually add the dressing to the chicken mixture until it's thoroughly coated. Keep any additional dressing to add to the chicken if it becomes dry.
Refrigerate for approximately 30 minutes.
Serve on rustic bread or spoon onto lettuce wraps.
Recommended Tools