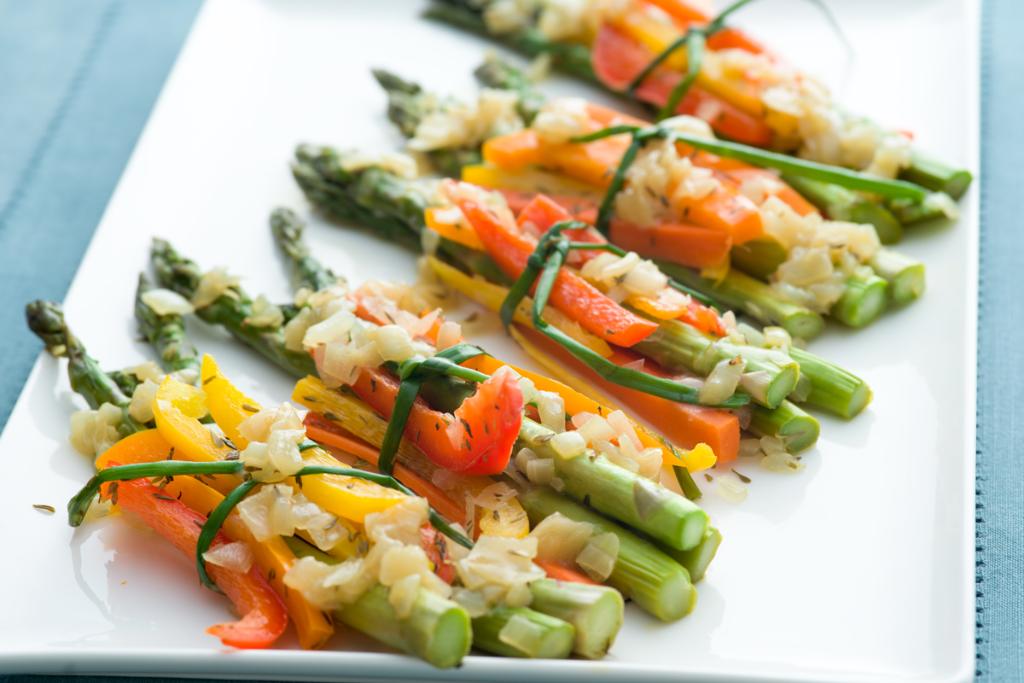 When it comes to spring vegetables, asparagus is always at the top of the list. These tender, stalks can be grilled, oven-baked, broiled, roasted or steamed just to mention a few methods of cooking. A member of the lily family, you can find asparagus in three colors – green, purple and white. Green is the American variety and the one we see and use the most.
Besides its versatility, asparagus is also good for you. It is low in calories, has no fat and is low in sodium.
If you're looking for a beautiful way to present asparagus and other spring vegetables, tie them up in a bow to create easy Spring Vegetable Bundles.
You can have these colorful bundles ready to cook in no time. It takes just a few minutes to julienne the peppers and carrots. I used my favorite knife, the Trimmer, but you could also use a chef knife or santoku knife for the job. Whatever knife you choose, make sure it's the right size for what you're cutting.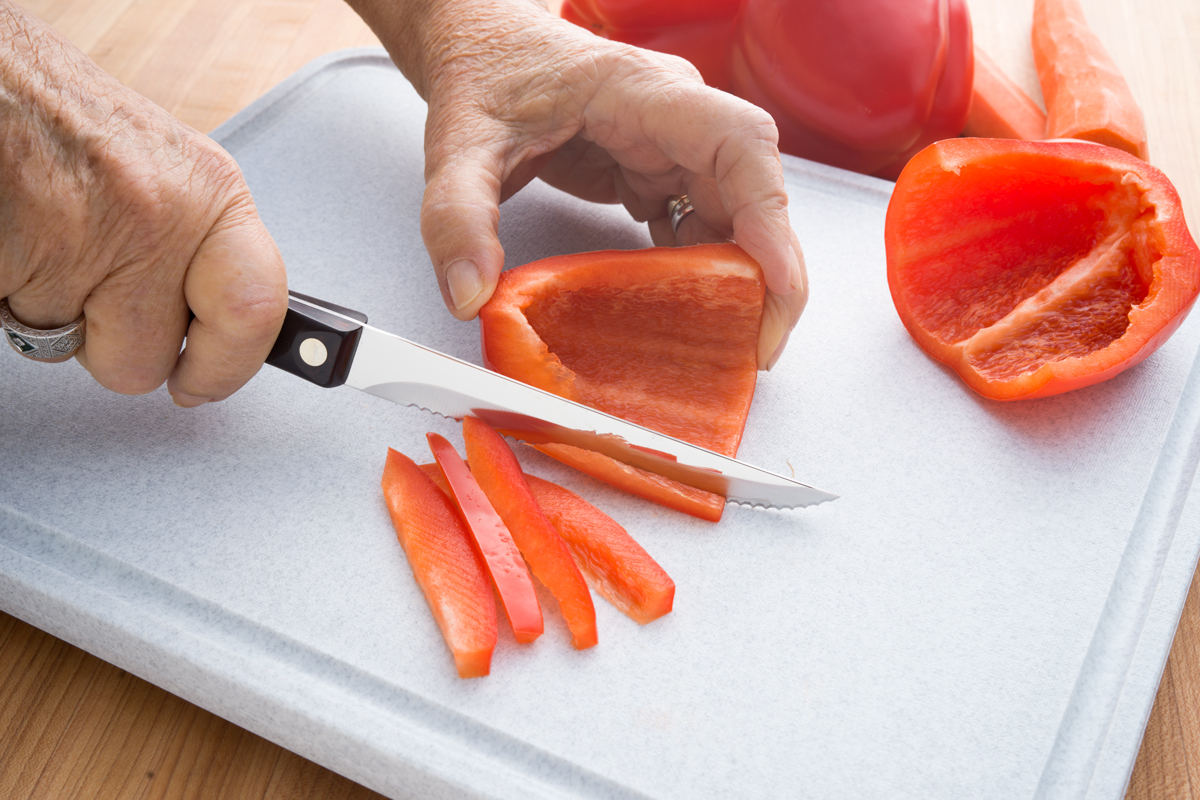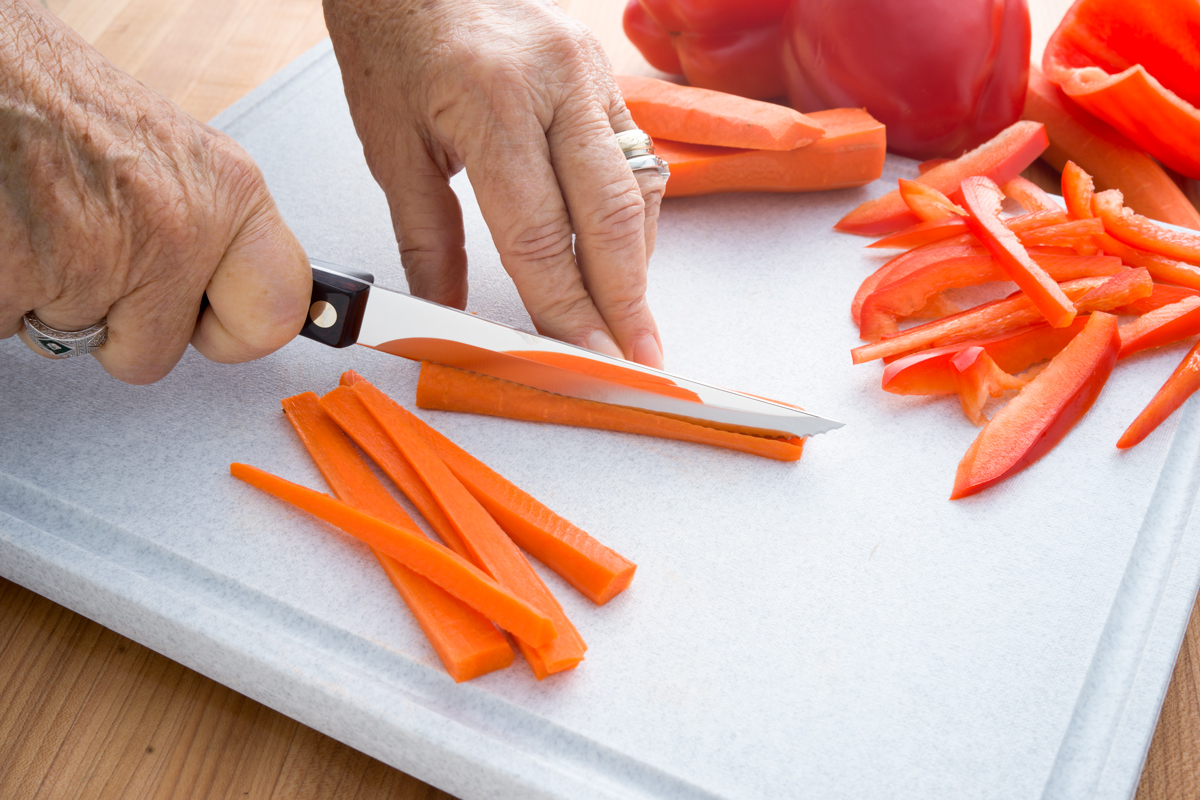 Once the vegetables are julienned, tie everything together with long strips of chives, and they're ready to cook. The sauce adds a light, buttery flavor without overwhelming the vegetables.
These Spring Vegetable Bundles can be assembled before your guests arrive and cooked just before serving. A little tip: To keep them warm while serving, place the serving platter on a heated tray.
Originally published March 22, 2018
Ingredients
1 pound thin asparagus, trimmed
1 medium, sweet red pepper, julienned
1 medium, sweet yellow pepper, julienned
2 medium carrots, peeled and julienned
12-24 chives
1 medium onion, chopped
Salt and pepper to taste
1 cup chicken broth
2 teaspoons dried thyme
3 tablespoons butter
Directions
Divide the asparagus, peppers and carrots into 12 bundles. Tie each bundle with one or two chives. Sprinkle each bundle with salt and pepper and thyme.
Pour chicken broth into a large skillet. Add the chopped onion and vegetable bundles. Bring to a boil. Cook, uncovered, 5 to 7 minutes or until vegetables are tender and liquid is reduced by two-thirds.
Remove bundles from the pan with a slotted spoon to a serving plate. Add the butter to the skillet. Cook and stir until the melted. Spoon over the bundles.
Recommended Tools