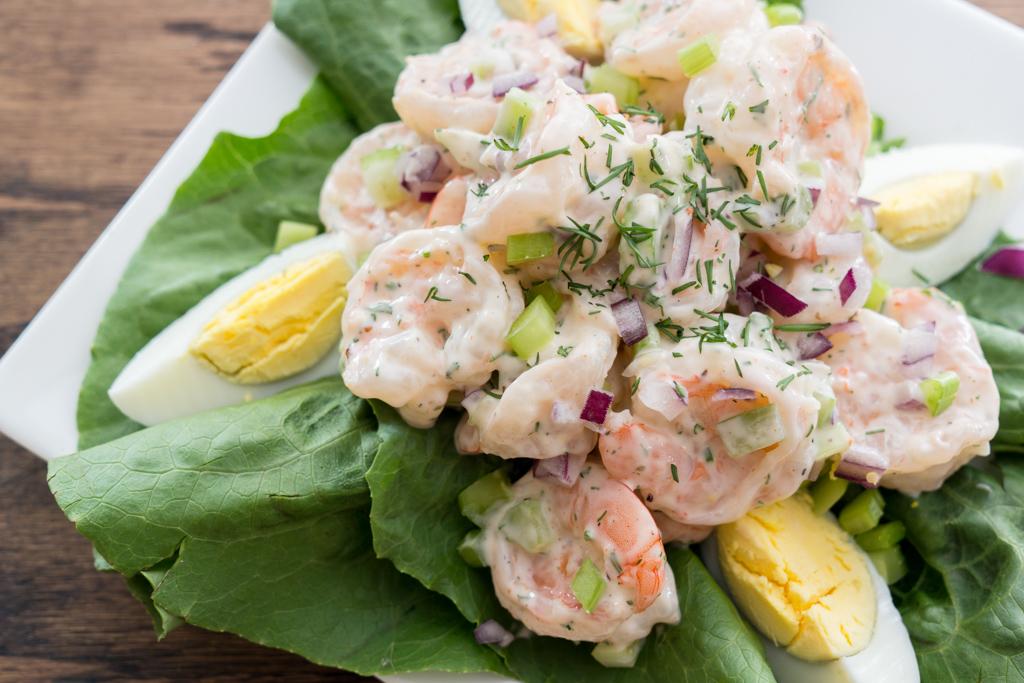 The dog-days of summer are definitely here. We've had a string of hot, humid days that call for light, easy to prepare, no-oven-required meals. This Cold Shrimp Salad with its creamy dressing and crunchy celery and onion is a good choice for those days, or any day for that matter.
If you have a busy day coming up, prepare it the night before or in the morning, and lunch or dinner is ready.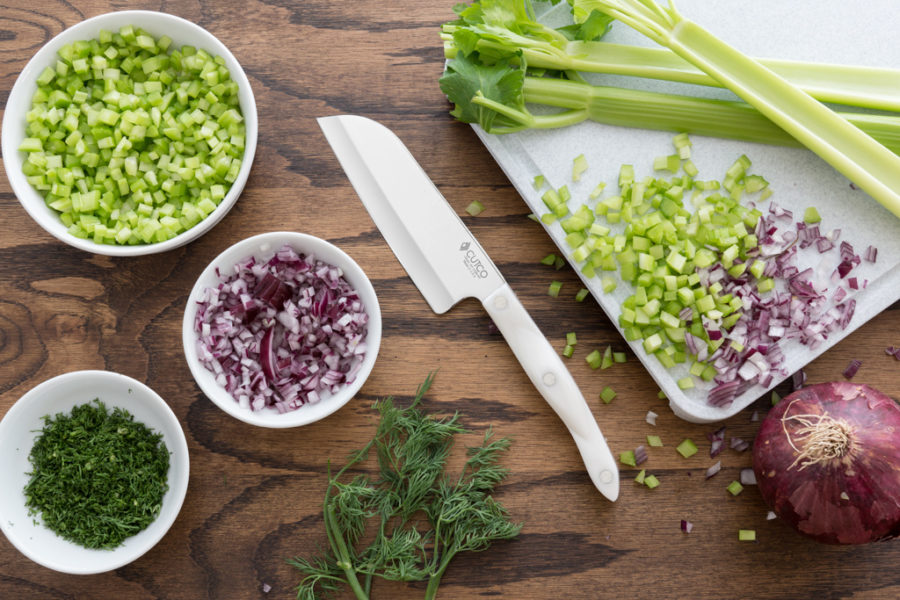 You can also serve it:

• In a croissant with lettuce and tomato

• Stuffed in a large hollowed-out tomato

• On a roll or in a pita

• As an appetizer on crackers or a sliced baquette

• Wrapped in a lettuce leaf or sandwich wrap
Prepare with whole shrimp or use a 5" Petite Santoku to chop into smaller pieces if you prefer.
Ingredients
5 quarts water
1 tablespoon kosher salt
1/2 lemon
2 pounds large shrimp in the shell (16-20 shrimp per pound)
1 cup mayonnaise
1/2 teaspoon Dijon mustard
1 tablespoon lemon juice
1 tablespoon white wine or white wine vinegar
1 teaspoon spice seasoning such as Old Bay
1/2 teaspoon freshly ground black pepper
2 tablespoons minced fresh dill
1/4 cup minced red onion
1 cup minced celery
6 hard-boiled eggs (optional)
Lettuce
Directions
Bring water, salt and the half of the lemon to a boil in a large saucepan. Add the shrimp, reduce heat to medium. Cook uncovered for 3 minutes. Remove shrimp with a slotted spoon to a bowl of cold water. Let cool; then peel and devein the shrimp.
In a separate bowl, whisk the mayo, mustard, lemon juice, wine or vinegar, spice seasoning, pepper and dill. Combine with the shrimp. (See note) Add the onion and celery. Taste for seasonings. You may need to add a little salt. Serve immediately or refrigerate for a few hours.
Note: We added the dressing a little at a time and mixed. You don't want the shrimp swimming in dressing, just nicely coated. Don't worry about using all of the dressing.
To Serve: Place a few lettuce leaves on a plate. Spoon some salad on the lettuce, garnish with a quartered or chopped hard-boiled egg.
Recommended Tools