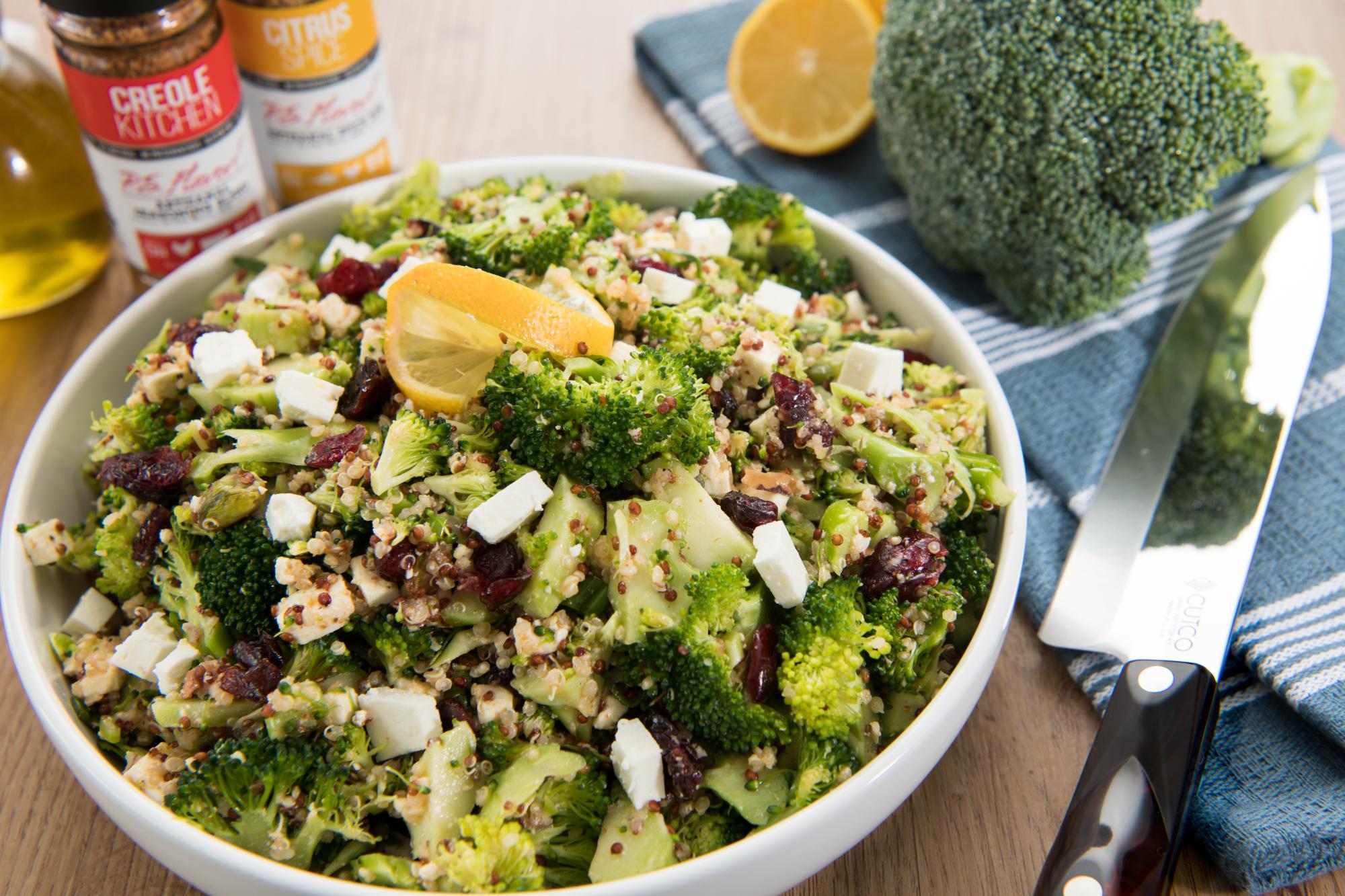 When the busy holiday season is upon us, I'm always looking for something I can make ahead to either serve to my family or bring as a dish to pass. This Citrus Spiced Broccoli and Quinoa Salad is a healthy side dish that has a delicious balance of flavors and textures and yes, it tastes better the longer it has time to marinate. The oil and lemon juice slightly softens the hard crunch of the broccoli, making it an ideal base to hold up for the main event.
A little trick to keeping your quinoa fluffy rather than wet and soggy is to dump the drained quinoa back into your saucepan and place two layers of paper towels underneath the lid before covering it. The paper towel will absorb the liquid as the quinoa continues to steam.
This recipe uses most of the head of broccoli so nothing is wasted. You'll start by shaving off the florets and small stems with your 7-5/8" Petite Chef Knife, rotating the head as you go.
Remember, you're going to use the stem of the broccoli in this recipe but you want to ensure you have the most tender parts. To do this, using a Vegetable Peeler or Paring Knife, remove the fibrous outer layer of the stalk until you get to the tender light green interior. Then chop up the stalk and add to the rest of your broccoli.
The key to this dish is giving it time to soften in the olive oil and lemon juice mixture. When serving, you'll notice crunchy textures from the broccoli and pistachios along with the creaminess of the feta cheese and pops of citrus flavors.
While this is a great dish for the holidays, I recommend it for any time of the year.
Ingredients
Kosher salt, for quinoa
1/2 cup dried white, red or multi colored quinoa, rinsed
2 small or 1 large head of broccoli, stalk-end trimmed (about 1 pound)
1/4 cup dried cranberries, lightly chopped
4 scallions, thinly sliced
6 ounces feta cheese, crumbled
1/3 cup salted, roasted pistachios, chopped, plus more for garnish
1 tablespoon P.S. Flavor!? Citrus Spice or sugar in the raw and 1 teaspoon lemon zest
1 teaspoon kosher salt
1/4 cup olive oil
3 tablespoons (or more) fresh lemon juice
Directions
Bring a medium saucepan of well salted water to a boil over high heat, making sure the saucepan is at least half full. Rinse quinoa well in a fine mesh strainer (so as not to lose any down the drain), add to boiling water and return to a boil. Reduce heat to medium and cook at a gentle boil or lively simmer, uncovered, until you start to see the curly tail separate from the individual grains, 12–15 minutes.
Taste quinoa to ensure it is tender. If it's still a little crunchy, cook another 2 minutes, then taste again. Once tender, drain quinoa in the fine-mesh strainer and shake off as much excess water as possible. Turn off your burner.
Immediately dump drained quinoa back into the saucepan. Return to stove and cover, placing 2 layers of paper towels underneath lid. The paper towel is there to absorb liquid as quinoa continues to steam, making it fluffy instead of wet and soggy. Let sit on stove while you assemble the rest of the salad.
Hold head of broccoli by the stalk over a large bowl. Rotating the stalk as you work, use your knife to shave off thin layers from the floret end, holding the knife almost parallel to the buds and taking off just the tiny buds at first. Then use knife to shave off thin layers of the florets until you reach the thicker stems.
Next, trim and chop up the stalk. Start by snapping off any remaining stems sticking out of the stalk. Using a Paring Knife, remove the fibrous outer layer of the stalk until you get to the tender light green interior. Chop up stalk and add to bowl.
Toss in dried cranberries, 3 of the sliced scallions, 4 ounces of the feta, 1/4 cup of the pistachios, P.S. Flavor!™ Citrus Spice, kosher salt and quinoa. Add olive oil and lemon juice and toss to combine. Taste and add additional Citrus Spice if needed.
Cover salad with plastic wrap, pressing it directly onto the surface. Let salad sit at least 30 minutes before serving (or transfer salad to an airtight container and chill up to 3 days). This allows the dried cranberries to soften and other ingredients to soak up all the lemon juice, oil and seasonings.
Before serving, toss salad together, then taste and season with kosher salt and lemon juice, if needed. Garnish with remaining feta, pistachios and scallions.
Recommended Tools