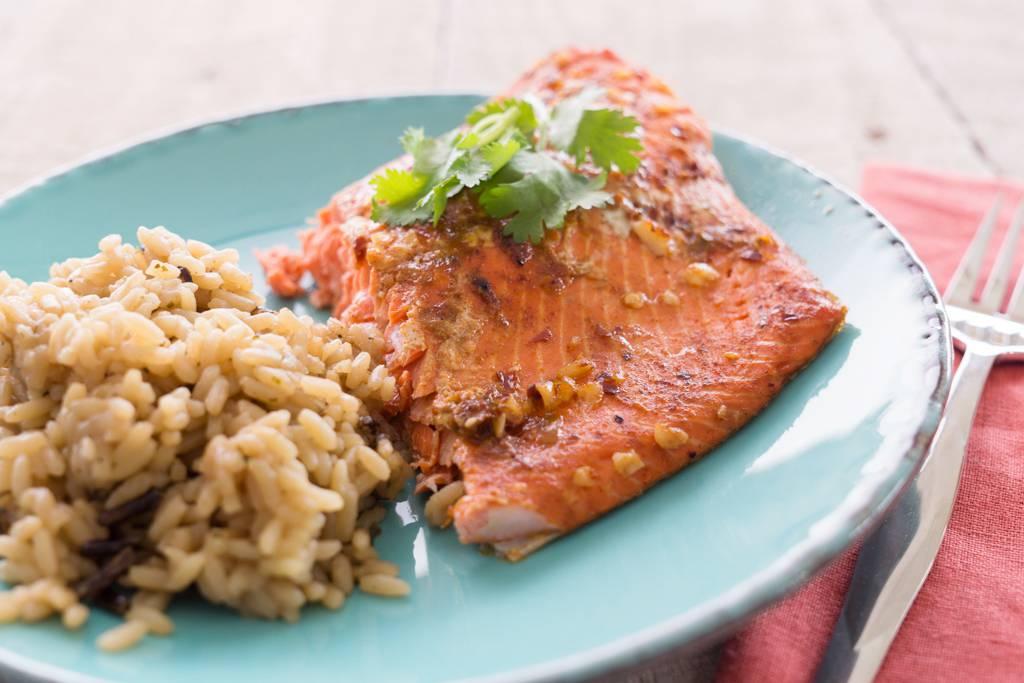 So how do you feel about seafood? Are you the Friday night fish fry person or are you seafood eater? I'm a little of both. I don't like mussels and clams but I would never pass up a shrimp dish or a sweet lobster dipped in melted butter. The one seafood I have never tried is fresh salmon. I've made salmon loaf and salmon cakes from the stuff in the can but I've always been hesitant to try fresh salmon in a restaurant or attempted to cook it at home.
Thanks to Chuck LaBorde, our Web Marketing Manager, I can now say I've eaten fresh salmon. Chuck is a cooking enthusiast who finds grilling his favorite way to prepare meats and seafood. He also likes to make a variety of soups and chowders and claims that jambalaya and seafood chowder are his specialties. Chuck follows recipes for the most part but tends to add his own special touches, especially when it comes to seasonings. The chili lime rub he used on the salmon was part of a seasoning gift pack we received from Cutco friend, Pam Smith of P.S. Flavor!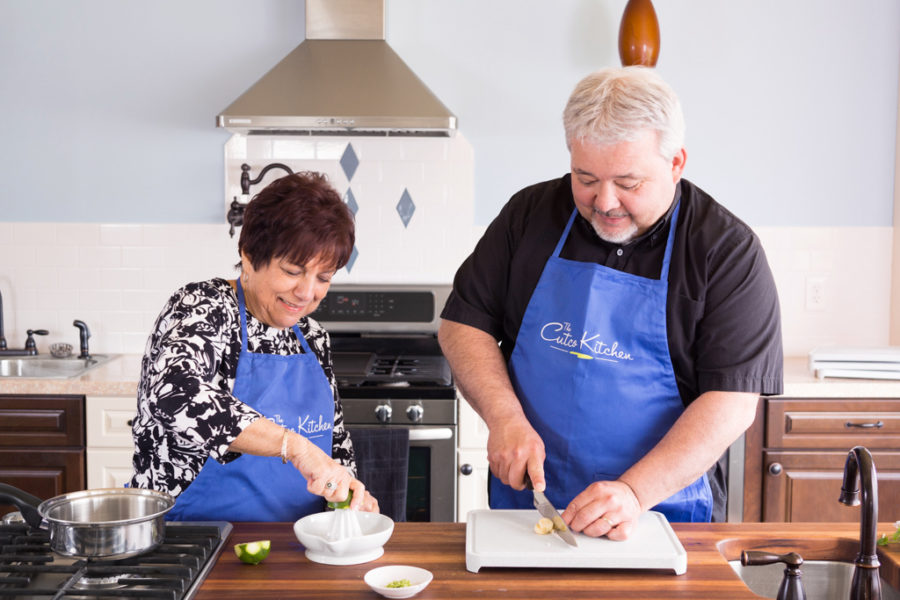 Chuck is an outdoor guy and is planning a fishing trip to New York's Thousand Islands region in June. He's hoping to catch some fish he can cook and enjoy in the great outdoors.
It was a fun time in the Cutco Kitchen with Chuck as the chef and me as his sous chef. Prep time was minimal and in about 25 minutes we had our forks in hand, ready to taste this beautiful piece of salmon. It looked good, smelled good, and the taste – oh my – it was moist, a little tangy and meaty.
Ingredients
1 lime
1/4 teaspoon red pepper flakes or to taste
2 teaspoons honey
1 clove garlic, minced
1/2 teaspoon salt
2 tablespoons cold butter, cubed, divided
1 1/4 pound wild caught sockeye or coho salmon (recommended)
1 teaspoon lime zest
1 teaspoon chili powder or to taste
2-3 tablespoons chili-lime rub
Directions
Position oven rack in the center of the oven and preheat to 375°F.
Zest 1 teaspoon of zest from the lime and set aside.
Juice the lime (about 2 tablespoons).
Combine lime juice, red pepper flakes, honey, garlic and salt in a saucepan over medium heat. Heat until the lime juice reduces to 1 tablespoon. Add 1 tablespoon of butter, remove pan from the heat and swirl to melt butter. Put back on heat for a few seconds until butter is completely melted. Add second tablespoon of butter, swirl until completely melted and remove from heat.
Place the salmon on a piece of foil large enough to fold over and seal. Brush the salmon with the lime butter sauce. Season with the lime zest. Combine the chili powder and the chili-lime rub. Sprinkle on the salmon. Cover with foil and close on all sides so the sauce doesn't leak.
Bake the salmon 12-14 minutes. Baking times may vary depending on the thickness of the fish. Open the foil and feel for firmness on the thickest part of the salmon to make sure it is cooked through.
Brown the salmon under the broiler for 2-3 minutes. Watch carefully so it doesn't burn. Remove from oven, cut into serving size pieces and serve immediately.
The salmon can also be grilled at 375°F for about the same length of time. To "broil" on the grill, open the foil and cook, with the grill lid closed, an additional 2-3 minutes. Watch carefully so it doesn't burn.
Note: Pink salmon can be used but has a tendency to remain wet and the taste will be different. If using pink salmon, open the foil about half-way through the cooking time. If there is an accumulation of water, pour it off, reclose the packet and finish cooking. At the end of the cook time, if there is water in the packet, pour it off before you place the salmon under the broiler.
Recommended Tools