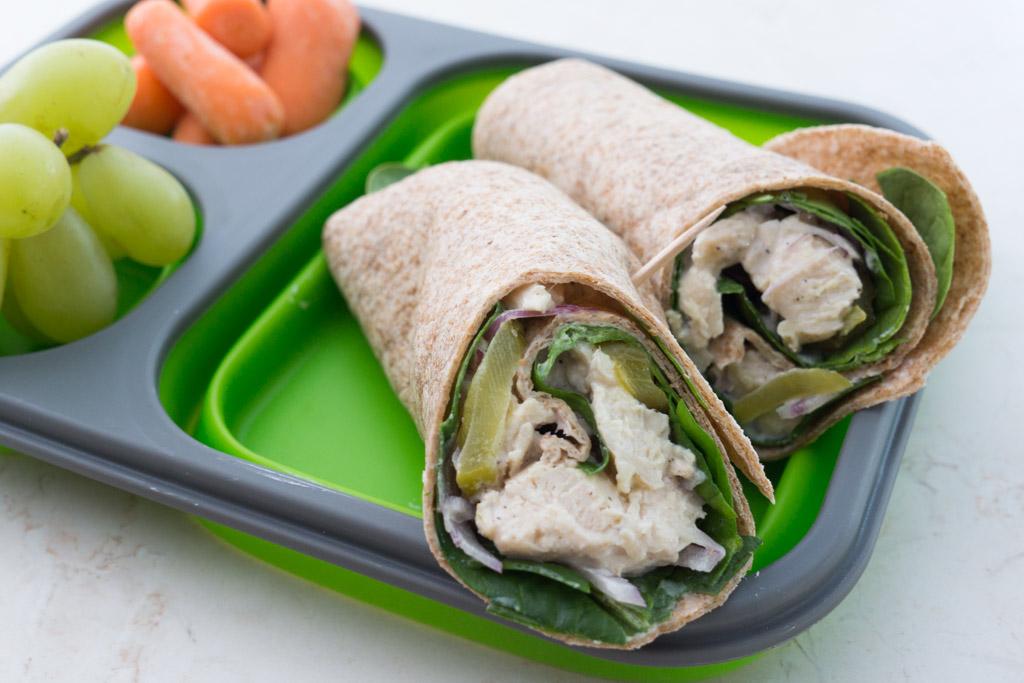 What to have for lunch. It's a dilemma most of us face every day. Besides trying to figure out what we'd like to eat, many of us have children's lunches to pack as well. In our search to break away from the plain lunch meat sandwich, we found this chicken wrap that works for both adults and kids.
Other than the time spent cooking the chicken, this wrap can be made pretty quickly. If you're in real hurry you can use the white meat from a rotisserie chicken. The recipe can be easily doubled or even tripled.
Mixing the chicken with a homemade yogurt dressing cuts down on the fat and calories. The recipe is adaptable to varying likes and dislikes as well. If you don't like pickles, just leave them out. Not a fan of onions? Use thin slices of cucumber instead. Although nutritionally different, you can also substitute romaine lettuce for the spinach or baby greens. Experiment with different types of tortillas and flatbreads for a different taste and texture.
Add some grapes and carrot sticks for a delicious and healthy lunch that's easy to take to work or school.
Ingredients
1/4 cup plain fat-free Greek yogurt
1 tablespoon honey
1/4 teaspoon black pepper
1/8 teaspoon garlic powder
1 1/2 cups cooked skinless, boneless chicken breast, chopped
2 8-inch whole wheat tortillas
1 1/2 cups baby spinach or mixed baby greens
1/8 cup thinly sliced red onion
Sweet or dill sandwich pickle slices
Directions
Stir the yogurt, honey, pepper and garlic powder together in a medium bowl. Add the chicken; tossing gently.
Lay the tortillas on a cutting board. Arrange the spinach evenly over the top three-quarters of each tortilla. Layer with the onions and pickles. Divide the chicken mixture between the tortillas. Roll each wrap, cut in half and secure with a toothpick.
Serve immediately or wrap in plastic wrap and refrigerate until serving time.
TIP: To take to work or school – wrap in plastic wrap or place in airtight container. Keep cold in an insulated bag with a freezer pack. Add some grapes and carrot sticks to round out this lunch.
Recommended Tools