Chicken Roulades With White Wine Reduction
2876 days ago
Skip to recipe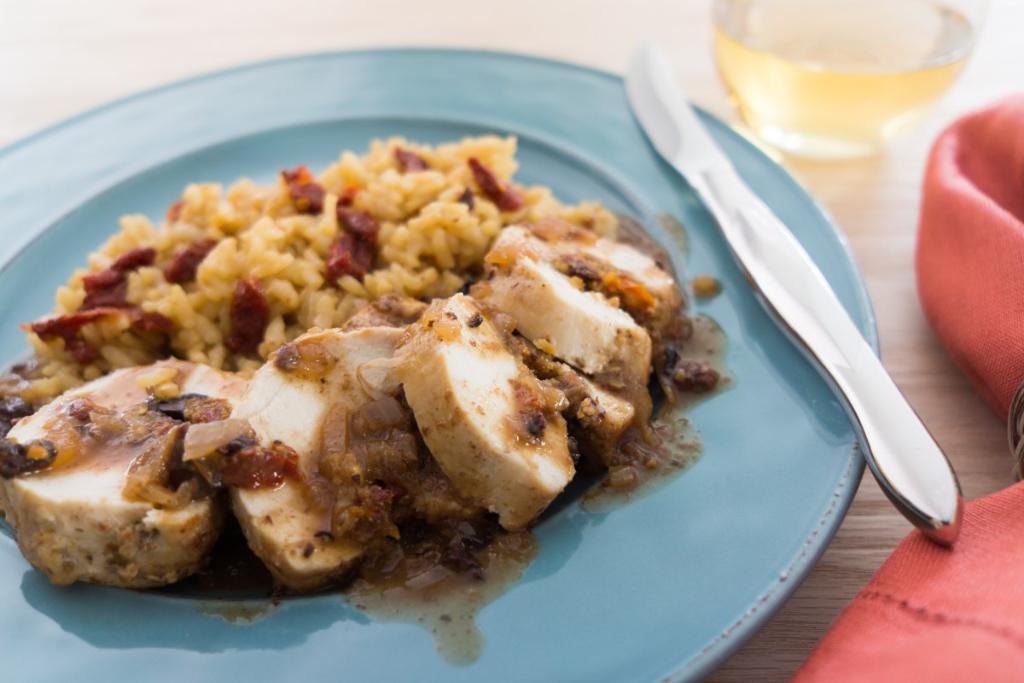 Cooking with wine is another relatively new venture for me. I have cooked with wine a few times but I prefer drinking it. No matter what you're eating, wine seems to fancy it up a bit.
When cooking with wine, a rule of thumb is to never cook with a wine you wouldn't drink. So, avoid the temptation to randomly pick up a bottle of wine in your local grocery store.
This recipe for Chicken Roulades with White Wine Reduction is a pleasant change from chicken breasts filled with a bread or ham and cheese stuffing. The olives and sun-dried tomatoes are a nice combination and the sauce is particularly tasty with a hint of saltiness from the olives.
This recipe could easily be doubled or tripled and would make a wonderful entrée to serve to guests.
Wine accompaniment suggestion: Sauvignon Blanc
Ingredients
12 pitted Kalamata olives, divided
3 tablespoons fresh bread crumbs
3 tablespoons sun-dried tomatoes packed in oil
1 tablespoon lemon zest
1 clove garlic, minced
2 boneless, skinless chicken breasts (about 6 ounces each) trimmed
2 teaspoons extra virgin olive oil
1/4 cup diced onion
1/4 cup dry white wine
1 1/2 cups low-sodium chicken broth
1 tablespoon fresh lemon juice
1 teaspoon cornstarch
Directions
Dice 6 of the olives and set aside. In a small bowl, mix bread crumbs, sun-dried tomatoes, lemon zest, garlic and oregano. Mince the remaining 6 olives and add to bread crumb mixture.
Pound the chicken between plastic wrap until it is about 1/4 inch thick.
Spread the filling on the chicken.
Roll and secure with toothpicks.
Using a large skillet, sauté the roulades in the 2 teaspoons of oil until browned, about 4-5 minutes.
Remove the roulades to a plate. Add the onion to the skillet and cook about 2 minutes. Add wine and cook until reduced by half, 1-2 minutes.
Add chicken broth and bring to a boil. Add the diced olives and the roulades. Cover and reduce heat. Simmer about 10 minutes. Remove roulades to a plate. Whisk the lemon juice and cornstarch together; stir into the sauce. Simmer 1 - 2 minutes. Slice the roulades and serve with sauce.
Recommended Tools