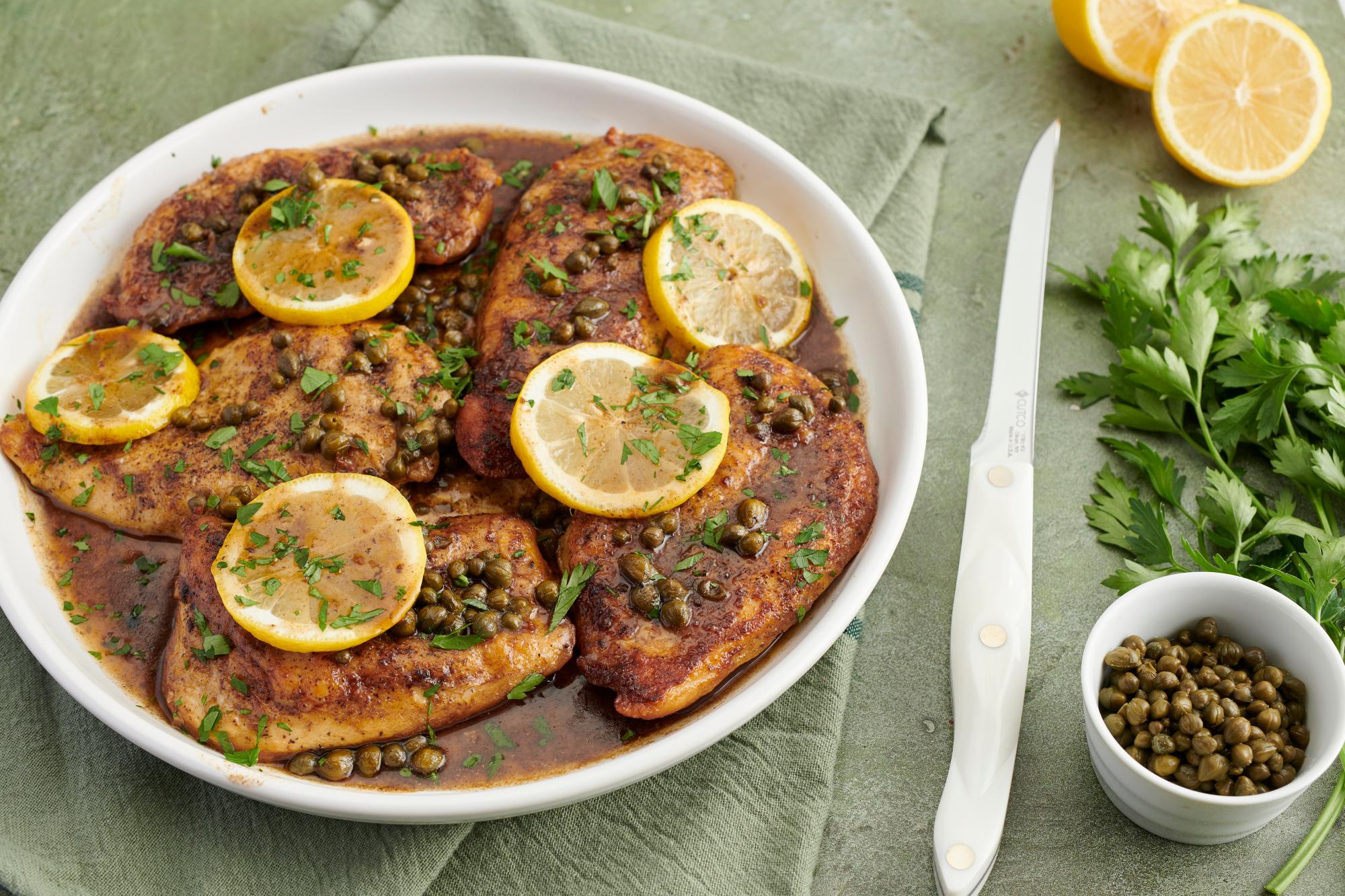 We eat a lot of chicken at our house. Over the years, I've learned to prepare it many different ways. One of my favorite ways is Chicken Piccata. It's a dish that is special enough to serve to guests, but also quick and simple enough to enjoy as a weeknight dinner for you and your family.
Be sure to use fresh lemons when preparing this dish. You really need the bright, bold flavor of fresh lemons that I don't think bottled juice can provide. As with all recipes, feel free to add your own special touches such as a clove of minced garlic, some sliced mushrooms, some fresh minced basil, or vary the amount of lemon juice.
Preparing the Chicken
A Boning Knife is the perfect tool for cutting the chicken breasts in half horizontally to create the cutlets for this recipe.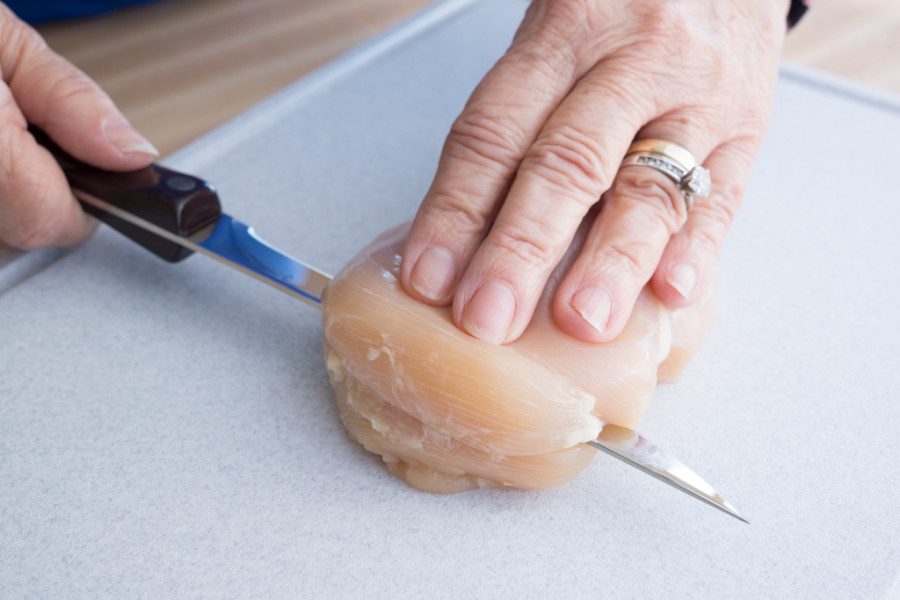 The cutlets will be seasoned and dredged in flour before being lightly pan fried. The flour creates a light, crisp coating and helps hold in the juices for moist results.
When buying the boneless chicken breasts, purchase a large package or two, then divide the package into smaller portions of two or three, put in zipper bags and pop them in the freezer. Depending on what you're cooking, defrost a package or two and you're good to go. Chicken is always a good protein to have on hand for a quick dinner.
Preparing the Rest of the Ingredients
Fresh lemons are what give this recipe its amazing flavor. When selecting lemons, look for a bright, glossy skin. If the skin is dull looking or wrinkled, they are likely over ripe.
You'll need about three lemons to get one-third cup of juice. Use a Cutco Trimmer to halve them and then use a reamer or juicer to extract the juice.
This Chicken Piccata recipe also calls for one-third cup of chopped parsley. Use a 7-5/8" Petite Chef to cut it. Shave off the leaves by running the blade along the stems and then chop it on a cutting board using a rocking motion.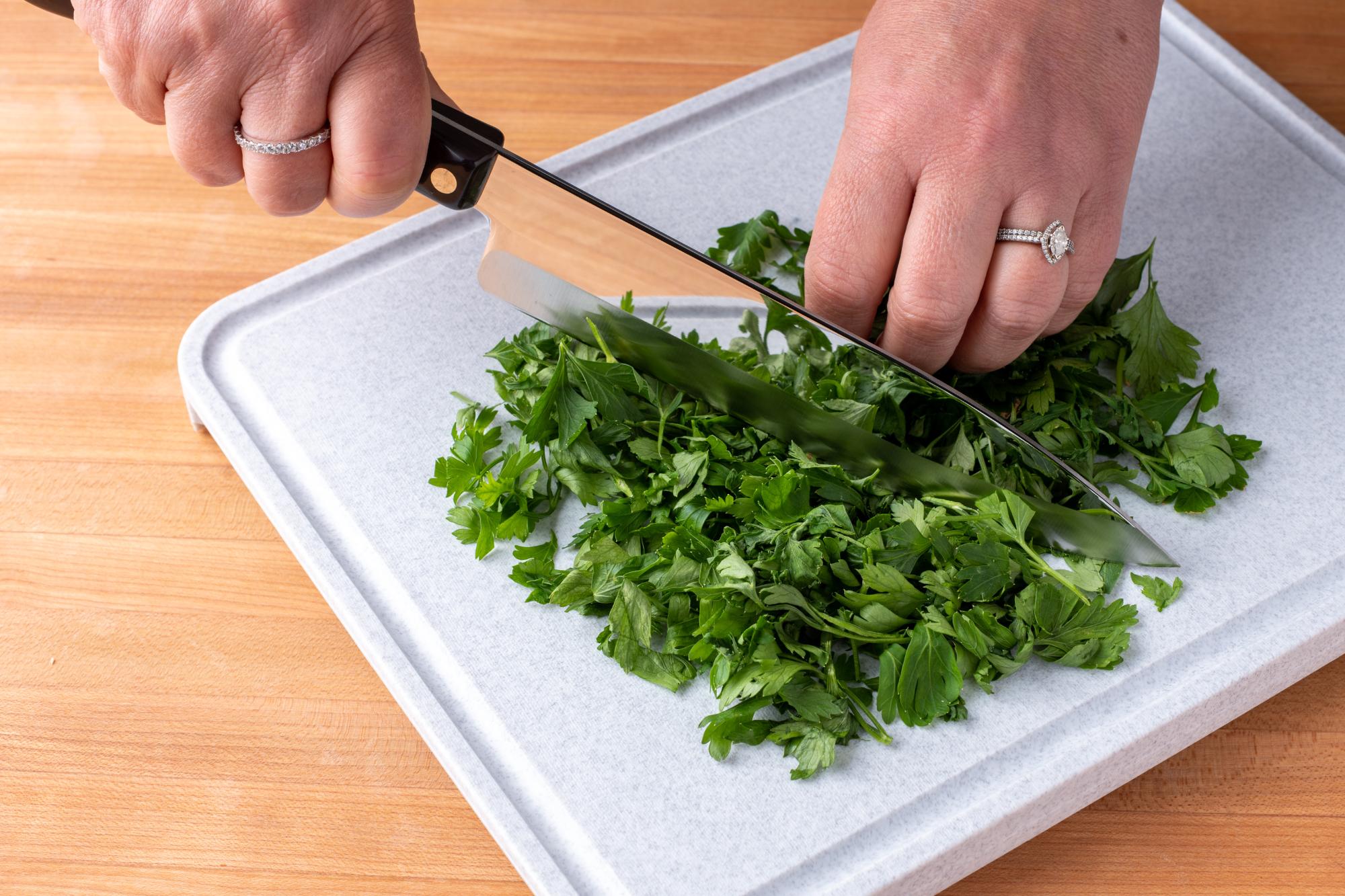 Make sure the parsley is dry before cutting so that the pieces don't stick to the blade. You could also snip pieces of the herb with Super Shears if you prefer.
When it all comes together, this is another restaurant-quality meal that is incredibly easy to make at home.
Not only will you save money by making Chicken Piccata yourself, you are in control of the ingredients you're putting into it.
Ingredients
2 skinless, boneless chicken breasts, sliced in half horizontally
Kosher salt and freshly ground pepper
1/4 cup all-purpose flour
6 tablespoons unsalted butter, divided
4 tablespoons olive oil, divided
1/3 cup fresh lemon juice
1 cup lower sodium chicken broth
1/4 cup brined capers, rinsed
1/3 cup fresh parsley, chopped
Directions
Season the chicken with salt and pepper. Dredge in flour and shake off excess.
In a large skillet over medium heat, melt 2 tablespoons of butter with 2 tablespoons of olive oil.. When the butter and oil sizzle, add 2 pieces of chicken and cook 3 minutes or until brown. Flip and cook the other side for 3 minutes. Transfer to a plate. Melt 2 more tablespoons of butter and 2 tablespoons of olive oil to the pan. Brown the other 2 chicken pieces in the same manner. Remove pan from the heat and transfer chicken to the plate.
Add the lemon juice, chicken broth and capers to the skillet. Return skillet to the heat and bring to a boil, scraping up the brown bits in the pan. Taste for seasoning and add more salt and pepper if needed. Return all the chicken to the pan and simmer for 5 minutes. Remove the chicken and place on a serving platter. Add the remaining 2 tablespoons butter and whisk until butter is melted. Pour the sauce over chicken and garnish with parsley.
Tip: If after slicing the chicken breasts, they are still quite thick, place them between two pieces of plastic wrap and pound them to a thickness of about 1/4".
Serving Suggestion: Double the sauce ingredients and use it to top rice, risotto or angel hair pasta as a side dish with the chicken.
Recommended Tools