Chicken Marsala in a Creamy Mushroom Sauce
850 days ago
Skip to recipe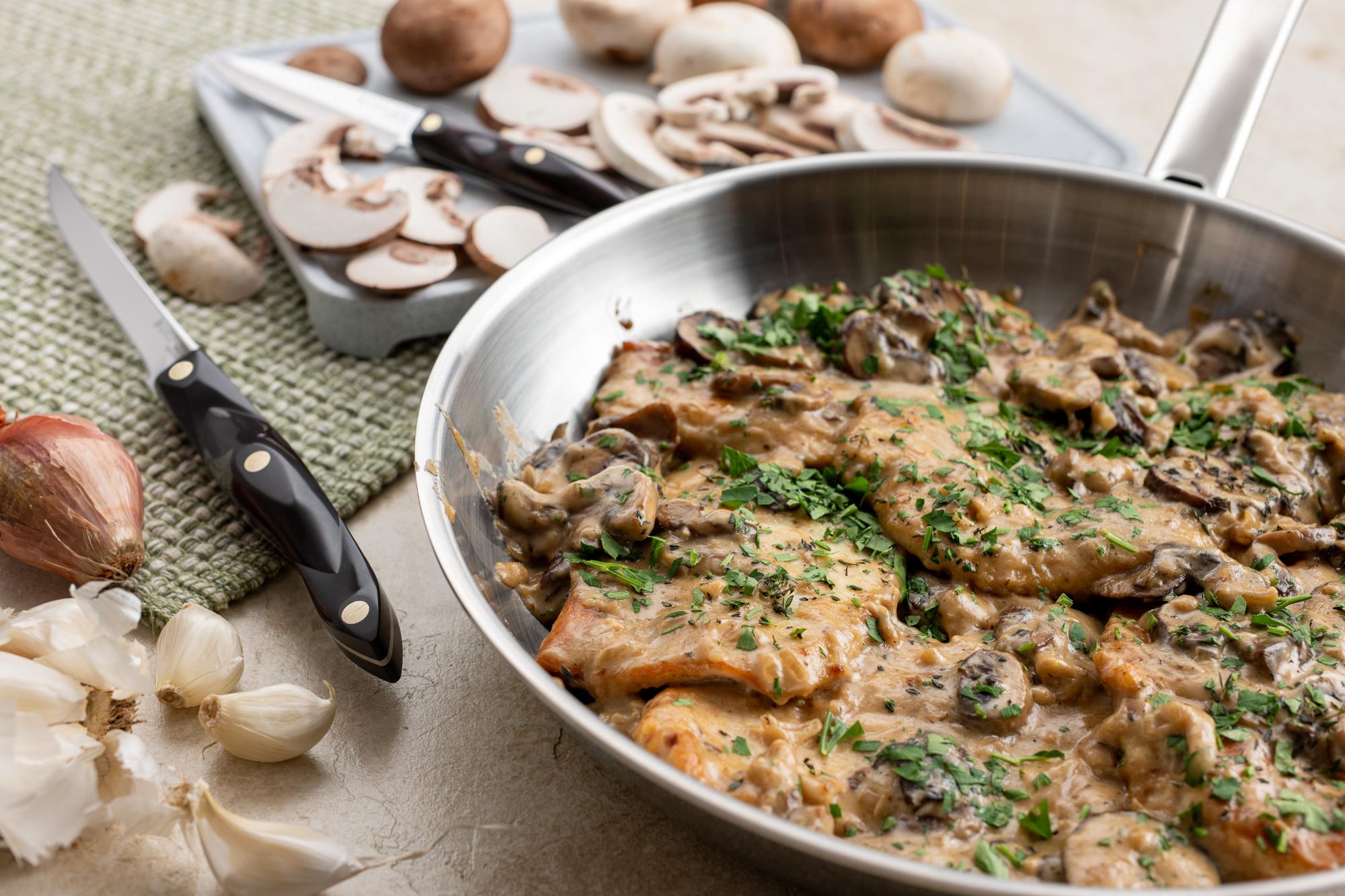 If you frequent Italian restaurants, I'm sure you've seen Chicken Marsala on the menu. Here's the thing – it's actually quite easy to prepare at home and makes for a hearty meal served over pasta with some rustic bread for dipping. This recipe for Chicken Marsala in a Creamy Mushroom Sauce is a restaurant-quality meal you can make yourself.
The three key ingredients are chicken, mushrooms and Marsala wine. For the chicken, you'll want to select boneless skinless chicken breasts that you can easily cut in half or you can buy chicken cutlets (chicken breast fillets that are already thinly sliced). For the mushrooms, go with your preference. We did a combination of baby bella and button mushrooms. Finally – the wine. Marsala wine is a fortified wine made in Sicily. You'll find both dry and sweet varieties, but you do want to stick with a dry Marsala as this type of wine adds a nuttiness to the sauce and works to caramelize the mushrooms. Quick tip: If you see a bottle of Marsala that is not from Sicily, don't buy it.
The first thing you'll want to do is halve the chicken breasts to create cutlets. I used the Boning Knife to easily cut them in half horizontally, making sure they were evenly sliced. When dredging your chicken fillets in the flour mixture, you don't need any milk or egg as you want a very light coating on the chicken. The moisture on the chicken will be enough to give you a perfect light coating of flour and spices.
For the mushrooms, I first removed the stems and then sliced them using the 4" Paring Knife. I found this to be a perfectly sized knife to make quick work of prepping them.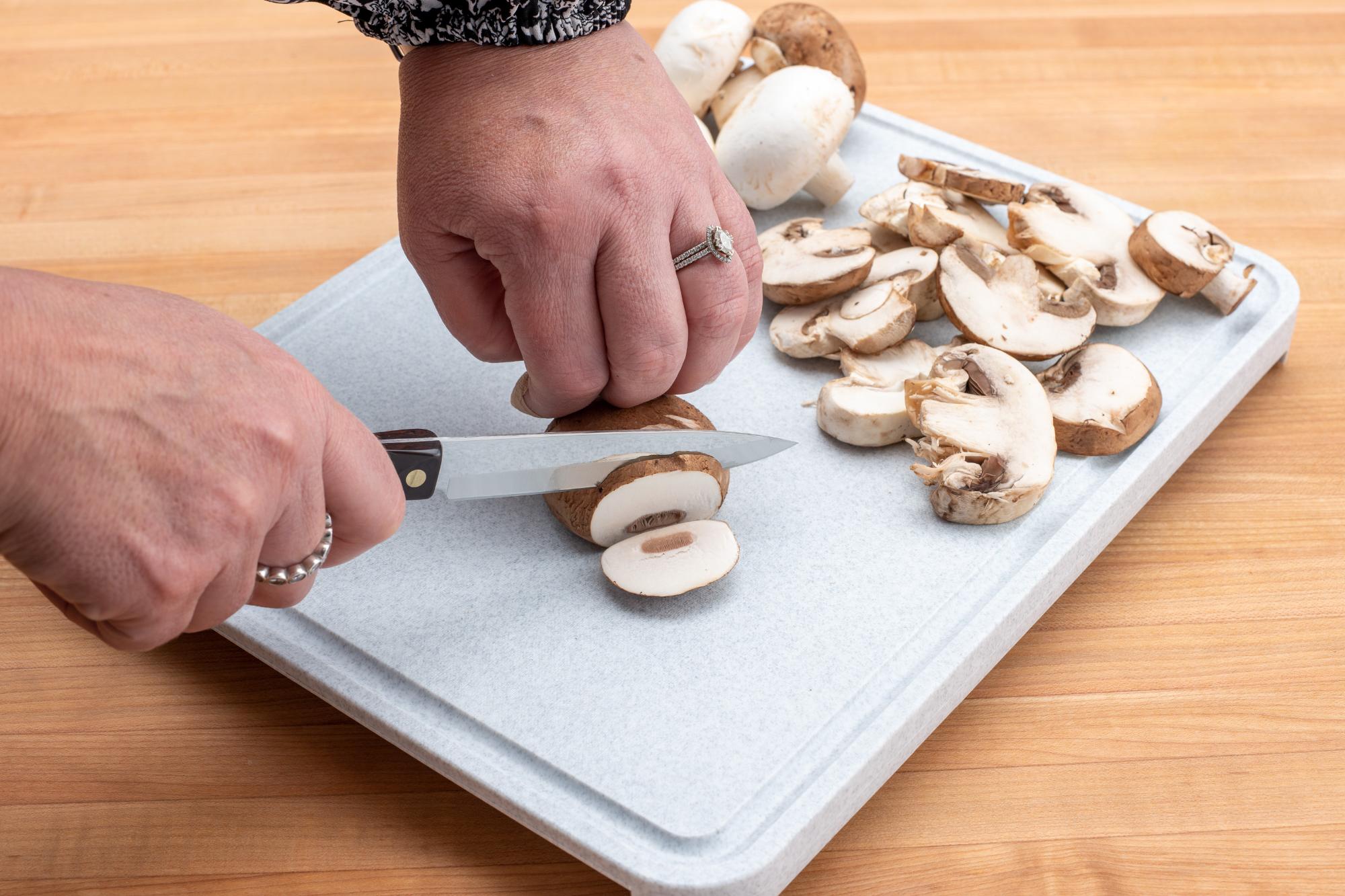 Once you have everything prepared, including your finely chopped shallot and minced garlic, it's time to brown the chicken. This can be a messy job so if you have splatter guard, I would recommend using it for this step so you don't have hot oil everywhere. When the chicken is browned, make sure to use the same pan for the next step of adding the sliced mushrooms, shallot and garlic. You want those savory brown bits on the bottom of the pan as they will add intense flavor to your finished sauce.
Add the Marsala wine slowly to deglaze the pan and if there are still brown bits on the bottom of the pan, scrape those off to increase your flavor. When you're ready to add the heavy cream, make sure it's room temperature so you avoid curdling.
While the sauce is thickening, take your 7-5/8" Petite Chef knife and chop up your fresh thyme and parsley. Then sprinkle this herb mixture over your finished dish.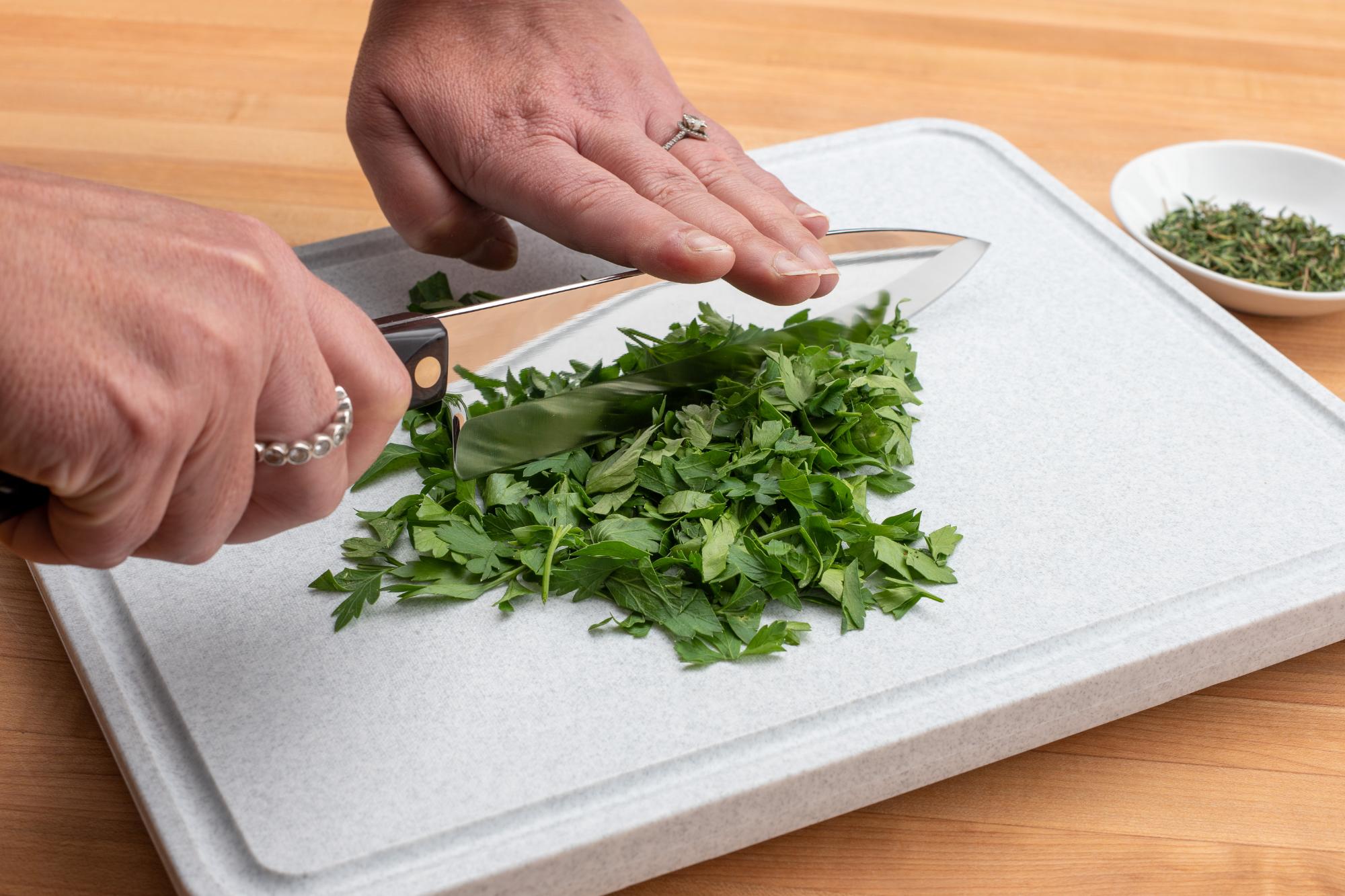 In the recipe directions, I've mentioned serving this Chicken Marsala in a Creamy Mushroom Sauce over angel hair pasta, which would taste fantastic. We found it was equally delicious on its own. The sauce had so much flavor and the chicken fillets were delicate and paired perfectly with the mushrooms. This is a hearty meal that is perfect for any night of the week.
Ingredients
2/3 cup all-purpose flour
1 teaspoon kosher salt
1/2 teaspoon black pepper
1/2 teaspoon garlic powder
2 large boneless skinless chicken breasts, halved horizontally for four fillets
1 tablespoon olive oil
3 tablespoons unsalted butter, divided
8 ounces bella or button mushrooms, sliced
1 shallot, finely chopped
2 cloves garlic, minced
1 cup chicken broth
3/4 cup dry Marsala wine
2/3 cup heavy cream, room temperature
2 teaspoons fresh thyme, chopped
2 tablespoons fresh parsley, chopped
Cooked angel hair pasta, for serving
Directions
Mix together in a shallow bowl (a pie plate works well) the flour, salt, pepper and garlic powder.
Dredge the chicken fillets through the flour mixture until evenly coated, shaking off the excess.
Heat the oil and 2 tablespoons of butter in a large skillet (do not use a non-stick pan) over medium-high heat.
Carefully place the four coated chicken fillets into your skillet and brown both sides (approximately 3-4 minutes per side). Make sure to turn the fillets over only once. If your skillet is not large enough, you can cook two fillets at a time. Transfer the cooked fillets to a plate.
In the same pan, with the remaining juices and oil, melt one tablespoon of butter, scraping the bottom of the pan.
Add the mushrooms and cook for 3 to 4 minutes, until they begin to brown.
Add the shallot and garlic and cook for one minute.
Pour in the chicken broth and Marsala wine – simmering until the sauce reduces in half and thickens (approximately 10-12 minutes).
Slowly stir in the heavy cream and then add your four cooked chicken fillets.
Cook for another 3-5 minutes until the sauce is thickened, sprinkling the fresh thyme and parsley over the mixture.
Remove from heat and serve immediately. This dish can be served as is or over angel hair pasta.
Recommended Tools