Chicken and Corn Enchiladas With Salsa Verde
1012 days ago
Skip to recipe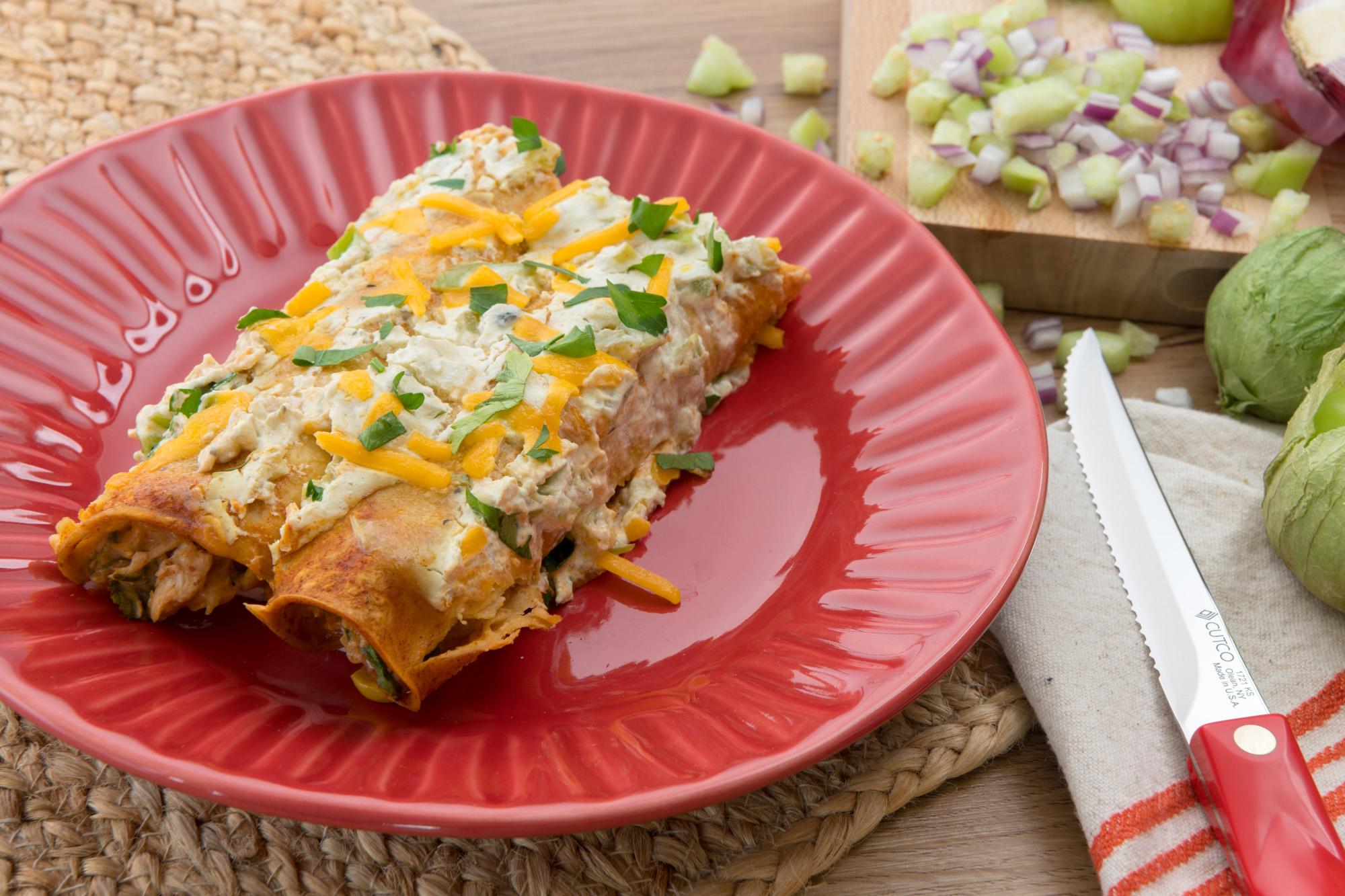 Sometimes you want cheesy, gooey comfort food and this recipe delivers with very little effort. A rotisserie chicken plus a few ingredients you probably have in your pantry and fridge are all you need to prepare a casserole full of delicious Mexican flavors.
You can easily make your own enchilada sauce by mixing together 2 teaspoons ground cumin, 1 teaspoon dried oregano, salt and pepper to taste, 1 cup tomato sauce and ¼ cup water.
To ensure that your enchiladas are all the same size, use a one-third measuring cup or a scoop of similar size to fill the tortillas. That way, they will all cook evenly.
The addition of the tomatillo is a way to get a homemade taste without all the work of making a traditional salsa verde. Tomatillos look like small green tomatoes with a papery husk. Just remove the husk, rinse under water to remove the sticky film and dice finely. Their citrusy flavor brightens the canned salsa verde and sour cream mixture to make the perfect sauce for the enchiladas.
Knives for prepping
This recipe calls for using a rotisserie chicken. To cube it, use Cutco's 6-3/4" Petite Carver to remove the breast from the chicken and then to cut it into small cubes.
For prepping the tomatillo, the Trimmer easily slices through the skin and flesh.
For cutting the spinach leaves, roll the leaves up and use a 7-5/8" Petite Chef to thinly slice.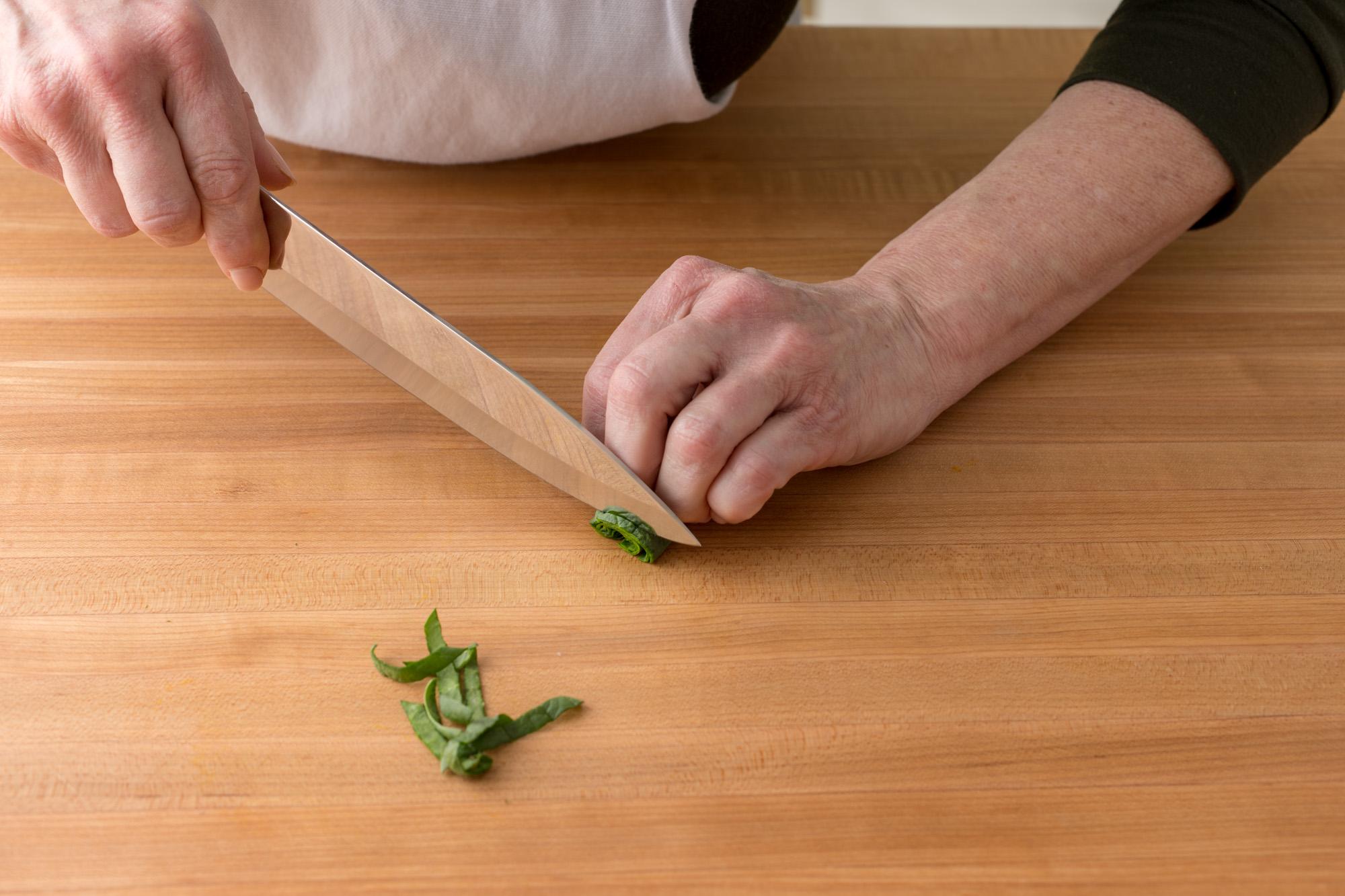 To learn more about how to cut the chicken, check out Cutco's step-by-step infographic, How to Cut a Rotisserie Chicken. For the tomatillo, there's also a handy infographic that walks you through how to dice that.
Ingredients
Enchiladas
16 (6-inch) corn tortillas
1 14-ounce can enchilada sauce
Filling
1/2 cup finely chopped onion
2 1/2 cups cubed rotisserie chicken
One 4-ounce can diced mild green chiles
Two teaspoon chili powder
One 14 3/4-ounce can cream-style corn
1 cup baby spinach leaves, thinly sliced
1/2 cup sour cream
Salt and freshly ground pepper
4 ounce (1 cup) shredded Monterey Jack, Cheddar or Mexican blend cheese, plus more for topping, if desired
Topping
1/2 cup salsa verde (green salsa)
1 tomatillo, finely diced
1/2 cup sour cream
Garnish
1 avocado, diced
Fresh cilantro, chopped, for garnish (optional)
Directions
Heat oven to 350 degrees F. Pour a thin layer of enchilada sauce in the bottom of a 13 X 9 inch baking dish.
In a large bowl, mix together all of the filling ingredients. In a small bowl, mix together the salsa verde, tomatillo and sour cream for the topping.
Pour remaining enchilada sauce in a pie plate or shallow bowl. Dip one tortilla into sauce, turn over to coat both sides and shake off excess. Place tortilla on large flat work surface (such as a cookie sheet). Place about 1/3 cup filling mixture on the tortilla and roll up the tortilla into a cylinder. Place seam side down in prepared pan. Repeat with remaining tortillas.
Pour salsa verde topping mixture over the filled tortillas, making sure that the edges of the tortillas are moistened with the sauce. Cover with foil and bake until hot, about 20 minutes. Uncover pan and sprinkle with additional cheese if desired. Return pan to oven, uncovered and bake until the top is bubbly, about 10 more minutes. Sprinkle with cilantro, if using, and diced avocado and serve.
Recommended Tools