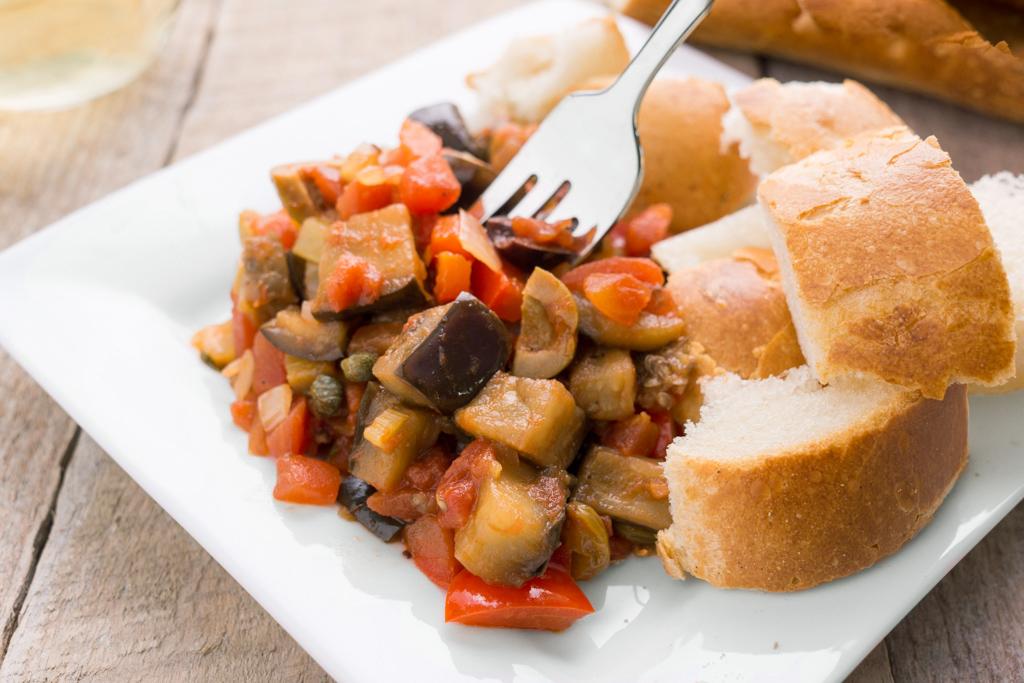 You're probably looking at the title of this post and saying, "What in the world is caponata?" If you're a fan of Italian cooking, you probably know what it is. If you're not, let me explain. Caponata is an Italian relish/spread that originated in Sicily. I remember my mom making it quite often and serving it as an appetizer to guests. I thought I had a copy of the recipe she used but I don't, so I had to rely on my memory which isn't what it used to be. I remembered what was in it but not the quantities. A little research filled that gap and I was ready to start.
This smelled so good while it was cooking, I couldn't wait to taste it and I wasn't disappointed. My mom would be proud. I think I did a pretty good job replicating her recipe.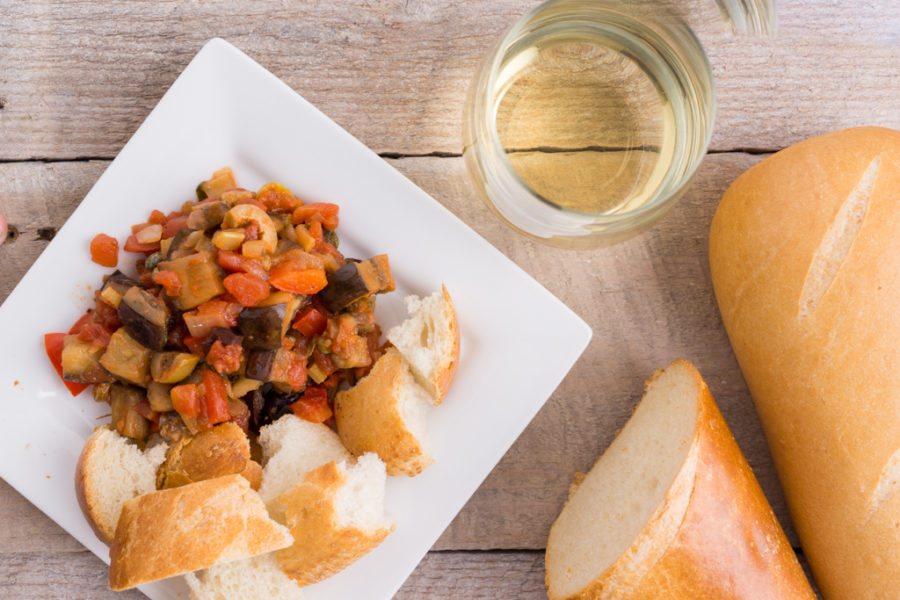 Caponata is both sweet and sour and based on your preference you can increase or decrease the amount sugar and vinegar to suit your taste. If you don't like eggplant, give this recipe a try. The eggplant flavor isn't overpowering and the taste is bold and zesty. Let it sit for a day and it tastes even better.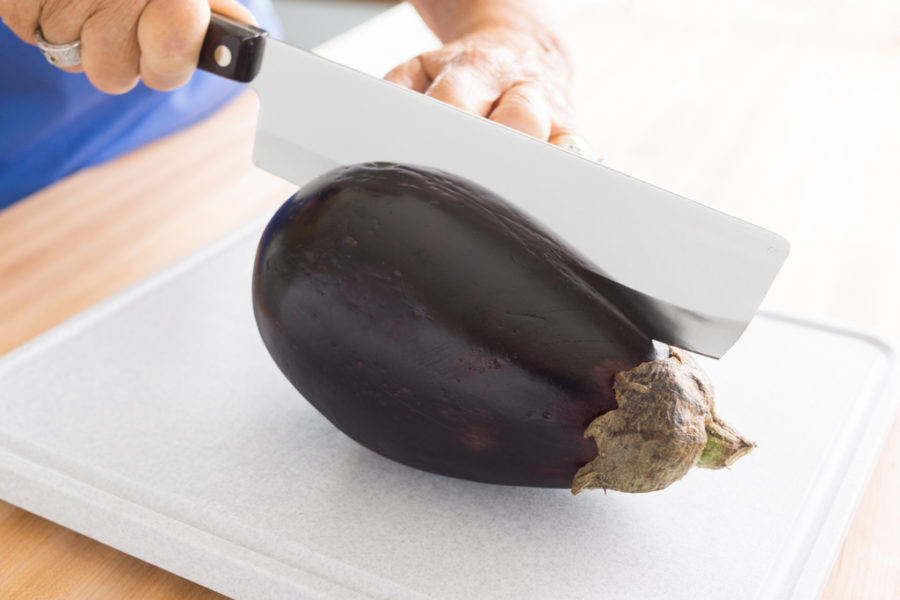 This is a great recipe for using the Vegetable Knife. With its sharp, wide blade, it is the best choice for cubing, chopping and dicing the veggies, and then scooping them all up into a bowl.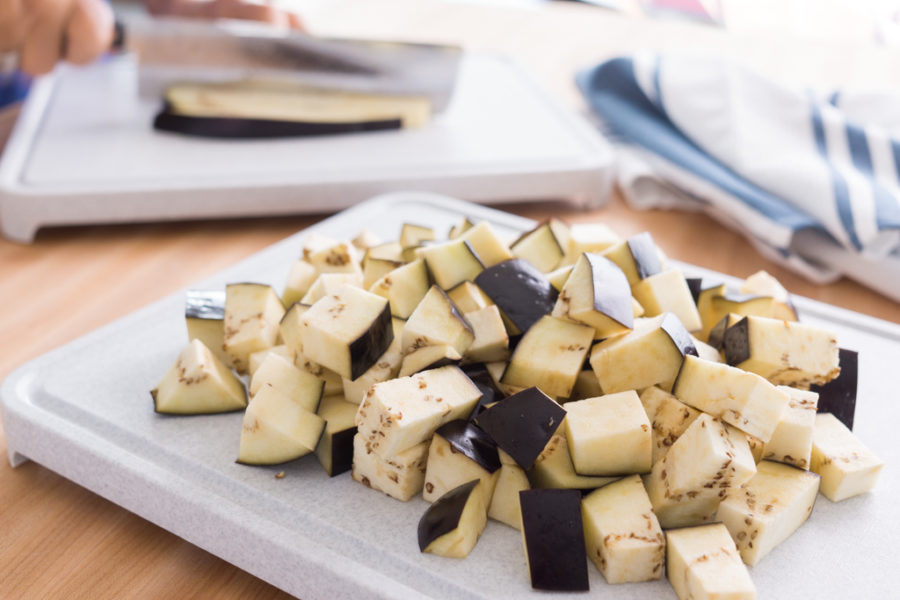 Ingredients
1 large eggplant, cut into 1 inch cubes
3 tablespoons salt
1 medium onion chopped
1 red bell pepper, chopped
1 cup chopped celery
3 tablespoons olive oil
A pinch of hot red pepper flakes
1 28-ounce can diced or chunky crushed tomatoes
1/4 cup golden raisins
3 tablespoons capers
1/2 cup pitted Kalamata and/or green Italian olives, chopped
1 tablespoon sugar
2 tablespoons red wine vinegar
Salt and pepper to taste
Fresh basil
Directions
Prep the eggplant: Place cubed eggplant in a large colander and place the colander in a bowl to catch the liquid. Sprinkle with the 3 tablespoons of salt. Toss. Make sure every piece of eggplant has salt on it. Put a plate on top of the eggplant and weight it down with something heavy; like cans of beans, tomato sauce, a brick or a heavy pan. Let sit for 1 hour.
After 1 hour, discard the liquid and rinse the eggplant. Drain on a kitchen towel and dry well. Set aside.
For the recipe: Sauté the chopped onion, pepper and celery in the olive oil in a large, non-stick pan over medium-high heat for about 5 minutes. Add the eggplant and the red pepper flakes. Cook about 3 minutes.
Add the canned tomatoes and raisins; reduce the heat to medium and cook for 20 to 25 minutes until the veggies are cooked and the sauce is thick.
Add the capers, olives, sugar, red wine vinegar and cook about 1 more minute. Taste and season with salt and pepper and add a tablespoon or so of chopped basil.
Caponata can be served hot or at room temperature. To serve hot, spoon it over some cooked pasta like rigatoni or penne or over polenta. To eat at room temperature, scoop it up with large chunks of crusty Italian bread or spread on thick slices of Italian bread for a sandwich.
Kept in the refrigerator, it will last for several days.
Recommended Tools