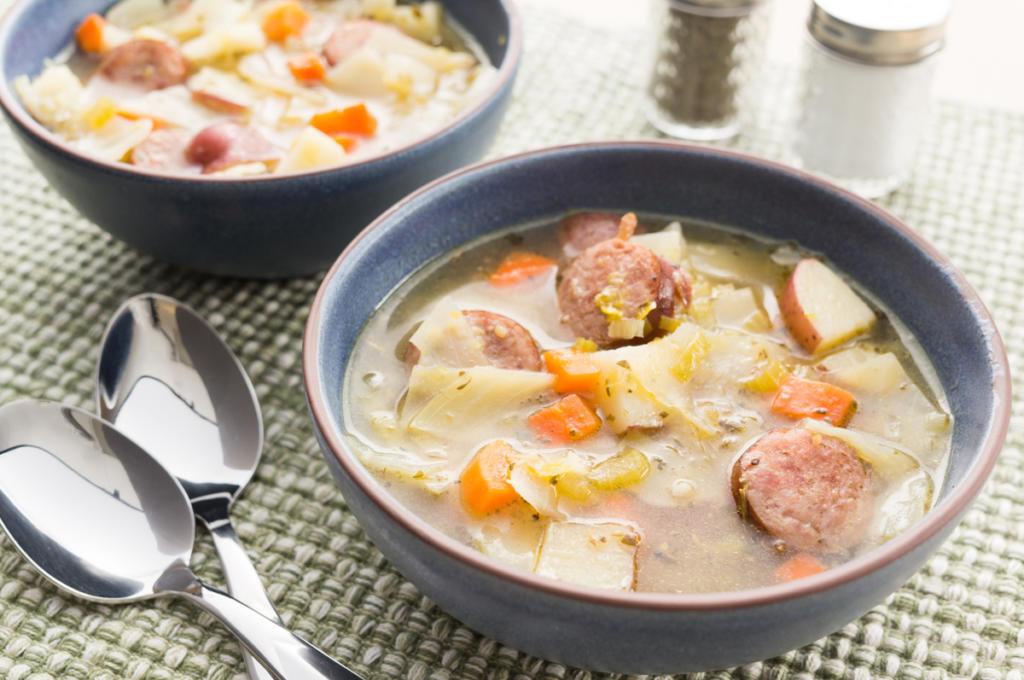 Soup is so versatile. You can combine a whole bunch of or just a few vegetables, add some meat or not, and simmer everything in a base ranging from a broth to a thick sauce. You can add lots of herbs and spices or just some salt and pepper. Let your taste buds be your guide.
This Cabbage Soup with Sausage and Potatoes recipe is full of savory flavors and guaranteed to warm you up. Think about serving it for St. Patrick's Day or any day you want a hearty, comforting meal.
How to Cut Cabbage
The Vegetable Knife with its sharp, wide blade is the ideal tool for prepping the cabbage.
Remove the loose outermost leaves of the cabbage. Slice off the bottom of the stem so it sits flat on the cutting board. Cut the cabbage in half and then into quarters. Place one of the quarters, flat side down, on the cutting board and cut out the core.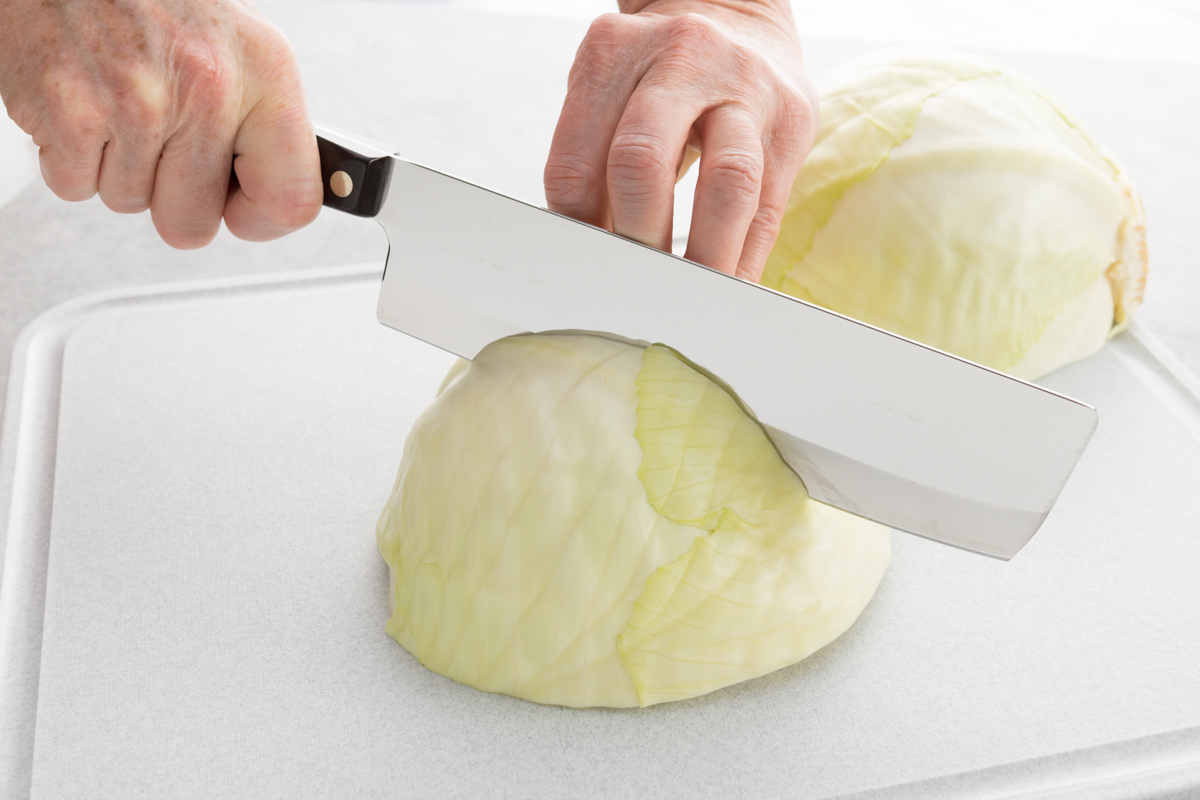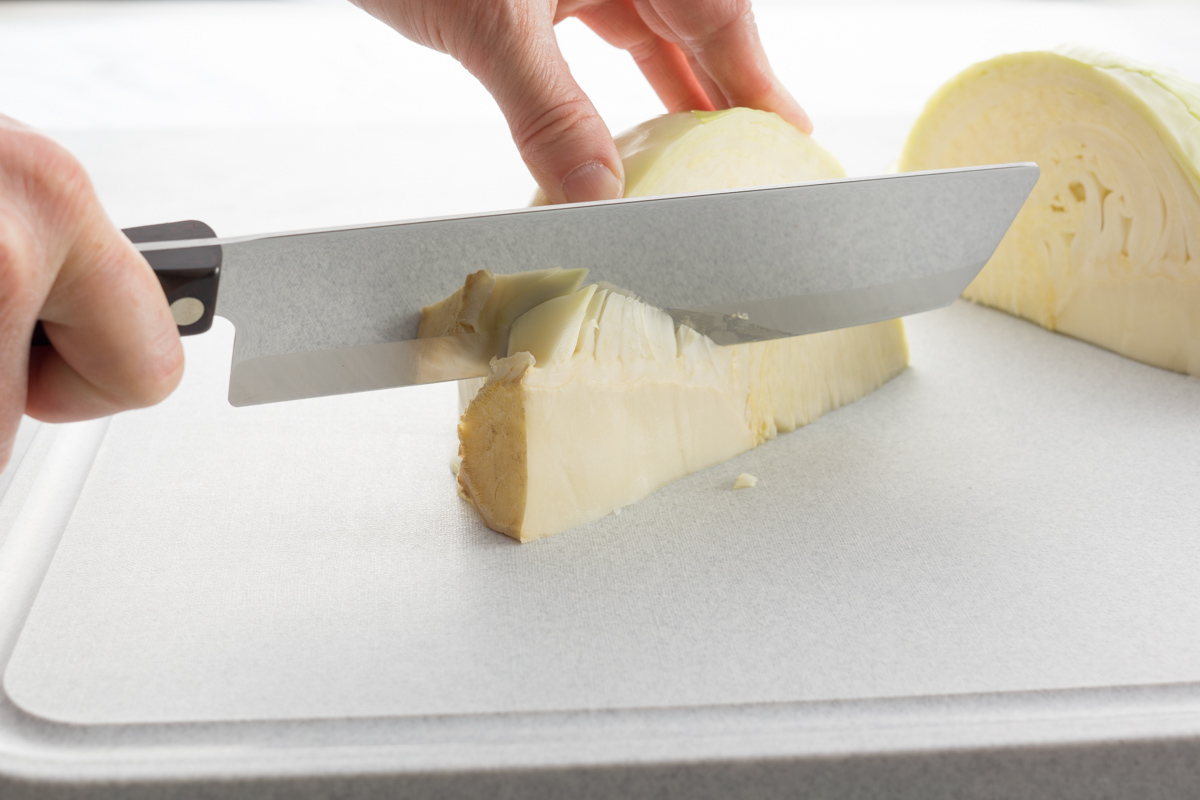 Rough cut the cabbage into bite-size pieces. Repeat with the other 3 quarters.
Use the Petite Chef Knife to easily slice the leeks into thin rounds for sautéing and to dice the carrots and celery.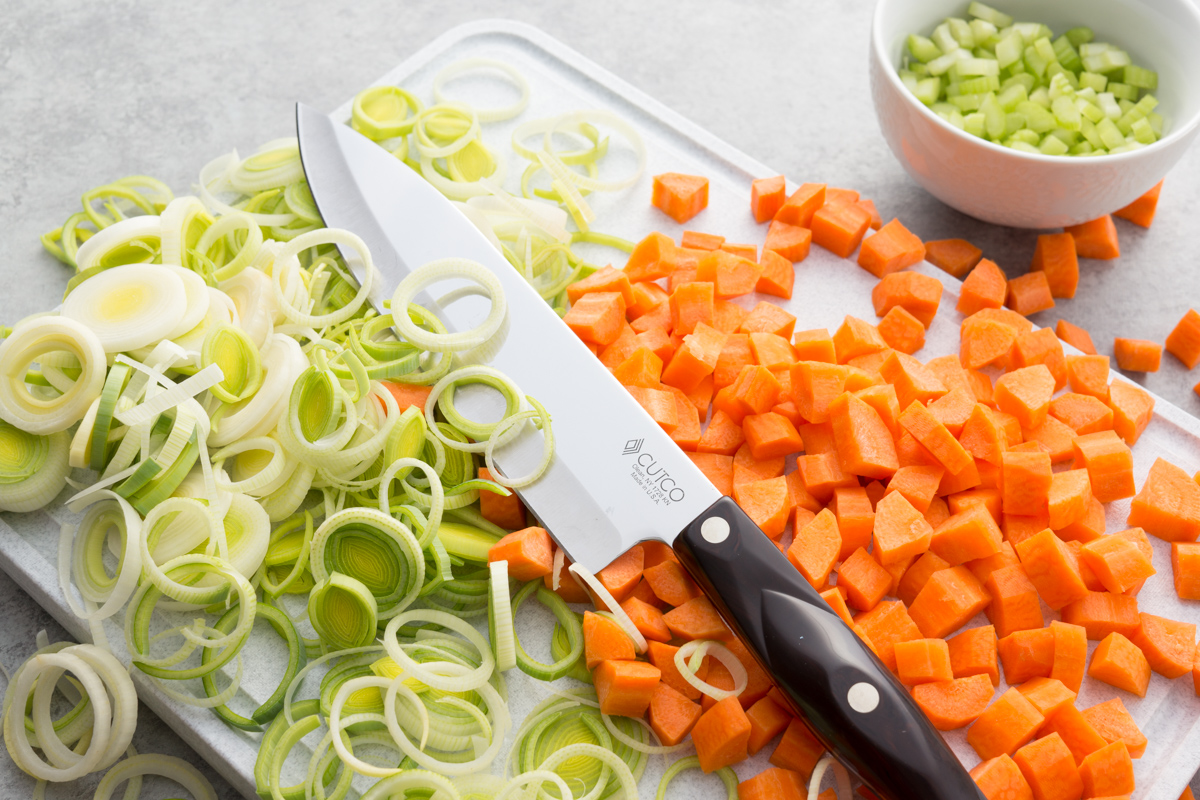 Since the prep and cook time are relatively short, this soup can easily be served as a hearty weeknight dinner.
Everyone in the Cutco Kitchen liked it and someone even suggested replacing the Italian seasoning with dried dill which sounds good to me.
Ingredients
1 pound fully cooked smoked sausage, sliced into bite-sized pieces
2 tablespoons olive oil
3 medium leeks, sliced into 1/8-inch rounds, white and pale green parts only
2 medium carrots, peeled and diced
1 stalk celery, diced
1 small green cabbage, chopped into bite-sized pieces
3 cloves of garlic, minced
6 cups chicken stock
1 pound red potatoes, diced
1 tablespoon Italian seasoning
1 or 2 bay leaves
Kosher salt and freshly ground pepper
Directions
Heat a large stockpot over medium heat. Add the sliced sausage and lightly brown. Use a slotted spoon to transfer the sausage to a plate and set aside.
Add the olive oil, leeks, carrots and celery to the pan and stir. Sauté for about 5 minutes, stirring occasionally. Add the chopped cabbage and garlic and sauté for 4 more minutes, stirring occasionally.
Add the chicken stock, potatoes, Italian seasoning, bay leaves and sausage. Stir to combine and continue cooking until the soup reaches a simmer. Reduce heat to medium-low, cover and simmer for 15 minutes or until potatoes are tender. Taste and season with salt and pepper.
Ladle into bowls and serve.
Soup can be refrigerated in sealed containers for up to 3 days or frozen for up to 3 months. If frozen, allow to thaw before reheating.
Recommended Tools