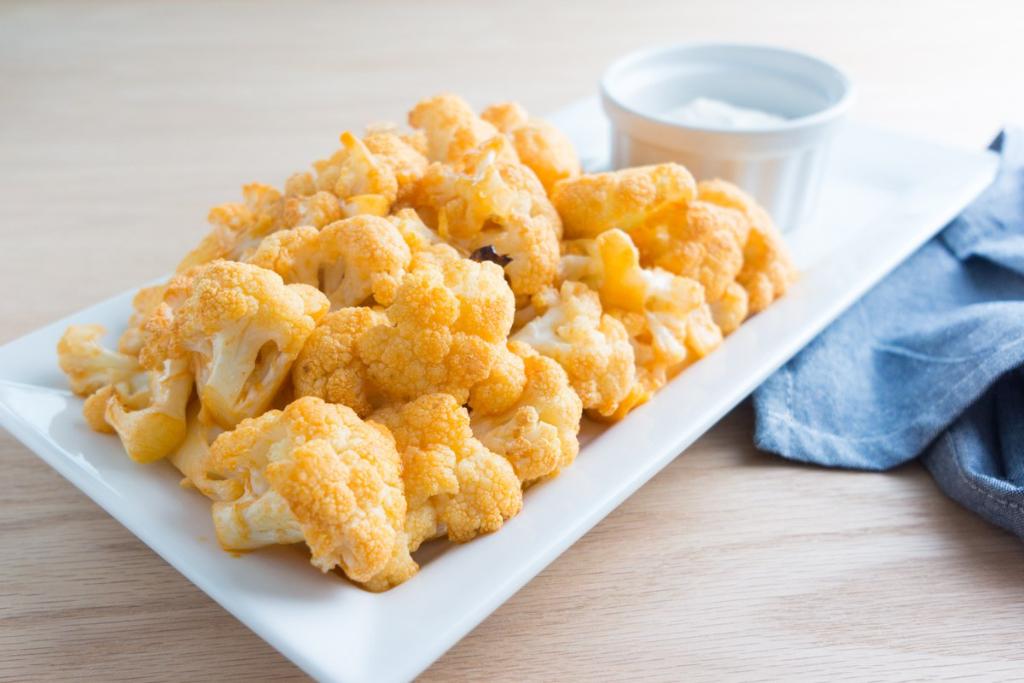 Want to get your family to eat food that is healthier for them but still satisfies their craving for tastes they love? We found this recipe does just that. It definitely has a little kick but you can always cut back on the hot sauce.
Ingredients
Blue Cheese Dip
1/3 cup nonfat sour cream
2 tablespoons crumbled blue cheese
1 tablespoon skim milk
2 teaspoons mayonnaise
Kosher salt and freshly ground black pepper
Buffalo Cauliflower
2 tablespoons unsalted butter
1/4 cup hot sauce, such as Frank's
1 tablespoon freshly squeezed lemon juice
2-3 tablespoons olive oil
1/4 teaspoon Kosher salt
8 cups cauliflower florets (from about 1 medium head)
Directions
Preheat the oven to 400 degrees F.
In a small bowl, whisk the sour cream, blue cheese, milk, mayonnaise, 1/8 teaspoon salt and a few grinds of pepper. Cover and refrigerate for about 30 minutes.
Microwave the butter in a microwave-safe bowl on high until melted. Whisk in the hot sauce and lemon juice and set aside. Mix the olive oil and salt in a large bowl. Add the cauliflower and toss until well coated. Remove cauliflower from sauce and spread it out on a rimmed baking sheet. Roast until beginning to brown and just tender, 30 to 35 minutes. Whisk the hot sauce mixture again, pour over the cauliflower and toss. Be sure to coat all the cauliflower completely. Roast the cauliflower until the sauce is bubbling and the cauliflower is browned around the edges, about 10 minutes more. Serve hot with the Blue Cheese Dip.