Braised Chicken Thighs With Roasted Vegetables
2599 days ago
Skip to recipe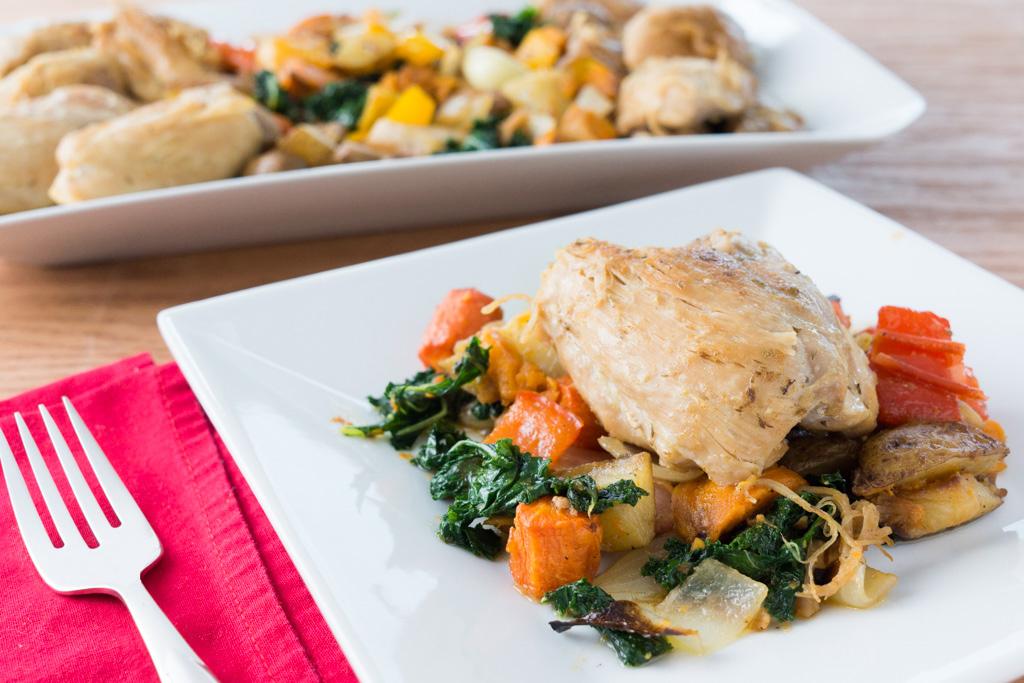 Ingredients
1/2 teaspoon dried oregano, crushed
1/2 teaspoon ground cumin
1/4 teaspoon salt
1/4 teaspoon turmeric
1/8 teaspoon cayenne pepper
16 skinless, boneless chicken thighs, about 3 pounds
1 tablespoon vegetable oil (If cooking thighs in batches, you may need to add more oil to the pan.)
2/3 cup reduced-sodium chicken broth
3 cups roasted vegetables (get recipe)
3 cups torn, fresh kale
Directions
Use a Mix-Stir to stir oregano, cumin, salt, turmeric and cayenne pepper together in a small bowl. Sprinkle evenly over both sides of chicken.
In a very large non-stick skillet, brown chicken in hot oil over medium-high heat, turning once. If you have a smaller skillet, brown the chicken in batches. Overcrowding the pan will steam the meat instead of allowing it to brown. With all browned chicken in the pan, add the chicken broth, bring to a boil, and then reduce heat. Simmer, covered for 15 minutes or until chicken is done. Transfer chicken to a platter and keep warm.
Add roasted vegetables and kale to the skillet. Bring to a boil, reduce heat and simmer, uncovered over medium heat about 5 minutes or until liquid is slightly reduced.
Serve the chicken and vegetables with polenta or mashed potatoes.