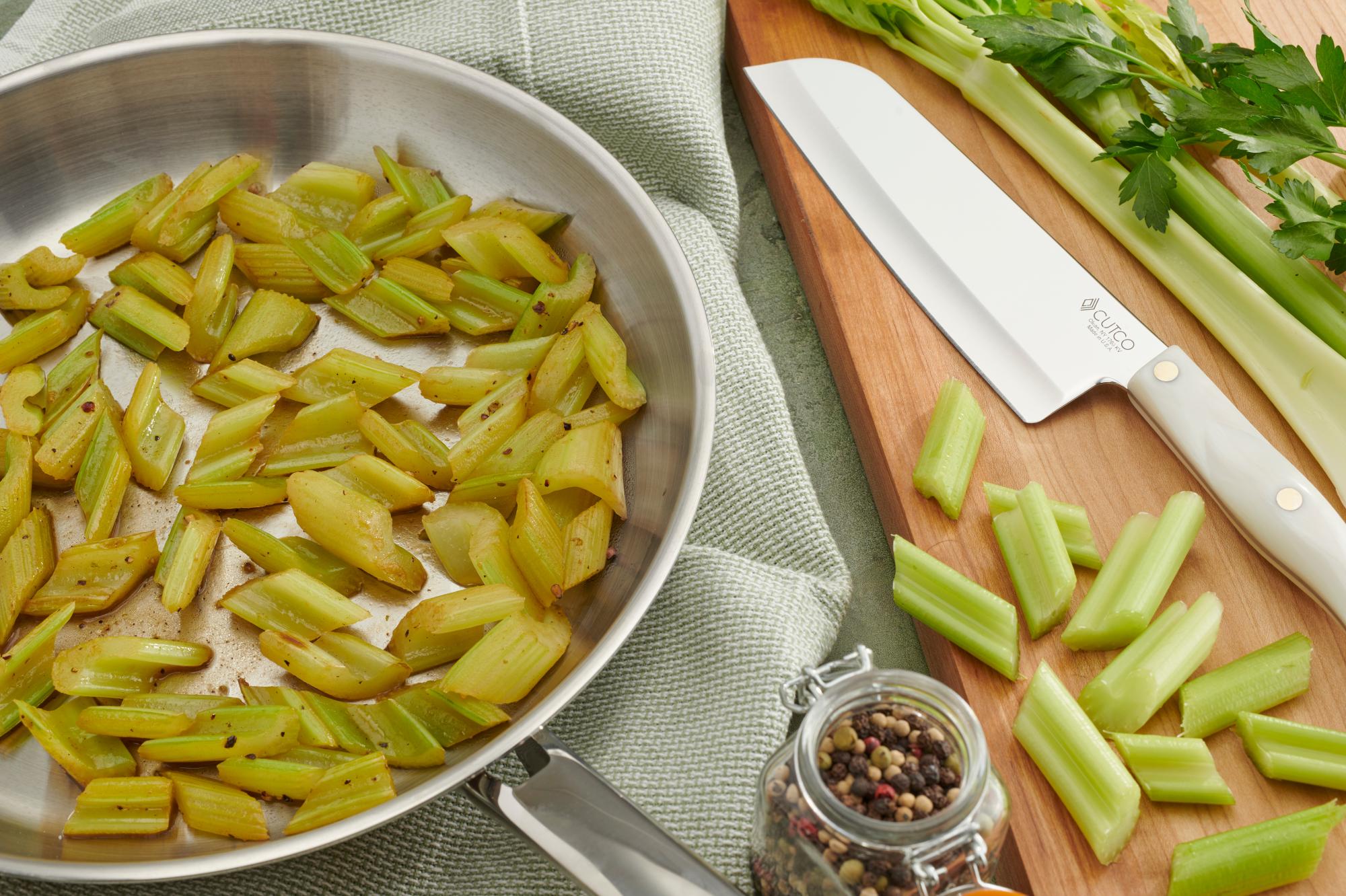 Celery gets a starring role in this incredibly easy Braised Celery dish.
Who in their right mind cooks celery all by itself? That's what I thought when a foodie friend was making it. But I have to admit, it is pretty good and it is a great way to use up any stalks that are just starting to lose their crunch.
Preparing the Celery
For this recipe, cut off the leaves, but hang on to them. You can use them to garnish this dish or save them to toss into soups, simmer in stock or chop up and use as an herb in place of flat leaf parsley in other recipes. Chop the celery leaves with a 7″ Santoku knife.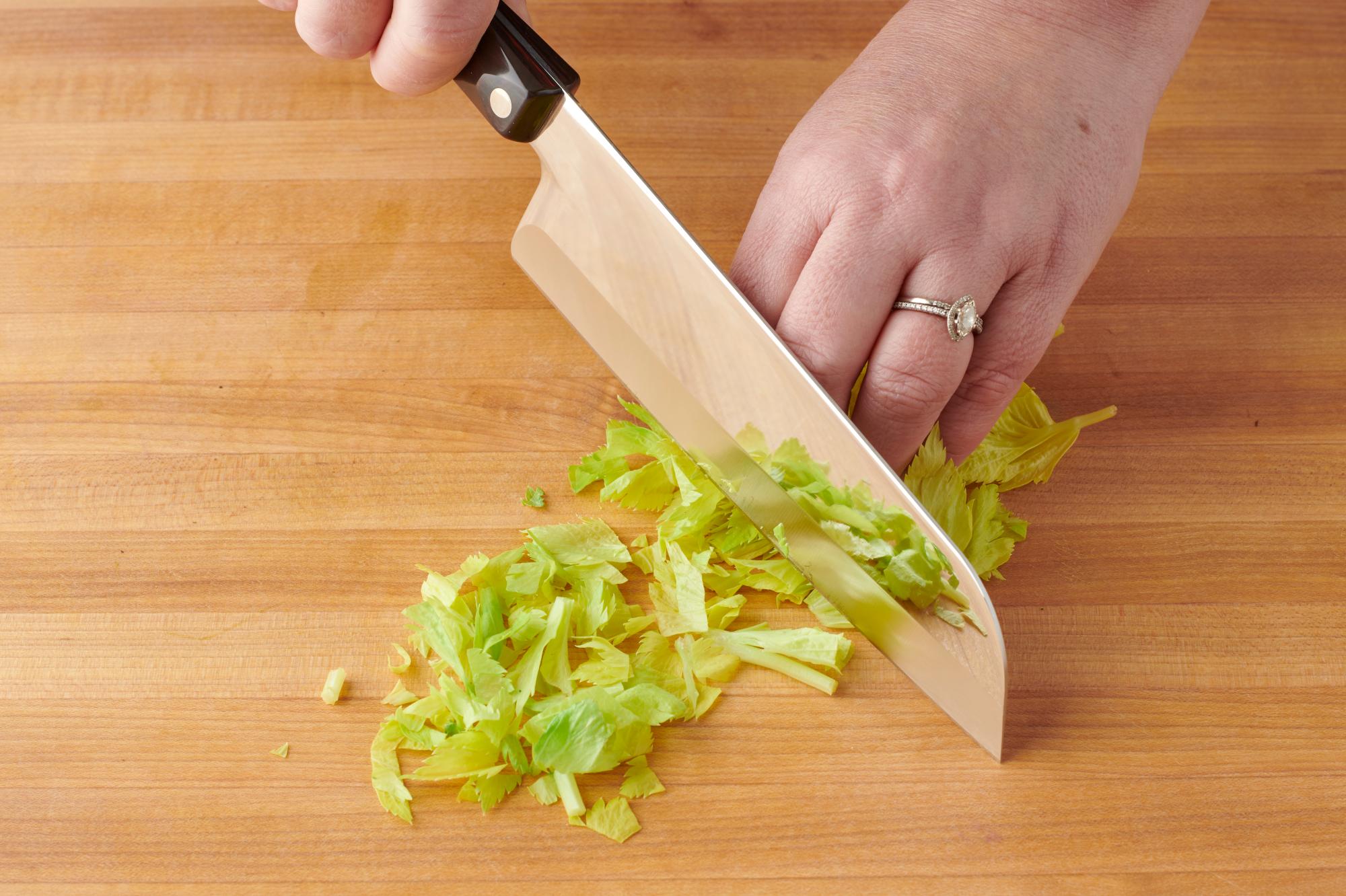 When cutting the celery, I recommend to first remove the fibrous strings that run through the stalks with a Vegetable Peeler.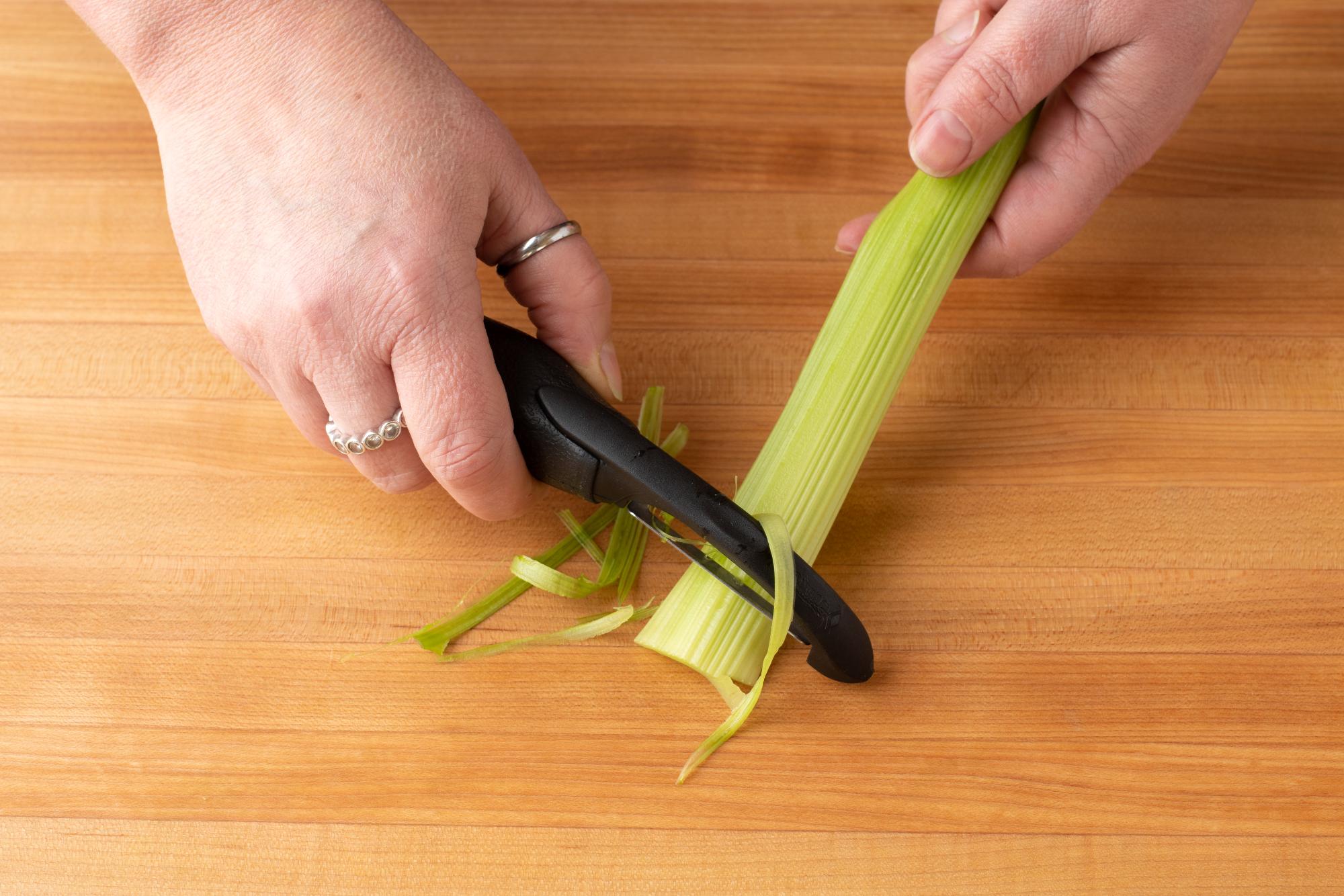 Then, use a 7″ Santoku knife to cut the celery on the bias into pieces a couple of inches long. Because this dish only features celery, cutting it on the bias makes for an attractive presentation. Don't cut it too small and try to make all the pieces the same size.
Celery Transformed
It's hard to believe that celery can taste so good. Often maligned as lacking flavor, this Braised Celery recipe is surprisingly delicious. The unsalted butter, salt, pepper and beef stock are all it takes to take celery from average to amazing.
While the recipe calls for beef broth, a hearty vegetable broth or chicken broth could be substituted.
Serve this Braised Celery as a side dish to your main protein as it complements almost any meal.
While this celery seems unassuming, it offers some nice health benefits. It is a great source of important antioxidants, supports digestion and is a good source of vitamin A.
Ingredients
8 celery stalks with leaves
1 tablespoon unsalted butter
Pinch of kosher salt
Pinch of freshly ground black pepper
3/4 cup good quality beef stock or broth (can substitute chicken or vegetable broth)
Directions
Rinse the celery. Remove leaves, set aside, and trim off ends of celery stalks.
Using a vegetable peeler, peel stalks to remove the fibrous strings. Slice into 1-inch pieces on the bias.
Chop celery leaves and set aside.
In a 10-inch sauté pan over medium heat, melt the butter. Add celery, salt and pepper, and allow to cook until slightly softened, approximately 5 minutes.
Add broth and stir. Cover and reduce heat to low, cook until celery is tender, approximately 4 to 5 minutes.
Uncover, allowing celery to cook for an additional 3 to 5 minutes or until the liquid has been reduced to a glaze.
Serve in a bowl with remaining glaze from pan, garnish with reserved chopped celery leaves if desired.
Recommended Tools