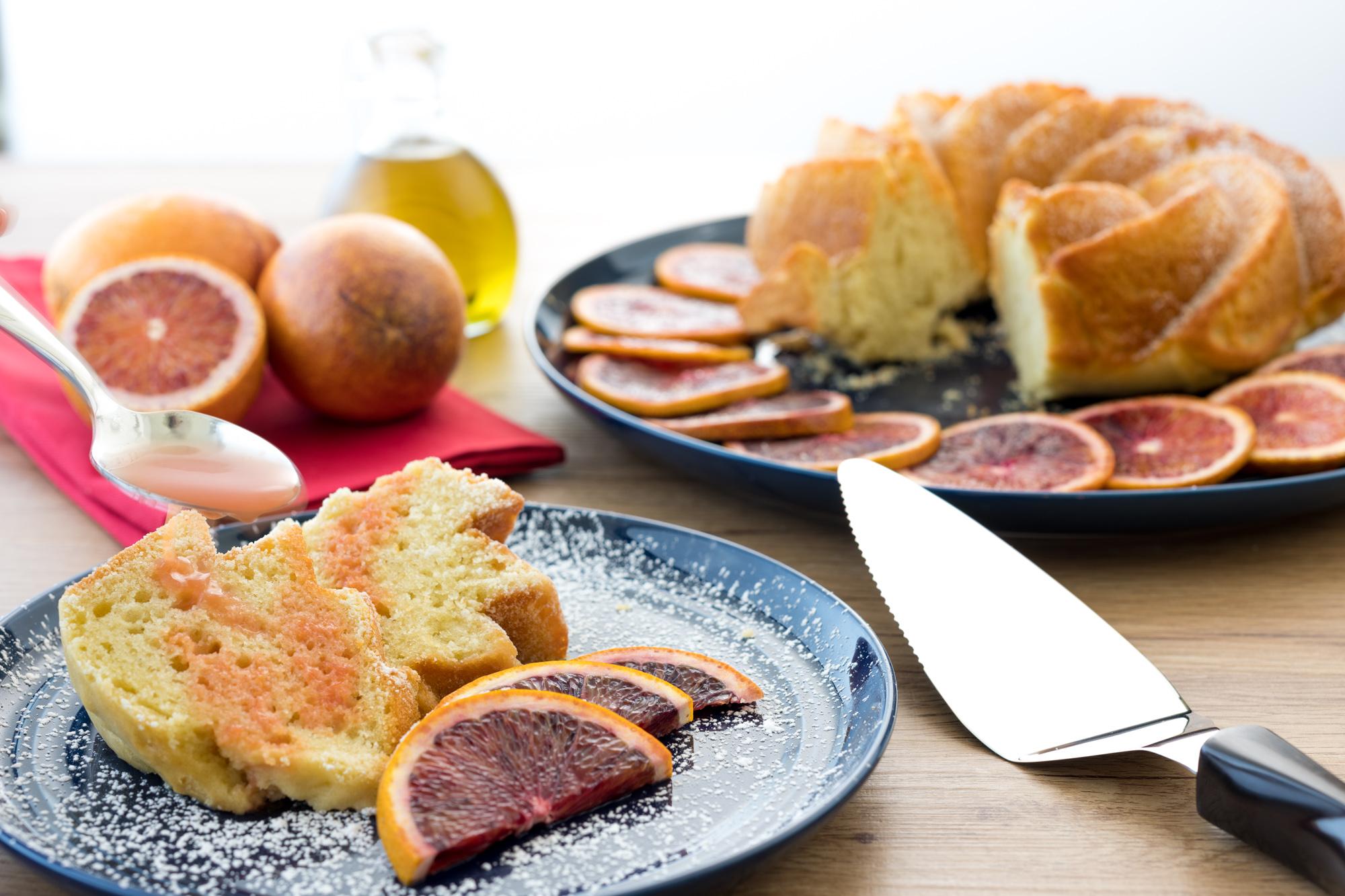 I'm not a fan of overly citrusy desserts, but this recipe for Blood Orange Olive Oil Cake from our friend, cookbook author Barbara Seelig-Brown, hits the spot. The blood orange adds just the right bit of tang to the cake.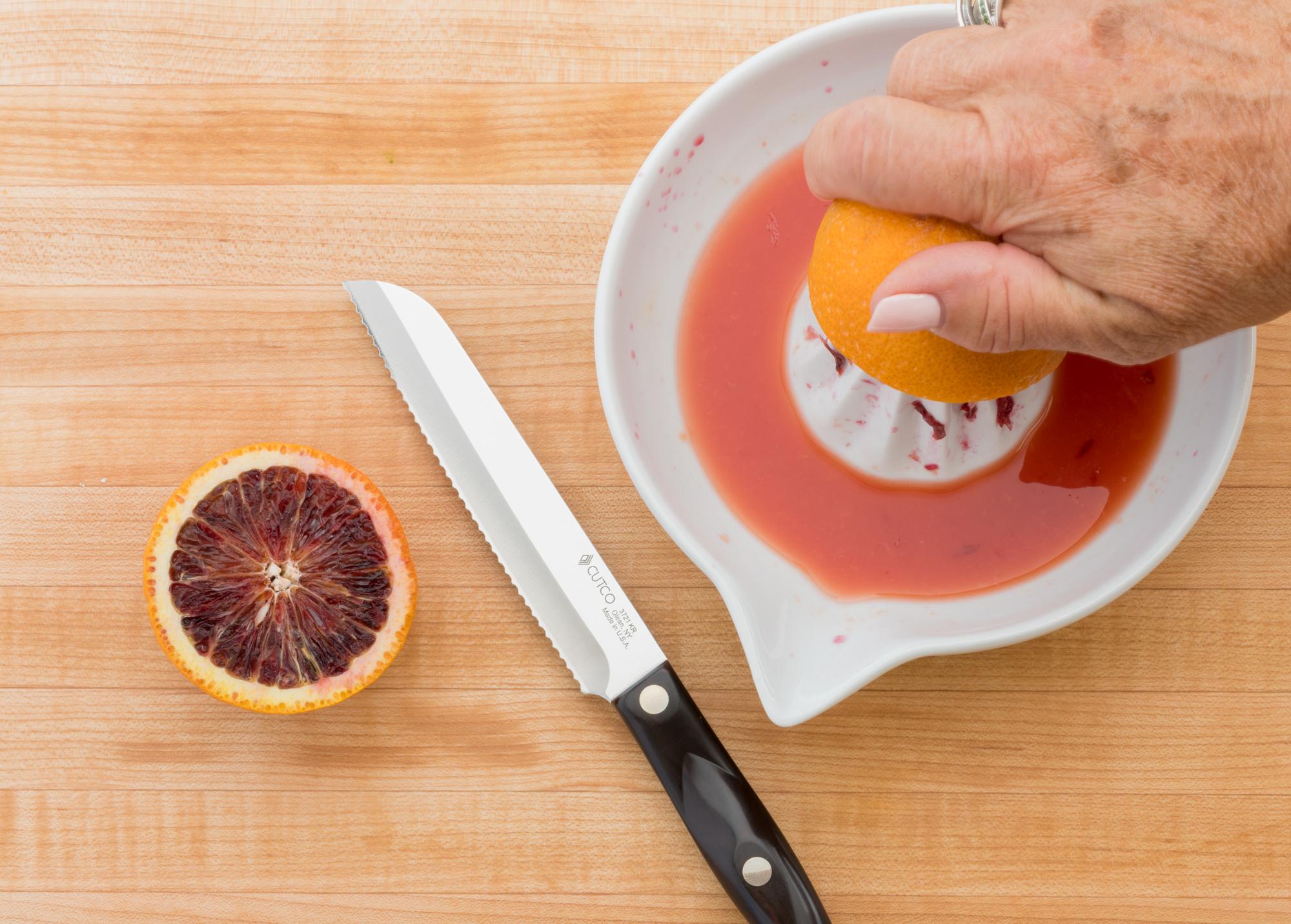 Use a fresh, quality olive oil for this recipe so its fruity notes shine through. Using olive oil in place of butter results in an ultra-moist cake.
I like to think of olive oil cake as stripped-down cake. It's not overly sweet and the ingredients are simple, which lets the subtle flavors shine. The cake is also a beautiful one to make in a Bundt pan for an elegant presentation.
Because of the complex flavors of blood orange and olive oil, there's no need to overly dress this cake. I would recommend just a sprinkle of powdered sugar over the top or whip up an easy glaze of confectioners' sugar and blood orange juice to your taste and thickness.
This is a great recipe for using a Cutco Mix-Stir to will quickly and completely incorporate the ingredients.
A note about olive oil. If stored in the refrigerator, crystals will start to form in the olive oil and it could solidify under cold temperatures. It does return to liquid at room temperature, but it's best to keep it tightly capped and stored in a cool dark cupboard.
For the reasons above, olive oil cake is also best left unrefrigerated and seems to get better as it sits. Store it at room temperature for up to three days.
Nutritional information for cupcakes: Calories 175, calories from fat 90, total fat 10.0 g, saturated fat 1.4 g, trans fat 0.0 g, cholesterol 15 mg, sodium 205 mg, potassium 60 mg, total carbohydrate 19 g, dietary fiber 1 g, sugars 3g, protein 3 g, phosphorus 145 mg.
Nutritional information for cake: Calories 135, calories from fat 65, total fat 7.0 g, saturated fat 1.1 g, trans fat 0.0 g, cholesterol 10 mg, sodium 155 mg, potassium 45 mg, total carbohydrate 14 g, dietary fiber 0 g, sugars 2 g, protein 3 g, phosphorus 110 mg.
Ingredients
Cupcakes:
1 cup Splenda
1/2 cup extra virgin olive oil
1/2 cup blood orange juice
1 egg, lightly beaten
2 egg whites, lightly beaten
2 cups all-purpose flour
1 tablespoon baking powder
1/2 teaspoon fine sea salt
Nonstick cooking spray
Confectioners' sugar in a shaker or sifter
Directions
Heat oven to 350 F.
In a large bowl, cream Splenda, oil and orange juice. Add the egg and egg whites and mix completely.
Combine flour, baking powder and salt. Slowly add to above, until well blended.
Lightly spray cake pan with nonstick cooking spray. For cakelette or cupcakes, pour batter in pans to 3/4 full.
Bake 30 minutes for mini cakes or cupcakes, or 50 minutes for cake, or until toothpick comes out clean. Cake pan sizes vary, so test carefully and adjust baking time accordingly.
Sprinkle with confectioners' sugar and garnish with edible flowers or fruit.
Recommended Tools