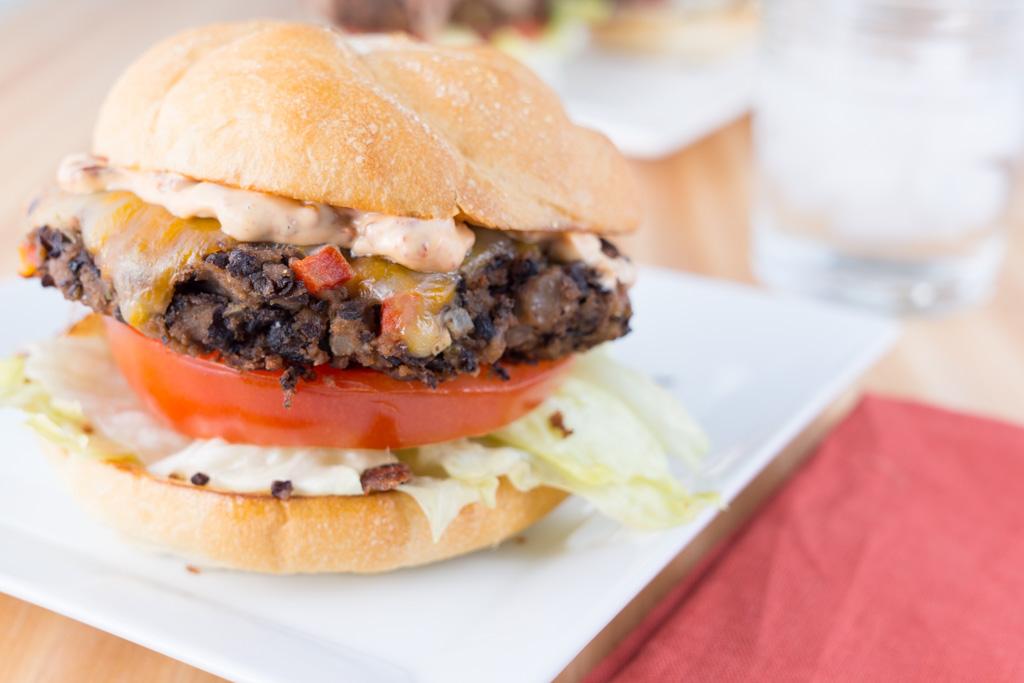 Burgers don't always have to contain meat. If you crave biting into a burger but prefer a meatless option, these Black Bean Burgers with Chipotle Mayo fit the bill.
This recipe uses canned seasoned black beans, which means they contain a little onion and garlic powder plus some spices. The burgers came together fairly quickly and with a cook time of roughly 10 minutes. These can be ready for a weeknight meal in no time.
You could make the mixture ahead of time, refrigerate it and cook the patties later. You can also adjust the heat in the burgers and the chipotle mayo by increasing or reducing the amounts of chili powder, hot sauce and chipotle peppers used.
As you can tell by the pictures, these things are huge. Taste-testers here thought the burgers had a good flavor and they liked the spiciness of them. The chipotle mayo also got high marks.
Ingredients
Burgers
2 cans (14.5 each) seasoned black beans
1 cup seasoned breadcrumbs
1/4 cup finely minced onion
1 clove garlic, minced
1 egg
1/2 teaspoon chili powder
1/2 red pepper, diced
Salt and pepper
1 teaspoon hot sauce
2 tablespoons olive oil
2 tablespoons butter
8 slices cheese (your choice) we made 2 burgers with Colby pepper jack and 2 with pepper jack
4 Kaiser or hamburger rolls
Butter for the rolls
Lettuce
Sliced tomato
Sliced onion (optional)
Chipotle Mayonnaise
3 1/2 tablespoons light mayonnaise
1 tablespoon canned chipotle in adobo sauce, finely chopped (Note: if you prefer less heat, remove the seeds before chopping.)
Mix together and set aside
Directions
Drain, but do not rinse the beans. Place them in a bowl and mash with a Potato Masher until they're mostly broken up but still have some whole beans visible. Add the breadcrumbs, onion, garlic, egg, chili powder, red pepper, salt, pepper and hot sauce. Mix until everything is combined.
Heat olive oil and butter in a large skillet over medium-low heat. Form the mixture into four patties about the same size as the buns or rolls you are using. (Note: The patties don't shrink when they cook.) Place in the pan and cook for about 5 minutes, flip them over, cook for about 3 minutes. Place 2 pieces of cheese on each patty and cook for another 2 to 3 minutes. If necessary, place a lid on the pan to help the cheese melt.
Slice the rolls and spread each half with a little butter. Grill on a griddle or under a broiler until toasted.
To assemble, spread the top and bottom halves of each roll with chipotle mayo. Place a bean burger on the bottom half, top with lettuce, tomato and the other half of the roll.
Recommended Tools