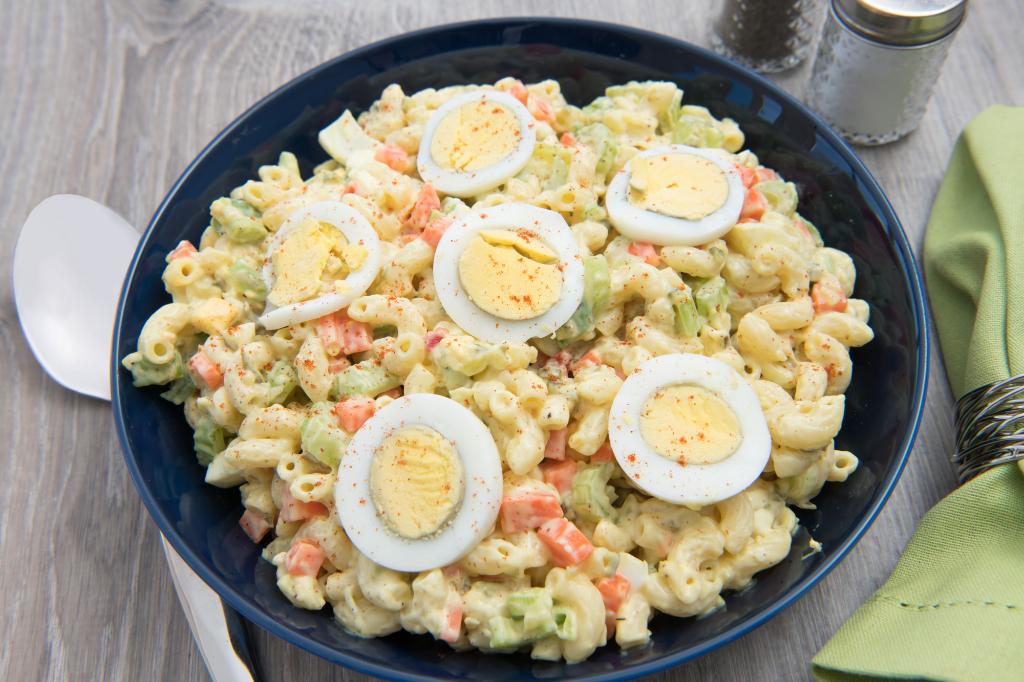 If you watched the Facebook Live we did a few weeks ago with our marketing intern, Ty, you saw us pile a Styrofoam container with macaroni salad as part of a Garbage Plate.
The original recipe for that mac salad comes from a recipe card that I believe was included in an issue of Family Circle magazine many years ago. I've had the card for so long, it is tattered and soiled.
It has been in my recipe box forever and, quite frankly, I know the recipe by heart. Over the years I have changed, tweaked, added and taken away ingredients. The recipe posted here is a take on that one and the one I've been using for a number of years. This is family favorite that is best made the day before serving so the flavors have a chance to marry. Be sure to use a good quality mayo, it makes a huge difference in the taste. Serve it well chilled. Whenever I take this to any potluck or picnic, I'm always asked for the recipe.
This is a very basic recipe and one that can stand up to the addition of other ingredients. For a nice summer lunch, add a can of drained albacore tuna or some red or pink flaked salmon. It's also good with fruit, like chopped apples, halved, seedless grapes and a handful of walnuts.
The really cool thing is you prep everything with the versatile 7-5/8" Petite Chef. Its ultra-sharp edge can easily chop and slice all the salad ingredients.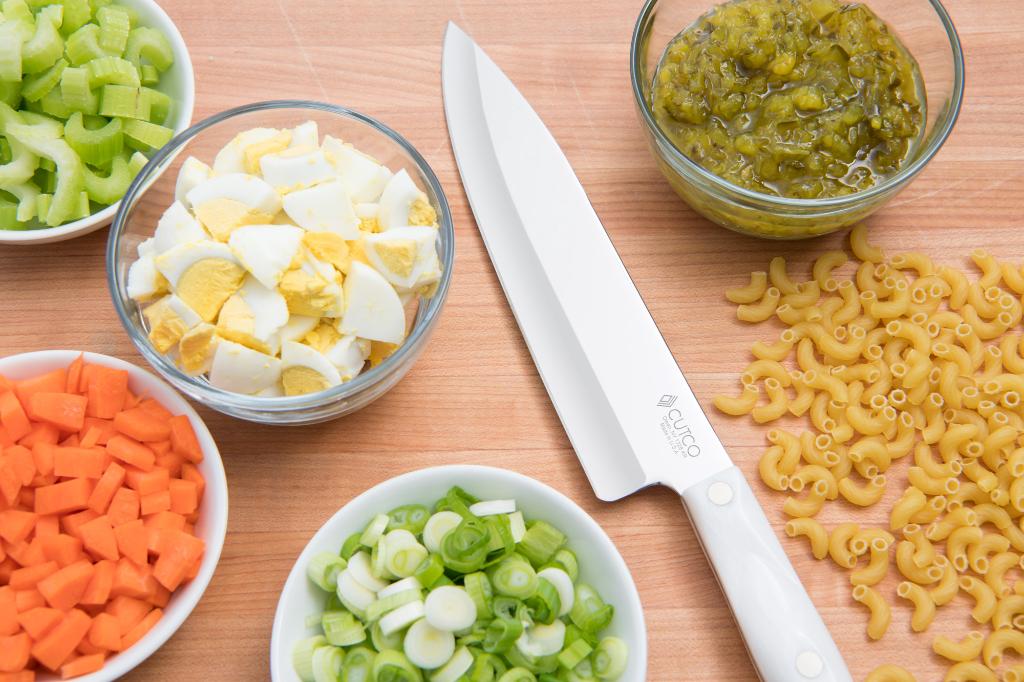 This was a hit with everyone here, even though it hadn't been chilled very long.
Ingredients
2 cups cooked elbow macaroni (about 1 cup uncooked)
4 hard-cooked eggs, chopped
1/2 cup chopped carrots
1/2 cup chopped celery
1/2 cup sweet pickle relish
2 green onions, sliced thin
1/2 teaspoon prepared mustard
3/4 cup mayonnaise
Salt and pepper to taste
2 hard cooked eggs, sliced, for garnish
Paprika
Directions
Bring a large pot of lightly salted water to a boil. Add the macaroni, and cook until tender, about 8 minutes. Rinse under cold water and drain.
In a large bowl, mix together the chopped eggs, carrots, celery, sweet pickle relish, green onions, mustard, mayonnaise and salt and pepper. Garnish with the 2 sliced hard cooked eggs. Sprinkle with paprika. Cover bowl with plastic wrap and refrigerate at least 4 hours or overnight before serving
Recommended Tools