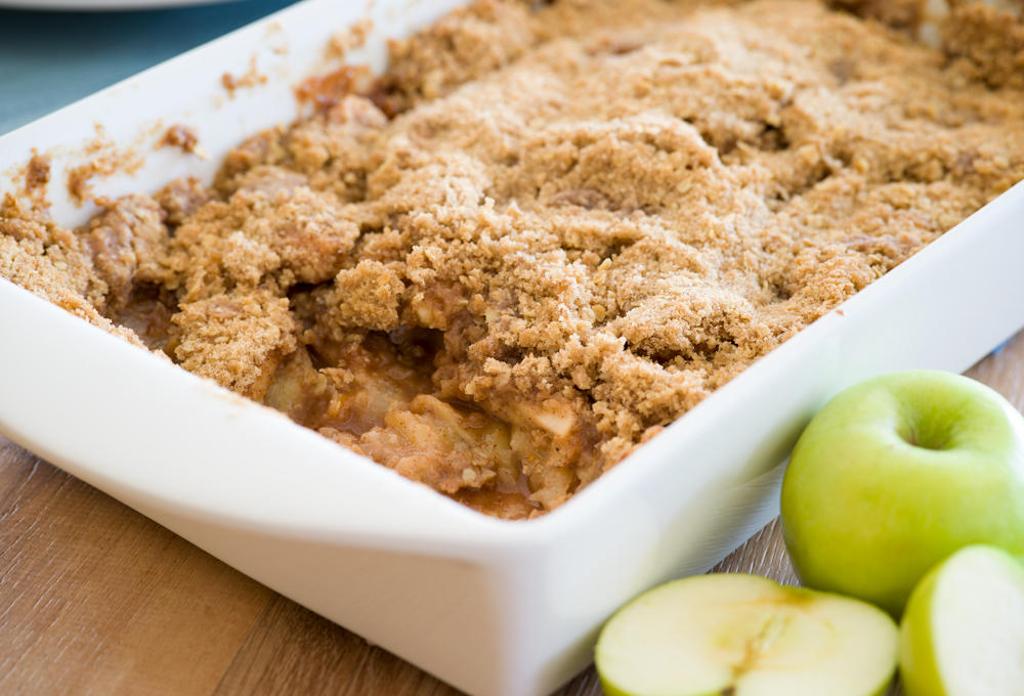 I'm a huge fan of apple crisp. I like the sweet, but slightly tart taste of the apples mixed with sugar and spices with a crumbly topping.
There are hundreds of apple crisp recipes, but the basic recipe is pretty simple. It includes one kind or several kinds of apples sliced and mixed with spices, poured into a pan and topped with a crumble topping. I like it best when apple crisp is served warm from the oven, topped with vanilla ice cream or whipped cream.
The twist in this recipe for apple crisp is the addition of orange zest and orange juice which adds a subtle citrus flavor that pairs well with the apples. Our recipe uses Granny Smith apples but feel free to use any combination of crisp apples to achieve the flavor you prefer. Grab a Paring Knife or the Vegetable Peeler to remove the skin from the apples then use the 5" Petite Santoku to cut the apples into wedges. A quick mix with the other ingredients and they're ready for the baking dish. Scatter the topping over the apples and into the oven it goes.
If you're looking for a short-cut for slicing up the apples, try Registered Dietitian Nutritionist Erin Burch's easy apple cutting technique.
This recipe can be halved easily for a smaller family or group or, if you're like me, trying to not have a large pan of temptation hanging around the kitchen.
Ingredients
Crisp
5 pounds Granny Smith apples
Grated zest of 1 small orange
2 tablespoons freshly squeezed orange juice
1/2 cup granulated sugar
2 teaspoons ground cinnamon
1 teaspoon ground nutmeg
1/4 teaspoon ground ginger
2 tablespoons flour
Topping
1 1/4 cups flour
1/2 cup granulated sugar
3/4 cup light brown sugar, packed
1/2 teaspoon kosher salt
1 cup oatmeal
1 tablespoon ground cinnamon
1/2 cup cold, unsalted butter, diced
Directions
Preheat oven to 350°F. Butter a 9 x 13 x 2-inch baking dish. Peel, core and cut the apples into large wedges. Combine with the orange zest, orange juice, sugar, spices and flour. Pour into baking dish.
For the topping; combine flour, sugars, salt, oatmeal, cinnamon and cold butter in a bowl of an electric mixer fitted with the paddle attachment or use an electric hand mixer. Mix on low-medium speed until the mixture is crumbly and the butter is the size of peas. Scatter evenly over the apples.
Place the baking dish on a sheet pan (in case the crisp bubbles over) and bake for one hour or until top is brown and the apples are bubbly.
Serve warm with vanilla ice cream or whipped cream.
This recipe can be halved and baked in a 9 x 9 pan.
Recommended Tools