Angela's Award-Winning Tailgate Chili
Published 88 days ago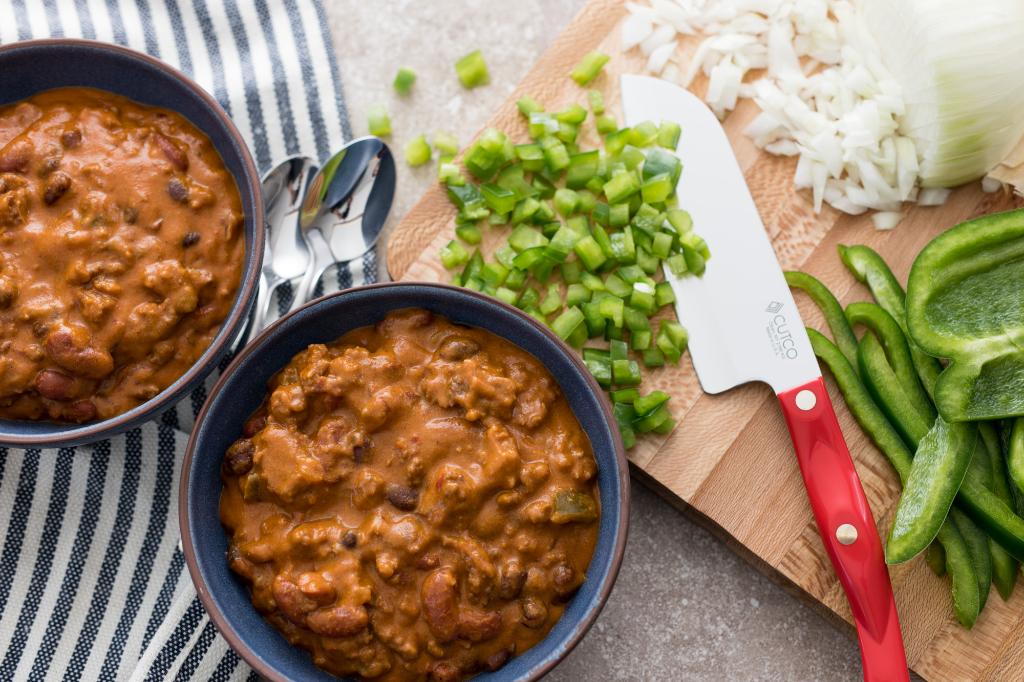 To celebrate National Chili Day, we asked Cutco employees to compete in a chili challenge, and this year's winner is Angela Colomaio a senior web programmer in our IT Department.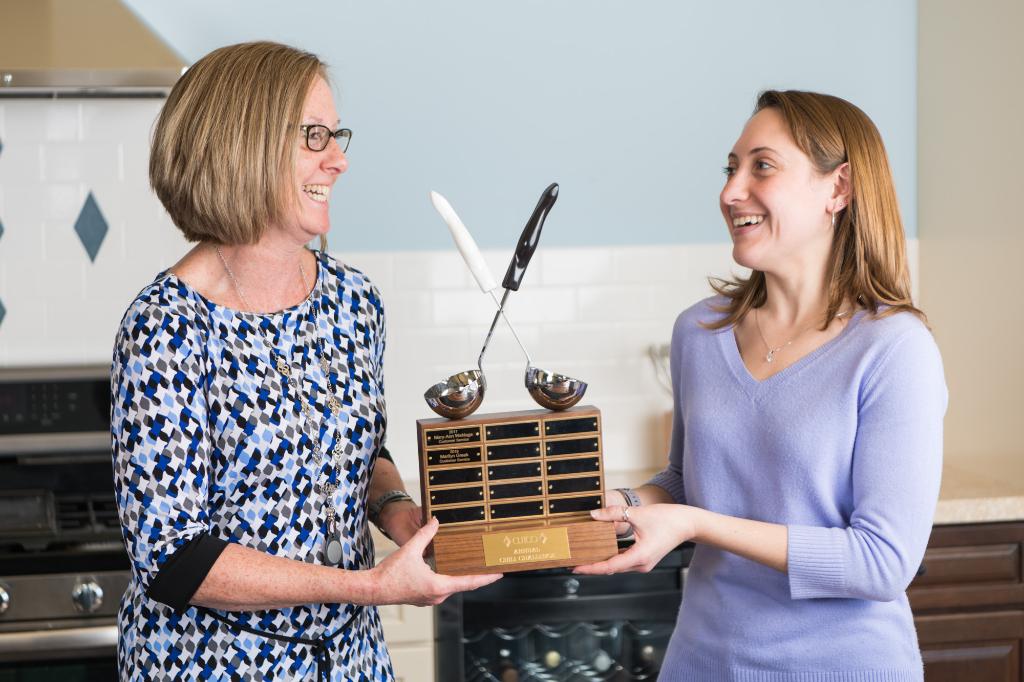 Angela is a big Buffalo Bills fan and is even a season ticket holder, so it's no surprise to hear that her award-winning chili is called Tailgate Chili. In true Buffalo style, it includes Frank's Red Hot®, a cayenne pepper sauce, which is a staple ingredient around here for Buffalo chicken wings. Her secret ingredient is cheese, which adds flavor but also a velvety texture.
This isn't the first time her chili recipe received accolades. A version of it placed 6th out of 14 in a Buffalo Bills tailgate competition. She tweaked the recipe after hearing the judge's feedback and this recipe is the end result.
Angela's favorite Cutco knife is the Trimmer. She says she likes its versatility. But for prepping her chili, she reached for her red-handled 5" Petite Santoku. It's her go-to for whenever she needs to chop things, like the onion and pepper in this recipe.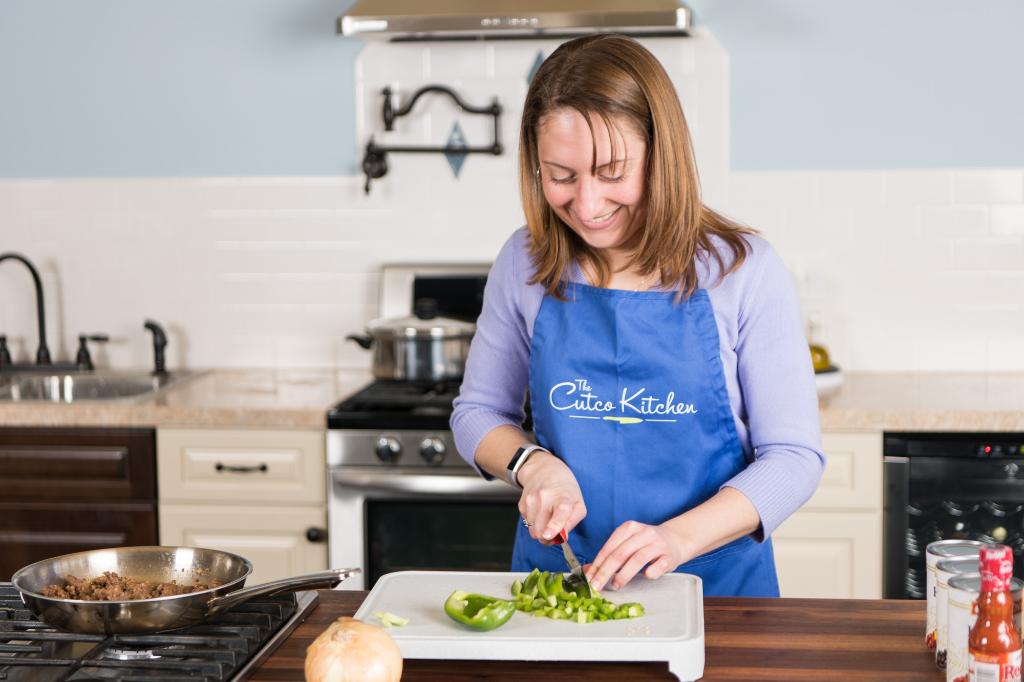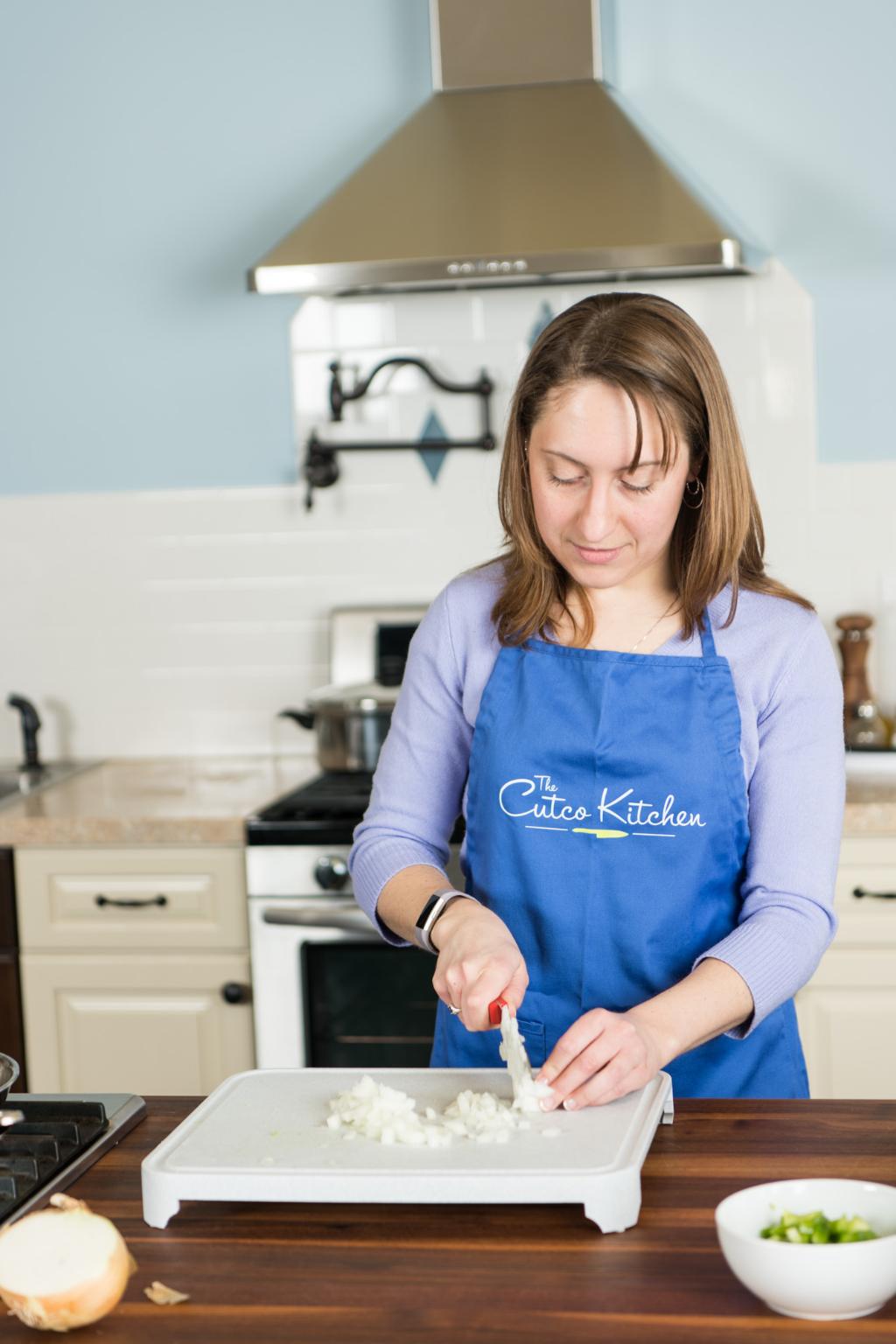 Ingredients
Cooking spray
1 tablespoon vegetable oil
1 pound ground beef
3 Italian sausage links (mild, unless you want more heat)
2 (10.75 ounce) cans tomato soup
2 (15-ounce) cans kidney beans, drained
1 (15-ounce) can black beans, drained
1/2 medium onion, chopped
1 medium green pepper, chopped
2 tablespoons chili powder
2 teaspoon red pepper flakes
1/2 tablespoon garlic powder
1/2 tablespoon ground cumin
1 pinch ground black pepper
Salt to taste
2 tablespoons Frank's Red Hot (or more if you want more heat)
1 16-ounce package Velveeta cheese, cut into chunks
Directions
Coat the inside of a slow cooker with cooking spray.
Heat the oil in a skillet over medium heat. Place ground beef in the skillet, and cook until evenly brown; drain. Add to slow cooker.
Chop up Italian sausage, place in skillet, and cook until evenly browned; drain. Add to slow cooker.
Mix tomato soup, kidney beans, black beans, onion and green pepper with the ground beef and sausage in the slow cooker. Season with chili powder, red pepper flakes, garlic powder, cumin, black pepper, salt and Frank's Red Hot. Stir in Velveeta cheese.
Cover, and cook 8 hours on low or 4 hours on high, stirring occasionally. Add a little water as needed if thicker than the desired consistency.
Recommended Tools