All About Brisket
171 days ago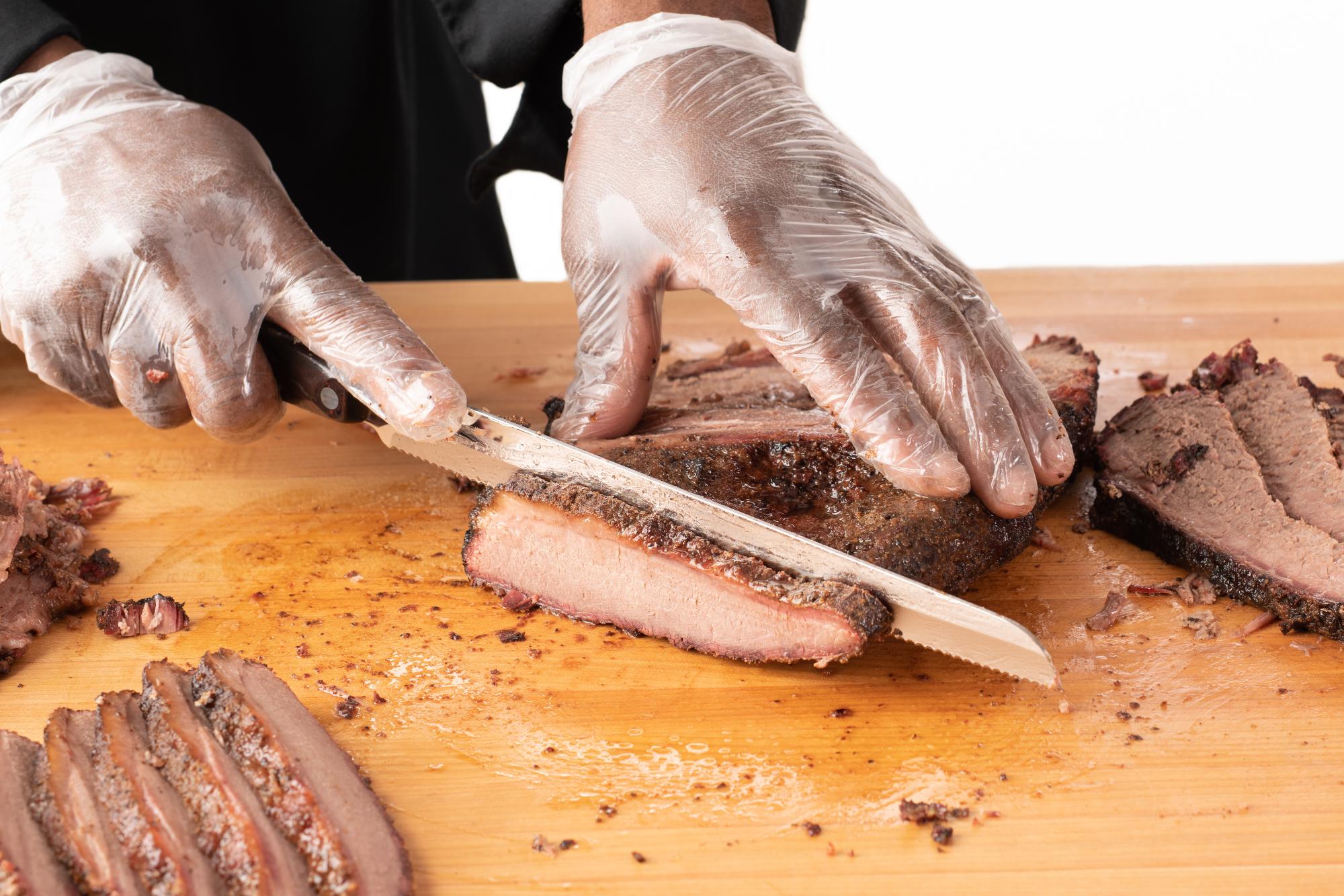 When talking barbecue, brisket seems to come up a lot. At least among our Cutco fans. So we decided it was time for us to learn all about brisket.
What's interesting is that you would think, with its popularity, that brisket is a tender cut of meat. From what I've learned it is, but only when cooked properly. It starts out as a tough cut of meat, which explains why it needs to be cooked low and slow to coax out the tenderness.
Tony Person, owner of Big Bossman's Barbecue food truck in our hometown, has become our go-to for everything barbecue. He told us all about brisket when he cooked one for us for a blog on How to Cut Brisket.
The Point and the Flat
My biggest surprise about brisket is that there are actually two sections to it. The point and the flat. Sometimes the butcher will divide a whole brisket into the two sections before resale, but if you buy a whole one, you'll want to separate the two sections because the meat grain runs in different directions for each. So, when slicing each section, note the direction of the grain and slice across it using a sharp brisket knife, like a Santoku-Style 10" Slicer.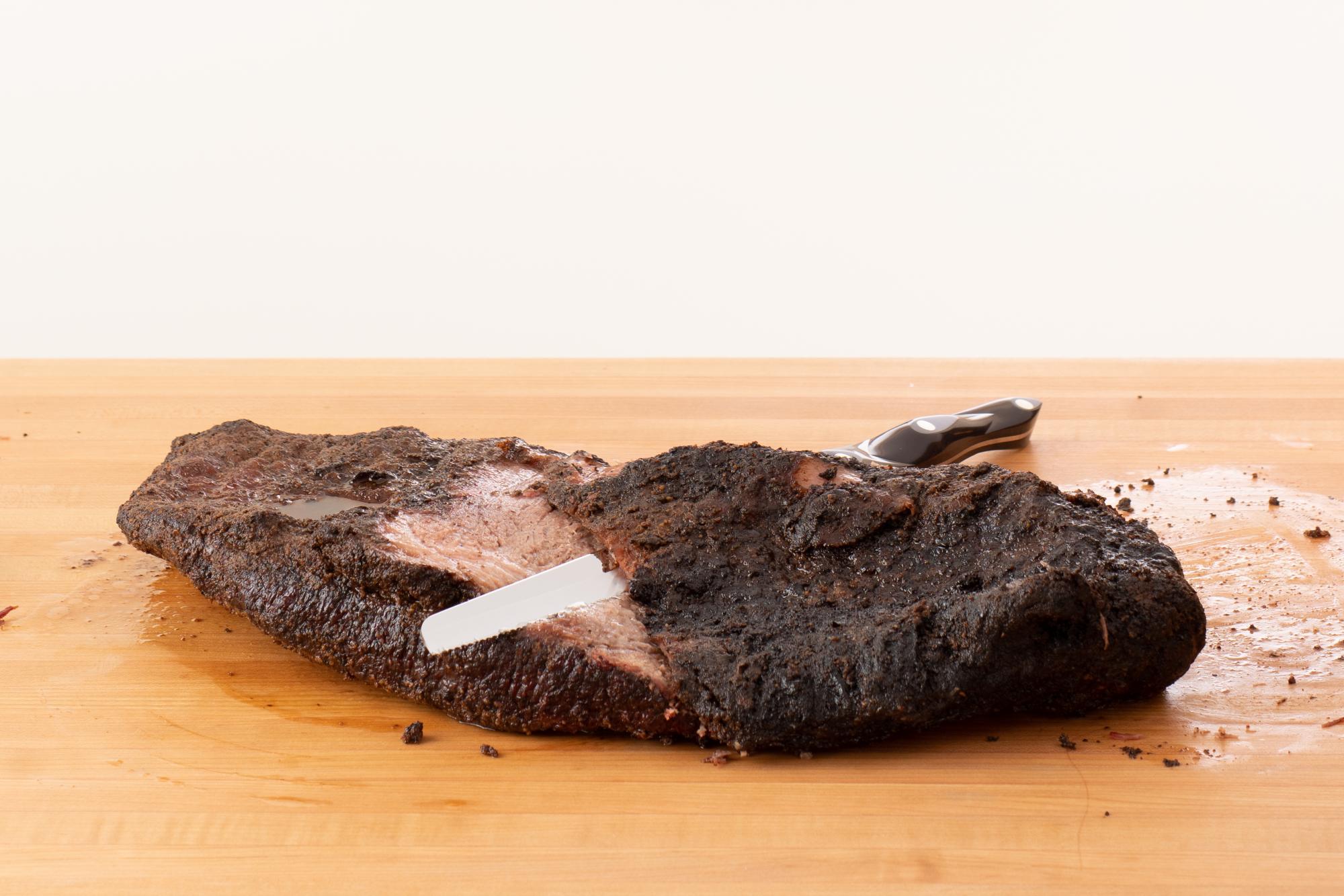 The brisket flat is very lean, with a decent amount of marbling throughout the interior. The point is much thicker with even more marbled fat throughout the cut, leading it to have a more beefy flavor.
The Smoke Ring and Pull Test
Smoking a brisket low and slow yields moist, flavorful results. A tell-tale sign of a nicely smoked brisket is the smoke ring. It is that reddish-pinkish layer found beneath the bark, which can be seen when you slice into it.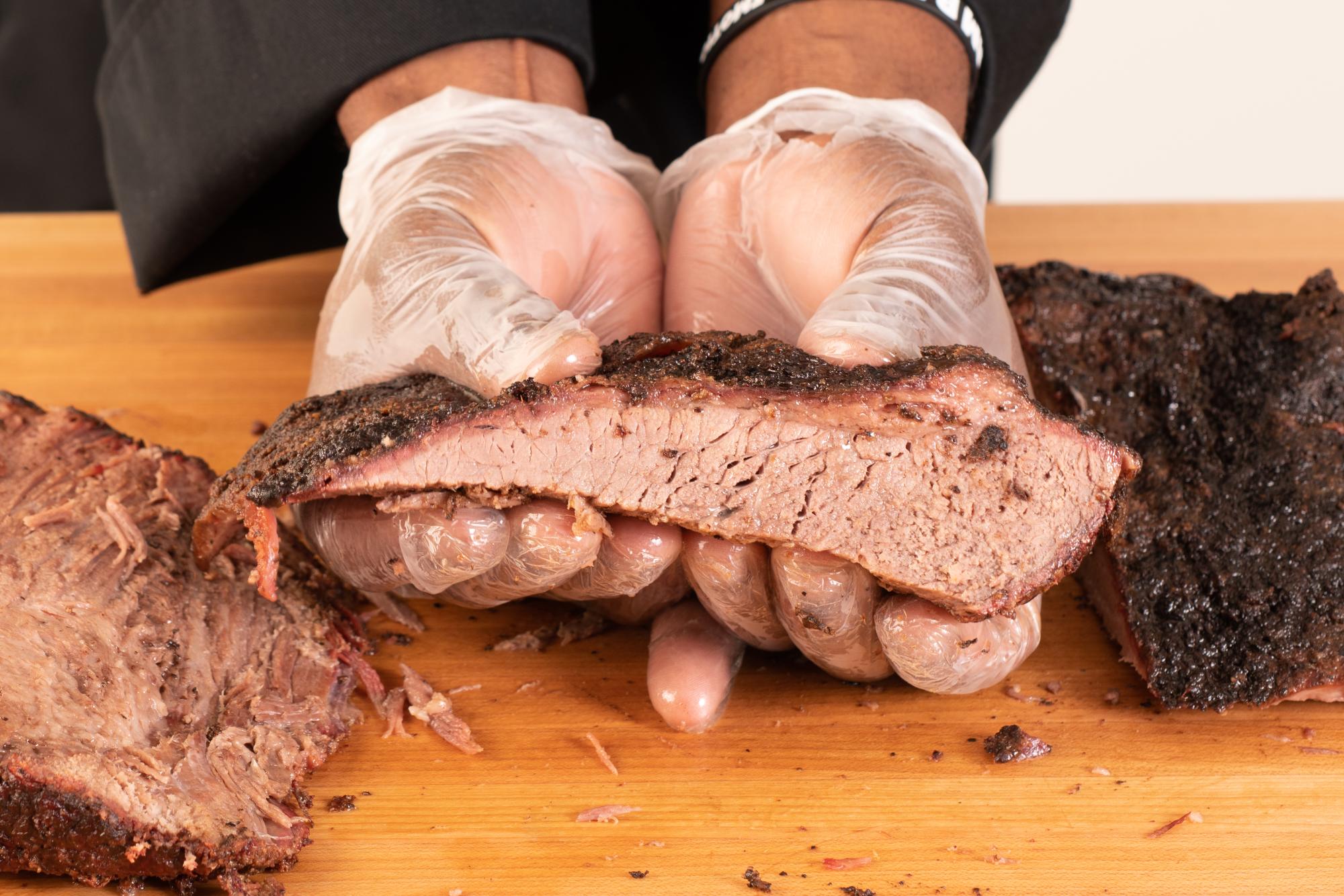 Properly cooking a brisket in a smoker is as much a science as an art. When finished, give a slice of the brisket a pull test. The meat should be able to support its own weight without breaking.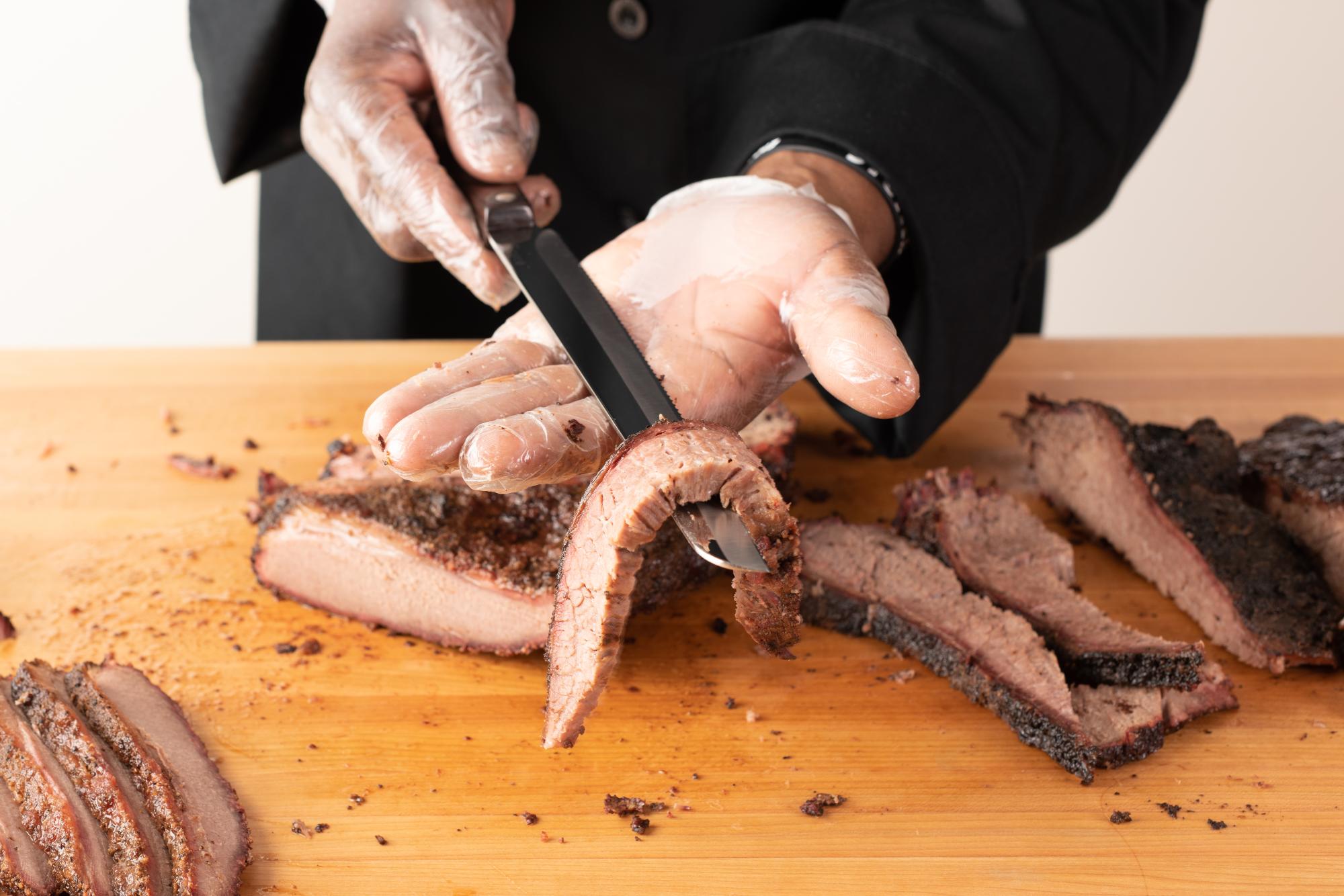 In fact, the meat should pull apart with just a slight tug.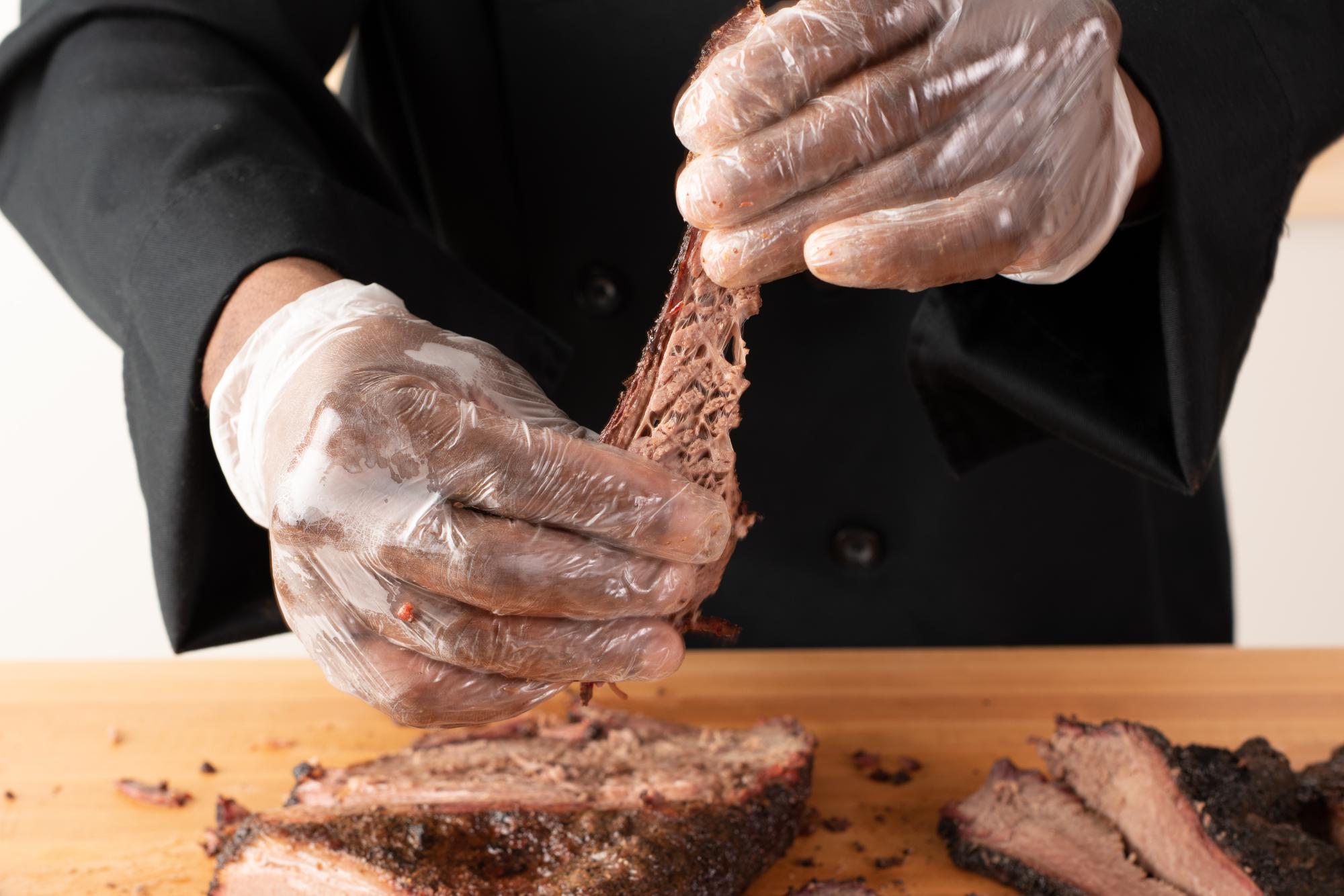 For his brisket, Tony flavors it with SPG blend, better known as a mix of salt, pepper and garlic. That's it! What sends his brisket over the top is the barbecue sauce he uses to serve it with. The recipe is from his mother, but you'll never get the ingredients out of him, it's a family secret.