Air Fryer Peanut Tofu With Stir-Fried Vegetables
76 days ago
Skip to recipe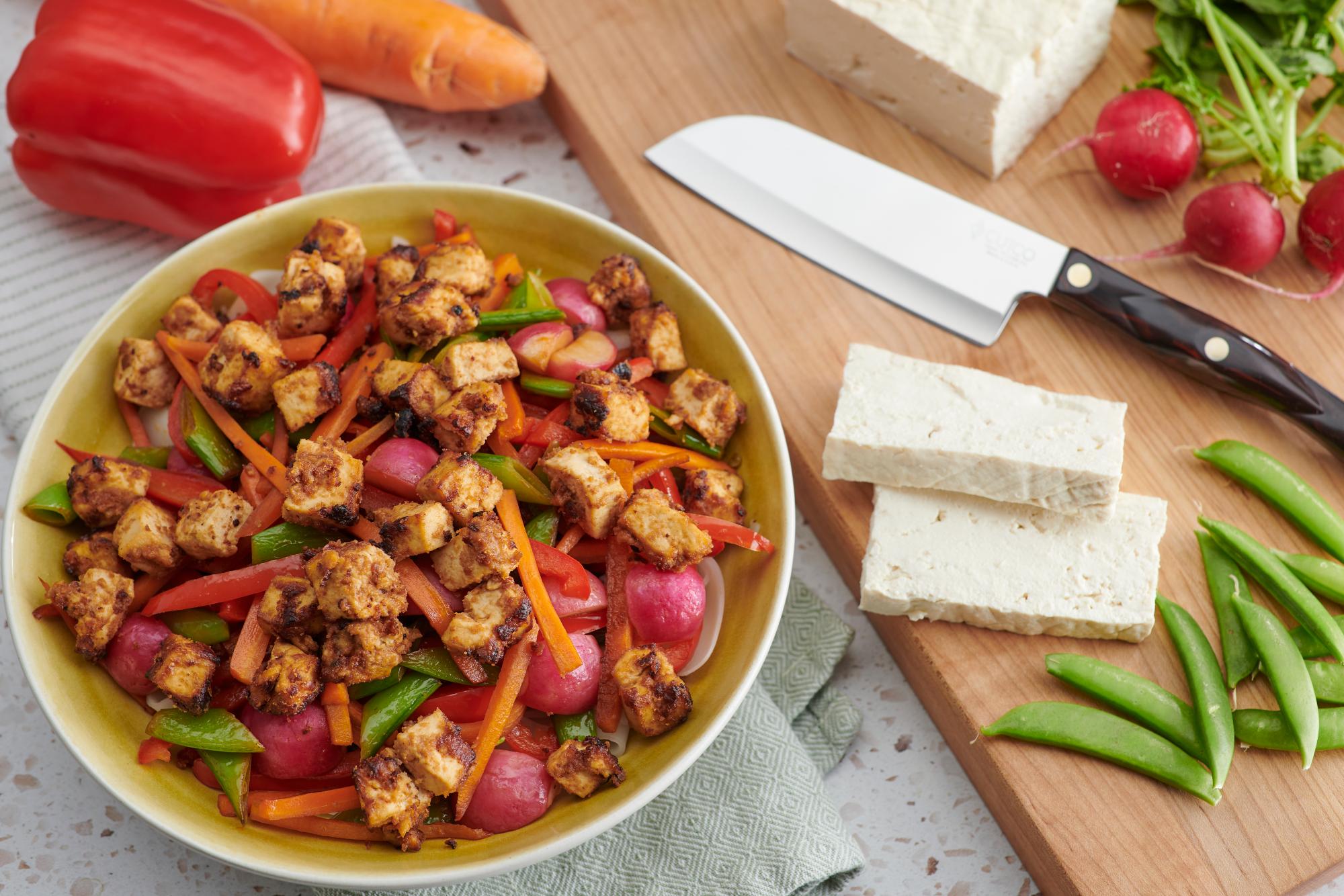 One of the main complaints I hear about tofu is, "It's so soggy. I don't like the texture." Well fear not. This Air Fryer Peanut Tofu With Stir-Fried Vegetables recipe will change your mind and get you enjoying this high protein meat alternative. It has the perfect balance of flavor and crispiness, and makes you feel like you're enjoying a take-out meal.
Preparing the Tofu
Pressing and draining the tofu is a must to get nice and crispy tofu pieces. This removes the moisture, which is the main culprit in soggy tofu. Wrap your tofu in a paper towel or cheese cloth and place on top of a cooling rack, positioned over a baking sheet. Place a heavy pan, like a cast iron pan, on top of your tofu and let the moisture drip out. I recommend doing this for at least 15 to 20 minutes.
Once pressed, cut the tofu into one-half-inch cubes using a 5″ Petite Santoku.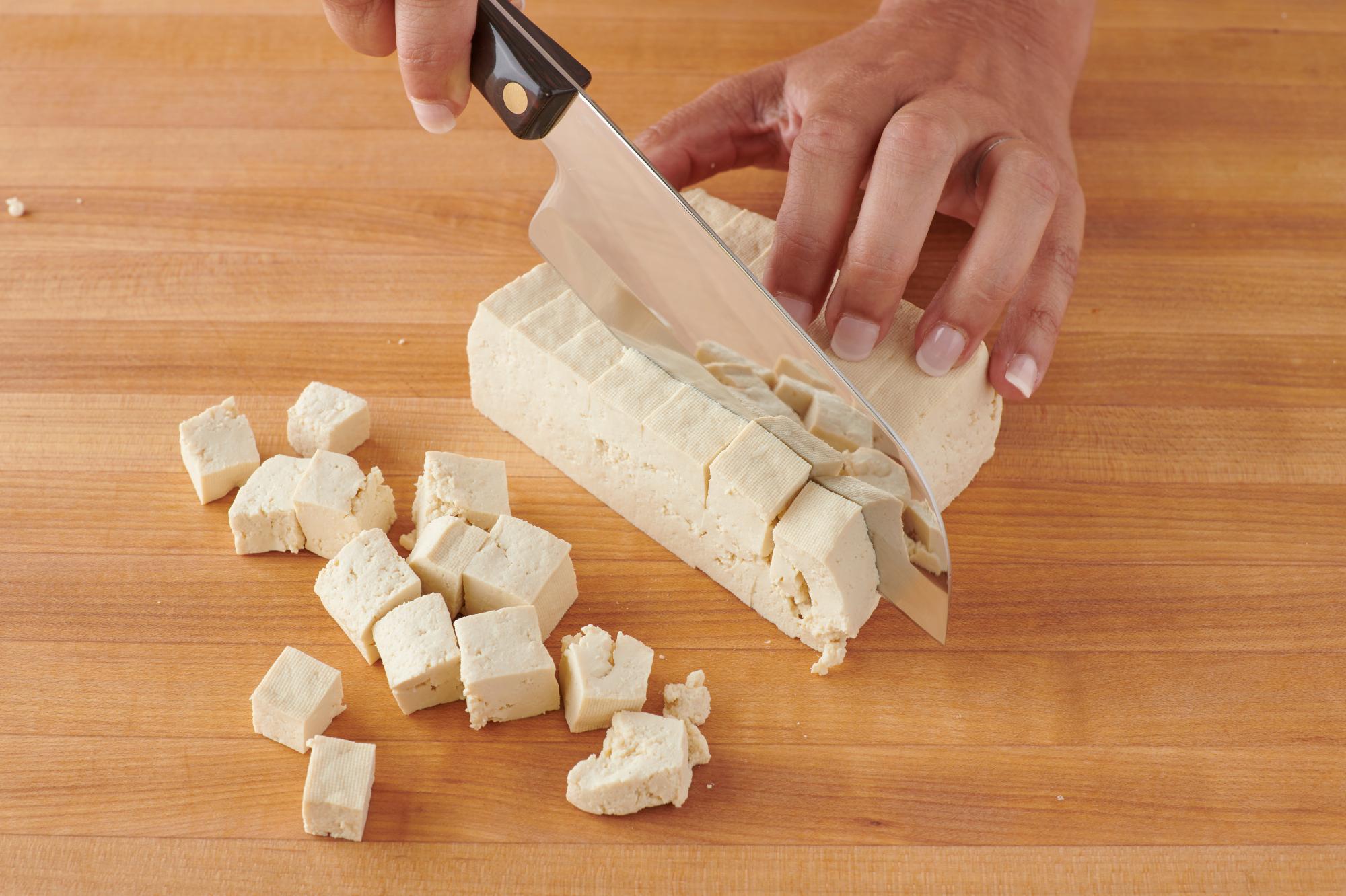 Making the Marinade
The marinade is simple and oh-so-tasty! In a bowl, use a Mix-Stir to whisk together peanut butter, water, soy sauce, rice vinegar, miso paste and red pepper flakes.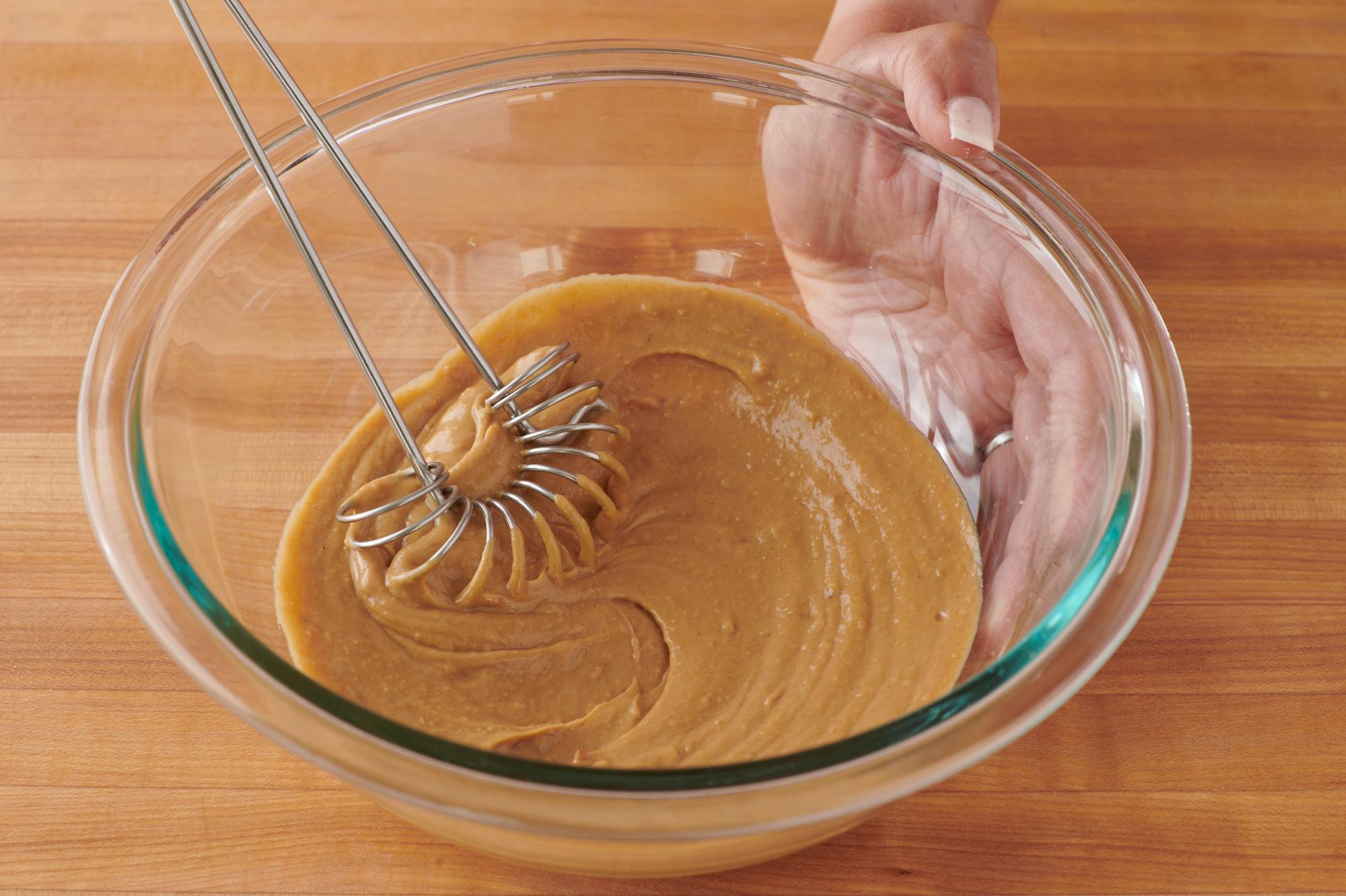 Toss the tofu into the marinade and let it sit in the refrigerator for at least an hour to allow the flavor to soak in.
Air frying the tofu takes no time at all. Give it about 10 minutes at 400 F, flipping it once half way through.
Preparing the Vegetables
Stir-fried vegetables accompany the tofu to make it a well-rounded meal. Only cook the vegetables until crisp-tender to offer a slight crunch, which is a nice contrast to the tofu.
The carrots, sugar snap peas, radishes and bell pepper can all be easily sliced with a 7-5/8″ Petite Chef knife.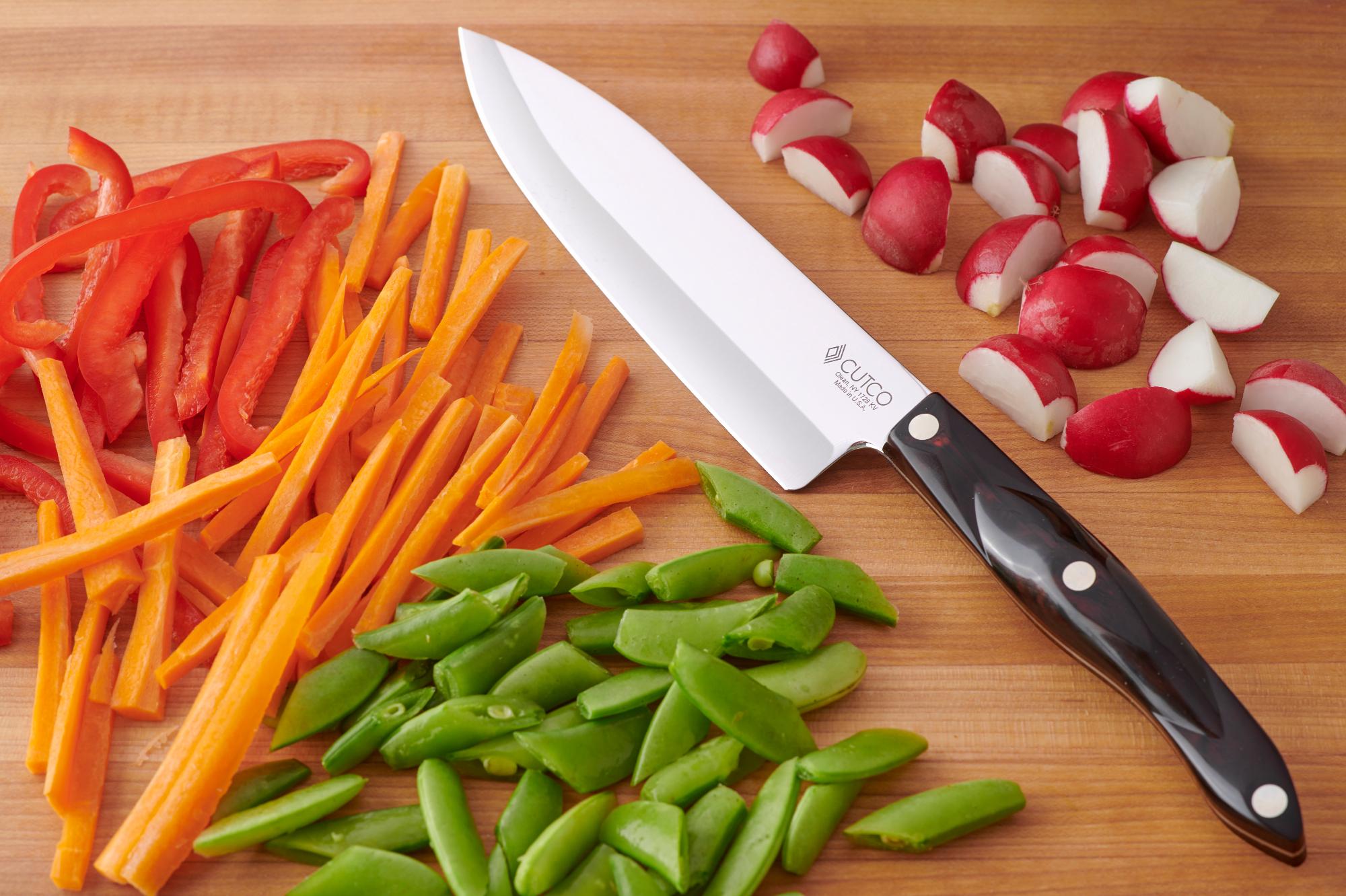 You can use the Cutco Wok to stir-fry the vegetables, but because of its design, it should be used on medium heat. If you're using a traditional wok, you can place it on high heat.
Air Fryer to the Rescue
I love my air fryer. It has easily become one of my favorite kitchen tools and I find it makes anything taste better. Not only does it make this recipe quick and easy, but it also gives the tofu a perfect texture that makes it a great meat alternative for a family-friendly dinner.
Air Fryer Peanut Tofu With Stir-Fried Vegetables is a rich and satisfying recipe that is packed with plant-based protein, iron and calcium, among other things. Even better, this recipe is so versatile. Change it up by serving it with rice, rice noodles or different veggies.
Nutrition per serving: 380 calories, 26.3 g total fat, 5.5 g saturated fat, 0 mg cholesterol, 947 mg sodium, 13.2 g total carbohydrates, 4.5 g fiber, 28.2 g protein
Ingredients
For the tofu:
16 ounces extra-firm tofu, drained and pressed
1/4 cup peanut butter
1/8 cup hot water
1 tablespoon soy sauce
2 tablespoons rice vinegar
1 tablespoon miso paste
1/4 teaspoon red pepper flakes, add more for more spice
For the vegetables:
2 large carrots, peeled and cut into thin strips
1 1/2 cups sugar snap peas, cut in half
1/2 cup radishes, cut into quarters
1 medium red bell pepper, cut into thin strips
1 tablespoon sesame oil
1 tablespoon soy sauce
3-4 teaspoons water
Directions
Once tofu has been pressed, chop into one-half-inch cubes.
Whisk together peanut butter, water, soy sauce, rice vinegar, miso paste and red pepper flakes in a bowl to make the peanut sauce.
Pour the peanut sauce over the tofu cubes and toss to cover all the pieces. Marinate the tofu in peanut sauce and place in a covered container in the fridge for at least 1 hour.
Heat the air fryer to 400 F. Place tofu in air fryer basket in a single layer and cook for 10 minutes, flipping halfway, until golden brown and crispy.
While the tofu is cooking, stir-fry the vegetables. Heat the sesame oil in a Cutco Wok on medium heat until it shimmers (if using a traditional wok, heat over high heat). Add vegetables, soy sauce and water, and cook, stirring periodically until they are crisp-tender.
Once both are ready, serve.
Recommended Tools