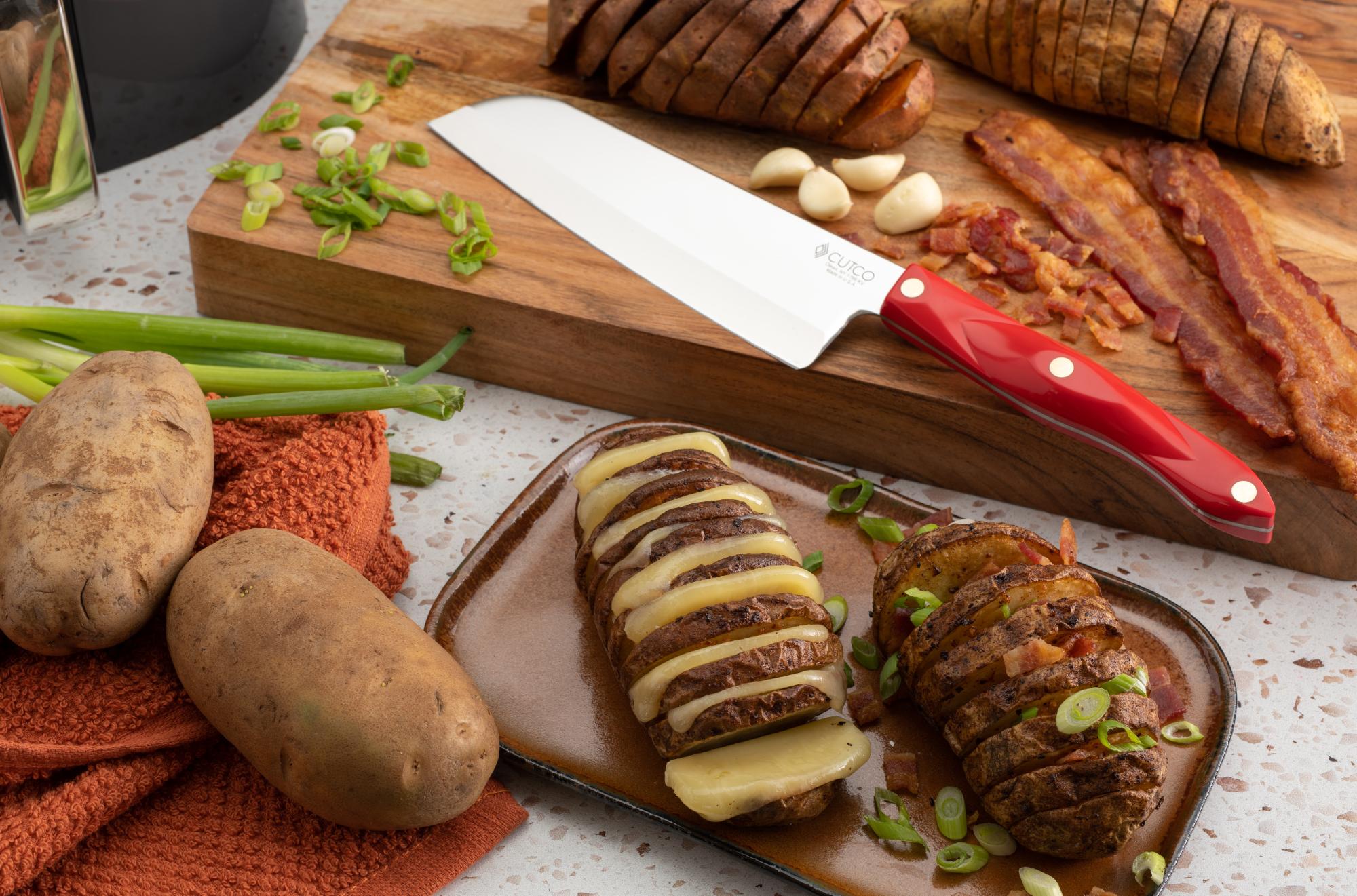 I was late arriving to the air fryer revolution. After trying this Air Fryer Hasselback Potatoes recipe, I am now a believer.
Hasselback potatoes by their own right are delicious, no matter how you cook them. The technique has you making slits across the entire length of the potato to fill with delicious ingredients. It ensures one delicious bite after another.
How to Cut a Hasselback Potato
The preparation of the potato for this is really what makes it extraordinary. In fact, the cutting technique for the potatoes is great for practicing your knife skills.
Rest a large, washed potato, like a Yukon Gold or russet, on a cutting board between two chopsticks. Use a 7" Santoku knife to make a series of quarter-inch slices crosswise along the length of the potato. The chopsticks should prevent the knife from cutting all the way through.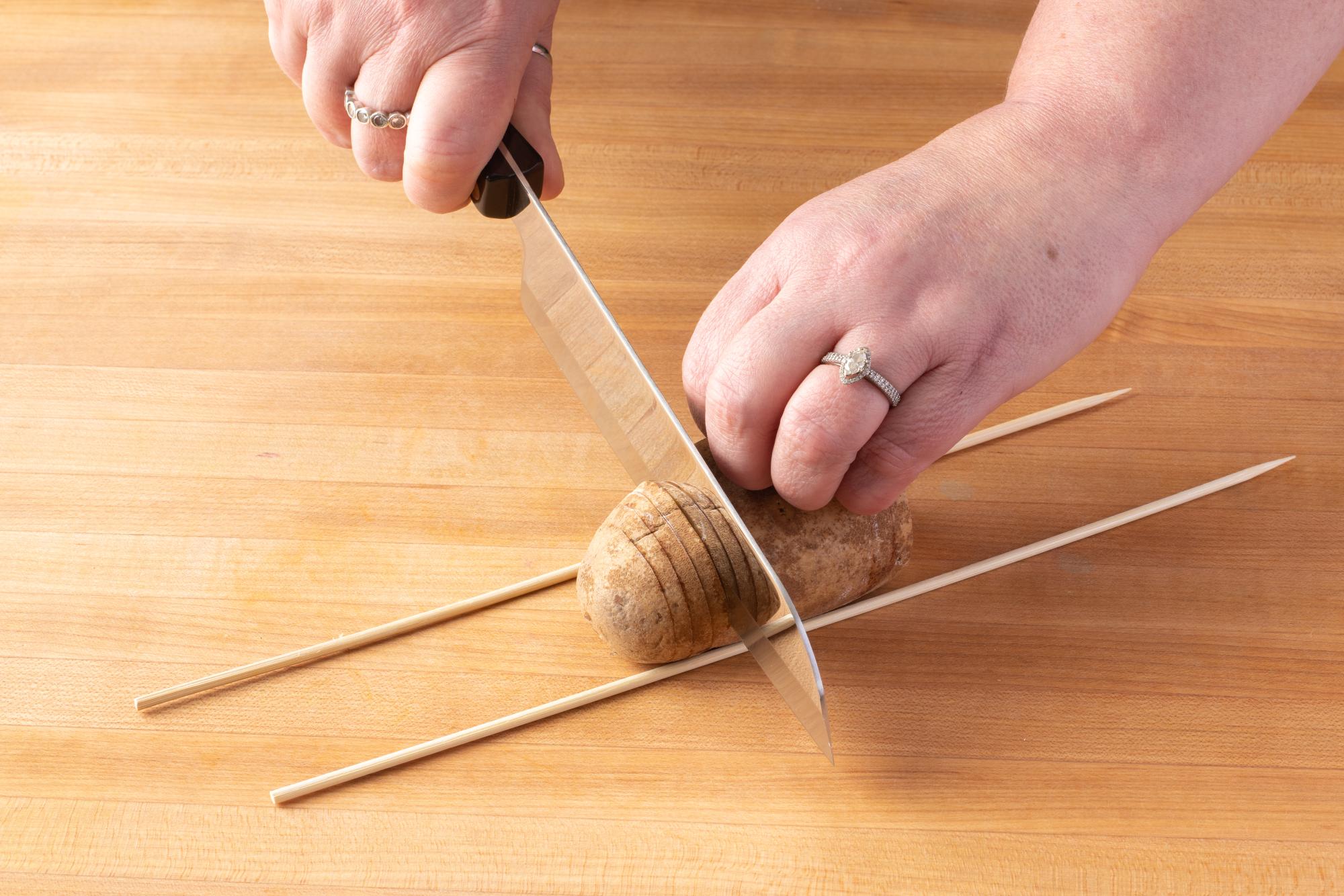 Keep the slices as uniform in thickness as possible for even cooking. The openings that are created become a vessel for adding a variety of delicious ingredients.
How to Season the Potato
For this Air Fryer Hasselback Potato recipe, I created an easy, seasoned butter. Just a few ingredients infuses the potato with off-the-chart delicious flavor. It is just melted butter, olive oil, minced garlic, paprika, salt and pepper. The only ingredient you need to cut is the garlic, which is easily minced using the 7" Santoku.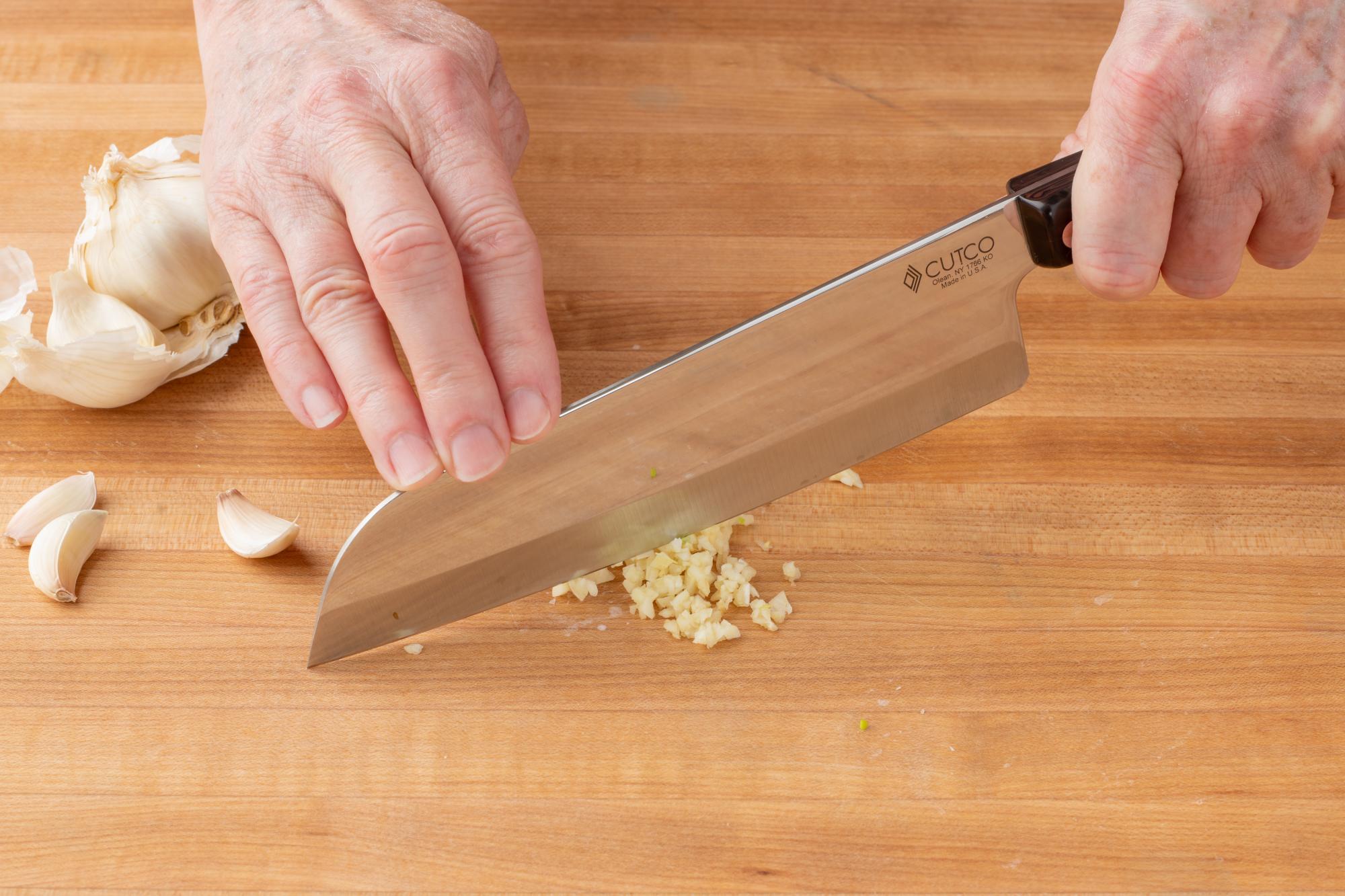 Once prepared, the butter mixture is brushed over the potato and into each slit both at the beginning of cooking and again during cooking.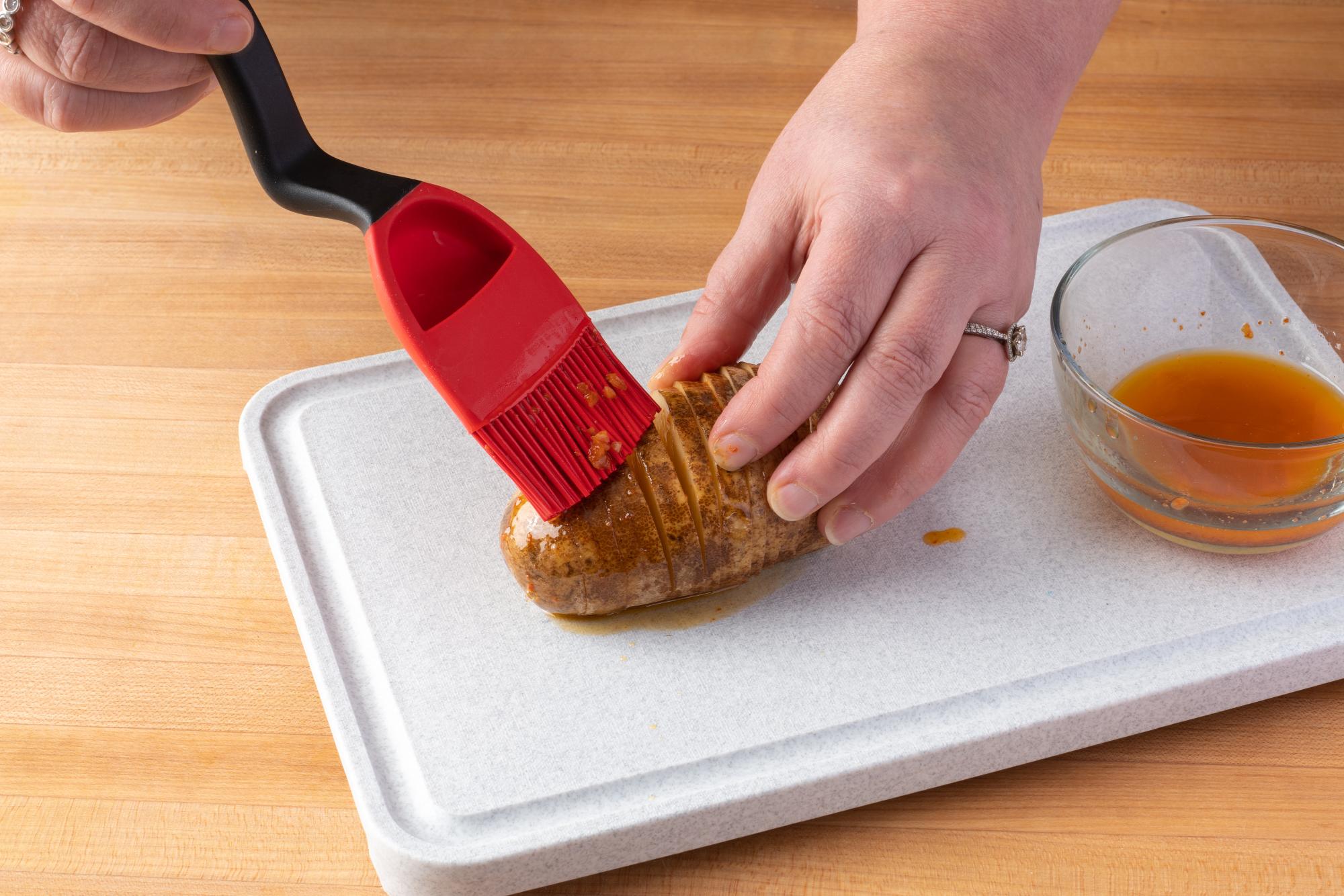 The beauty of hasselback potatoes is that you can add almost anything to them. Place slices of cheese between the cuts or top with bacon, dried ham or green onions. Let your imagination run wild.
Garnish with some chopped parsley. Even a sprinkle of Parmesan cheese is a nice addition just before serving.
This recipe could easily be halved for a smaller household.
It's pretty to serve and fun to eat. Plus, it's potatoes and butter and garlic, it doesn't get better than that!
Ingredients
4 large russet (or Yukon Gold) potatoes, washed (and sweet potatoes)
4 tablespoons melted unsalted butter
1 tablespoon olive oil
3 cloves garlic, minced (optional)
1/2 teaspoon ground paprika
Kosher salt and fresh ground black pepper
1 tablespoon chopped fresh parsley (garnish)
Directions
Heat an air fryer to 375 F (175 C).
Place the washed potato between two chopsticks. The chopsticks will keep you from cutting too deep. Cut the entire potato crosswise evenly along entire length, making 1/4-inch slices, stopping each slice at the level of the chopsticks to keep the bottom of the potato intact.
Combine butter, olive oil, garlic (if using) and paprika in a small bowl. Brush some of the mixture over each potato and into the slits. Season with salt and pepper. NOTE: The butter mixture will be added up to three times during cooking.
Place potatoes in the air fryer basket and cook for 15 minutes. Brush the potatoes again with some of the remaining butter mixture, be sure to get into the fanned slices. This will keep the potatoes moist. Cook until potatoes are cooked through, about 15 minutes more. Test doneness with a sharp wooden skewer.
Remove potatoes from the basket and brush with any remaining butter mixture. Top with chopped parsley and serve immediately. Could also top with a spoonful of sour cream.
Recommended Tools