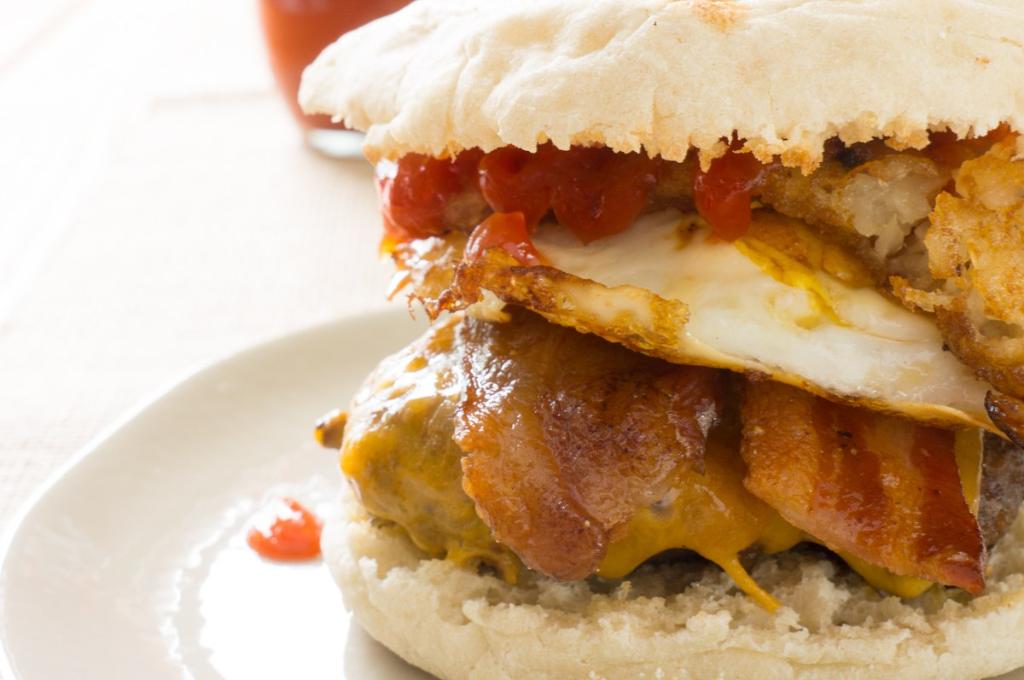 We celebrated Mom last month and now it's time to show Dad how much we appreciate and love him.
This brunch burger will satisfy the heartiest appetite. It's a complete breakfast in a sandwich. I know my youngest son would love this – his motto is that everything tastes better inbetween two slices of bread, a bun, a muffin, you name it.
Servings: 4
Ingredients
1 1/2 pounds ground beef (85/15)
Salt and pepper to taste
2 tablespoons Worcestershire sauce
12 slices good quality bacon, 4 pieces finely chopped (I used thick-cut bacon)
4 slices of deli-style sharp cheddar cheese
4 frozen shredded hash brown patties
4 large eggs
4 sandwich size English muffins, toasted and lightly buttered
Ketchup or hot sauce (optional)
Directions
Preheat oven to 375°F. Combine the meat, salt, pepper, Worcestershire sauce and finely chopped bacon. Form into 4 patties. Set aside
Bake the remaining 8 slices of bacon on a slotted broiler pan until crisp, about 15 minutes. Remove from oven and drain on paper towels. Cook 4 of the hash brown patties according to package directions. Keep warm.
While the hash brown patties are baking, heat a griddle or cast iron skillet to medium-high. Cook the burgers until done to your liking. Top with cheese to melt during the last 1-2 minutes of cooking. Melt 1 tablespoon of butter in a skillet. Fry 4 eggs, over medium to hard, season with salt and pepper.
Toast the muffins and butter lightly. To assemble, place a cheeseburger on the muffin bottom, top with two slices of bacon, a fried egg, a hash brown patty, ketchup (if using) and the muffin top.