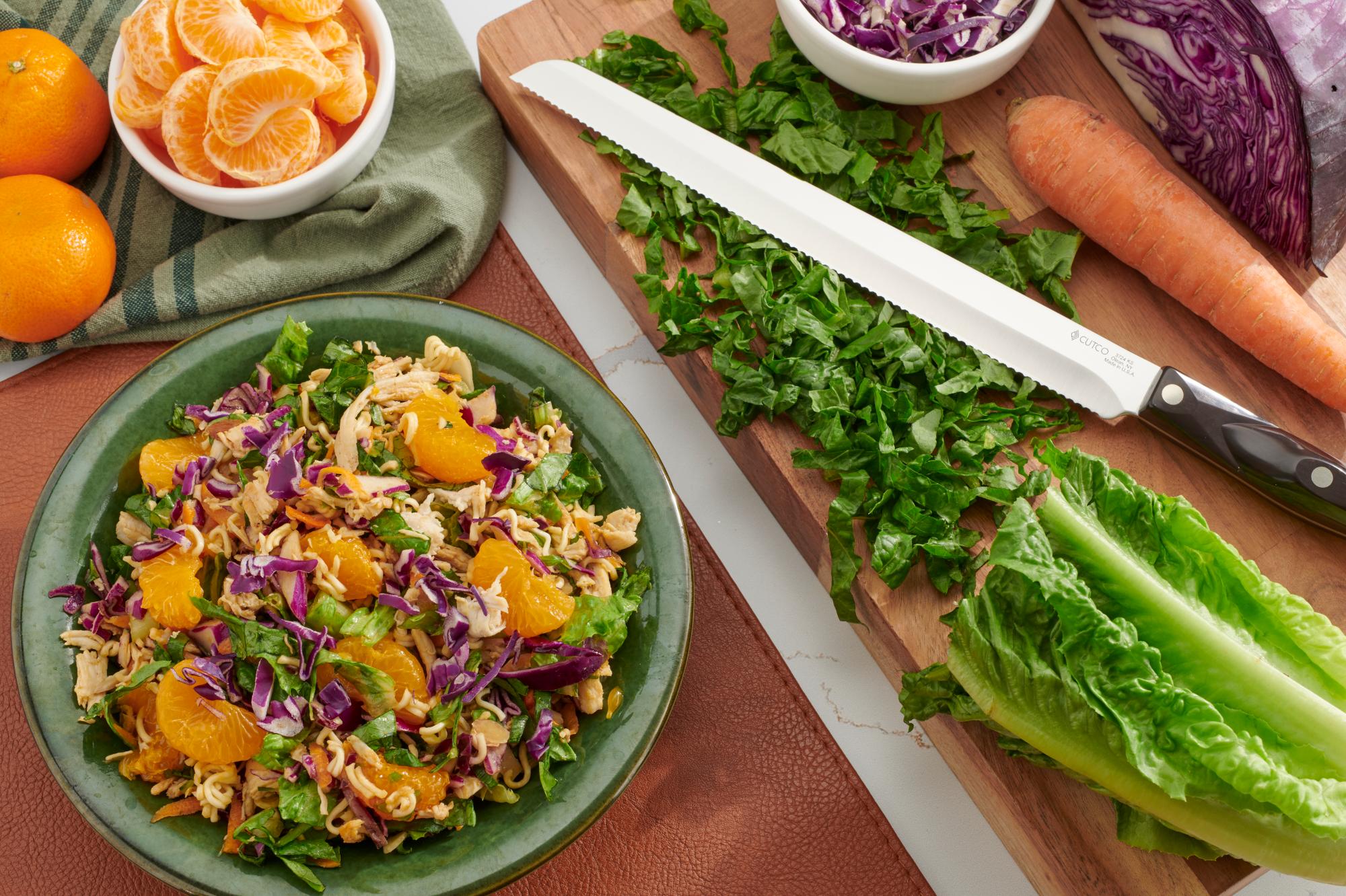 This is a surprising salad that includes uncooked ramen noodles. One bite of this Crunchy Mandarin Orange Chicken Salad and you'll wonder why you don't toss these noodles into every salad you make.
I had never heard of this salad until a young chef in our area opened a restaurant serving it at lunchtime. Everyone talked about it. When our local paper published his recipe, we all saved it so we could make it at home. This recipe is similar to his, just tweaked a bit.
Preparing the Dressing
The dressing is savory and nutty with a hint of sweetness. It includes all the good stuff, including rice wine vinegar, honey, sesame oil, hoisin sauce, soy sauce, fresh ginger, fresh garlic and vegetable oil.
To mince the garlic and ginger the 5" Petite Santoku is a good size. When cutting the ginger, first scrape the papery skin off with a spoon and then slice and mince.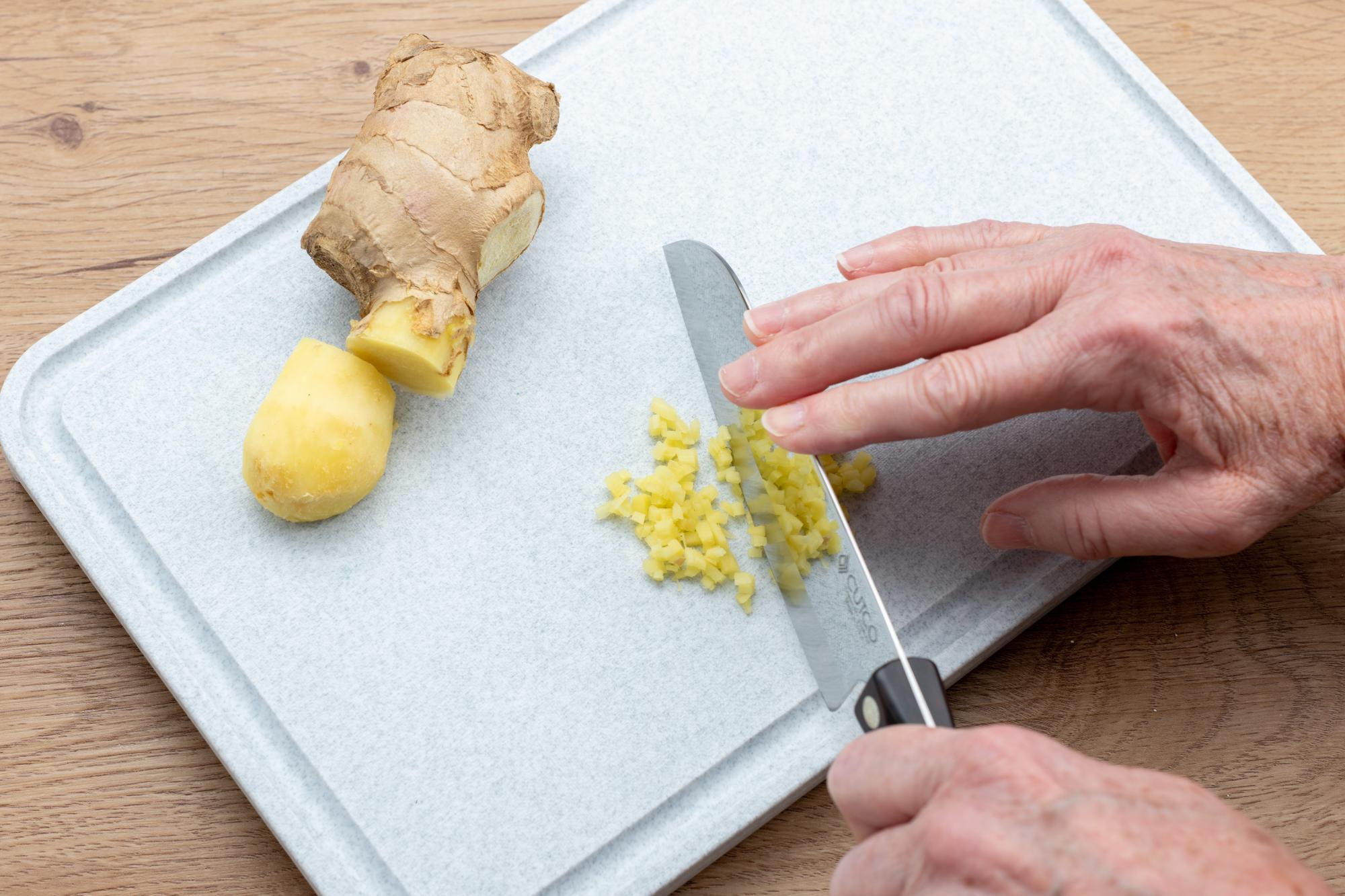 When mixing the dressing together, add the oil last and pour it in slowly. Use a Mix-Stir to whisk as you go to emulsify the ingredients.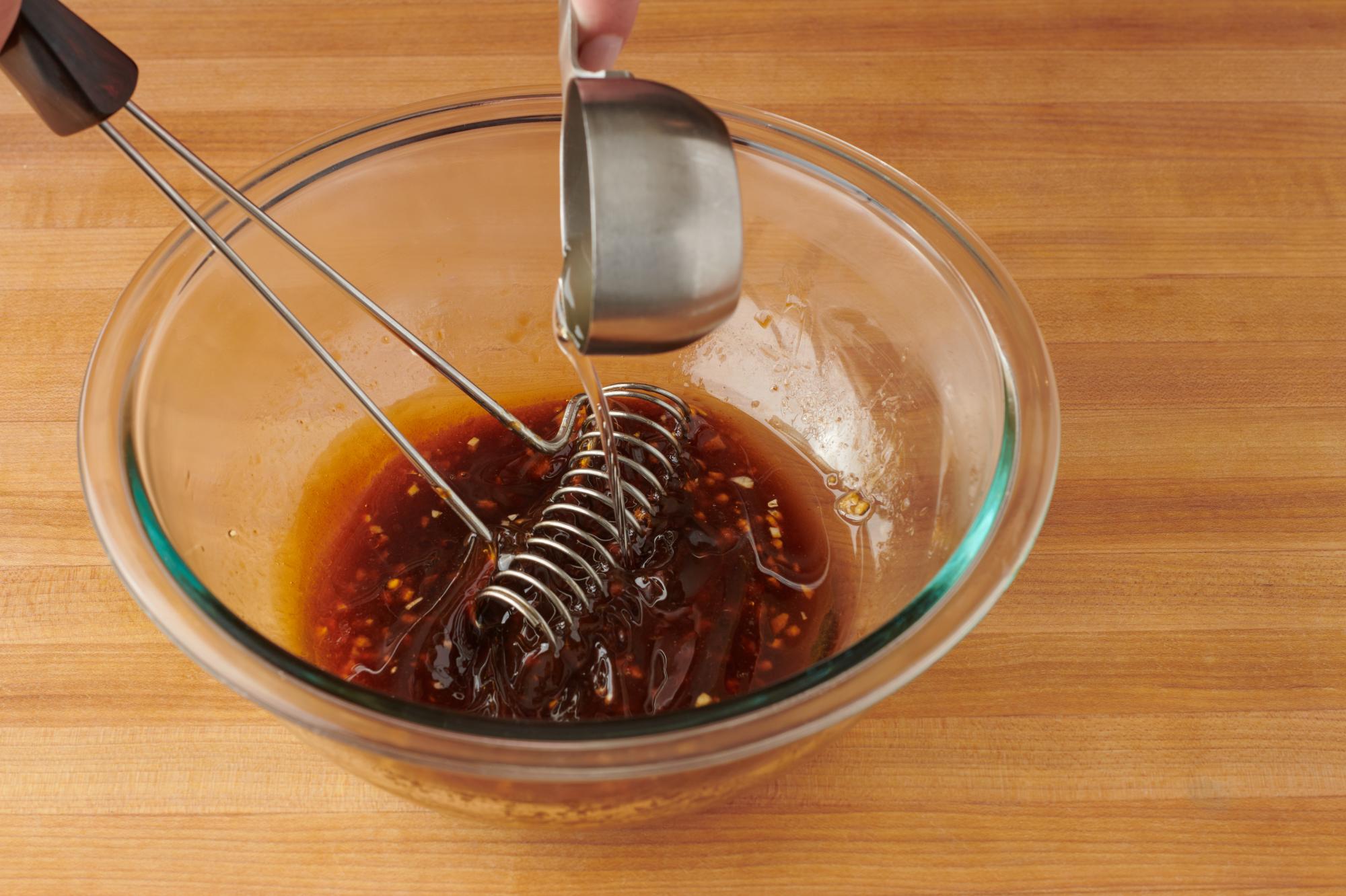 This dressing recipe can also be used as a marinade for grilling.
Prepare the Salad
Most of ingredients for this Crunchy Mandarin Orange Chicken Salad are cut small for easy eating.
Chop the romaine lettuce with a 9-1/4" French Chef knife. Start at the top of the head and working your way down.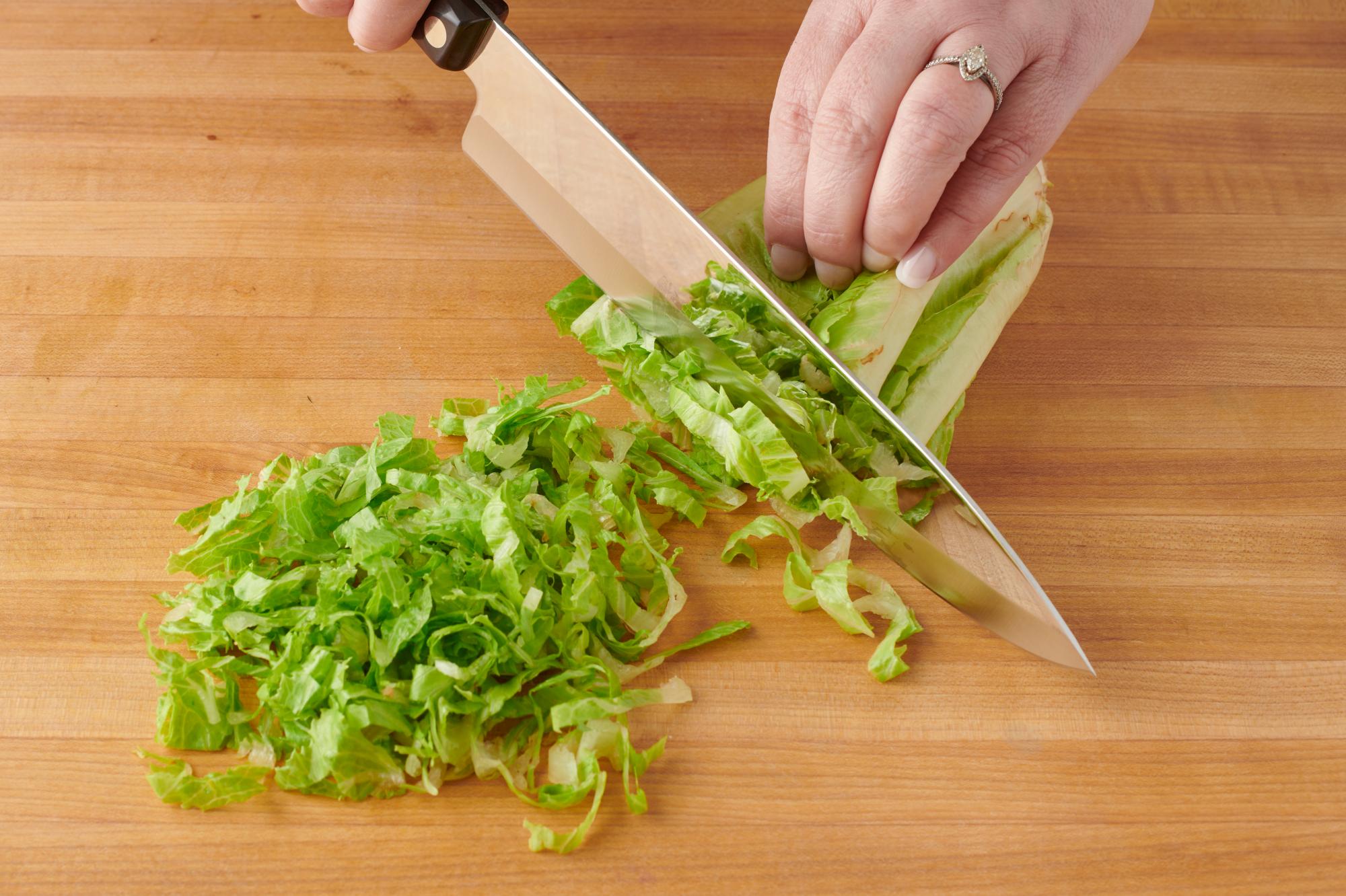 To shred the red cabbage, use a Santoku-Style 10" Slicer to cut the head into quarters. Remove the core and then thinly slice to shred.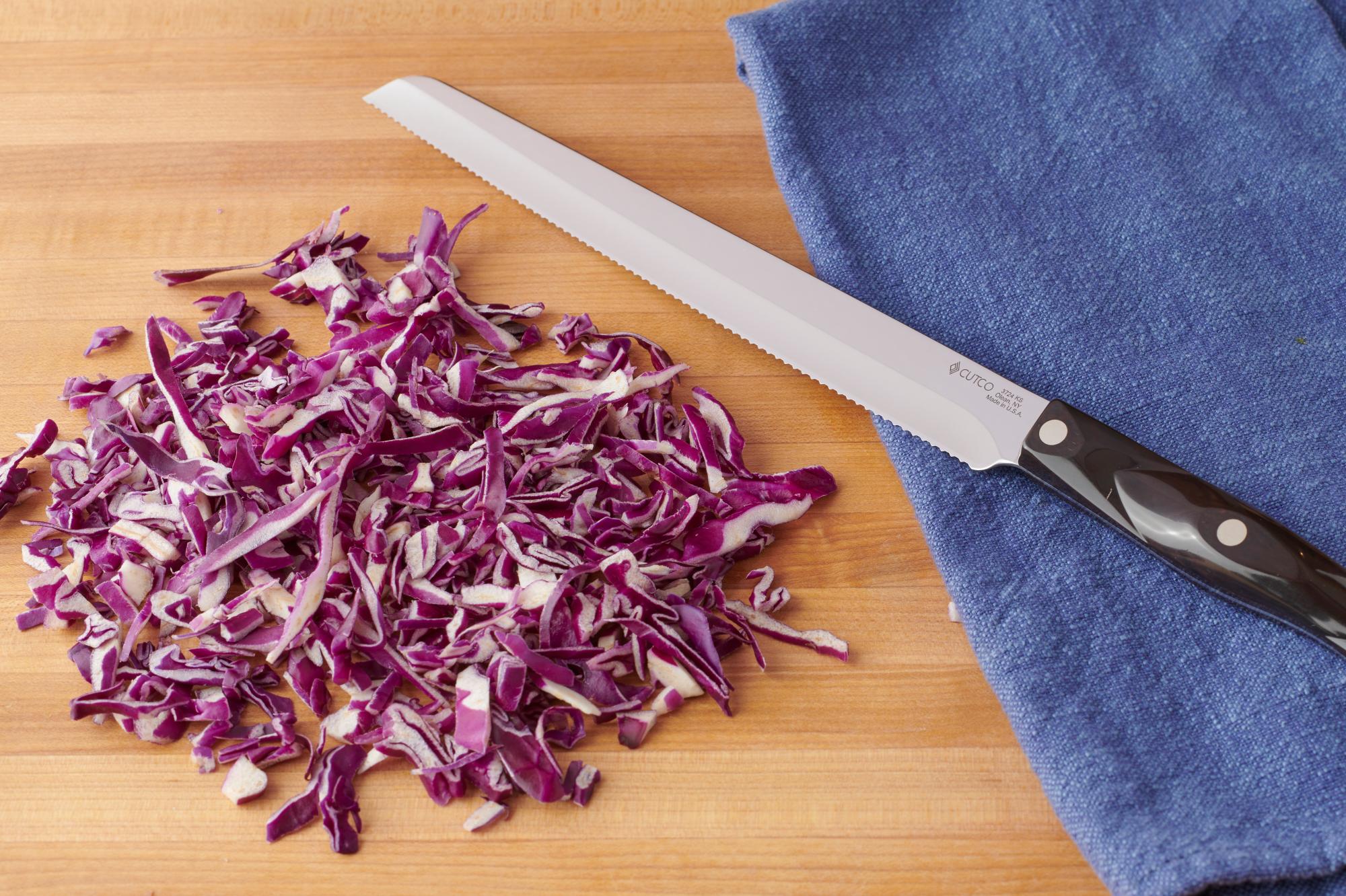 Along with those veggies, toss in some shredded or julienned carrots and sliced green onions.
The chicken for this recipe can be either shredded, cubed or sliced. It's entirely up to you, but I feel like shredded chicken would absorb more of the flavor. If you are pressed for time, a store-bought rotisserie chicken works well in this recipe.
The fun surprise in this salad is the crushed ramen noodles. It adds a nice crunch, along with the sliced almonds. However, I recommend not adding the ramen noodles until you're ready to serve so they don't get soggy.
Salads are so easy to customize and this one is no different. Feel free to add edamame or use walnuts in place of the almonds. I prefer romaine in this recipe, but iceberg is good, too. Or try a mixture of both.
This salad is great any time, as a side dish or a complete meal, and is easy to transport to a picnic.
Ingredients
For the dressing:
3 tablespoons rice wine vinegar (unseasoned)
2 tablespoons honey
1 tablespoon sesame oil
1 tablespoon hoisin sauce
2 tablespoons soy sauce
1 teaspoon minced fresh ginger
1 garlic clove, minced
1/4 cup vegetable oil
For the salad:
3 cups romaine lettuce, chopped
2 cups red cabbage, shredded
2 cups cooked chicken, shredded, sliced or cubed
1/2 cup mandarin oranges, from a can, drained
1 instant ramen noodles packet, crushed (flavor packet discarded)
1/2 cup carrots, shredded
1/3 cup green onions, sliced
1/4 cup almonds, sliced
Directions
In a small bowl, whisk together vinegar, honey, sesame oil, hoisin sauce, soy sauce, ginger and garlic. Slowly add vegetable oil, whisking constantly until blended. Set aside.
Toss together lettuce, cabbage, chicken, oranges, ramen noodles, carrots, green onions and almonds.
To serve, add dressing and toss to combine.
Recommended Tools