Teriyaki Shrimp and Veggie Sheet Pan Dinner
629 days ago
Skip to recipe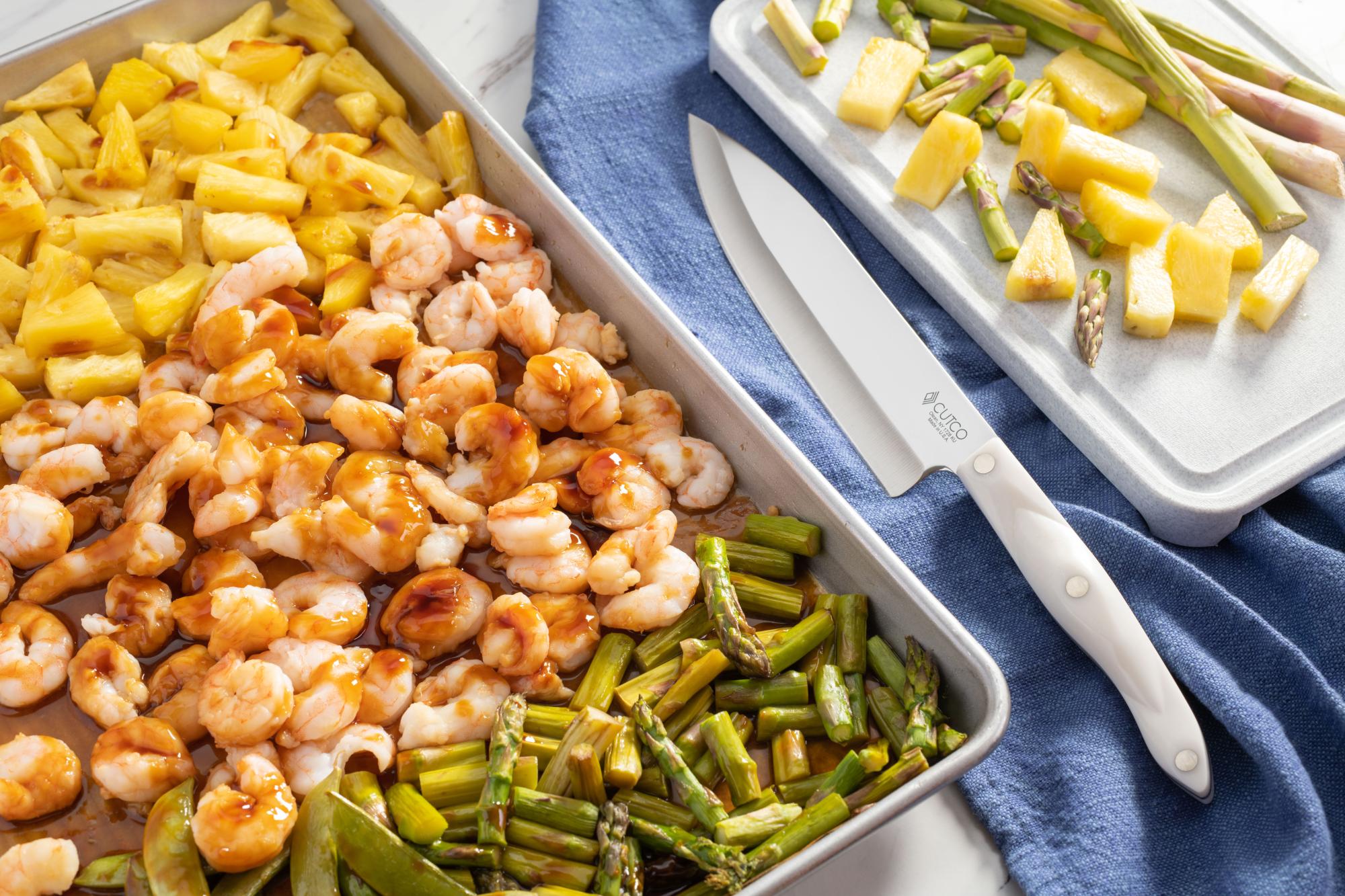 Sheet pan dinners like this Teriyaki Shrimp and Veggie Sheet Pan Dinner are my absolute favorite recipes to create. There is nothing more satisfying than having dinner done in around 30 minutes with limited dishes and mess. I also appreciate that I'm not slaving away in the kitchen, and able to get some things done around the house while dinner cooks.
Anytime you make a sheet pan dinner, you typically want to roast the veggies first. It gives them a chance to soften and cook.
Along with the veggies, this recipe calls for a chopped fresh pineapple, which is easily prepared with a 7-5/8" Petite Chef knife.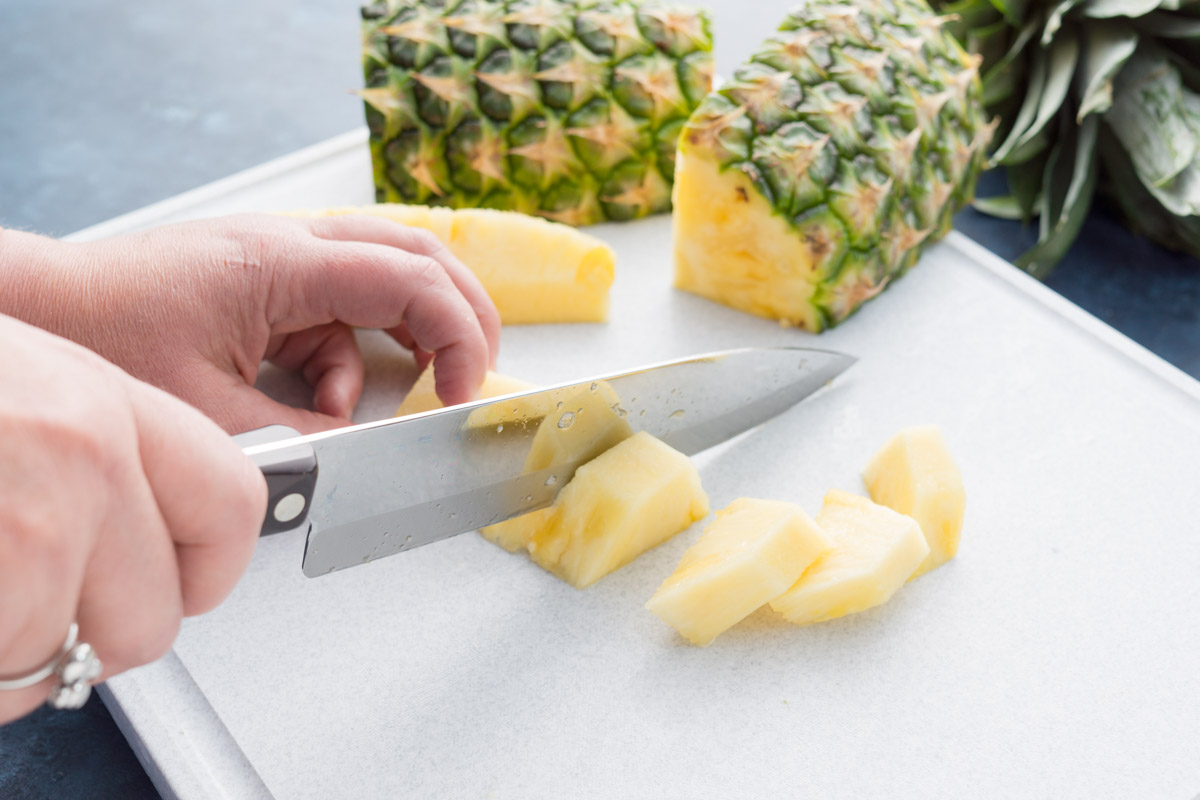 Cutco has a great tutorial on how to cut pineapple if you need some guidance.
This Teriyaki Shrimp and Veggie Sheet Pan Dinner also includes snap peas, which can be trimmed and tossed right on the pan, and asparagus, which is easily prepped using the Santoku-Style Trimmer.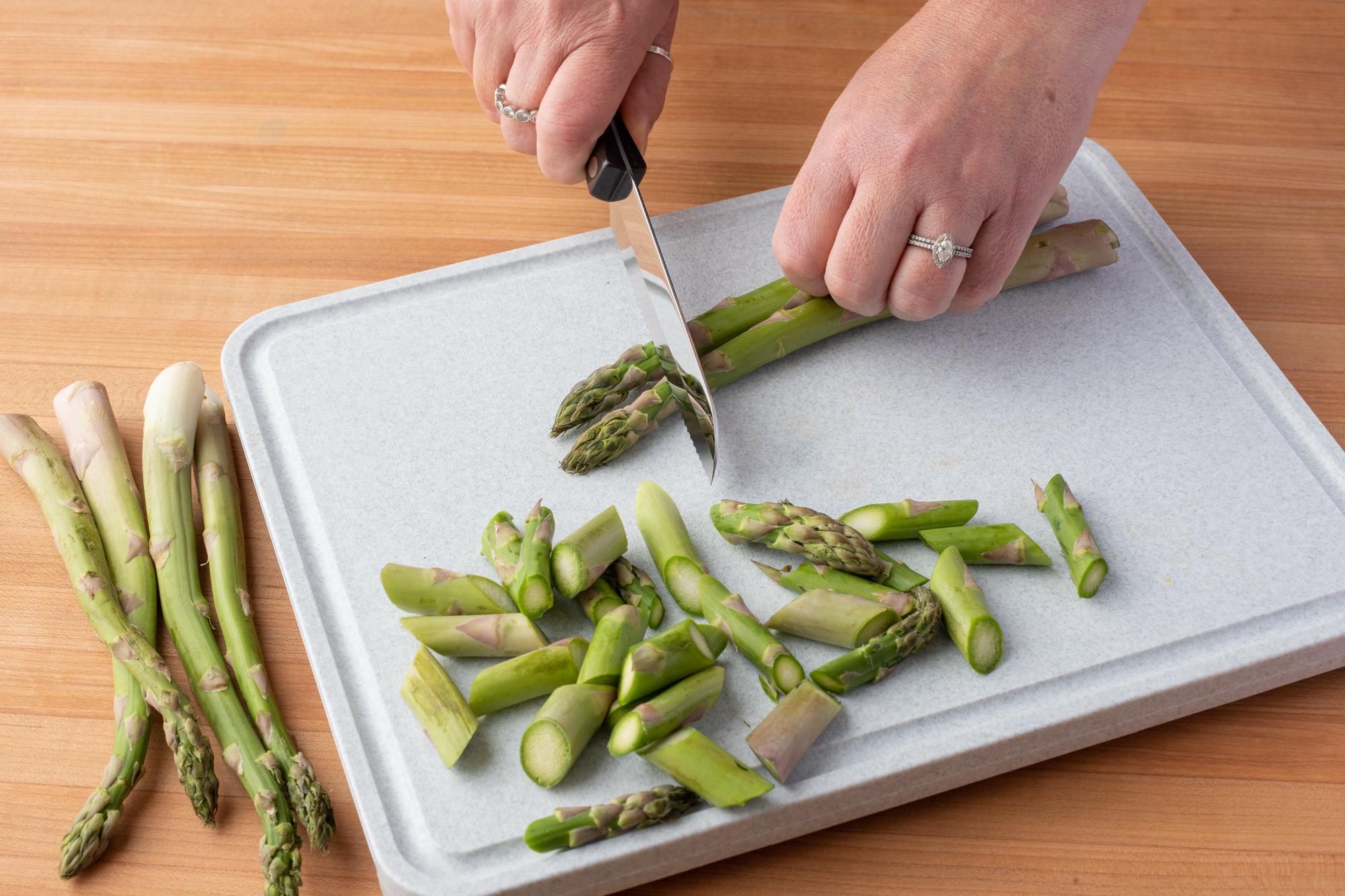 The shrimp in this recipe cooks on the same sheet pan in just minutes, but only after the veggies have cooked a bit. Use a Slotted Turner to push the cooked pineapple and veggies to the side of the pan and then place the shrimp in the middle before turning to the oven for just a few minutes to let the shrimp cook.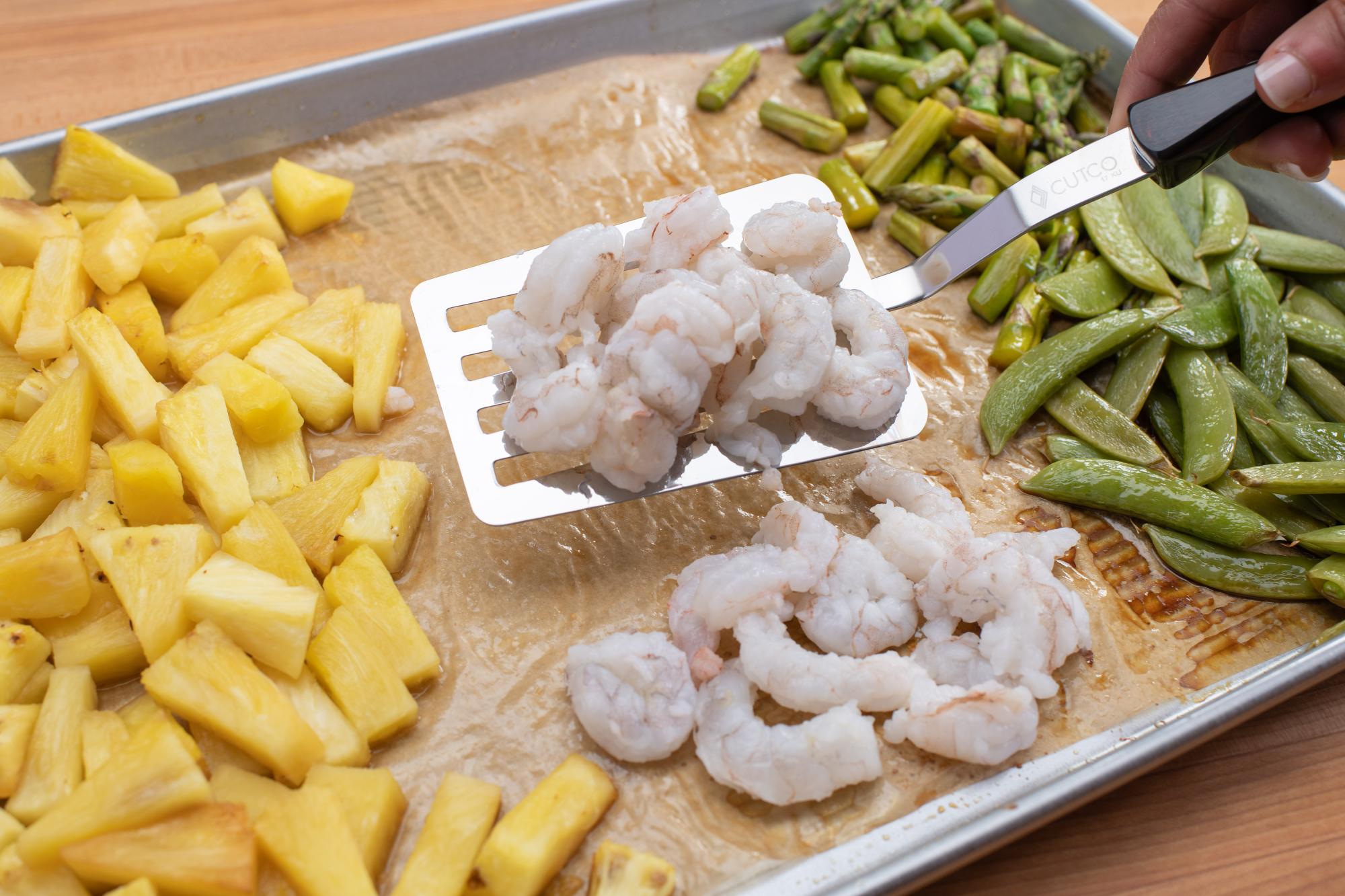 The shrimp are so much tastier if you can pull them out of the oven just as they start to curl and turn pink. Overcooking them is what makes them rubbery.
This dish offers a wonderful balance of sweetness from the pineapple and brown sugar, and savory from the teriyaki sauce. You can also serve this recipe on top of a tasty bowl of steamed white rice or zoodles, or even throw the shrimp and veggies in a wrap. Any way you serve it, I am sure you will love it.
Nutrition per serving: 227calories, 1.8g fat, 23.8 carbohydrates, 297mg sodium, 31.8g of protein, 4.5g fiber
Ingredients
1 fresh pineapple, chopped into 1-inch chunks
1 tablespoon brown sugar
1 1/2 cups snap peas
1 1/2 cups asparagus spears, chopped
1/2 cup, plus 3 tablespoons teriyaki sauce, divided
Cooking spray
1 1/2 pounds medium uncooked peeled shrimp, deveined
1 teaspoon cornstarch
Rice, noodles or zoodles for serving
Directions
Heat oven to 400 F.
Line a large baking sheet with foil and spray with cooking spray. Add pineapple and toss with brown sugar. Push pineapple to one side of the pan.
Add snap peas and asparagus to pan. Toss with 1 tablespoon teriyaki sauce. Spread snap peas and asparagus into an even layer.
Spray pineapple and veggies lightly with cooking spray.
Bake 15 minutes.
Remove pan from oven and push pineapple and veggies to each side of the pan. Add shrimp to center of pan along with 2 tablespoons teriyaki sauce. Toss to coat and arrange in a single layer.
Roast for 4-6 minutes or just until shrimp is opaque.
Meanwhile whisk in cornstarch to ½ cup teriyaki sauce. Simmer in a small saucepan just until slightly thickened, stirring often.
Remove pan from oven and drizzle shrimp with 2 tablespoons teriyaki sauce. Toss to coat.
Serve with rice, noodles, or zoodles with desired amount of additional teriyaki sauce.
Recommended Tools