Spring Vegetable Stew With Turnips, Carrots and Asparagus
467 days ago
Skip to recipe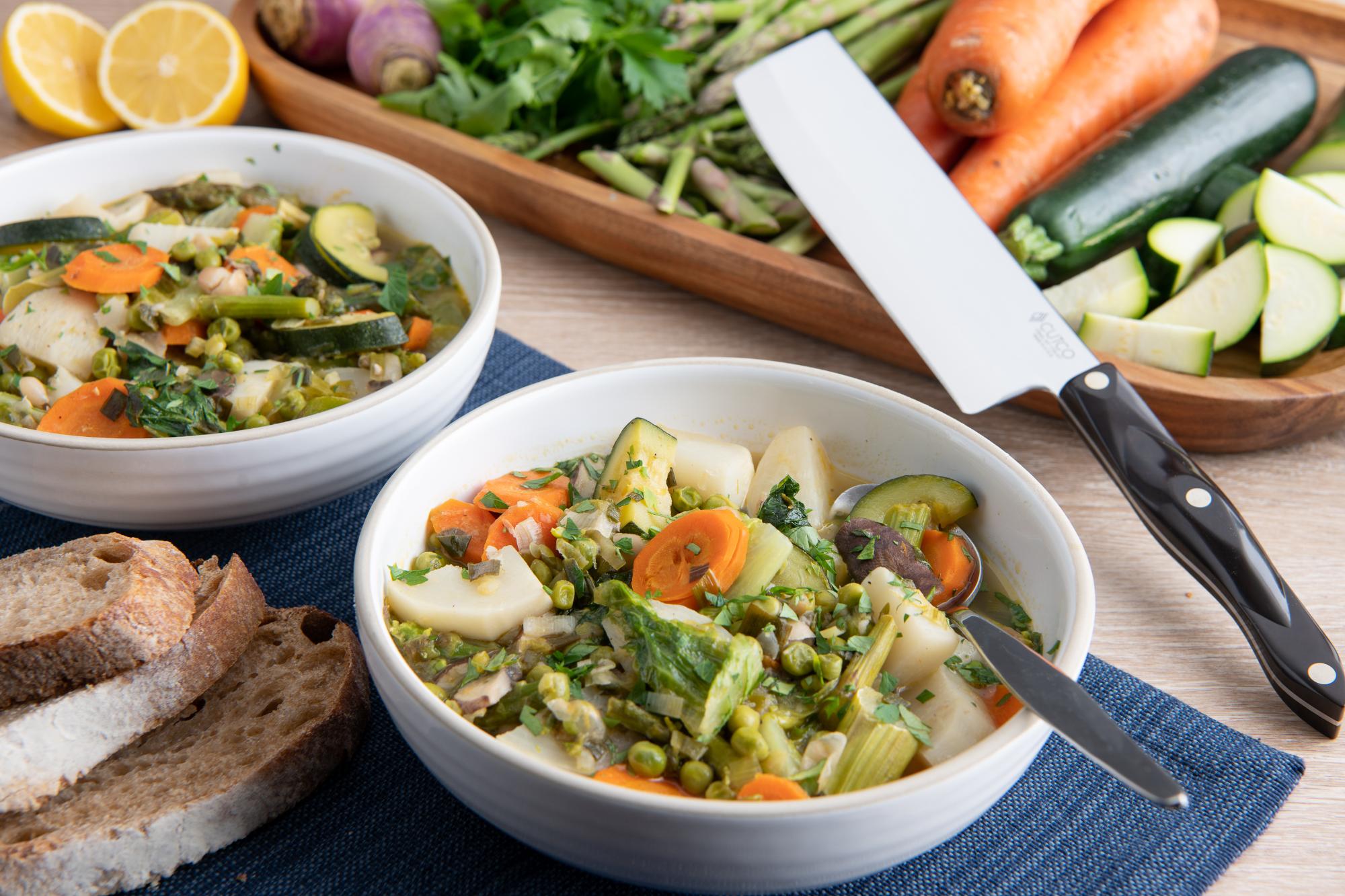 After a winter of eating comfort foods, I look forward to coming out of hibernation and making that first trip to the farmers market in anticipation of all the wonderful fresh vegetables that become available. It's not that I don't eat vegetables during winter but if I'm being honest, they are definitely not the focus.
This Spring Vegetable Stew with Turnips, Carrots and Asparagus is the perfect transitional meal from winter to spring in my opinion. It still has that warmth to it, similar to your winter soups and stews, but it is full of vegetables and herbs that make your kitchen smell incredible, and is a healthy and hearty dish for the entire family. What's even better about this recipe is that it really is up to you what vegetables you want to add to the stew. Make it your own with your favorites or with what you can find. There is no wrong way to go about this recipe. The one tip I will share is more to do with the order in which you add your vegetables. The more hardy vegetables (think carrots and turnips) should be added first to allow them to soften and the more delicate vegetables (think asparagus, lettuce) should be added towards the end of the cooking process so they don't become mushy. That's really all there is to it.
The easiest way to go about the prep work for this stew is to prepare everything in advance of the actual cooking. In this instance, I started with the scallions and, using the 5" Petite Santoku knife, chopped up both the white and pale green parts of this vegetable.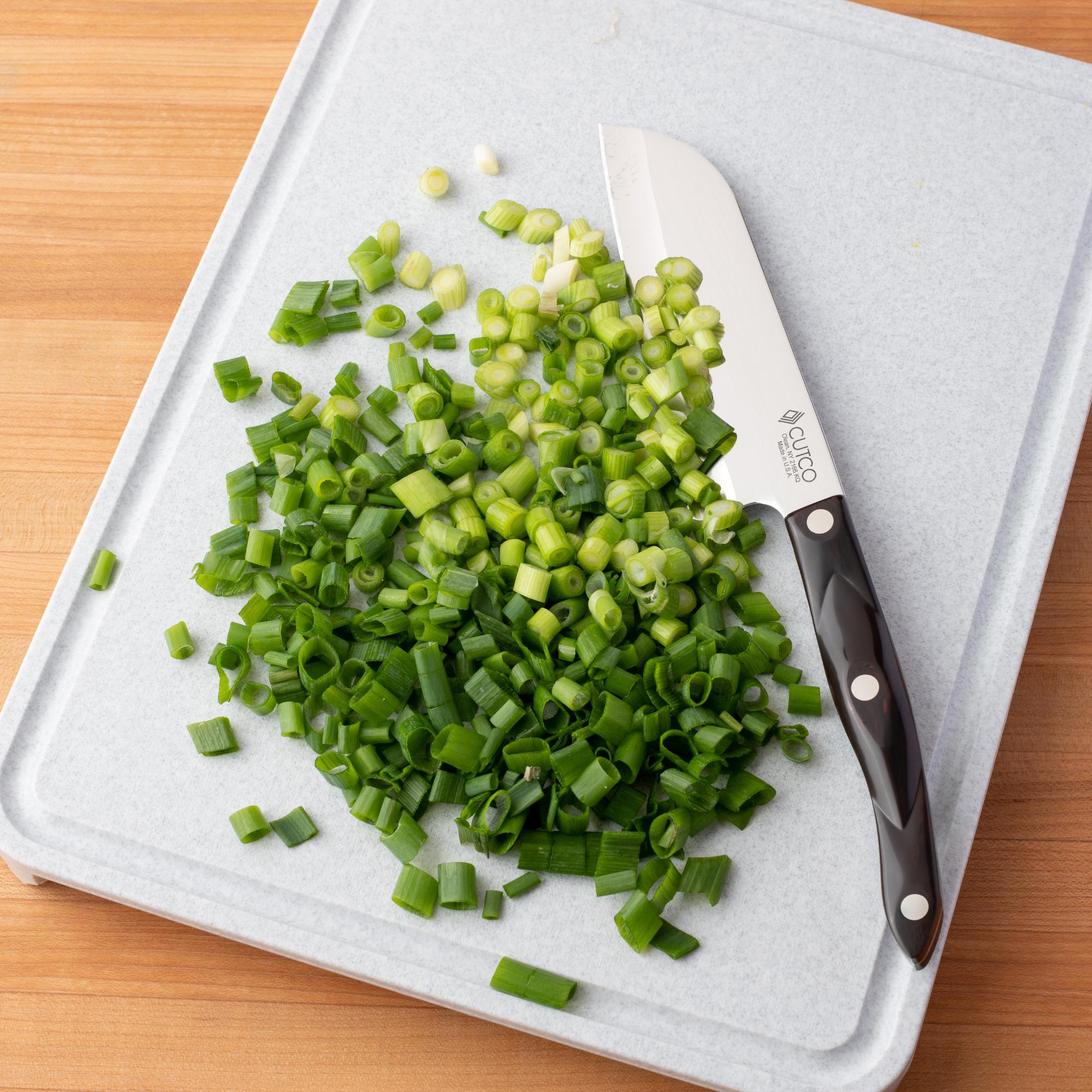 Using the Vegetable Knife, I cut the peeled carrots on the bias, giving them a more rustic appearance. You can cut then into coins, matchsticks, wedges – whatever your preference. Just remember that the smaller you cut them, the less time it will take them to cook.
To trim and cut the asparagus, I used the Santoku-Style Trimmer. I first cut off the woody ends of each stalk and then cut them into one-inch pieces. Make sure you keep the pieces the same size so that they cook evenly.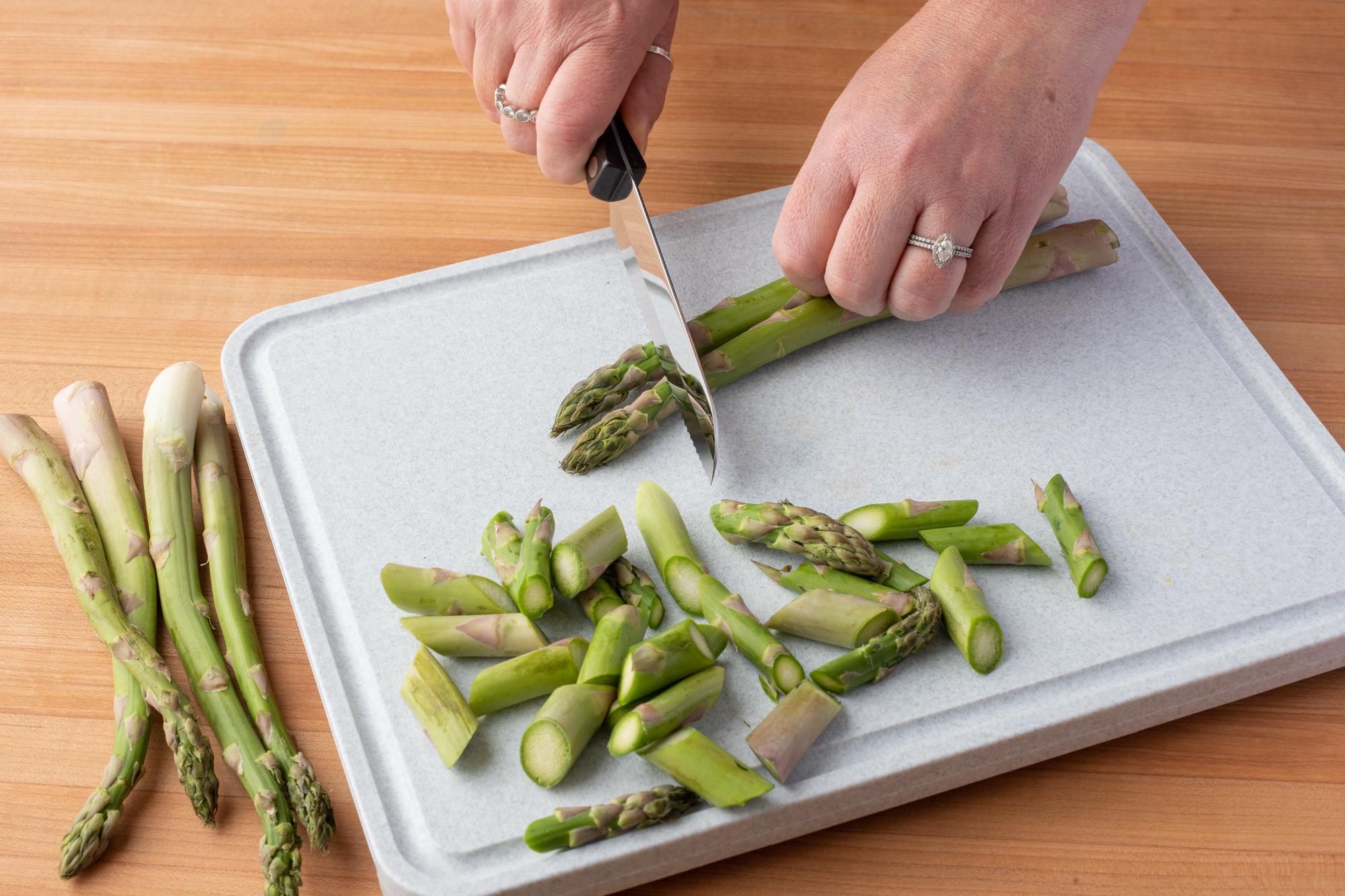 For the turnips, I actually used the Traditional Cheese Knife to cut this root vegetable into wedges. The knife works incredibly well for this task as the turnips didn't stick to the blade.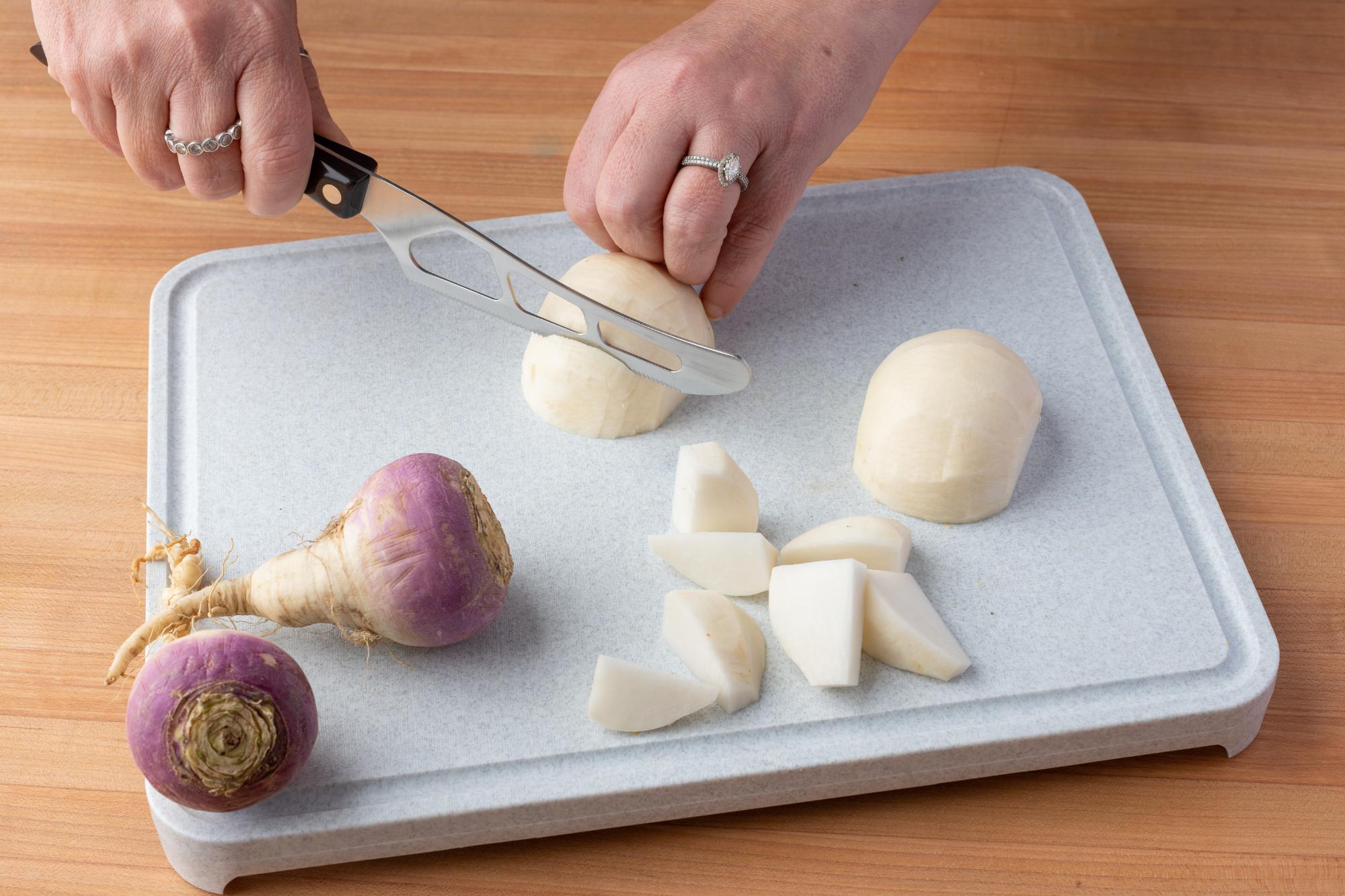 Once all of the prep work is done, this recipe comes together fast and easy. You are basically adding the vegetables in layers based on how long they will take to cook. I did start with the mushrooms and scallions only to get them to the proper consistency and set them aside. From there it was cooking my root vegetables first, followed by the zucchini, peas and beans and then adding the asparagus and lettuce last.
This dish comes together quickly and we found that having some bread on hand to dip into the stew was a lovely addition. Depending on your preference, you could add more broth to make this more of a soup or keep it like we did, and let the vegetables really be the star. Either way, this Spring Vegetable Stew with Turnips, Carrots and Asparagus is the perfect way to welcome in spring and add more vegetables to your day.
Ingredients
2 tablespoons extra-virgin olive oil, divided
20 thin scallions, white and pale green parts, chopped
3 portabella mushrooms, sliced
Kosher salt, to taste
Freshly ground black pepper, to taste
2 medium carrots, peeled and cut on the bias
6 white turnips, peeled and cut into wedges
Thyme sprig
32-ounces vegetable stock
1 medium zucchini, halved and then cut crosswise
1 10-ounce. bag of frozen peas, thawed
1 14.5-ounce can cannellini beans, drained and rinsed
12 stalks of green asparagus, cut into 1-inch lengths
1 romaine heart, sliced into 2-inch pieces
1/2 teaspoon finely grated lemon zest
1 teaspoon fresh lemon juice
1 tablespoon chives, minced
2 tablespoons parsley, chopped
Sourdough bread for dipping
Directions
Put 1 tablespoon of oil in a medium pot over medium-high heat. Add the scallions and mushrooms, season with salt and pepper, and cook until tender, about 2-3 minutes. Transfer to a bowl.
Add another tablespoon of oil to the pot and add the carrots, turnips and thyme sprig, seasoning with salt and pepper and stirring to coat.
Reduce heat to medium and add stock. Let simmer for approximately 10-12 minutes until the carrots and turnips are tender.
Add the previously cooked scallions and mushrooms to the stew, followed by the zucchini, peas and cannellini beans. Cook, covered for approximately 3-4 minutes.
Uncover the pot, increase heat to medium-high and add the asparagus. Cook for another 2 minutes to reduce the stock. Stir in the romaine heart, lemon zest, juice and chives, cooking for 1 additional minute.
Remove the thyme sprig, sprinkle with parsley and serve with sourdough bread.
Recommended Tools