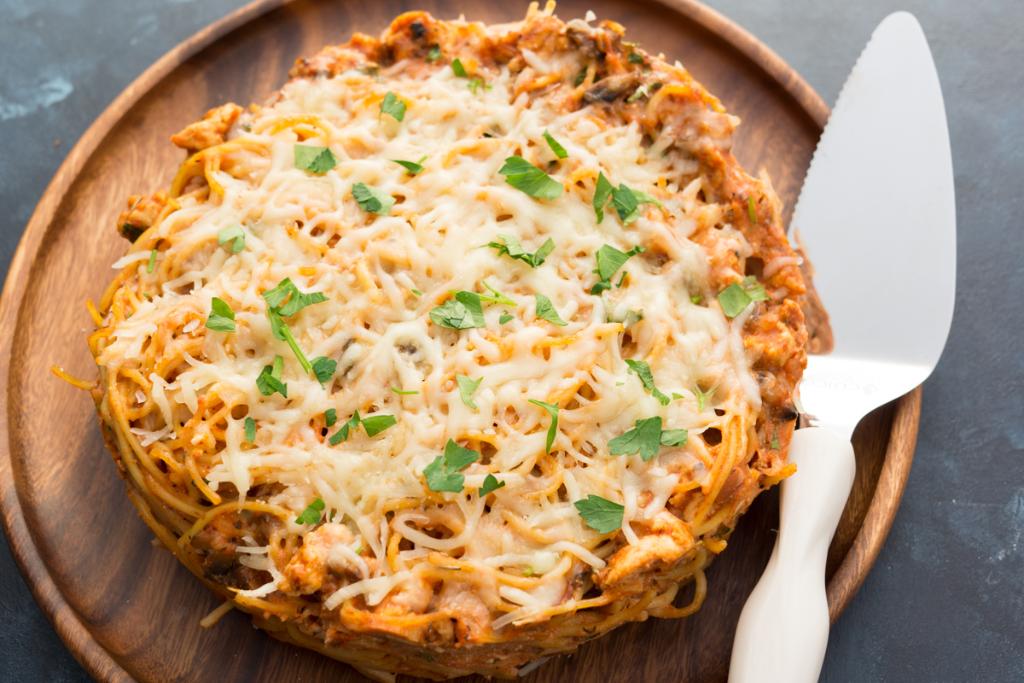 Have you ever had Spaghetti Pie? It doesn't get any easier than this. Take a box of spaghetti, brown some meat, mix it with some sautéed vegetables, add some sauce, throw in some cheese, bake, and you've got dinner.
To sum it up, this recipe is great for a night when you need a delicious meal, but don't feel like spending hours cooking. You probably have all the ingredients on hand and this pie can be ready in about an hour.
The Ingredients
Preparing this Spaghetti Pie is seriously simple. Use the 7" Santoku knife to dice the onion, mince the garlic and chop the mushrooms. One knife, multiple uses – how easy is that?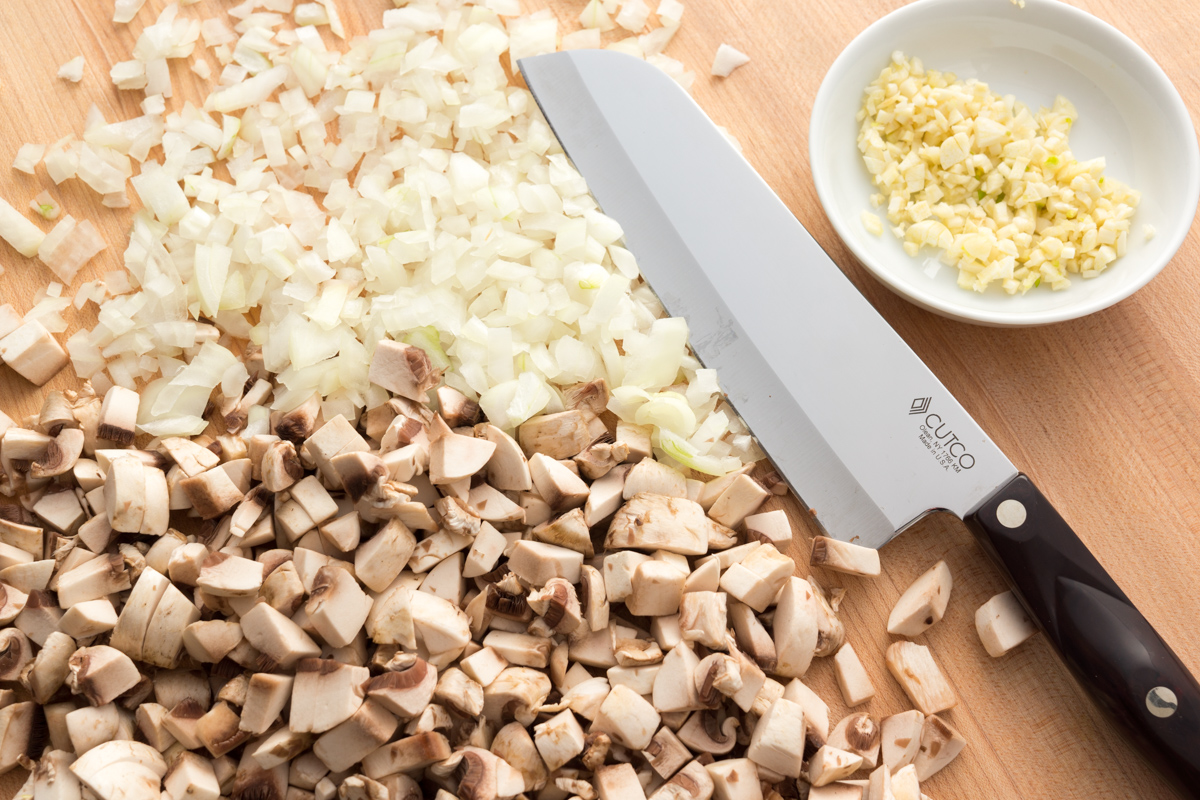 For the fresh parsley, the 7-5/8" Petite Chef is my choice. Use it to shave off some of the parsley leaves, gather them into a pile and chop using the slightly curved belly of the knife to rock it over the parsley.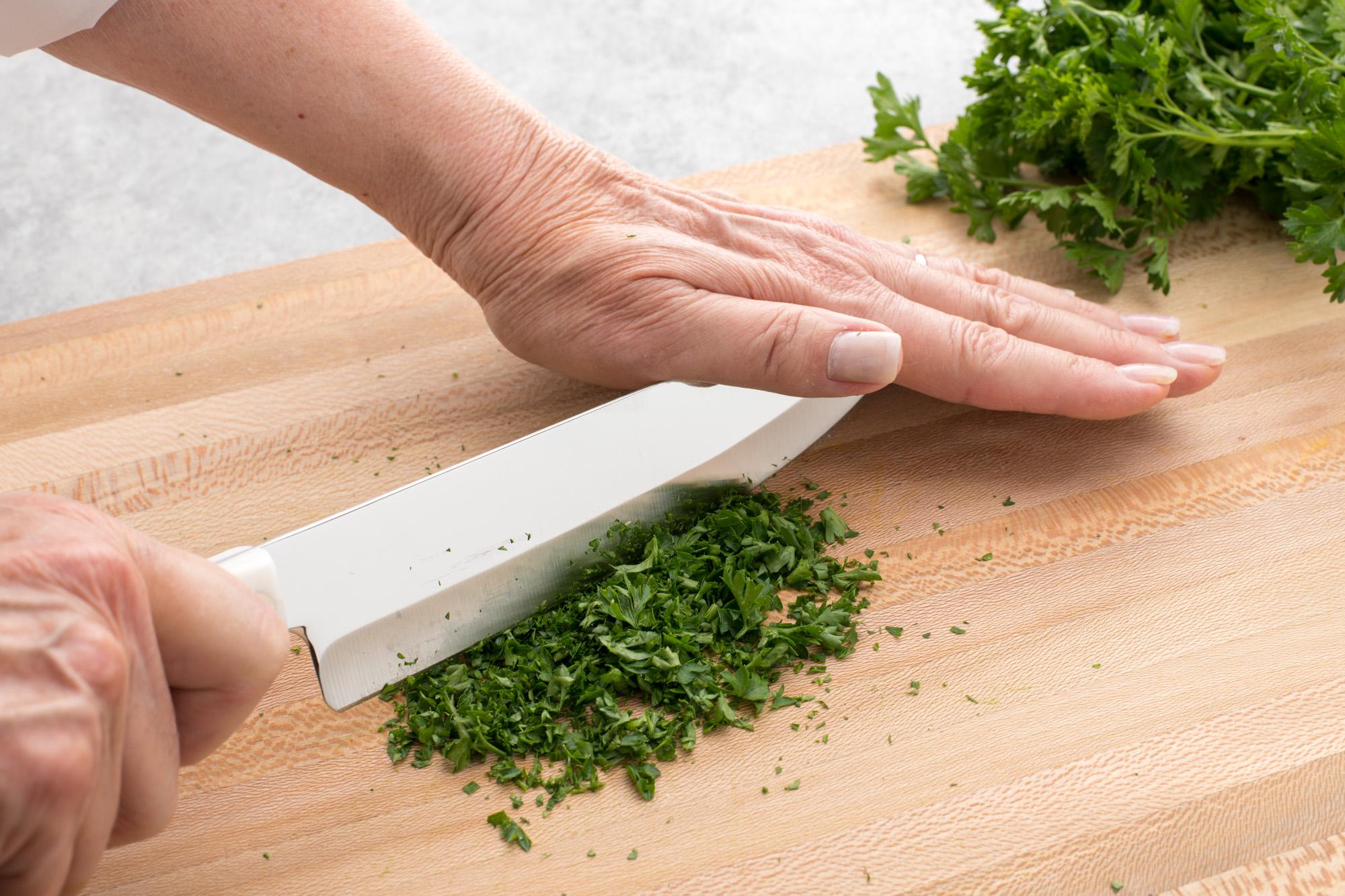 For tips on how to cut parsley, take a look at our handy step-by-step tutorial.
The spaghetti pie will bake for about 25-30 minutes. When it comes out of the oven, be sure to let it rest for about five minutes to make it easier to cut.
Even if you don't have everything on the ingredient list, do a little improvising and come up with your own version. Instead of ground turkey, use ground beef or even ground venison. If you're a vegetarian, swap out the meat for some frozen chopped spinach that has been thawed and squeezed dry.
If you don't have a spring form pan, this can also be baked in a 13-by-9-inch baking dish.
Ingredients
1 pound lean ground turkey
1 cup diced onion
8 ounces chopped mushrooms
3 garlic cloves, minced
2 tablespoons Italian seasoning
1/2 teaspoon onion powder
1 pound spaghetti
2 1/2 cups marinara sauce
3/4 cup ricotta cheese
1/4 cup chopped fresh parsley
3 large eggs
1 1/2 cups grated Parmesan cheese, divided
2 cups shredded mozzarella cheese, divided
Directions
Preheat oven to 350°F. Lightly spray a 10 inch spring form pan with non-stick spray and wrap in foil in case it leaks.
Brown the turkey in a large skillet over medium heat until no longer pink, about 4 to 5 minutes. Transfer to a bowl using a Slotted Spoon and discard any fat left in the pan.
Return the pan to the heat and cook the onion and mushrooms until softened, approximately 3 to 4 minutes. Add the garlic and cook for 1 minute. Stir in the Italian seasoning and the onion powder. Remove from the heat and set aside.
Cook the pasta in a large pot of salted, boiling water 6 to 7 minutes or until almost al dente. The pasta will continue cooking in the oven. Drain and set aside.
In a large bowl, whisk together the sauce, ricotta cheese, parsley and eggs.
Add the pasta, turkey, and onion, mushroom, garlic mixture. Stir in 1 cup of Parmesan and 3/4 cup of mozzarella.
Transfer the mixture to the prepared pan.
Sprinkle the remaining cheese over the top of the pie.
Bake until the cheese is melted and bubbling, 25 to 30 minutes. Remove from the oven and allow to rest for at least 5 minutes. Remove ring from pan and cut into wedges. Serve immediately.
Recommended Tools