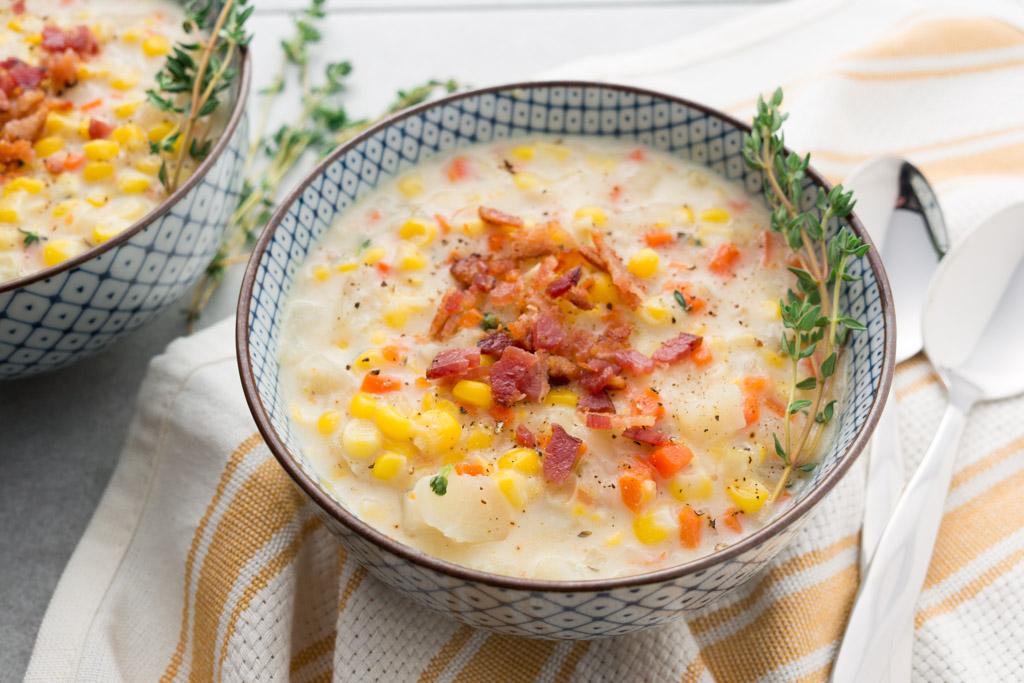 Like so many other home cooks I love using my slow cooker. This versatile cooking vessel can literally cook anything. An entire meal, a meat, a soup, a sauce, a dessert, just about anything can be slow cooked. I made a spiral ham for Easter dinner in mine and it turned out moist and delicious and freed up the oven for all the other things I was making.
Sometimes ingredients need to be sautéed or browned before being added as is the case with our Slow-Cooker Corn Chowder. The 7" Santoku makes easy work of preparing the mirepoix, which is simply a fancy name for chopped carrots, onions and celery. You can use the same knife for cubing the potatoes.
Cut all of your vegetables ahead of time so you can just toss in ingredients as you go.
A quick sauté and the veggies are ready to transfer to the cooker. For fast, easy clean-up, line it with a slow-cooker liner. Add and cook the rest of the ingredients as the recipe directs and in a matter of a few hours, you can serve delicious chowder topped with crumbled bacon.
I think with summer coming, this soup would be awesome using fresh corn kernels in place of frozen.
Ingredients
1 tablespoon vegetable oil
1 cup finely chopped carrots (2 medium)
1/2 cup finely chopped celery (1 stalk)
1/3 cup finely chopped onion (1 small)
3 cups peeled and cubed russet potatoes (about 1 pound)
3 cups reduced-sodium chicken broth
1 bay leaf
3/4 teaspoon salt
3/4 teaspoon dried thyme, crushed
1/8 teaspoon paprika
4 cups frozen whole kernel corn
2 cups milk
4 tablespoons cornstarch
2 tablespoons dry white wine
1 tablespoon snipped fresh thyme
6 slices bacon, crisp-cooked, drained, and crumbled
Cracked black pepper
Directions
Heat oil in a medium saucepan over medium-high heat. Add carrots, celery, and onion; cook about 7 minutes or until vegetables are tender, stirring occasionally. Transfer to a 4- to 6-quart slow cooker. Stir in potatoes, broth, bay leaf, salt, dried thyme, and paprika.
Cover and cook on low-heat setting about 3 hours or on high-heat setting about 1-1/2 hours or until potatoes are tender. Stir in corn and milk. Cover and cook about 1 hour or until heated through.
In a small bowl combine cornstarch and wine together with the Mix-Stir. Stir into mixture in cooker. Cover and cook for 10 minutes more. Stir in fresh thyme.
Using the Potato Masher, gently mash potatoes until soup is slightly thickened. Ladle into bowls and top with crumbled bacon and cracked pepper.
Recommended Tools