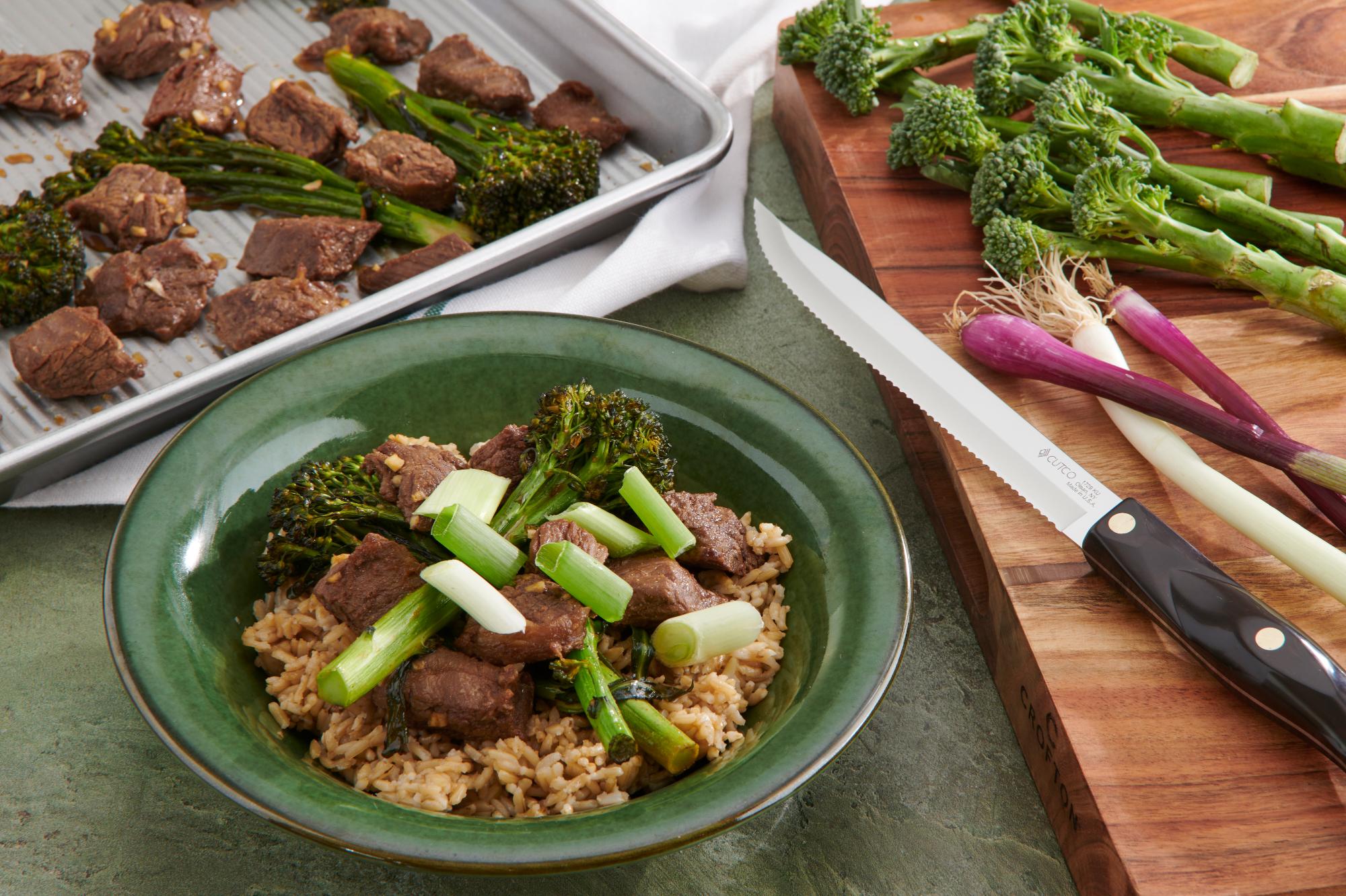 Sheet pan dinners are my absolute favorite recipes to create. There is nothing more satisfying than having dinner done in around 30 minutes with limited dishes and mess. This Sheet Pan Beef and Broccoli recipe is perfect for weekly meal prep, busy nights or when you feel like take-out, but can make it even better yourself.
Preparing the Beef
This recipe uses flank steak, which is a good all-purpose cut of beef for roasting. It also is very flavorful, especially when marinated as this recipe calls for.
To slice the beef for placing in the marinade, use a 6-3/4" Petite Carver to cut strips against the grain and then rotate the strips to cut into bite-sized cubes.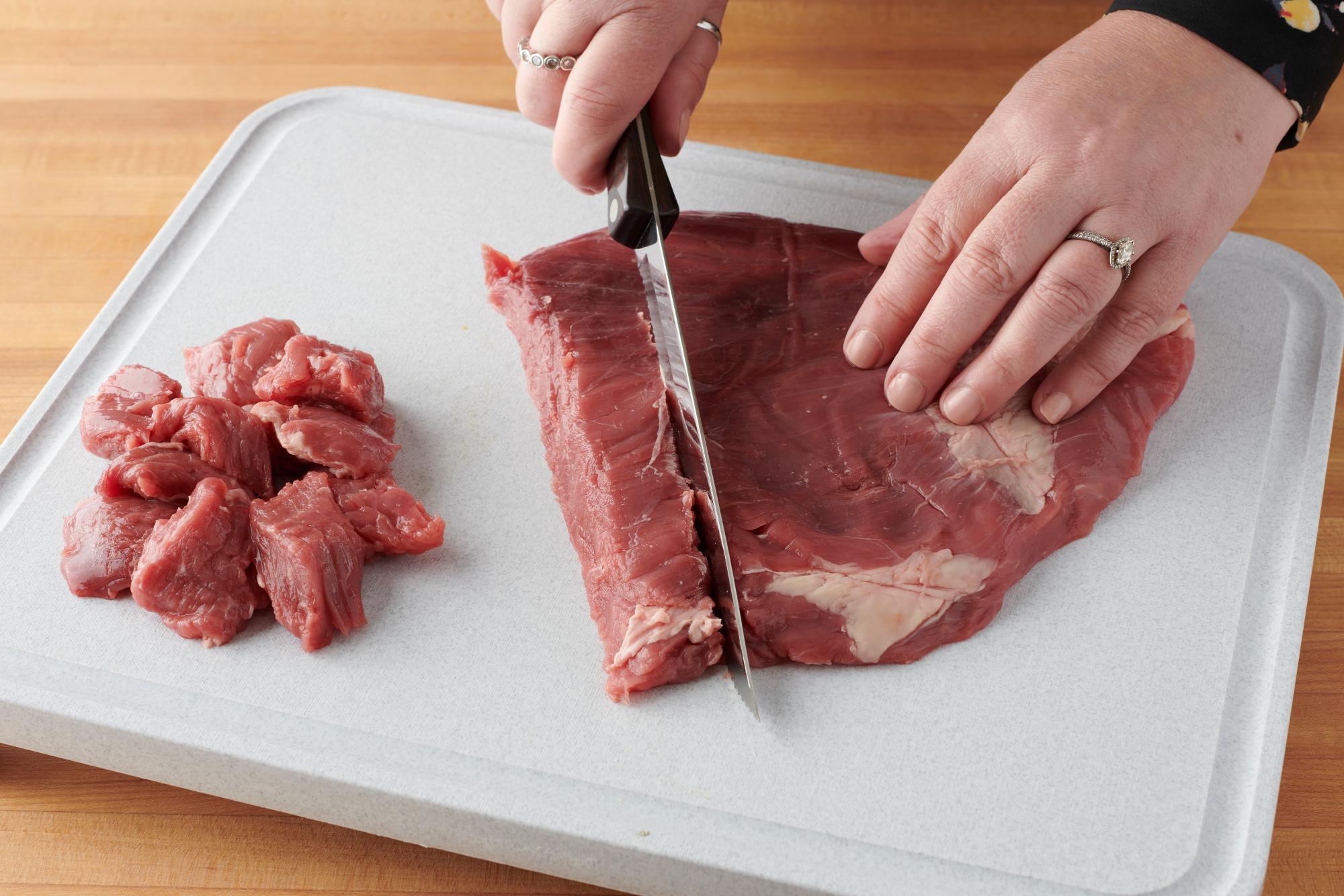 Definitely don't skip marinating the meat for at least 10 to 15 minutes, it will ensure you have a nice juicy steak packed with flavor.
The marinade is a simple one that calls for low-sodium soy sauce which has about 40 percent less sodium than regular soy sauce, and I bet you won't even notice the difference.
Use a Mix-Stir to blend together the soy sauce, minced garlic, honey, brown sugar, sesame oil, rice vinegar and ginger. If you're feeling adventurous, toss in a pinch of cayenne pepper or red pepper flakes.
Prepping the Broccoli
Roasting broccoli is a great way to prepare it since it gives it a nice caramelized, nutty flavor. To ensure that each piece cooks evenly, try to keep them of similar size when cutting them from the crown. A pointed utility knife like the Trimmer is a good choice for getting the job done.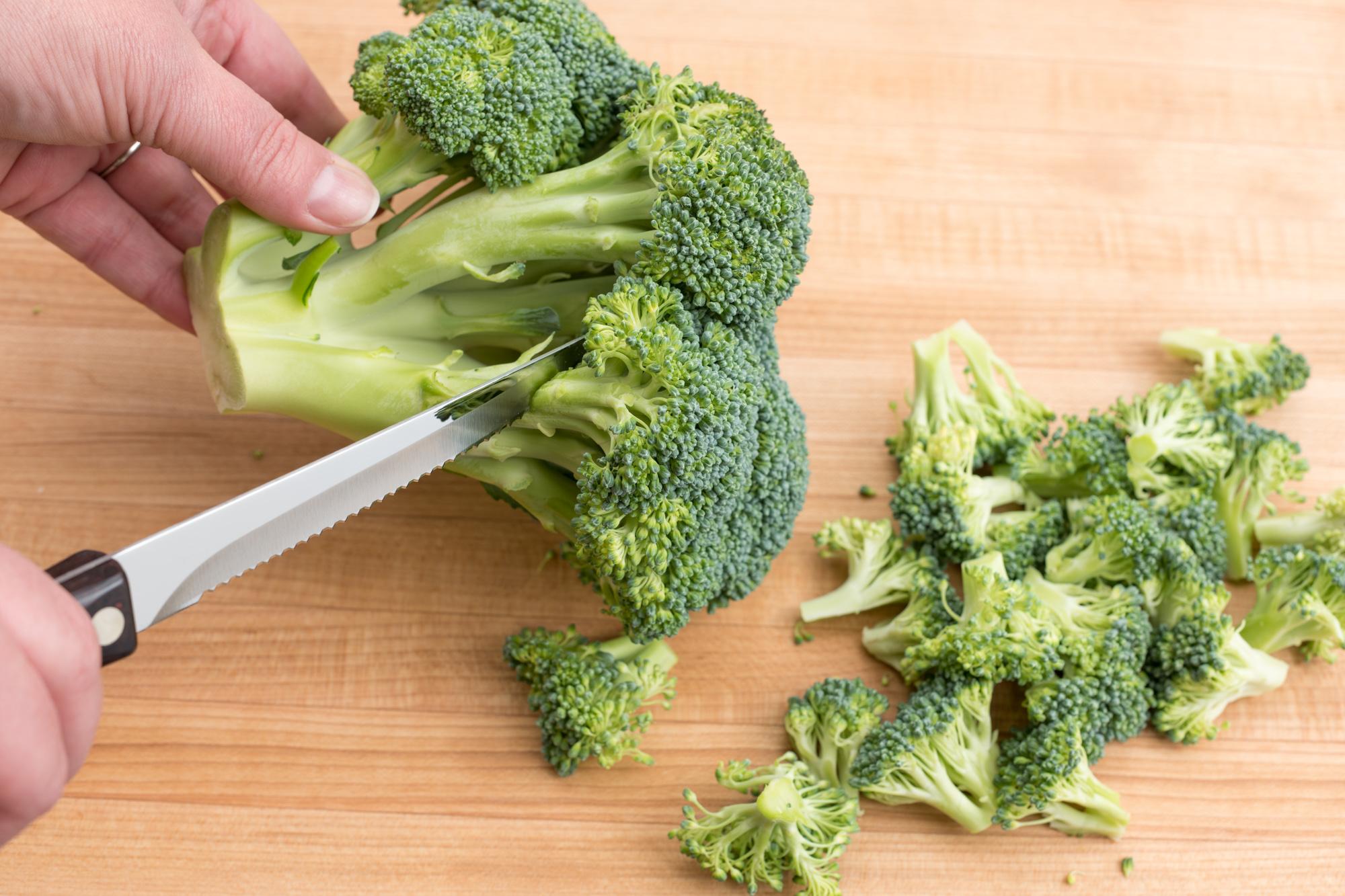 Once the meat is finished marinating, remove it from the bowl. Place the broccoli florets in the marinade and toss them around to coat before placing everything onto a sheet pan and then popping it into the oven.
When finished, garnish beef and broccoli with sliced green onions if you like. For a pretty presentation, slice them on the bias using a 5" Petite Santoku.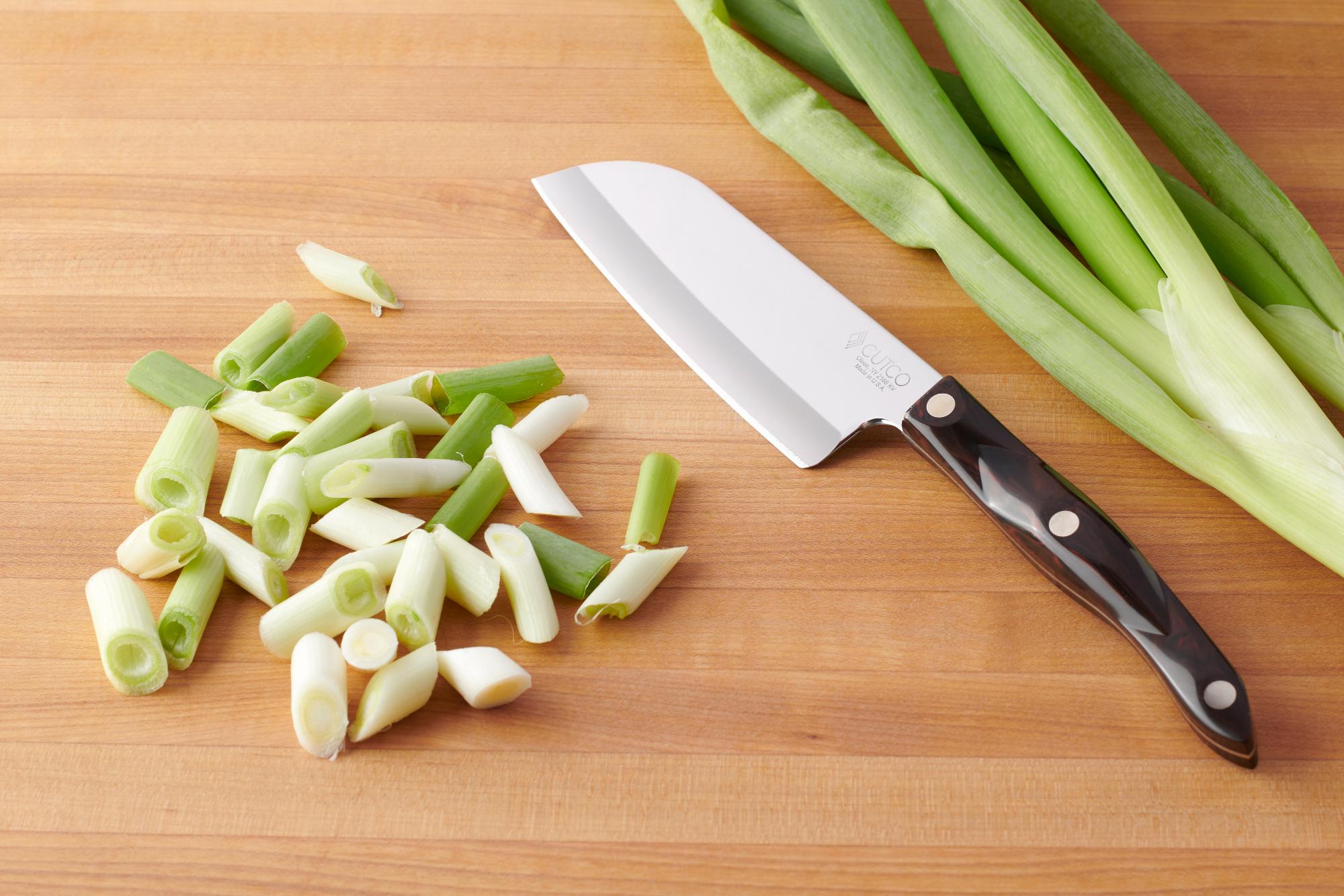 This Sheet Pan Beef and Broccoli is sure to satisfy your Asian take-out craving. The zesty, juicy steak is the perfect complement to the crisp broccoli. Feel free to serve it up with rice, cauliflower rice or quinoa.
It is a perfect take-out fake-out. You'll have this dinner in the oven before your family can even agree on what they want to order from a restaurant and it is healthier, too.
Nutrition (per serving): 401 calories, 16.8 g total fat, 4.9 g saturated fat, 62 mg cholesterol, 503 mg sodium, 26.3 g total carbohydrates, 4.2 g fiber, 37.6 g protein
Ingredients
1/2 cup low-sodium soy sauce
4 to 5 garlic cloves, finely minced
2 tablespoons honey
2 tablespoons brown sugar, packed
2 tablespoons sesame oil
2 tablespoon rice vinegar
2 teaspoons ground ginger
Pinch of cayenne pepper or red pepper flakes, optional
1 pound flank steak, sliced against the grain in bite size pieces
6 cups broccoli florets, chopped
2 green onions, sliced in 1-inch pieces, optional
Directions
Heat oven to 425 F and line a sheet pan with aluminum foil.
In a large bowl, whisk together the soy sauce, garlic, honey, brown sugar, sesame oil, rice vinegar, ginger and optional cayenne or red pepper flakes.
Add the steak, stir to combine, and let it marinate for 10 to 15 minutes.
Using a slotted spoon, transfer the steak to the sheet pan with space in between the pieces.
Add the broccoli to the marinade and coat the broccoli. Using a slotted spoon, transfer the broccoli to the sheet pan and scatter it in between the steak, if possible.
Bake for about 10 to 12 minutes, or until the steak is cooked through and the broccoli is fork-tender.
Evenly garnish with optional green onions.
Recommended Tools