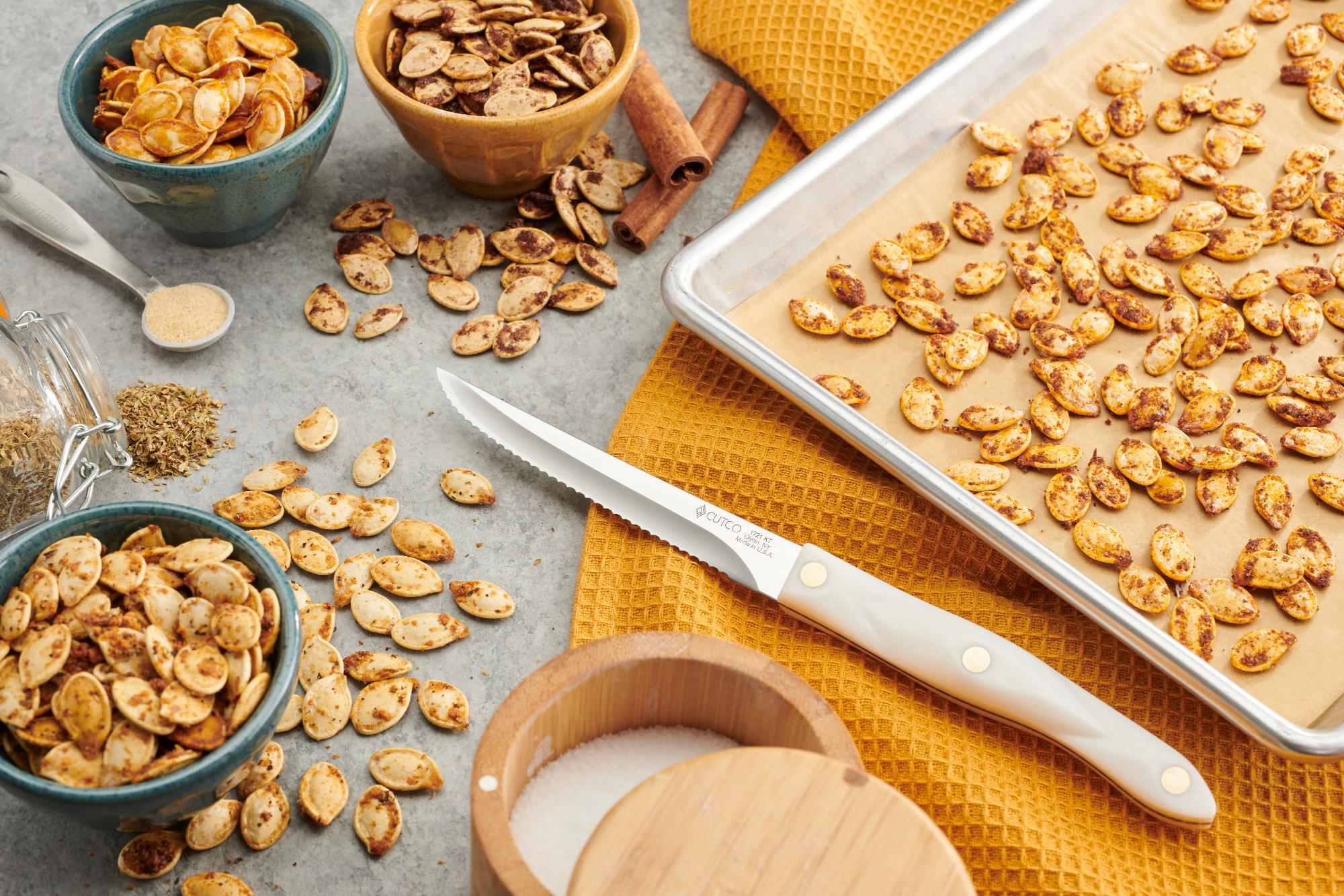 Pumpkin season is here! And, while we all love the flavor of pumpkin, don't forget those seeds. Roasting them with your favorite flavors results in a crunchy snack that can be customized to your taste. We've created Roasted Pumpkin Seeds: Four Ways so you can decide for yourself which flavor you like best.
Preparing the Pumpkin Seeds
Harvesting the seeds from a pumpkin is easy to do, despite having to navigate through the gooey flesh. Use a Trimmer to cut the top of the pumpkin around the stem, making a large enough space to reach into the cavity.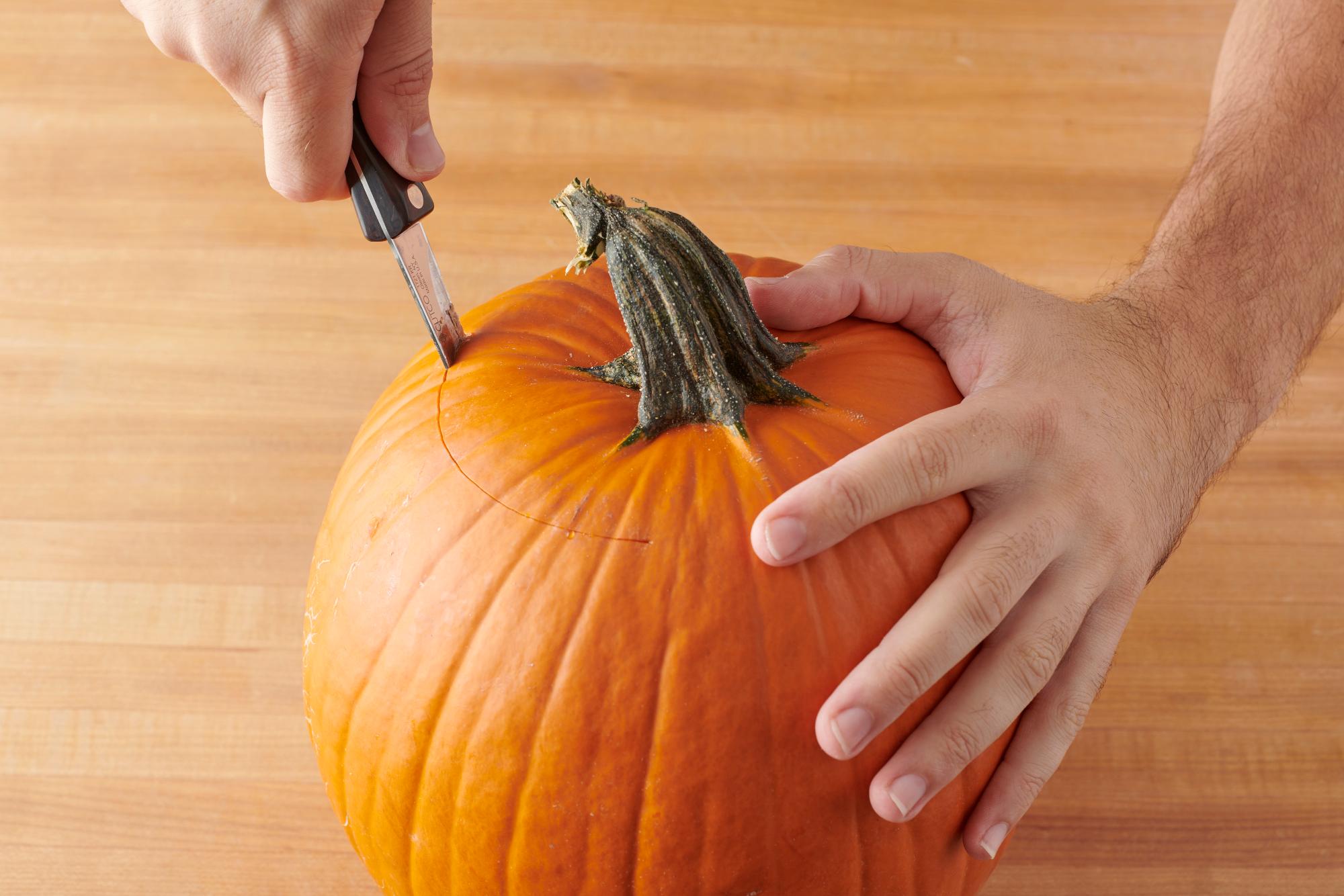 Use a large spoon, like a Stainless Serving Spoon, to scoop out the flesh and seeds. You may need to scrape along the edges of the interior of the pumpkin to get them all.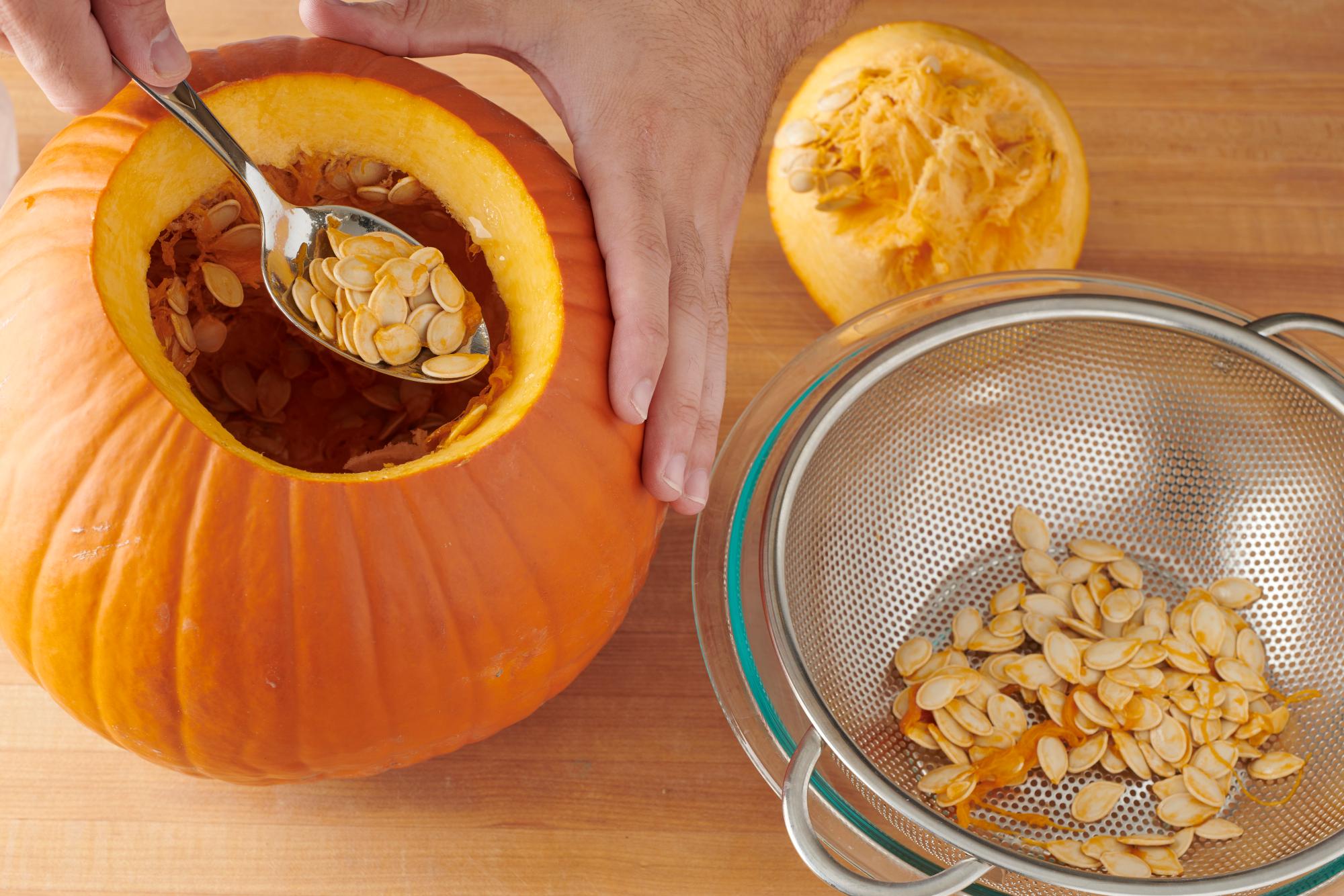 If you're willing to get a little goopy, feel free to start using your hands to remove the seeds.
Place a colander in a large bowl of water and then put the seeds from the pumpkin into the colander. Swish the seeds around to remove the stringy flesh from them.
Lay the seeds out on paper towels or a clean kitchen cloth and pat dry. You'll want the seeds to be really dry so they don't steam (from the moisture left on them), but roast for a crunchy bite. You might want to consider leaving them out overnight to dry.
Flavoring the Roasted Seeds
Now the real magic happens. Our blog photographer Brett developed these four seasoning variations, because he's roasted a lot of seeds and seemed to have the insight into the best flavors. He even brought in a variety of roasted pumpkin seeds to have the team vote on their favorite!
The seasoning blends for this recipe are, cinnamon sugar, pizza, hot honey garlic and smoky barbecue.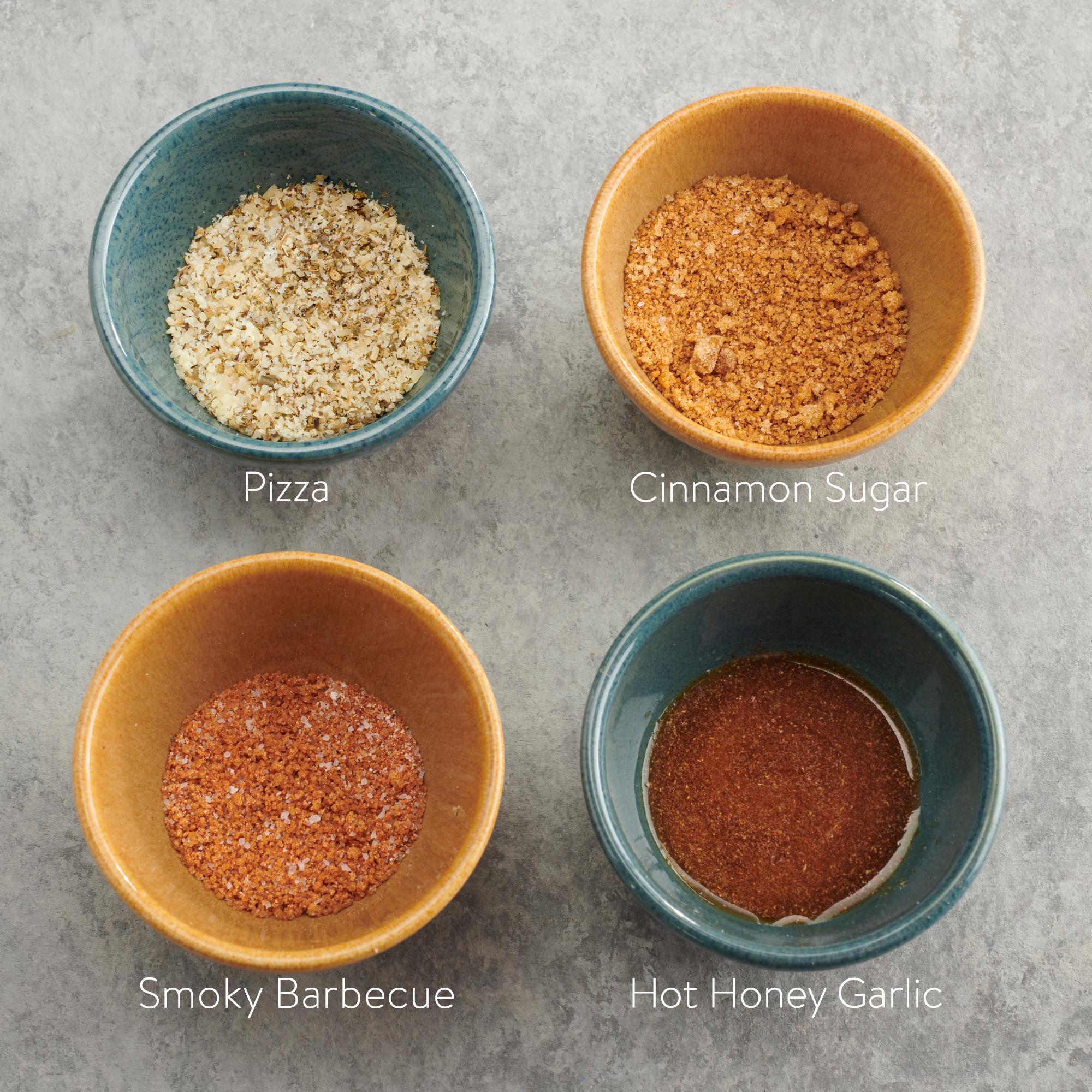 These flavors are all good, but we encourage you to experiment on your own with things like dill, ranch or even salt and pepper.
The seeds don't roast for long and you'll want to keep an eye on them so they don't burn. Roast them for 20 to 30 minutes, flipping every five or 10 minutes with the Slotted Turner.
The hot honey garlic will likely have to be flipped more frequently to prevent them from sticking to the pan.
When done, the roasted pumpkin seeds should be golden brown. Remove from the sheet pan and allow to cool. However, another note about the hot honey. If they stick together, try dusting them with a little flour to loosen them up a bit.
Store the seeds in an airtight container at room temperature for up to a month. If you plan to keep them longer refrigerate for up to three months.
This recipe for Roasted Pumpkin Seeds: Four Ways is a keeper. Not only do they taste amazing, they are also a healthy snack that satisfies anyone who craves the crunch.
Ingredients
Cinnamon sugar
1/2 cup pumpkin seeds, dried
1 teaspoon olive oil
1 tablespoon brown sugar, packed
1/2 teaspoon cinnamon
Pinch of salt
Pizza
1/2 cup pumpkin seeds, dried
1 teaspoon olive oil
1 tablespoon grated Parmesan
1/2 teaspoon dried basil
1/2 teaspoon dried oregano
1/4 teaspoon sea salt
1/8 teaspoon garlic powder
Hot honey garlic
1/2 cup pumpkin seeds, dried
1 teaspoon olive oil
1 tablespoon honey
1/4 teaspoon sea salt
1/8 teaspoon cayenne pepper
1/8 teaspoon garlic powder
1/8 teaspoon paprika
Smoky barbecue
1/2 cup pumpkin seeds, dried
1 teaspoon olive oil
1/2 teaspoon sea salt
1/2 teaspoon brown sugar, packed
1/4 teaspoon smoked paprika
1/8 teaspoon black pepper
1/8 teaspoon garlic powder
1/8 teaspoon cumin
1/8 teaspoon onion powder
1/8 teaspoon chili powder
Directions
Heat oven to 300 F.
Cut the top off the pumpkin and, with a large spoon, scoop out the seeds.
Place the seeds (and any attached pumpkin strings) into a colander that is placed into a large bowl filled with cold water. Separate the seeds from the pumpkin flesh and place on a clean kitchen cloth or paper towels, and pat dry.
Place the pumpkin seeds into a large mixing bowl, add the olive oil and ensure the seeds are coated. Then add your preferred seasonings (cinnamon and sugar, pizza, hot honey garlic or smoky barbecue). Toss the seeds to ensure they are fully coated with the seasonings.
Pour the pumpkin seeds onto a sheet pan and spread them out into a single layer.
Place the pan in the oven and roast for 20-30 minutes, mixing and flipping the seeds every 10 minutes (5 minutes for the Hot Honey Garlic) to ensure even cooking. The seeds should begin to brown.
Take out the pan when the seeds look golden brown, making sure the seeds don't burn and allow the seeds to cool.
Serve.
Recommended Tools