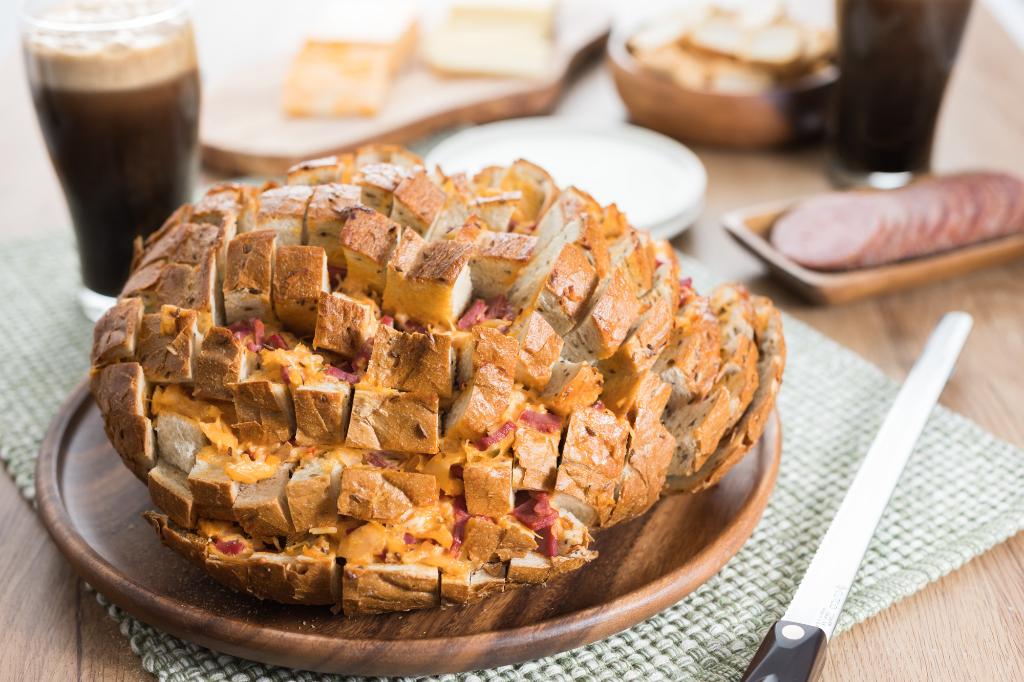 St. Patrick's Day is just around the corner. A day for fun, celebration and, if you're old enough, a pint of Guinness. A nice complement to that is this tasty Reuben Pull-Apart Bread that combines all the ingredients of a Reuben sandwich into a finger food that's sure to please.
The tang of the Thousand Island dressing, mixed with corned beef, sauerkraut and melted cheese, then tucked inside hardy bread is a winner.
I was able to purchase everything needed in my local grocery store, which has a well-stocked deli and a bakery with a good selection of specialty breads, including a beautiful loaf of rye bread.
Cutting the Pull-Apart Loaf
Slicing bread for a pull-apart bread recipe can be a headache if you don't have a sharp knife. You don't want to squish the loaf, so use a quality, sharp bread knife, like Cutco's 9-3/4″ Slicer. The long blade is helpful in easily cutting across the width of the loaf to create a grid pattern.
Make the cuts about one-inch apart, but don't cut all the way through the bread.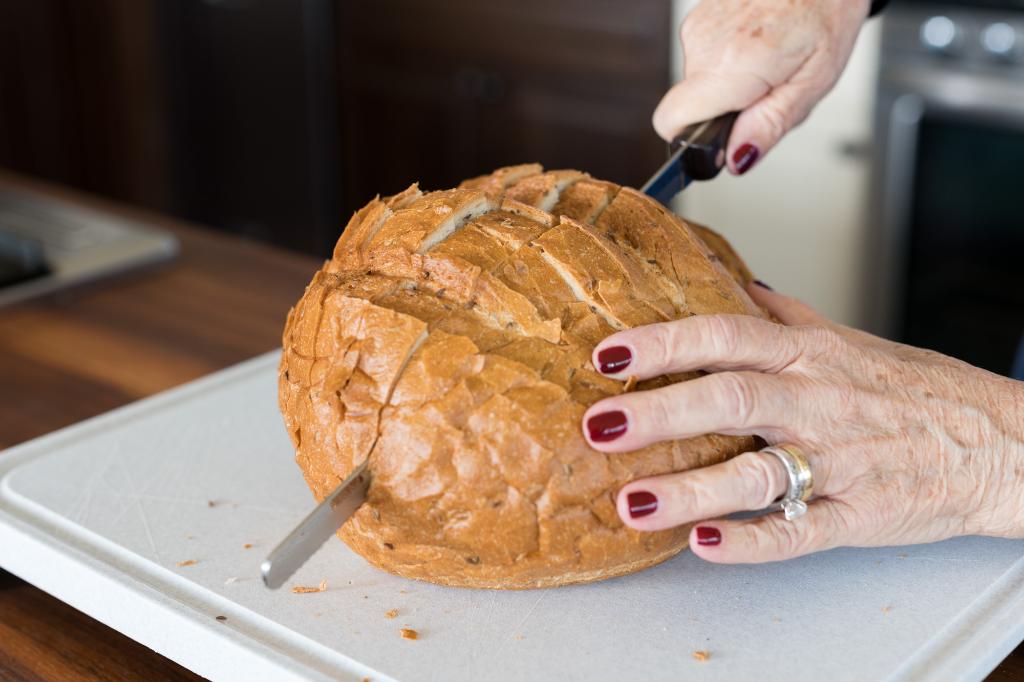 I used a two-pound loaf of rye bread, but this can be made using a one-pound loaf of bread and halving the ingredients. Pumpernickel would also be a good choice for this recipe.
Preparing the Reuben Ingredients
For the corned beef, you simply need to buy thin slices from your favorite deli. Cut it small enough to tuck into the cuts in the bread. The Santoku-Style Trimmer, with its low tip, has the perfect profile for cutting the slices of corned beef into small pieces on a cutting board.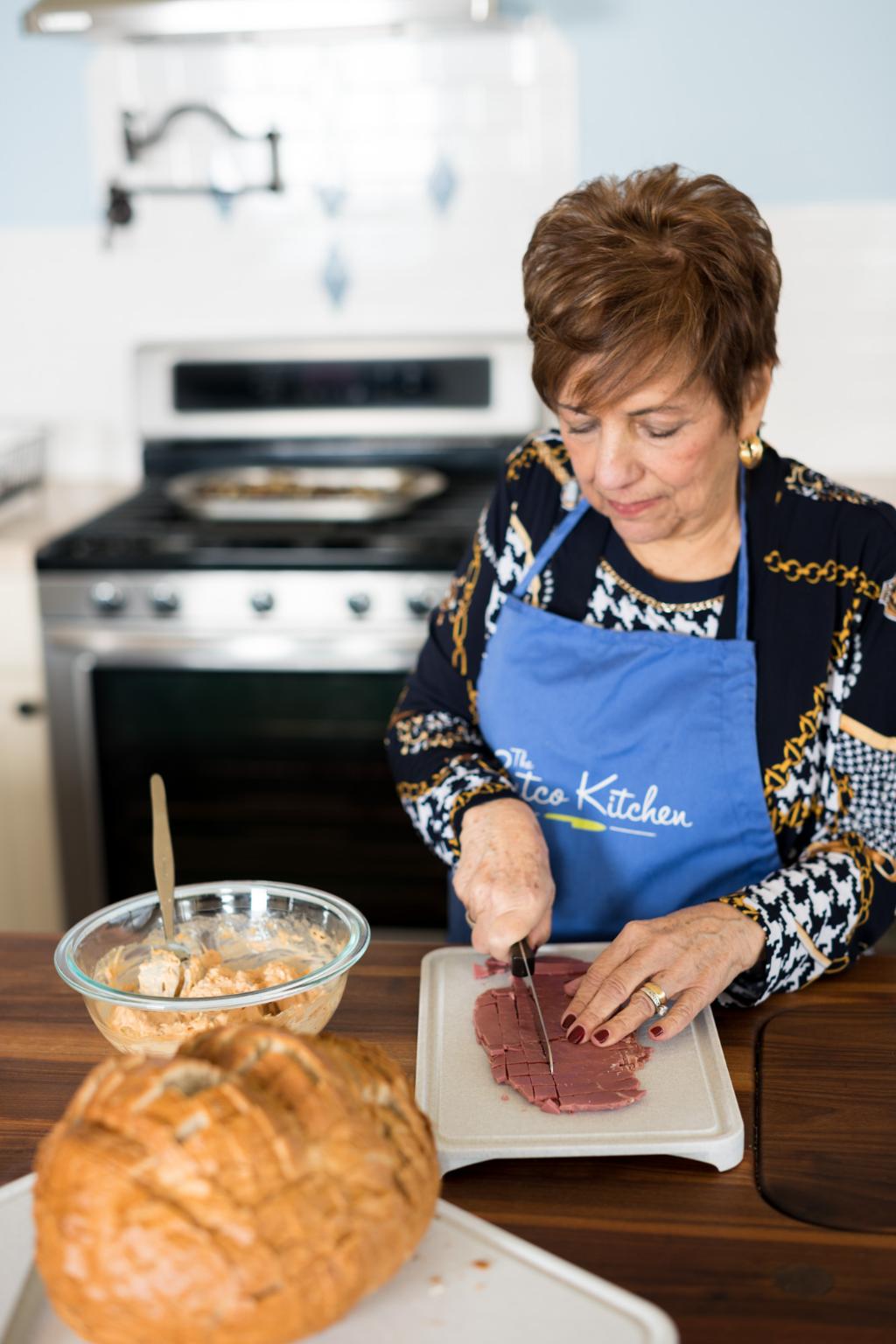 I used refrigerated sauerkraut rather than canned because that's just my preference. Either one will work fine, but either way you should drain it and pat it dry.
The corned beef, sauerkraut, Thousand Island dressing, cheese blend and caraway seeds are mixed together to stuff in between the bread slices.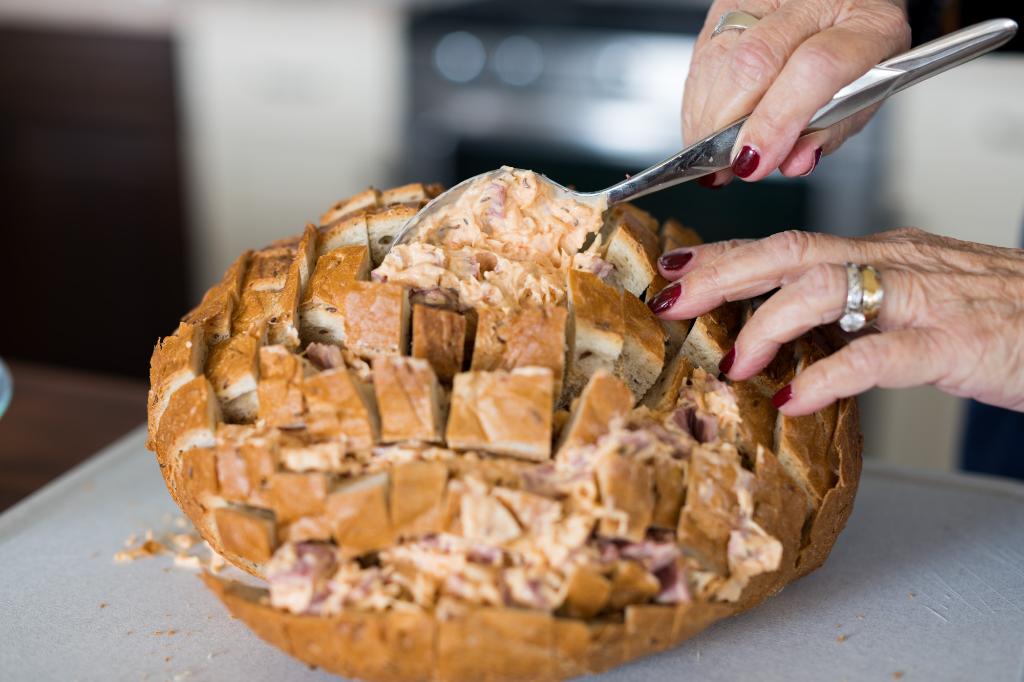 The loaf is baked in foil until golden brown and the cheese is melted.
It will be hard to resist pulling a piece of bread off before you present it to your guests. It's just that good!
This Reuben Pull-Apart Bread can also be assembled ahead of time, refrigerated and then baked later.
Ingredients
1 2-pound loaf of rye or pumpernickel bread
2 cups thinly sliced corned beef, chopped
1 cup sauerkraut, drained and patted dry
1 1/2 cups Thousand Island dressing
1/2 cup shredded Swiss cheese
1/2 cup shredded Gruyere cheese
1 teaspoon caraway seeds
Directions
Heat oven to 400 F. Place 2 pieces of aluminum foil, crossing one over the other, on a flat surface.
Cut the bread in a grid pattern, spacing about 1-inch apart. Do not cut through the bottom crust.
Combine the corned beef, sauerkraut, caraway seeds, dressing and cheeses together in a bowl. Mix well.
Place the loaf on the foil then spoon the corned beef and cheese mixture into the cut areas of the bread. Be sure to open up the bread so the mixture gets down inside. Wrap the foil around the bread and place on a baking sheet.
Bake for 30 minutes, then pull back the foil and bake an additional 5-10 minutes or until the bread is a golden brown and the cheese has melted.
Serve by pulling out the individual bread pieces using your fingers or a fork.
Recommended Tools