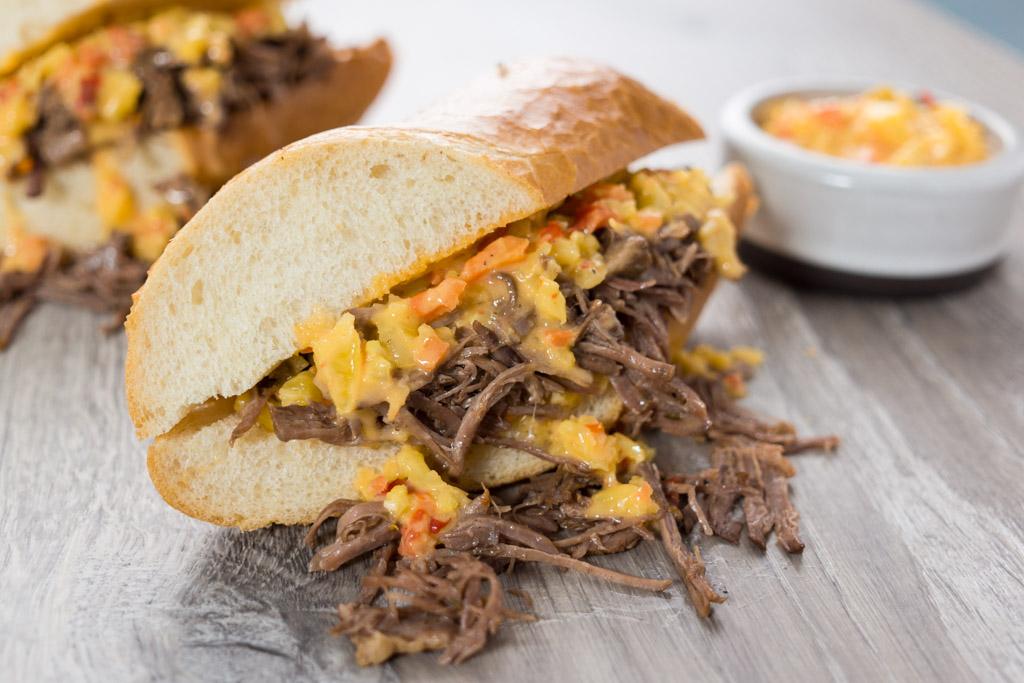 I never know what to cook on the weekends. Saturdays are usually spent doing things like going through the mail, running errands, doing some shopping, tossing in some laundry and, at this time of year, baking for the holidays. The last thing I want to do is think about what to have for dinner or spend a lot of time cooking it. These Italian Pulled Beef Sandwiches are perfect for a Saturday supper.
The prep time is short. Everything goes in one pot and, after a quick stove-top browning, the roast and the rest of the ingredients cook in the oven at a low temperature for a few hours.
The accompanying sauce can be made just before serving. If it's not your thing, top the beef with the onions, peppers and tomato mixture from the Dutch oven.
Italian Pulled Beef Sandwiches with Giardiniera Sauce
Print Recipe
Ingredients
Sandwiches
4 pounds boneless beef chuck roast
2 tablespoons olive oil
2 red, orange or yellow bell peppers, seeded and sliced
1 small onion, cut in half and sliced thin
2 cloves garlic, chopped
1 15-ounce can diced tomatoes with basil and oregano
2 teaspoons Italian seasoning
1/2 teaspoon whole fennel seeds
Salt and pepper
4 12-inch loaves French bread, halved crosswise, split and lightly toasted
Giardiniera Sauce
1 large egg
2 cloves of garlic, finely chopped
1 teaspoon Dijon mustard
1/2 cup olive oil
1/2 vegetable oil
1 16-ounce jar giardiniera (pickled vegetables), drained
Kosher salt and freshly ground black pepper
Directions
Preheat oven to 325°F. Use a Butcher Knife to quarter the roast.
Heat the olive oil in a Dutch Oven over medium heat. Add the roast and brown on both sides.
Add the bell peppers, onions, garlic, tomatoes, Italian seasoning, fennel seeds, 2 1/2 teaspoons salt and some pepper to the pan. Stir to combine.
Braise in oven for about 4 hours.
Remove from oven and coarsely shred the beef with two forks. Taste for seasoning and add more salt and pepper if necessary.
Place the egg, garlic and mustard in a food processor and pulse to combine. With the motor running, add the olive and vegetable oils in a slow steady stream until incorporated. Add the giardiniera and pulse until chopped. Season with salt and pepper.
To serve, spread about 2 tablespoons of the sauce on both sides of the bread. Fill the bread with the shredded beef and serve immediately.
Recommended Tools