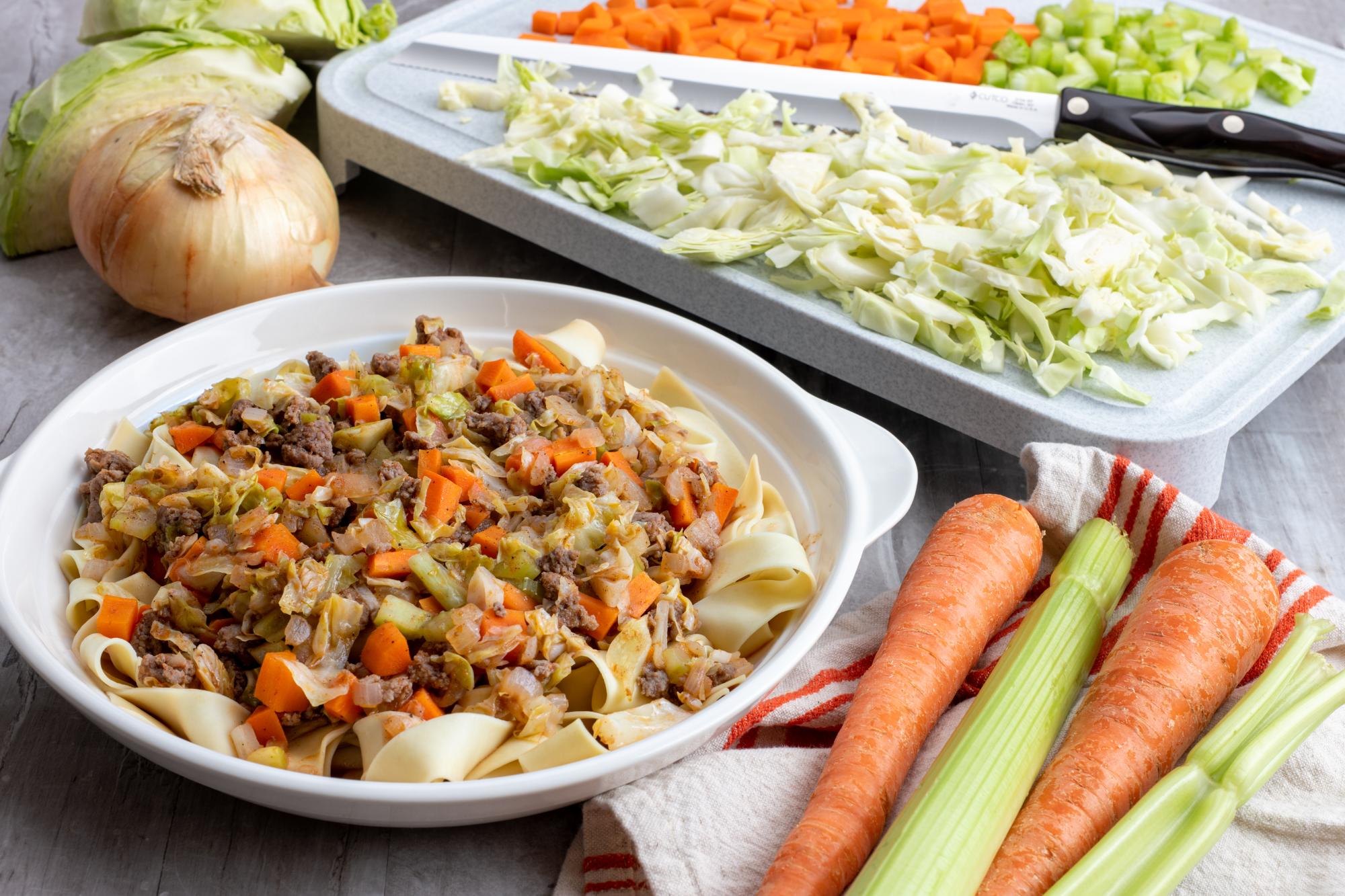 A traditional Irish stew is typically comprised of lamb but often times the meat component is substituted with beef. I don't actually eat a great deal of lamb or beef, so I wanted something a little different that could still work for St. Patrick's Day, as well as any time I'm looking for some comfort food. That's when I stumbled upon using Italian sausage. It adds a kick of flavor (I use the mild) and holds up to the other ingredients.
Irish Cabbage and Sausage Stew is my take on Irish stew and it comes together so easy. You still have the main ingredients of onion, carrots and, of course, cabbage but with some spices that may be unexpected, such as the coriander and allspice. I love the flavors this stew brings together and it's become a new family favorite.
To dice the onion I used the 7-5/8" Petite Chef to cut the onion in half from root to stem and then peeled it. I laid the halves flat on the cutting board and made horizontal slices along the radius of each half, making sure not to cut into the root. I rotated the halves and then sliced them crossways creating the perfect dice. Follow this video to learn the easiest way to cut an onion.
Cutting a cabbage is easy and we have the perfect video to show you how to remove the core and shred the leaves. I used the Santoku-Style 10" Slicer for this task. After slicing the cabbage into shredded pieces, I then rough chopped it.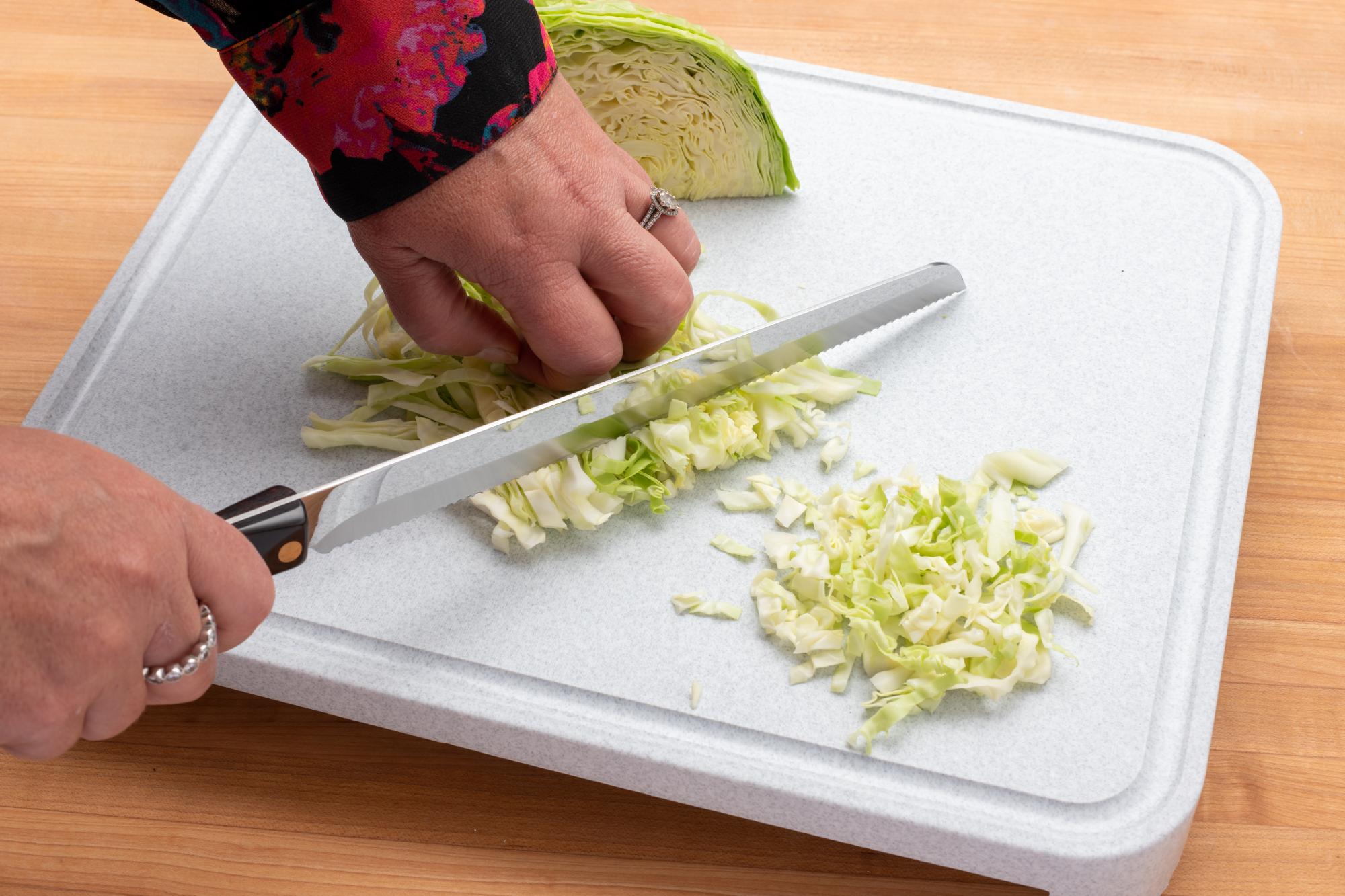 To dice the carrots, I used the 7" Santoku knife to cut them into planks and then diced the planks. For step-by-step instructions of how to perfectly dice carrots take a look at our handy infographic.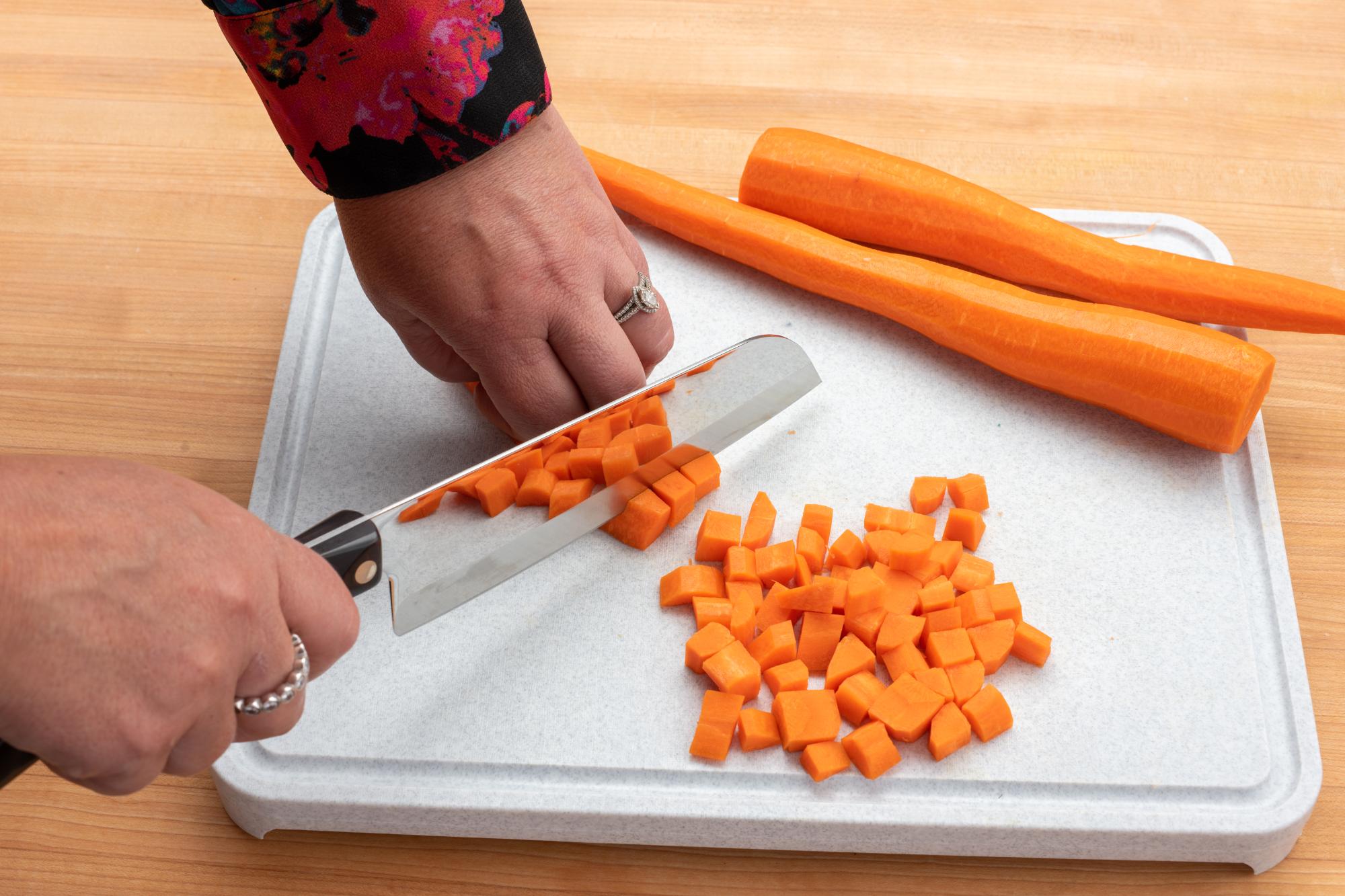 Once everything is prepped, the recipe itself is quite easy. It's basically adding the ingredients in stages, starting with cooking the Italian sausage (which can be ground or links cut into pieces) with the onion and garlic. Then you add in your vegetables and spices and finish with a tomato puree and white wine vinegar. I did take the extra step of blanching the cabbage and adding it at the end so to keep the cabbage from becoming mushy. Click here for some tips on blanching. That's really all there is to do.
I know the addition of Italian sausage to a traditional Irish stew is likely frowned upon, but I prefer the overall flavor of the sausage paired with the cabbage. I still consider this Irish Cabbage and Sausage Stew to be an excellent St. Patrick's Day recipe, just with a bit of a twist. You can serve the finished dish over noodles, rice or even quinoa. It's a hearty dish that is sure to please.
Ingredients
3 tablespoons olive oil, divided
1 pound Italian mild sausage, ground or links that are cut into pieces
1 medium yellow onion, diced
2 garlic cloves, minced
3 large carrots, peeled and diced
2 medium celery stalks, diced
1 1/2 teaspoons kosher salt
1 teaspoon black pepper
1/2 teaspoon ground coriander
1/2 teaspoon ground allspice
1/2 cup tomato puree
2 teaspoons white wine vinegar
1 small head green cabbage, chopped (approximately 7 cups)
Directions
In a large stockpot, add 1 tablespoon of olive oil and cook the sausage, onion and garlic over medium heat until the meat is cooked, 5-7 minutes.
Stir in the carrots, celery, and remaining 2 tablespoons of olive oil, salt, pepper, coriander and allspice. Cook, stirring occasionally, until the vegetables are softened, but not mushy. Approximately 8-10 minutes.
Stir in the tomato puree and white wine vinegar and cook uncovered for 5 minutes until everything is heated evenly, making sure to stir occasionally.
Blanch the chopped cabbage and add to the stew, stirring to blend all the ingredients together.
Serve this stew as is or over rice or large noodles.
Recommended Tools