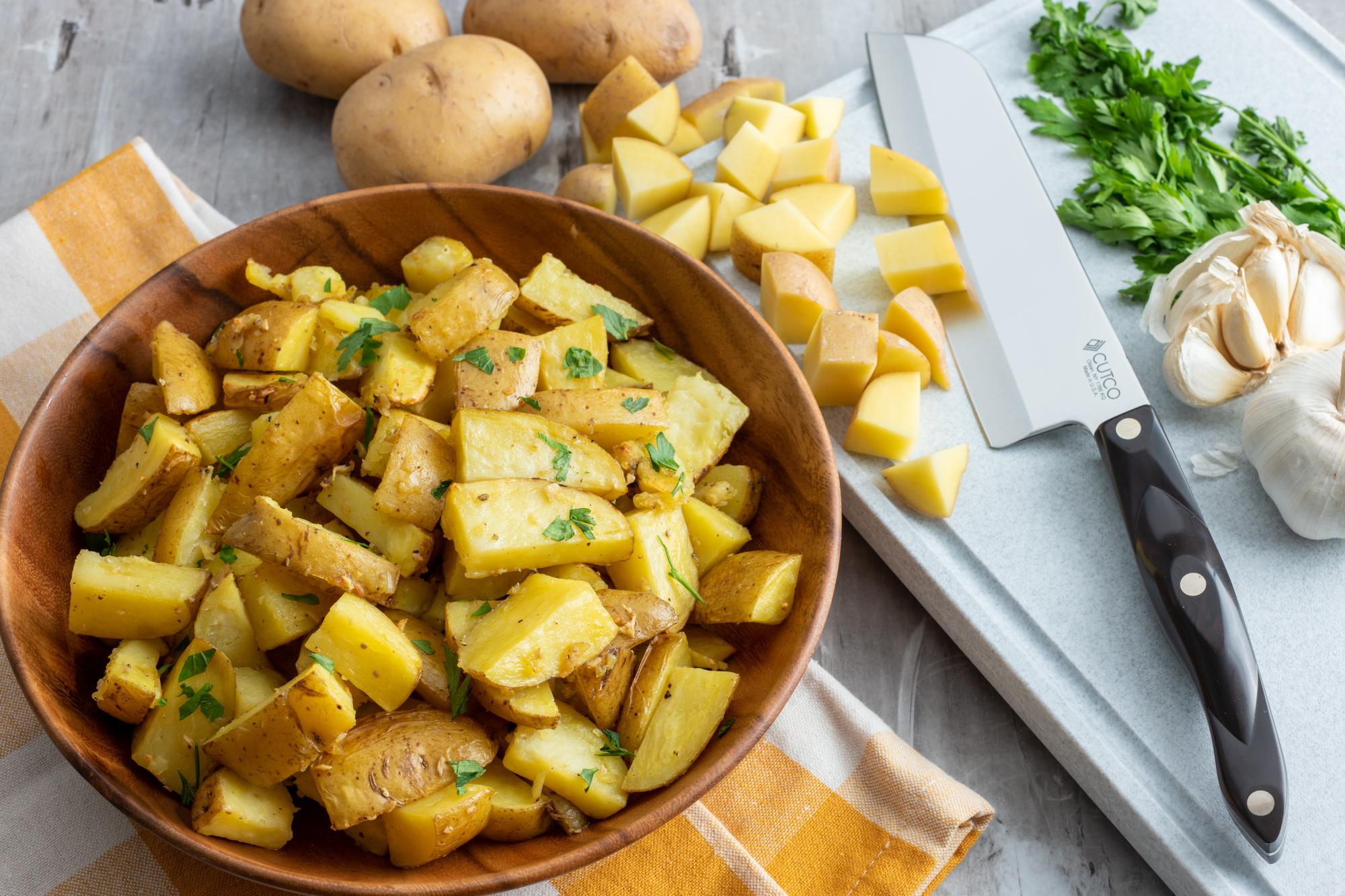 Potatoes are always that easy side for me to prepare, especially for large family gatherings. What make these garlic roasted potatoes even easier is that you don't need to peel the potatoes. You actually want the skin to remain on the potatoes to give the dish some extra flavor, just make sure to wash your potatoes thoroughly.
Now, if garlic isn't your thing, you probably want to try something different since we use six garlic cloves in this recipe. If you're a garlic lover like me, you'll love the fragrant smells coming from your kitchen when you make this dish.
The prep for this recipe is quite simple. I used a 7" Santoku knife to cube the potatoes, making sure to keep the size of my cubed potatoes similar for even cooking.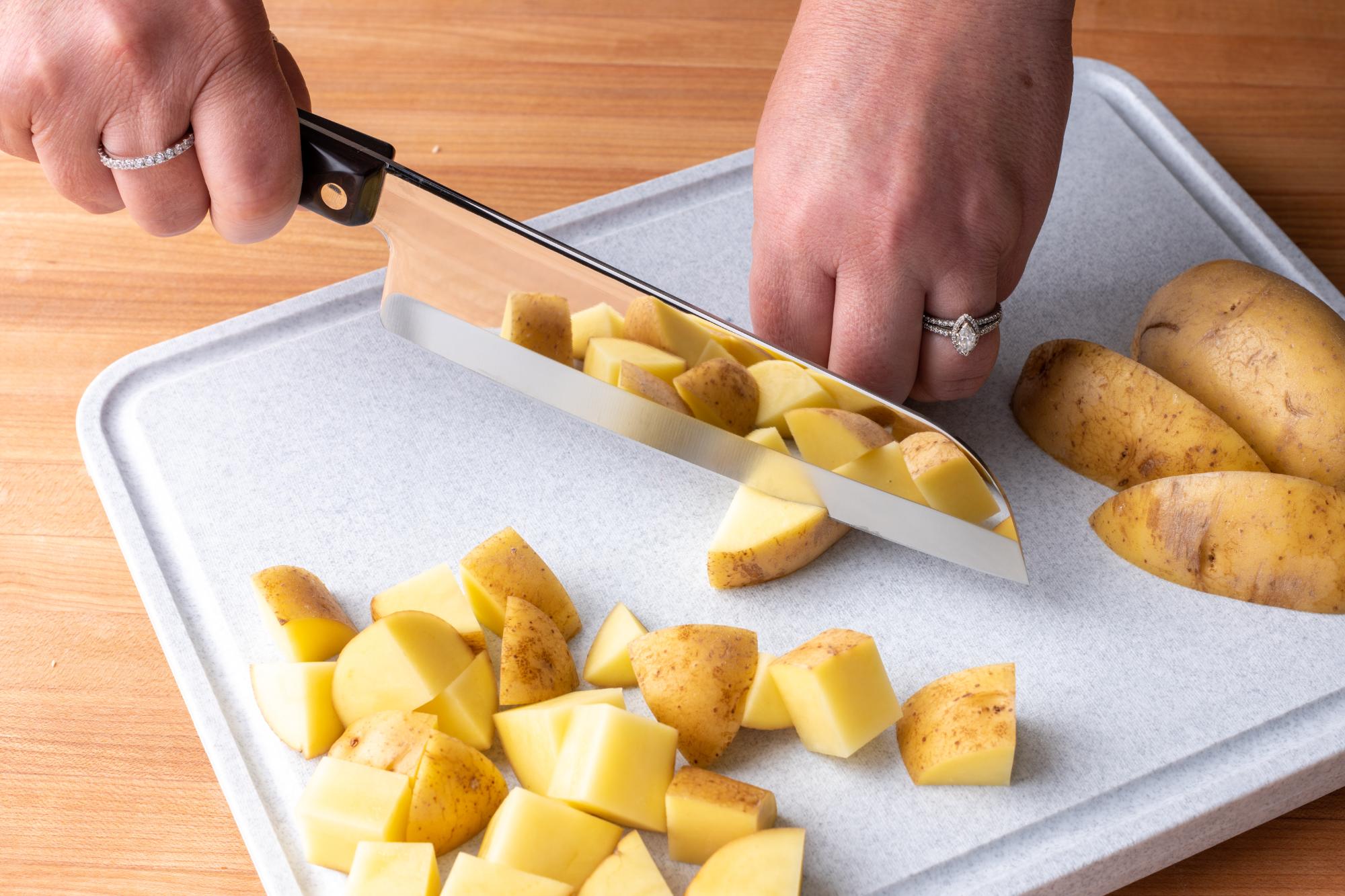 I then reached for my 7-5/8" Petite Chef knife and minced my six cloves of garlic. An easy way to mince your garlic is to lay the knife blade flat on the clove and smash it. This allows you to easily peel the skin off the garlic. Slice the garlic, rotate the slices and cut crosswise, and then using a rocking motion, move the knife across the pile of garlic, mince.
Using the same 7-5/8" Petite Chef, I ran the blade from the stem of the parsley to the leaves, cutting off the leaves. Once again, I used a rocking motion with the knife to rough chop the parsley.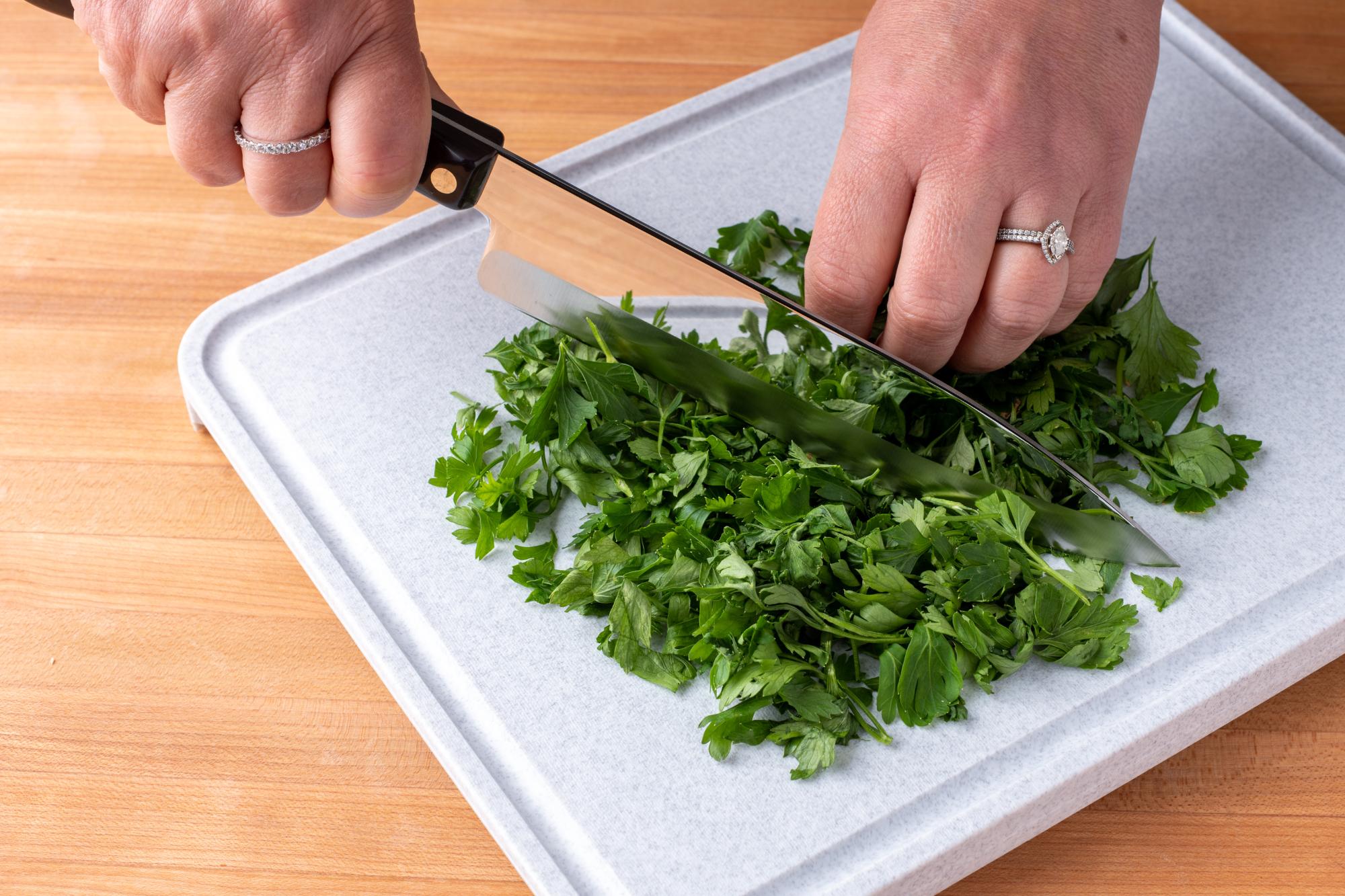 A little tip for this recipe is to make sure to place your baking sheet into the oven while it preheats. Once you are ready to dump the potato mixture onto the baking sheet, pull the hot baking sheet out of the oven and you'll hear a wonderful sizzling sound when you place the potatoes onto the pan. This creates additional flavor.
While this easy side of garlic roasted potatoes is simple to prepare, I think you'll find the flavors bold and complimentary to steak, turkey and chicken. If you really love garlic, add in a few extra cloves because, why not? Enjoy.
Ingredients
2 pounds Yukon Gold potatoes, washed with skin on and cut into 1-inch cubes
2 tablespoons olive oil
1 teaspoon kosher salt
3/4 teaspoon freshly ground black pepper
6 cloves garlic, minced
3 tablespoons fresh parsley, roughly chopped
Directions
Place baking sheet in the oven and heat oven to 400 F.
In a bowl, combine the potatoes, olive oil, salt, pepper and garlic.
Take the baking sheet out of the oven and dump the potato mixture onto the hot pan and spread into a single layer.
Place the baking sheet back in the oven and roast the potatoes for 45-55 minutes, flipping occasionally until the potatoes are crisp and golden.
Remove from the oven, place the potatoes into a serving dish, sprinkle with parsley and serve.
Recommended Tools