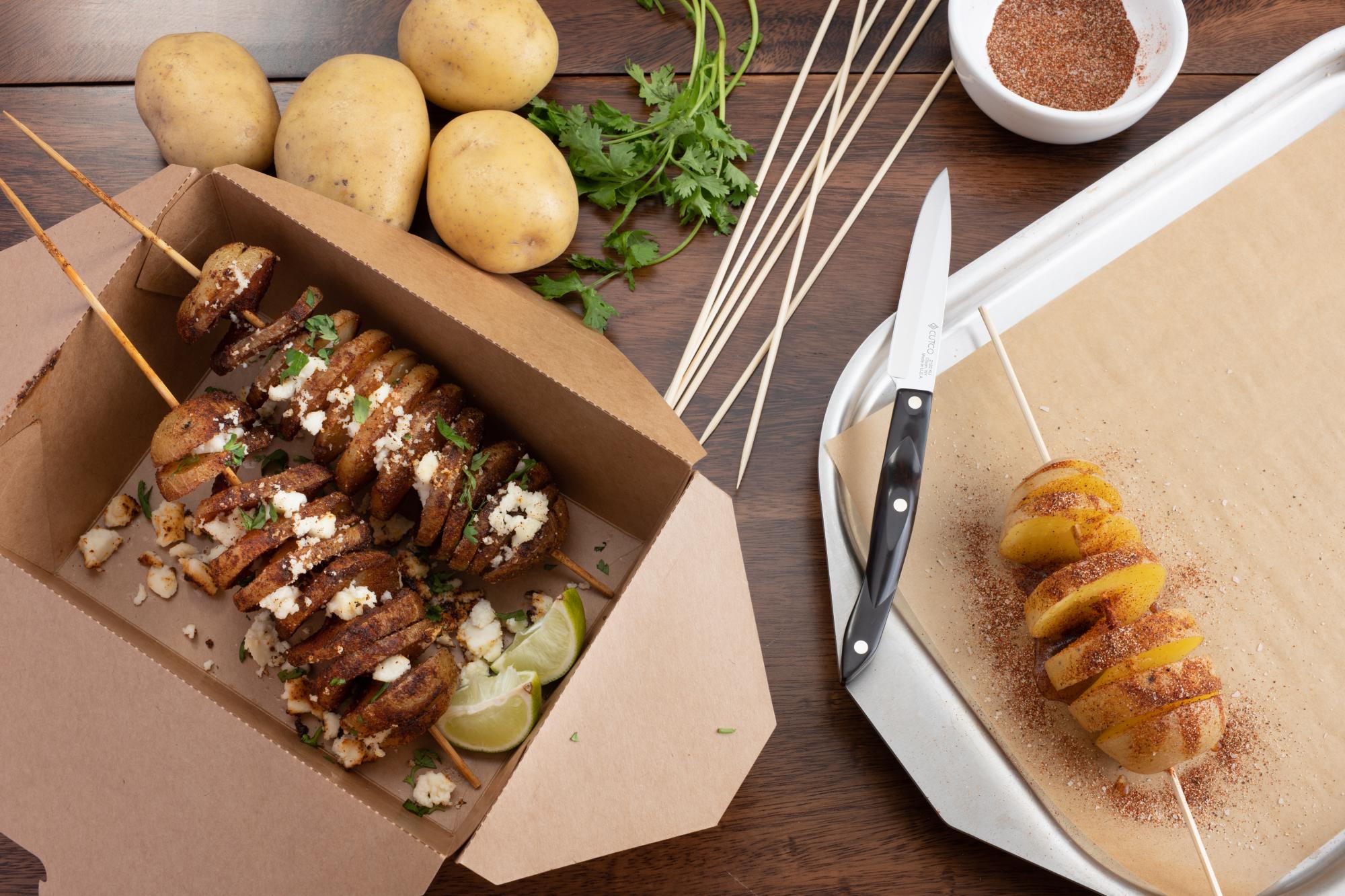 Part of the cooking experience is trying new recipes, new techniques or replicating something you ate during your travels. Food is a big part of cultural expression and one thing I've always been fascinated by is street food. In all parts of the world, you can find different types of street food, which is basically portable food sold from a vendor that is meant to be eaten immediately.
Chili Tornado Potatoes with Queso Fresco is our take on a popular street food found in South Korea. I've heard them called potato sticks (because they're served on a stick) or twist potatoes. Whatever you call them, they're delicious and fun to make. You can change up the spices to vary your flavors, as well as change up the cheese. We went with a spice mix that had a little heat and softened that with some queso cheese, although we also used Sriracha hot sauce as a garnish. The options are endless!
Prepping the Potatoes
The key to this recipe is the potato and the ability to insert a skewer through the length of it. To do this, we recommend microwaving the potatoes to soften them just a bit. This will make inserting the skewer and pushing it through much easier.
Once your potato has the skewer inserted, the fun begins. Using a 4" Paring Knife, cut down into the side of the potato on one end and, while one hand is rotating the skewer, use your dominant hand to maneuver the knife so it's slicing the potato down to the skewer. Keep rotating the skewer while cutting until you reach the other end. For step-by-step directions on how to create a tornado potato, check out our handy infographic.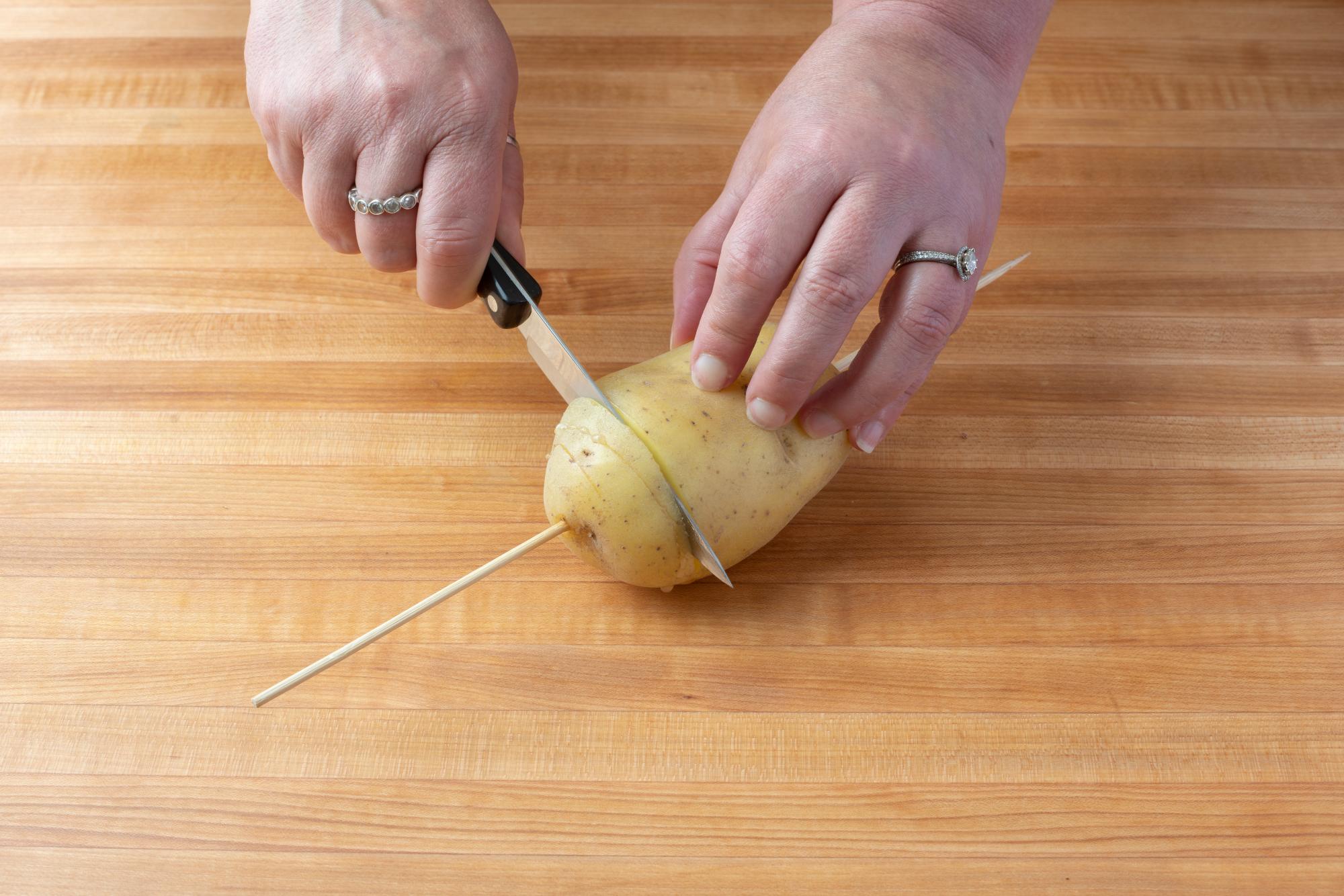 Seasoning and Cooking
For this recipe, we went with a spice mixture that carried some heat. This included salt, pepper, garlic powder, chili powder and paprika. Gently pull apart the slices on the potato so there is space between them and brush all the slices with melted butter on a lined baking sheet.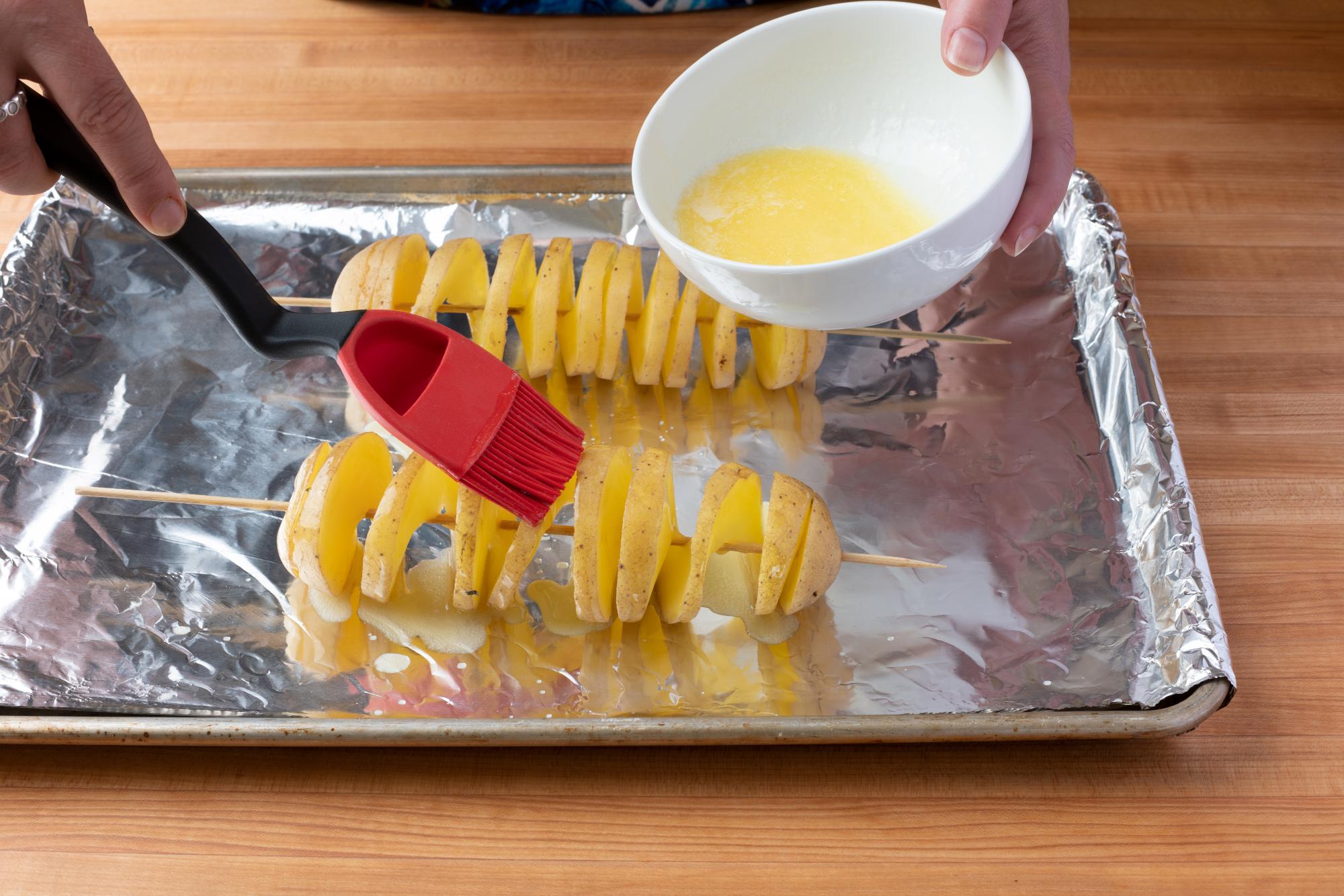 Take your spice mixture, and generously sprinkle it in between all the slices all the way around.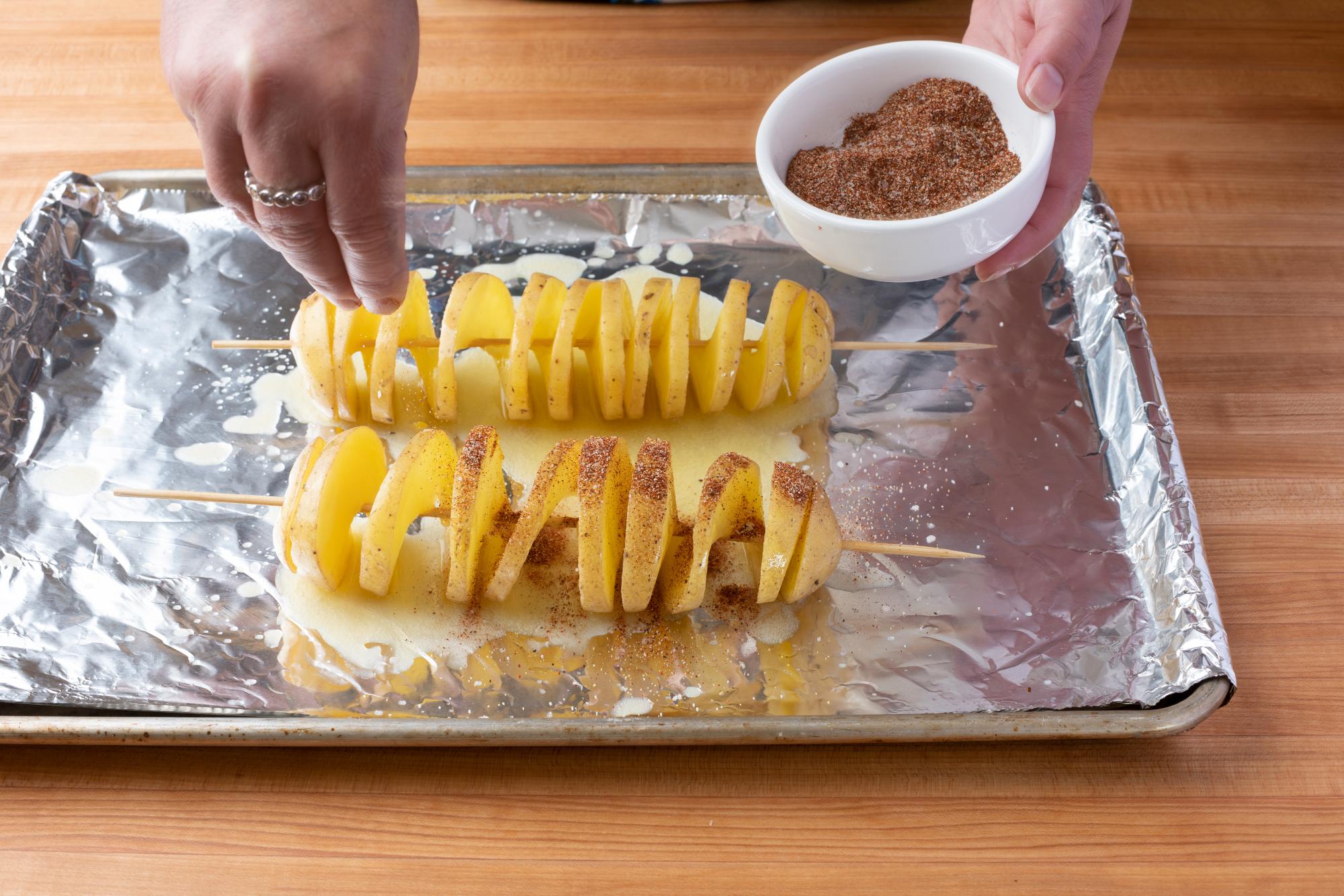 Cook the potatoes, turning the skewers halfway through the cooking process. The potatoes should be tender but crispy on the outside.
While they're still hot, sprinkle the potatoes with the queso fresco and cilantro. Place them on a serving dish, sprinkle with any leftover spice mix and serve with a hot sauce.
These Chili Tornado Potatoes with Queso Fresco are not only a fun way to present a final dish, but they tasted amazing! You could serve these as part of an appetizer spread or as a side dish or just on their own. I will say the hot sauce added an extra kick of flavor that we all enjoyed but again, you can make this recipe your own.
Ingredients
3-4 medium Yukon Gold potatoes
2 teaspoons kosher salt
1 teaspoon black pepper
1 tablespoon garlic powder
1 teaspoon chili powder
1 tablespoon paprika
6 tablespoons butter, melted
2/3 cup crumbled queso fresco
Fresh cilantro, garnish
Siracha hot sauce, garnish
Directions
Heat oven to 350 F.
Scrub potatoes, dry and microwave for 1 minute to soften. Leave in microwave to cool.
Insert a wooden or metal skewer into the bottom of each potato and gently push the skewer to the top (lengthwise).
Use a sharp knife to cut the potato into a spiral. Hold the knife at an angle and cut in the opposite direction of how you are turning the skewer. Cut all the way down to the skewer, working slowly to make even spiral cuts. Gently fan out the potatoes – just slightly.
In a small bowl, mix together the salt, pepper, garlic powder, chili powder and paprika. Set aside.
Place the spiraled potatoes on a foil-lined baking sheet (with the skewers resting on each side of the pan so the potatoes are suspended). Brush each spiralized potato liberally with melted butter. Sprinkle each potato all the way around with seasoning mix, reserving a bit of the mix.
Bake potatoes for 40-45 minutes, turning once halfway through the cooking process. The potatoes should be cooked through and tender, but crispy around the edges.
Remove potatoes and sprinkle with queso fresco, fresh cilantro, and a little extra seasoning mix.
Garnish with hot sauce and serve while warm.
Recommended Tools