Breakfast Strata
Published 175 days ago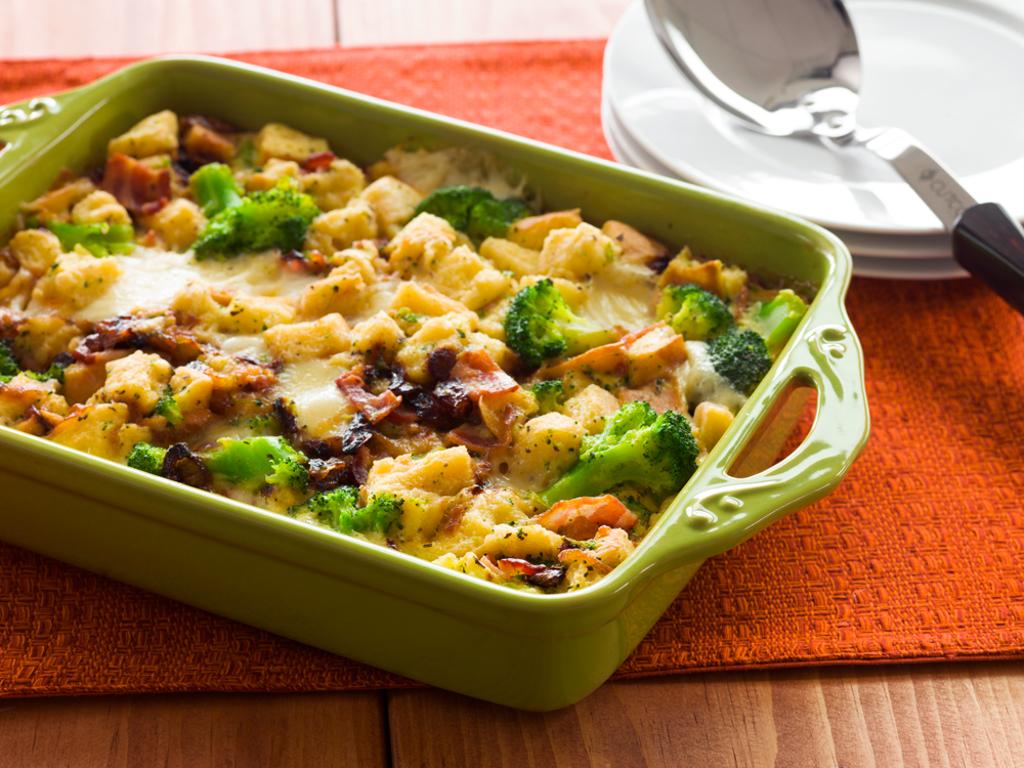 Here's an easy breakfast recipe to have on hand when you have a lot of overnight guests in the house. What I like about a Breakfast Strata is that it's a casserole that can be made the day of or assembled the night before and baked in the morning.
It's also a perfect holiday breakfast recipe since it can fuel a hungry crowd for a long day of merriment. It's an egg and bread casserole that's packed with bacon, onion, broccoli and Swiss cheese, so how could you go wrong?
Don't just pull this recipe out for the holiday though, save it for anytime you've got overnight guests or for a nice Sunday brunch.
Ingredients
4 strips thick-cut bacon
1 sweet onion, halved and thinly sliced
2 cups fresh broccoli florets
5 large eggs
1-1/3 cups milk
1/2 teaspoon dried basil, crushed
1/4 teaspoon salt
1/8 teaspoon ground black pepper
4 cups crusty sourdough bread, cut into 1/4" cubes
4 ounces Swiss cheese, cut into 1/2" cubes
Directions
Cook the bacon in a large skillet until crisp. Transfer to a plate lined with paper towels to drain. When cool, crumble the bacon and set aside.
Reserve 2 tablespoons drippings in the skillet. Add onion, cover and cook over medium-low heat for 15 minutes, stirring occasionally. Uncover and cook over medium heat until caramelized, about 5 minutes.
Cook the broccoli in a small amount of lightly salted water for 3 minutes. Drain.
In a large bowl, combine eggs, milk, basil, salt and pepper. Stir in bread cubes, broccoli, caramelized onions, cheese and crumbled bacon. Transfer to a 2-quart baking dish, cover and chill for 2 hours.
Preheat oven to 325°F. Bake, covered, for 20 minutes. Uncover and bake an additional 20 – 30 minutes or until a knife inserted near the center comes out clean. Let stand 10 minutes before serving.
Can be made ahead and refrigerated for up to 24 hours. Bake per instructions above.
Recommended Tools