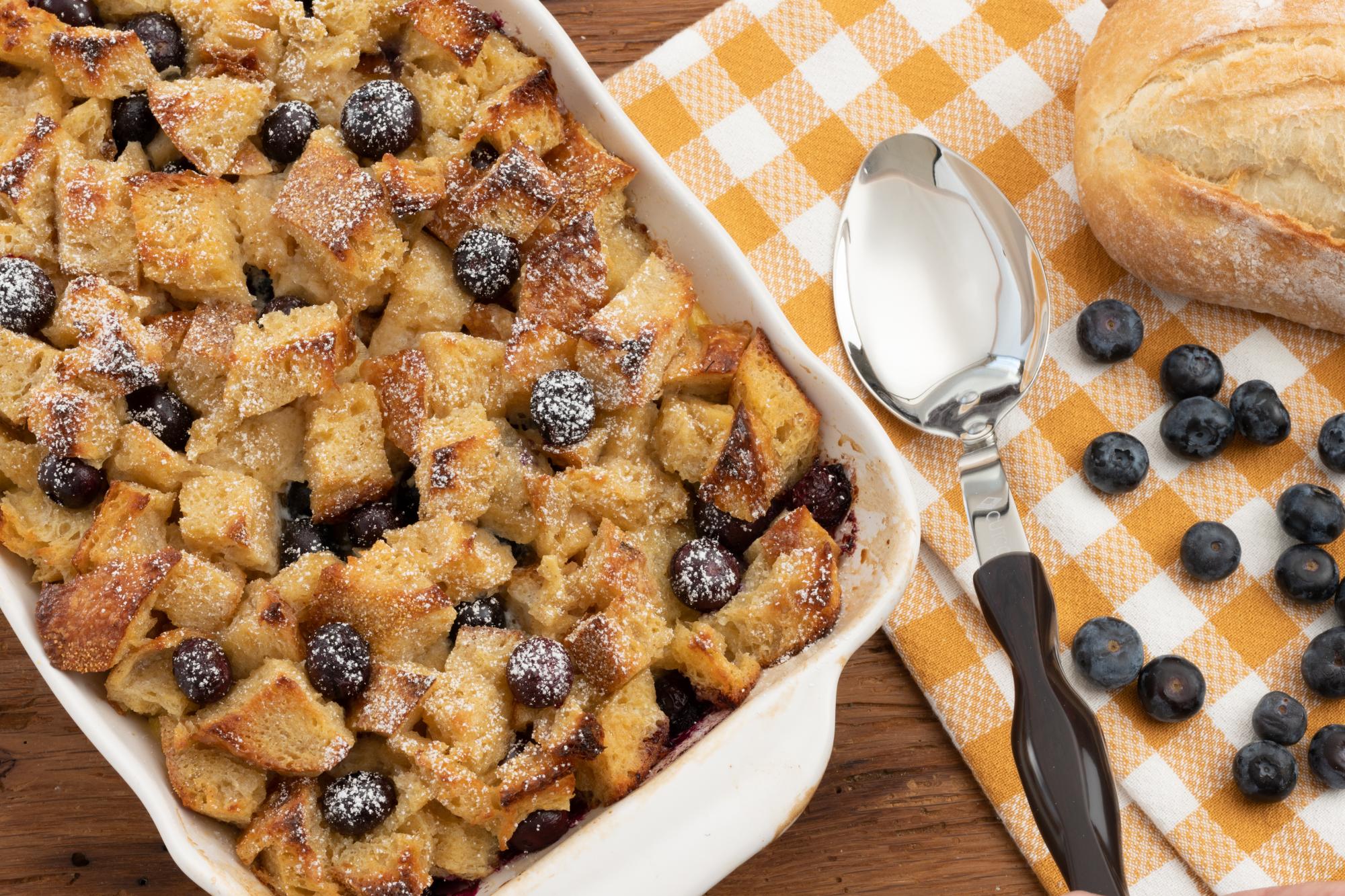 The weekends at our home are for sleeping in, having a yummy brunch and then getting to our to-do list.
I love having my children help in the kitchen with whatever they feel capable of and this Blueberry French Toast Casserole is perfect for their assistance. From ripping up or cutting the bread to cracking the eggs and placing the blueberries, they absolutely love when this dish is on the menu.
If you're cubing the bread with a knife, Cutco's 9-3/4" Slicer is amazing. This bread knife glides through it with little effort, but if the kiddos are doing the cutting, make sure to keep a close eye on them.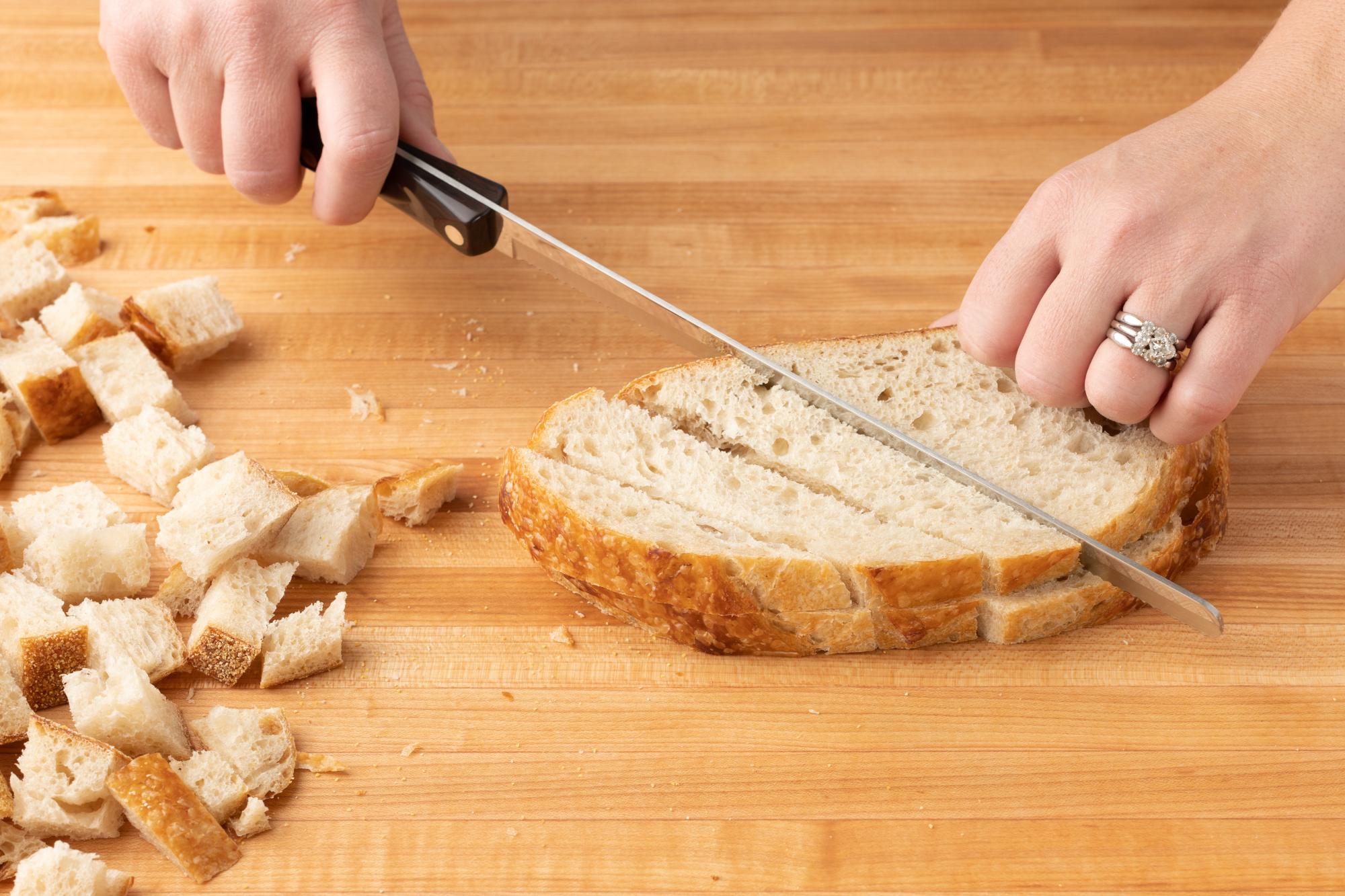 Jobs that are perfect for the kids are sprinkling the blueberries onto the bread and using a Vegetable Peeler to shave cold butter on the top of the casserole just before it goes into the oven.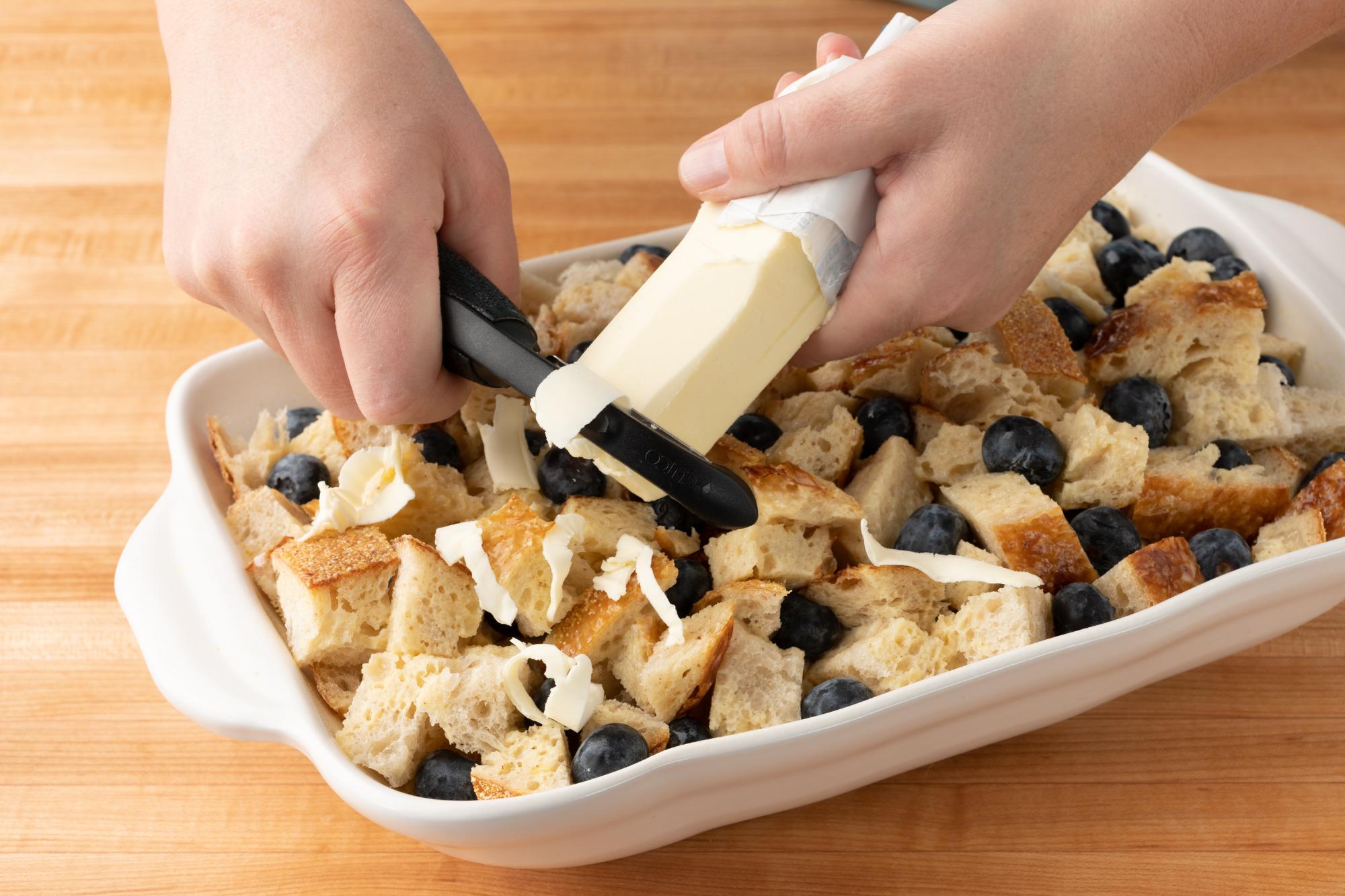 This recipe came about because of my love for flavored coffee creamers. Is there anyone else that could just sip on that stuff? Don't judge me, you know it's delicious! I add a splash of it into so much more than just the morning hot cup of coffee. I use it in homemade ice cream recipes, bread puddings, cobblers and even to make Italian sodas. Adding in extra flavor wherever I can is never a bad idea.
I also really love this recipe because it can use up bread that is turning stale or those leftover buns that are staring you down. I love the motto "waste not, want not," and this is a great example since I'm not throwing away old bread, I'm repurposing it.
It's very simple to assemble and then, just like that, your home will be smelling wonderful and you'll be diving into this tasty dish. For heaping helpings, use a Basting Spoon to scoop out portions to your guests.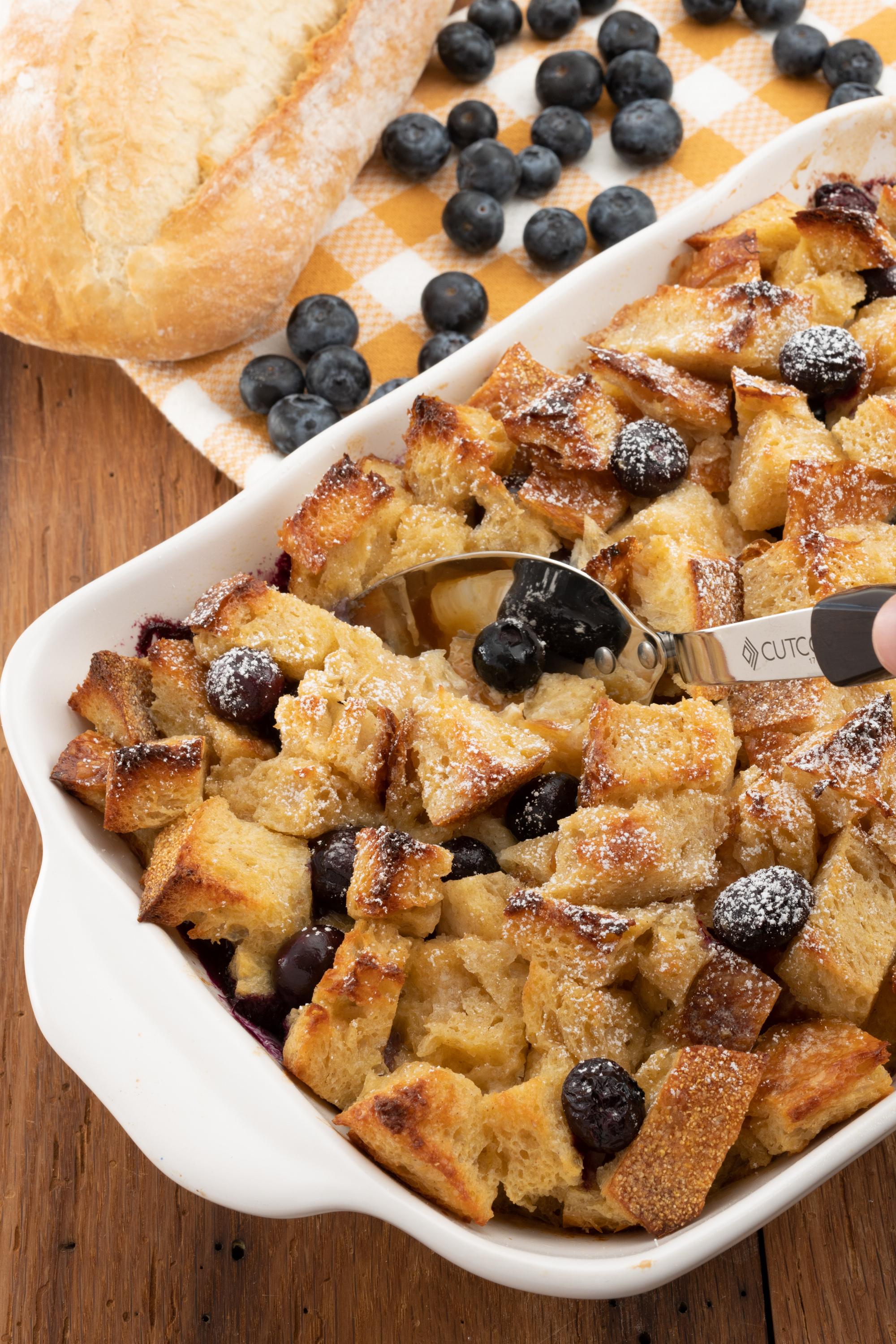 This Blueberry French Toast Casserole stores great in the fridge, if there are any leftovers. This also works great if you want to assemble it the night before and refrigerate it to bake the next morning.
Ingredients
1 (12-14 ounce) loaf of bread (stale bread is best)
1 cup fresh or frozen blueberries
8 large eggs
1 cup whole milk
1/2 teaspoon ground cinnamon (add in a little nutmeg as well)
1/2 cup packed light brown sugar
1 1/2 cup Southern butter pecan coffee creamer
1 tablespoon vanilla extract
1 stick of cold butter
Optional: extra blueberries or other berries, fresh fruit, maple syrup, whipped cream, or confectioners' sugar for topping
Directions
Heat oven to 350 F
Grease a 9-by-13-inch pan with butter or spray with nonstick cooking spray. Slice bread into about 1-inch cubes. Spread cubes into the prepared baking pan and top evenly with blueberries. Set aside.
Whisk the eggs, milk, cinnamon, brown sugar, creamer, and vanilla together until no brown sugar lumps remain. Pour over the bread.
Use a Vegetable Peeler to shave 1 stick of cold butter over the top of the casserole and sprinkle a little extra brown sugar on top to give it a nice topping. This is just a bonus thing to do, but I highly recommend it.
Bake for 45 minutes or until golden brown on top. Serve immediately with a drizzle of syrup, a dollop of whipped cream or as is. Easily serves 8
This recipe works really well in Dutch oven/cast iron in your pellet grill. I recommend preheating it to 375 F and once you've put the dish in, adjust the temperature to 350 F. Using a fruitwood or pecan would be my wood recommendation.
Recommended Tools