Winter Squash Polenta With Roasted Maitake Mushrooms
424 days ago
Skip to recipe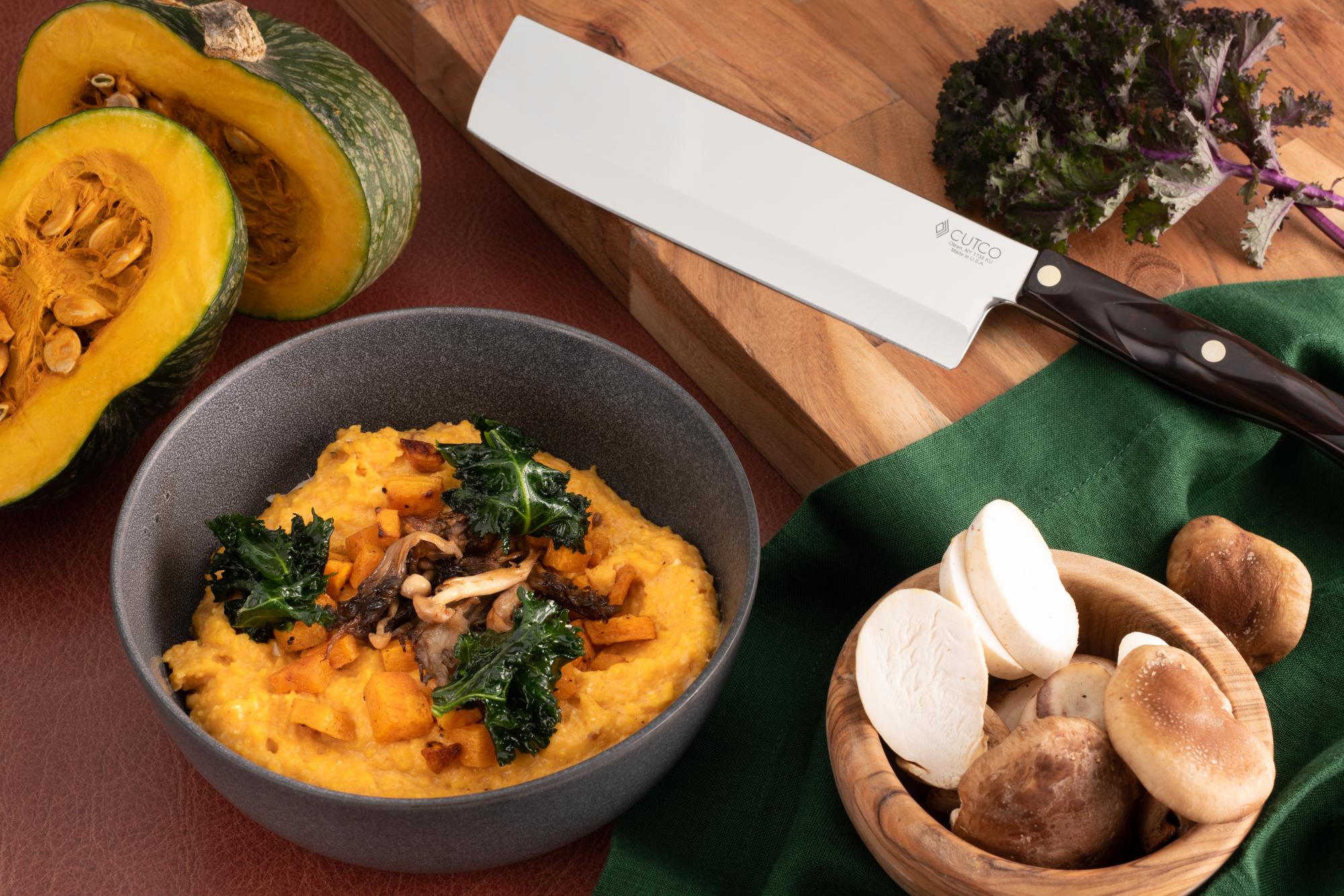 Cooking polenta with winter squash or pumpkin puree gives it a sweet/savory depth of flavor and richness, making it a seasonal celebration. One taste of Winter Squash Polenta With Roasted Maitake Mushrooms and you'll immediately think fall!
Making the Polenta
Maitakes (aka hen of the woods) are about as close to meat as mushrooms get, especially when crisp-roasted. Put them together with polenta and you have a delicious meatless course that resembles steak and risotto.
The mushrooms for this recipe are easy to prep. It's a matter of just separating the clusters and trimming the ends with a Cutco Trimmer before roasting them.
A hot tip for roasting the mushrooms to perfection is to place the sheet pan in the oven as it preheats. Then, toss the mushrooms on the pan to roast and hear them sizzle, already getting that caramelization going.
Shallots add a touch of sweet, sharp flavor to this dish. Quickly mince them with a 5" Petite Santoku knife.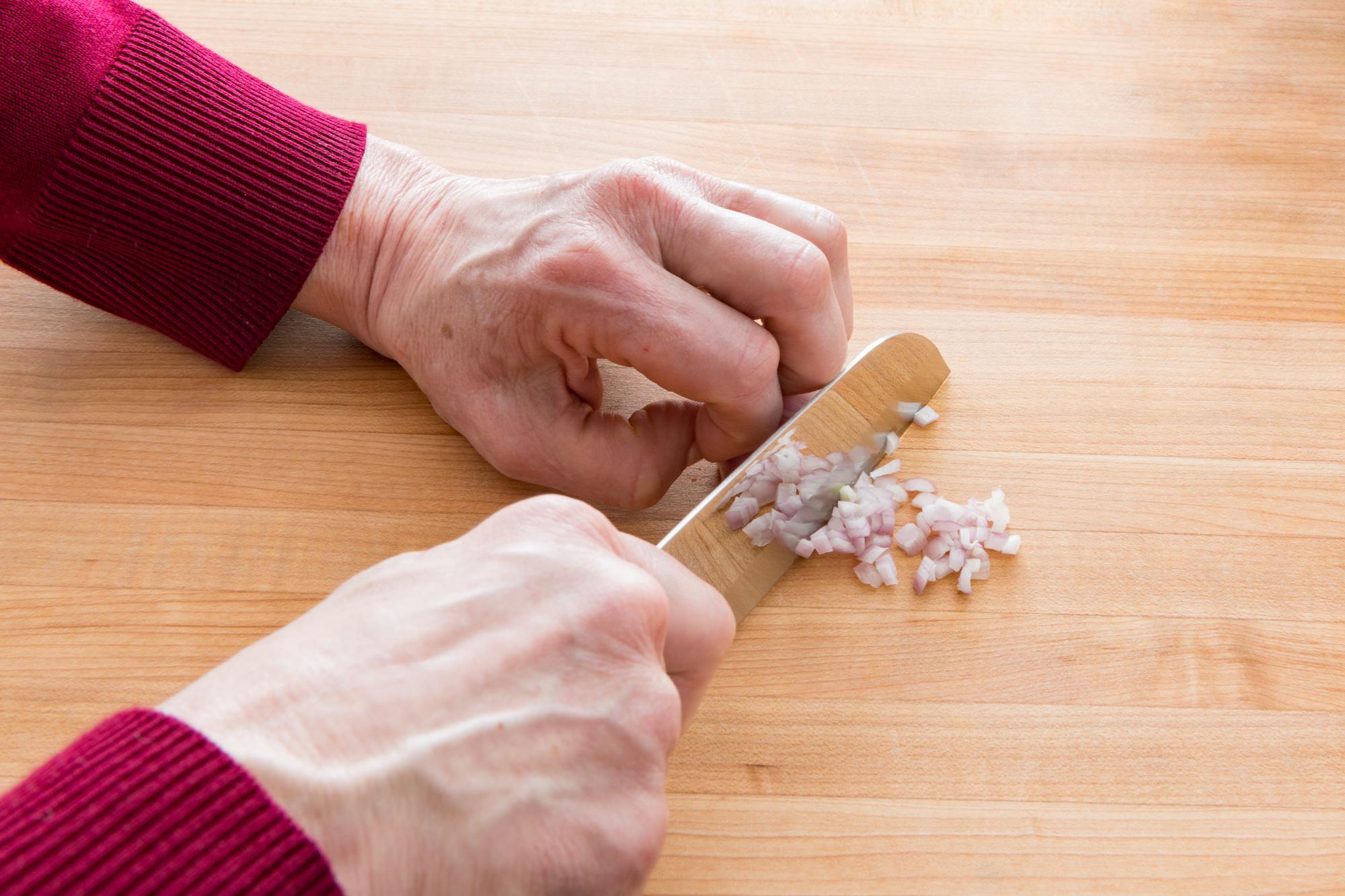 For tips on mincing shallots, Cutco has a handy step-by-step tutorial, if you would like to check it out.
Polenta is easy to make, but it does require whisking often in the first few minutes. The Mix-Stir is a great tool to incorporate the polenta with the liquid.
When done the polenta grains should be tender and have a creamy texture.
Polenta Variations
Butternut squash, kabocha, buttercup, acorn, pumpkin or any winter squash you find at your farmers market or produce section will do the trick. Some will give a bit more sweetness, some a more savory quality. You can make your own squash or pumpkin puree (see the recipe on Cutco's blog), but if time is somewhat pinched, use canned puree.
In addition, portobellos, creminis or shiitakes (or a combo) may be used in place of the maitakes.
Winter Squash Polenta With Roasted Maitake Mushrooms is delicious, nutritious and a powerhouse of superfoods with the mushrooms, squash and kale.
I often roast additional diced mushrooms and stir them into the polenta along with the squash and cheeses. You just can't have too many mushrooms.
Winter Squash Polenta With Roasted Maitake Mushrooms
Print Recipe
Ingredients
2 tablespoons extra-virgin olive oil, divided
2 shallots, minced
2 cloves fresh garlic, minced
2 teaspoons P.S. Flavor!™ Creole Kitchen, other creole seasoning or kosher salt and black pepper, to taste
32 ounces 1 or 2% milk
2 teaspoon adobo sauce, or favorite hot sauce
8 ounces coarse polenta or coarse ground grits
3/4 pound maitake mushrooms (or cremini, porcini, shiitakes)
2 tablespoons P.S. Flavor!™ Porcini Pepper, or kosher salt and ground black pepper, to taste
1 cup pumpkin or winter squash puree, see recipe
4 ounces goat cheese, crumbled
4 ounces Parmesan cheese, grated
Fresh herbs (sage, thyme, flat leaf parsley), chopped
Diced winter squash (butternut, kabocha, acron, buttercup) or pumpkin, see recipe
Kale, shredded and massaged
Directions
In a pot, heat 1 tablespoon of olive oil; add the minced shallots and sauté until translucent.
Add the garlic and Creole Kitchen and cook for 30 seconds. Add the milk and hot sauce; heat until just simmering, do not boil.
Stir in the polenta while whisking constantly, and continue to cook; stir with Mix-Stir, until mixture begins to thicken. Reduce heat to a low simmer, and cook, stirring occasionally until the polenta is creamy and soft, and it pulls away from the side of the pot.
While polenta is cooking, heat a half sheet pan in the oven to 350 F. Clean maitake mushrooms and trim stem ends. Divide clusters into 2 to 3 inch pieces. Toss with remaining 1 tablespoon of olive oil and Porcini Pepper and transfer to heated sheet pan. Roast about 15-20 minutes until golden and crispy.
When polenta is done, remove from heat and stir in the pumpkin or squash puree (see recipe), cheeses and fresh herbs. Season with additional Creole Kitchen or kosher salt and ground black pepper to taste.
Serve polenta immediately, topped with roasted maitake mushrooms, roasted diced squash (see recipe) or pumpkin, and shredded kale.
Recommended Tools