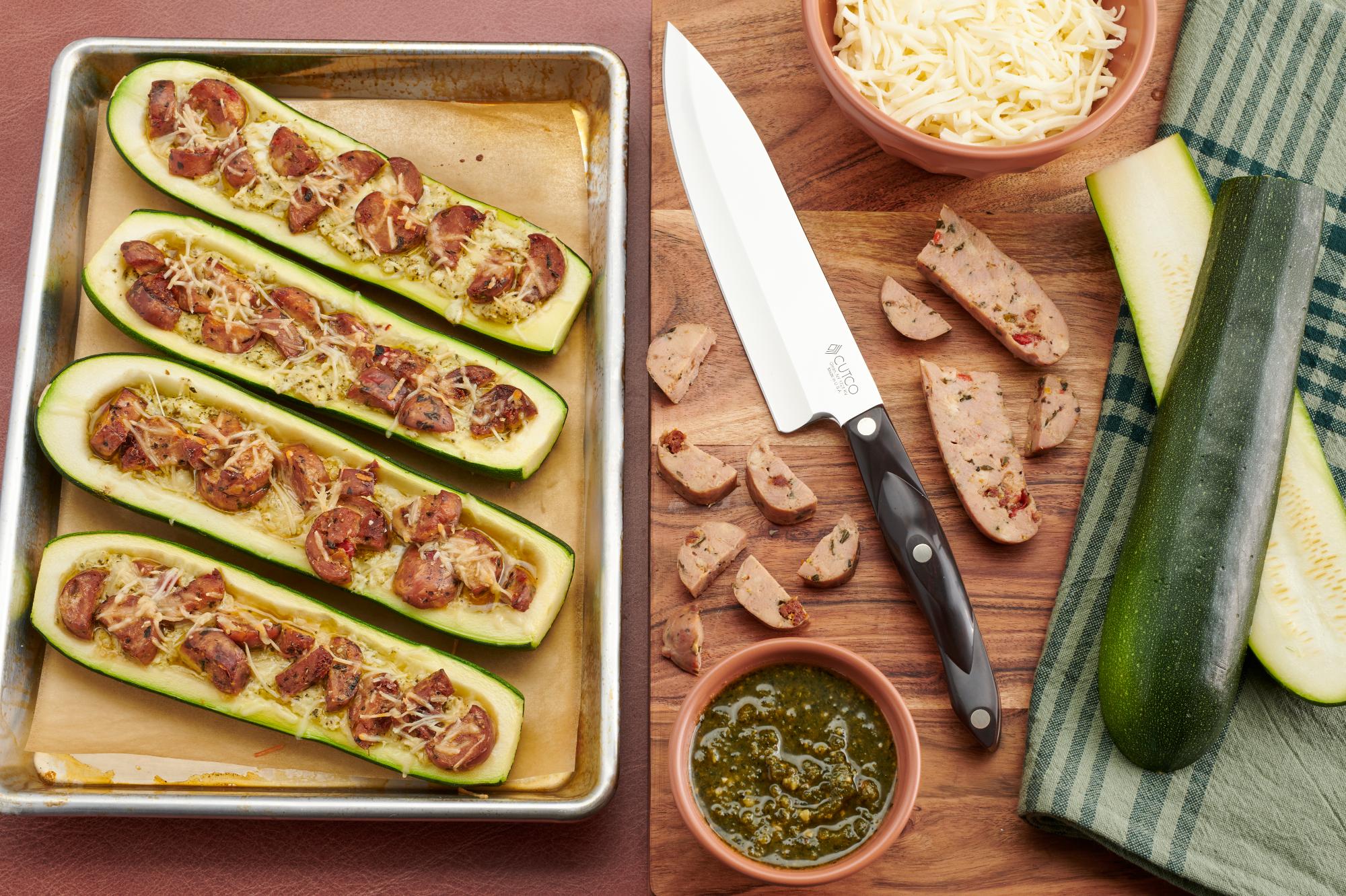 Zucchini is so abundant in summer. If you're not pulling two or three of them a day from your own garden, you're picking up a few for cheap at your local farmer's market. I love using them as a vessel for all of your favorite flavors, while also adding a pop of nutrition. These Pesto and Sausage Zucchini Boats are a prime example.
There is so much flavor in this recipe. The cheese, fresh pesto and spicy sausage all come together to make each bite more flavorful than the last.
Preparing the Zucchini Boats
To make the boats, slice the zucchini in half lengthwise, using a 9-1/4" French Chef knife.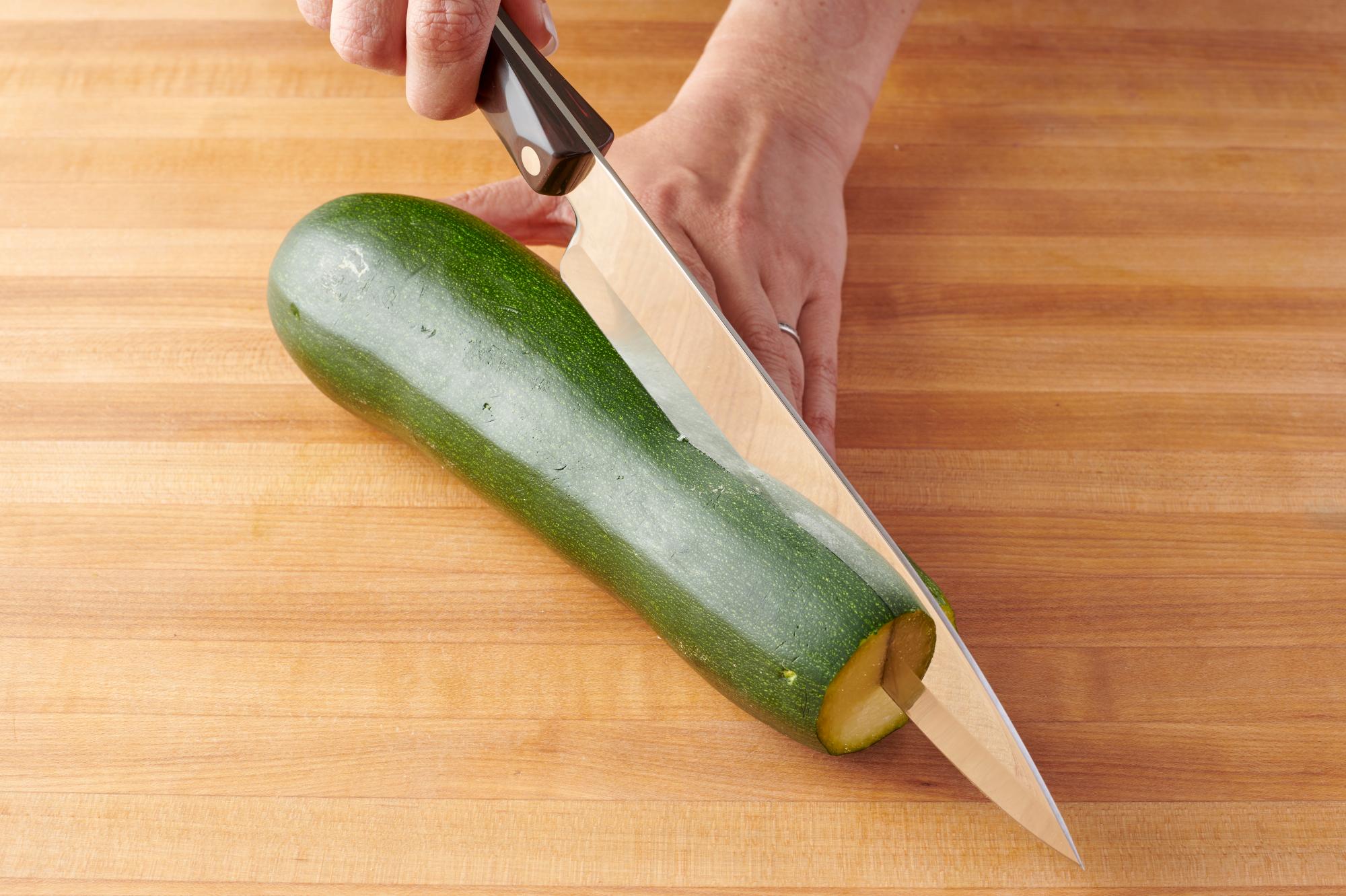 Use a Stainless Serving Spoon to scrape the seeds out from the center of each half. You may have to take a little of the flesh to make a deep enough boat for the stuffing.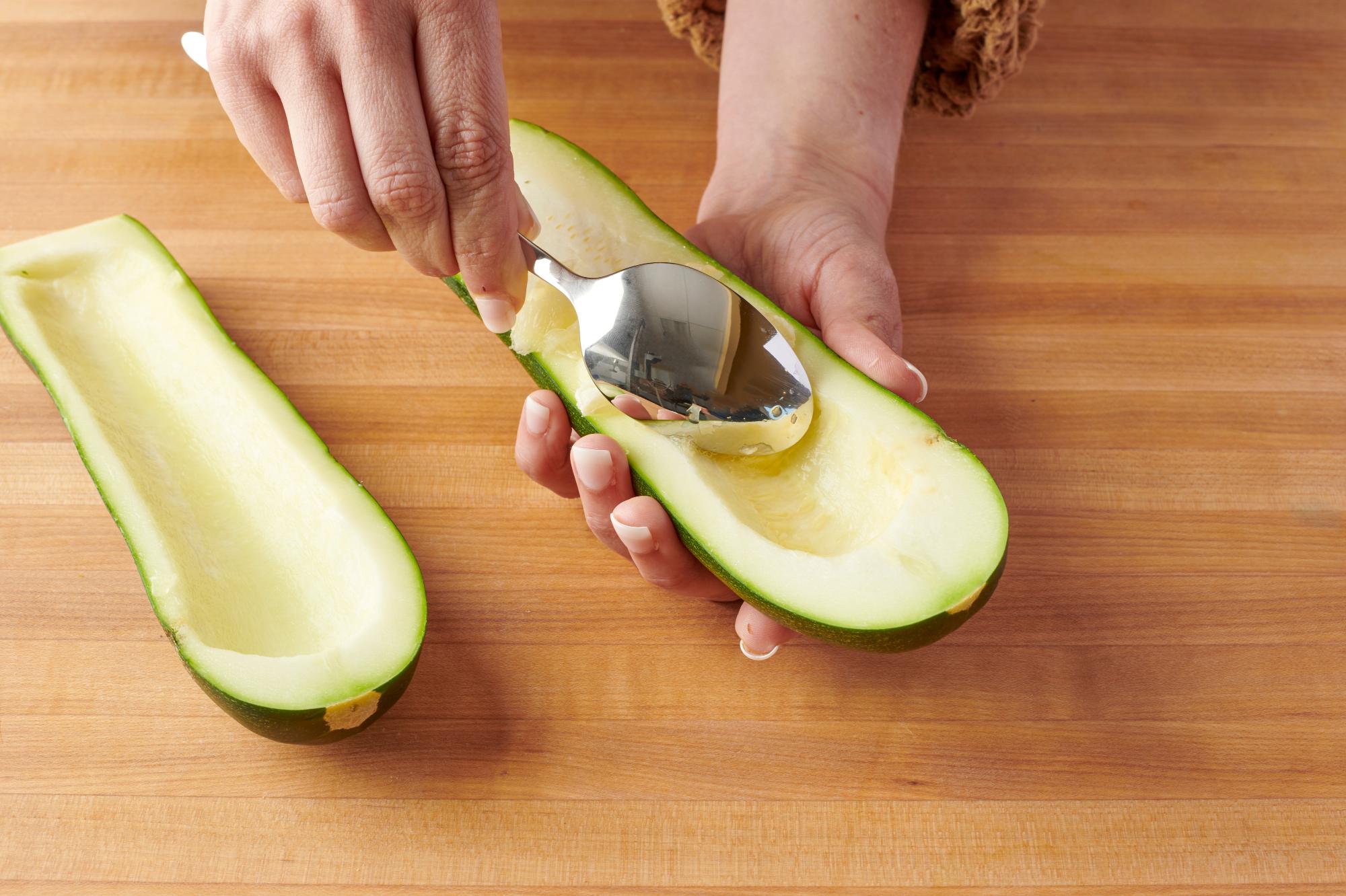 Once the cavities are all cleaned out, it's time to start layering in the rest of the ingredients. Start with the cream cheese, mozzarella and pesto mixture.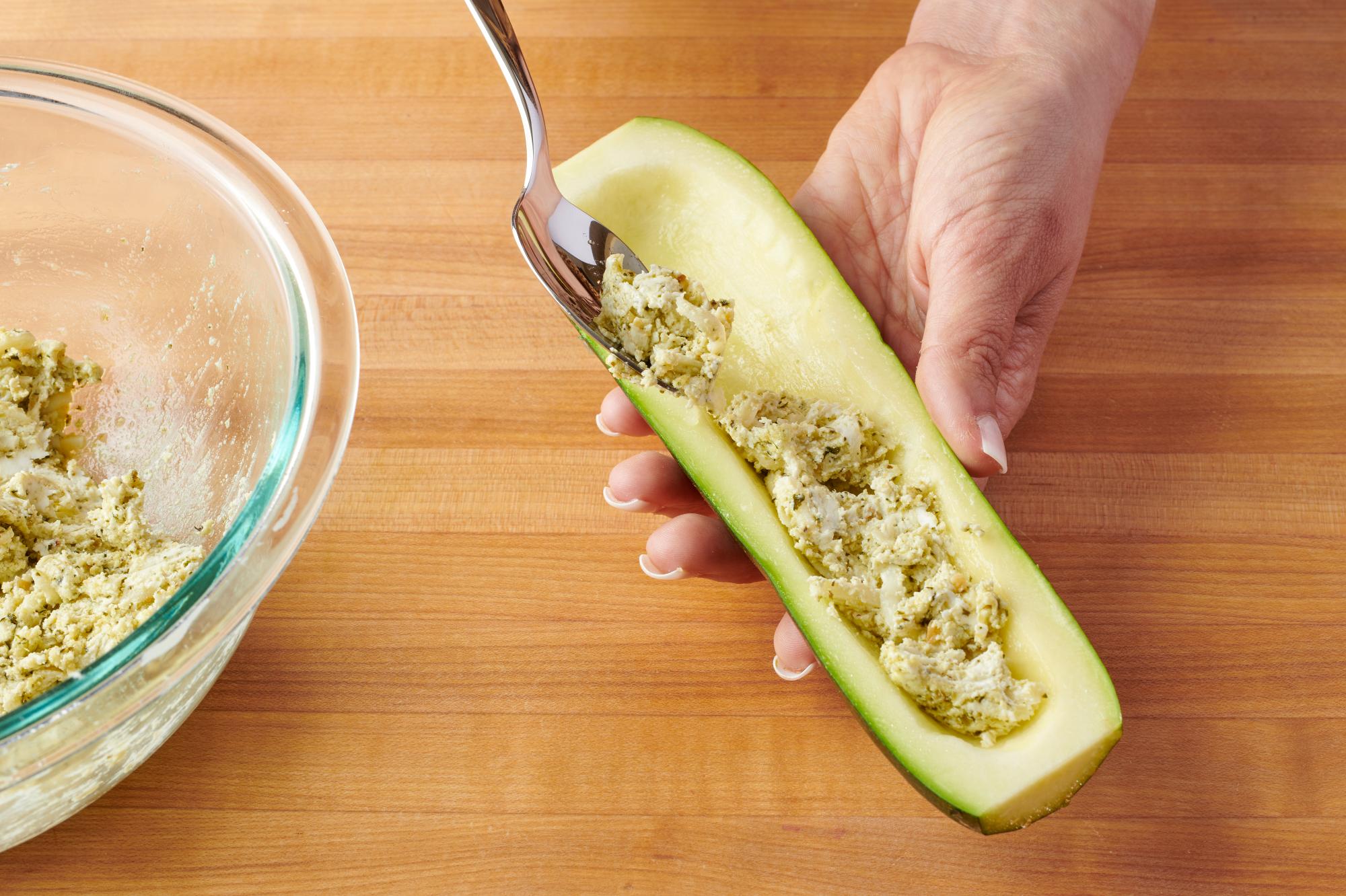 Follow that by layering on slices of Italian chicken sausage (or your sausage of choice).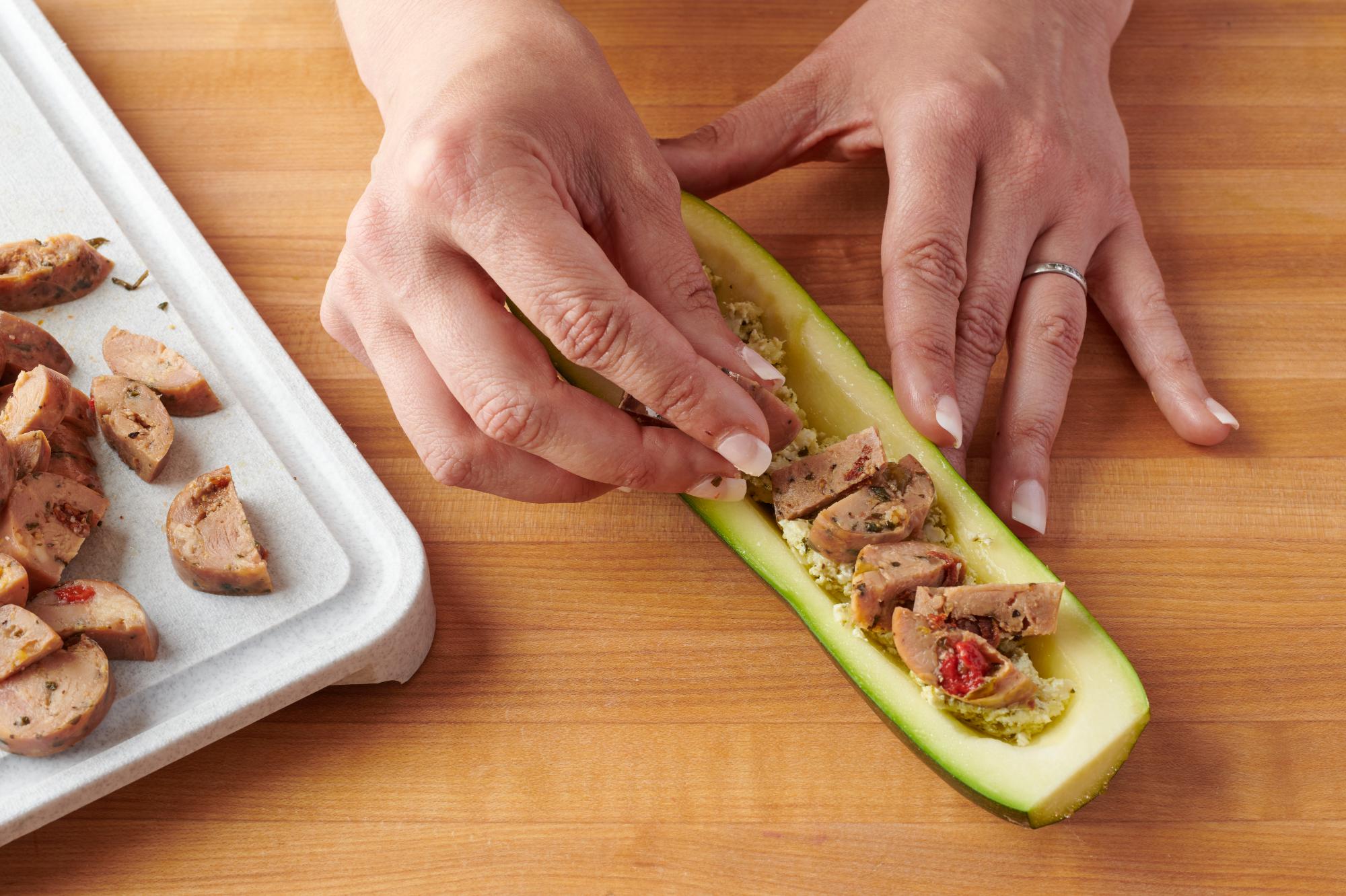 And that's it! How simple is that? All-in-all this recipe has just six ingredients.
To eat these, having a sharp Table Knife or Steak Knife on hand works best, as you'll want to be able to cut through the layers of sausage, cheese and zucchini for a complete bite.
I love how light these Pesto and Sausage Zucchini Boats are. They are the perfect option for a super-hot summer night when you want to eat something fresh and healthy.
Consider the Ingredients
Choosing chicken sausage gives you a great source of protein but not as much fat as a pork or beef sausage, and I always buy precooked sausage.
The recipe calls for jarred pesto, but take advantage of all the fresh summer herbs, and use homemade pesto as well.
These Pesto and Sausage Zucchini Boats are easy to make and easy to heat up for a quick meal on a busy summer night.
If you enjoy these, give Cutco's Ground Turkey Stuffed Zucchini Boats a try.
Nutrition (per serving): 285kcal, 21g total fat, 65mg cholesterol, 719mg sodium, 6.3g carbohydrate, 1.1g fiber, 18.2g protein
Ingredients
2 medium zucchini
4 ounces reduced fat cream cheese, softened
1/4 cup part skim mozzarella
2 tablespoons prepared pesto
2 precooked Italian chicken sausage links, chopped
2 tablespoons grated Parmesan cheese
Directions
Heat oven to 350 F.
Cut off ends of zucchini and cut in half lengthwise.
Using a spoon, take out the seeds of each half, leaving a little bit of the flesh, on each end to prevent the filling from running out.
In a small bowl, mix together softened cream cheese, mozzarella, and pesto until well combined.
Spread cheese mixture evenly into hollowed out zucchini.
Place chicken sausage on top of cheese mixture and sprinkle with Parmesan cheese.
Bake for 30-40 minutes or until zucchini is cooked and cheese is golden brown.
Recommended Tools