Kale, Butternut Squash and Couscous Salad With Vinaigrette
788 days ago
Skip to recipe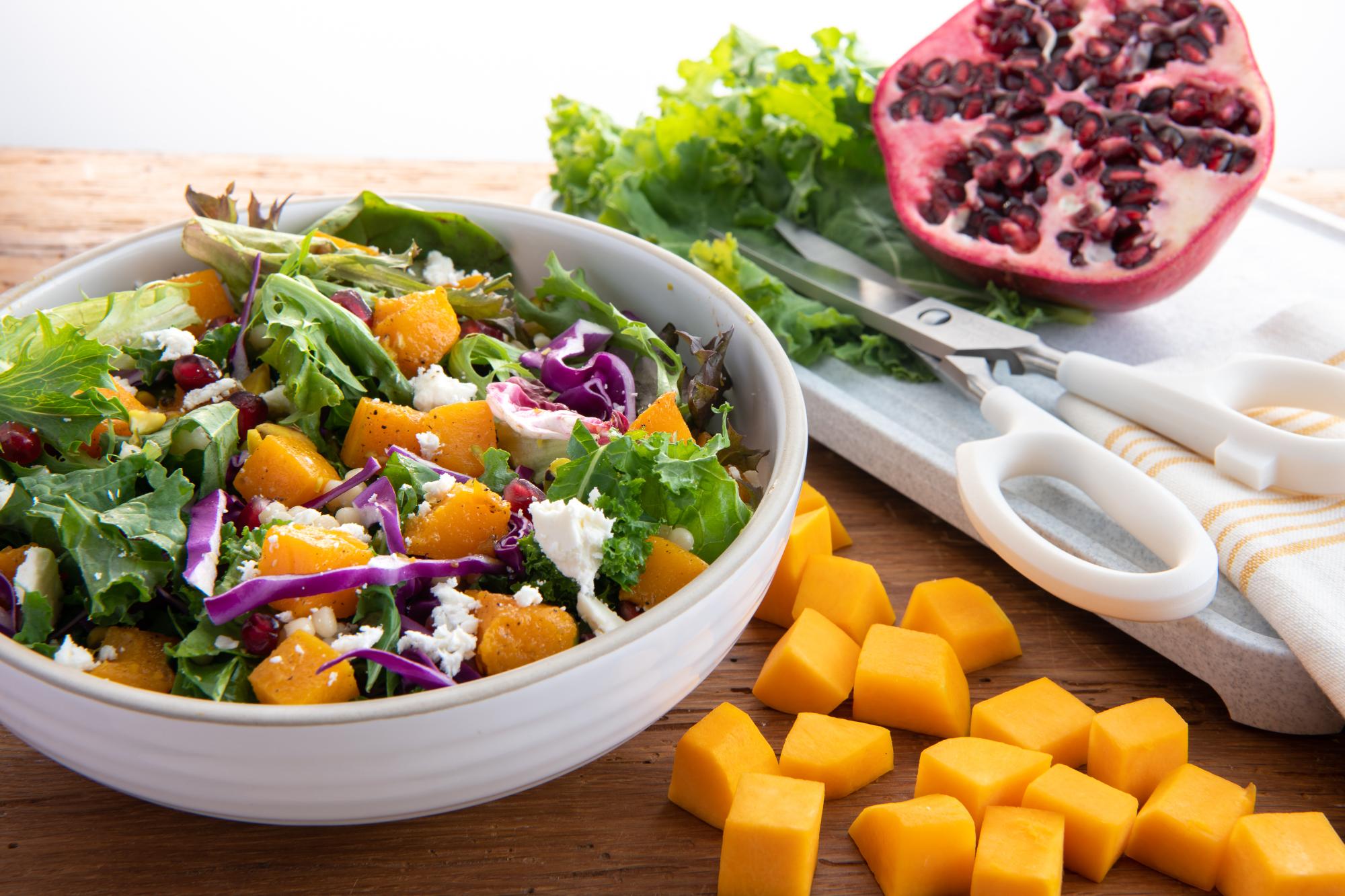 Kale is still a very popular ingredient these days, although I typically look for things to combine it with, so I'm not overwhelmed with the toughness of the leaves. That's probably why I tend to cook it or put it into my smoothies. However, it is a great ingredient for the base of a salad and when you combine it with roasted butternut squash – yum!
This Kale, Butternut Squash and Couscous Salad with Vinaigrette recipe is not only colorful, but also quite flavorful. The key to that flavor is roasting the butternut squash and adding some pistachios for additional crunch and feta cheese for creaminess. And, the pomegranate seeds add an additional pop of color.
To prepare the kale, I removed the tough stems with the Super Shears. I then shredded the kale, cutting the leaves into strips with the shears. Using them in this way assisted in breaking down the kale, so it wasn't as tough.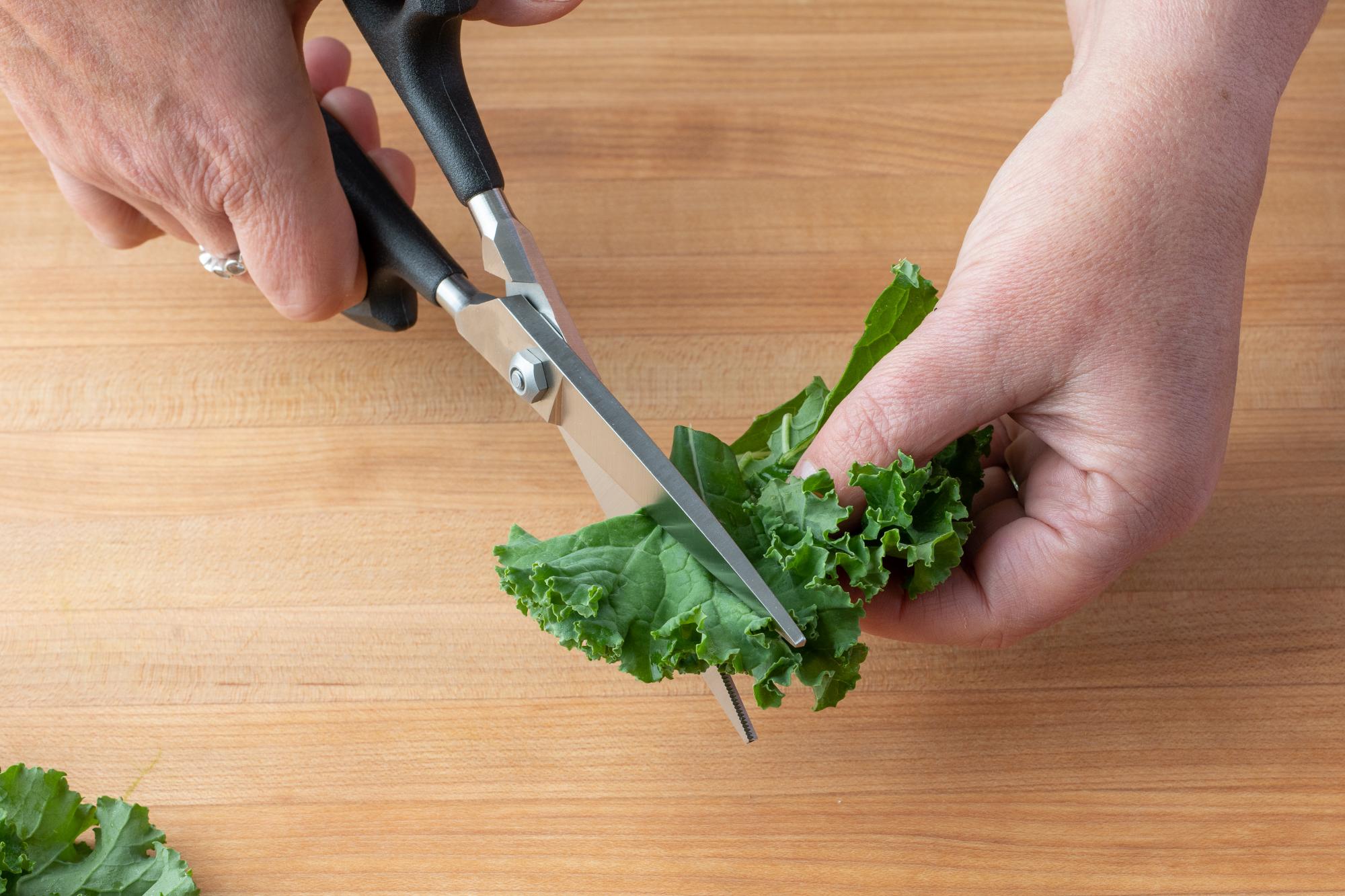 For the purple cabbage, I used the 7-3/4" Petite Slicer to cut thin strips, shredding this colorful cabbage. You could use green cabbage, but I liked the purple color this added to the finished dish.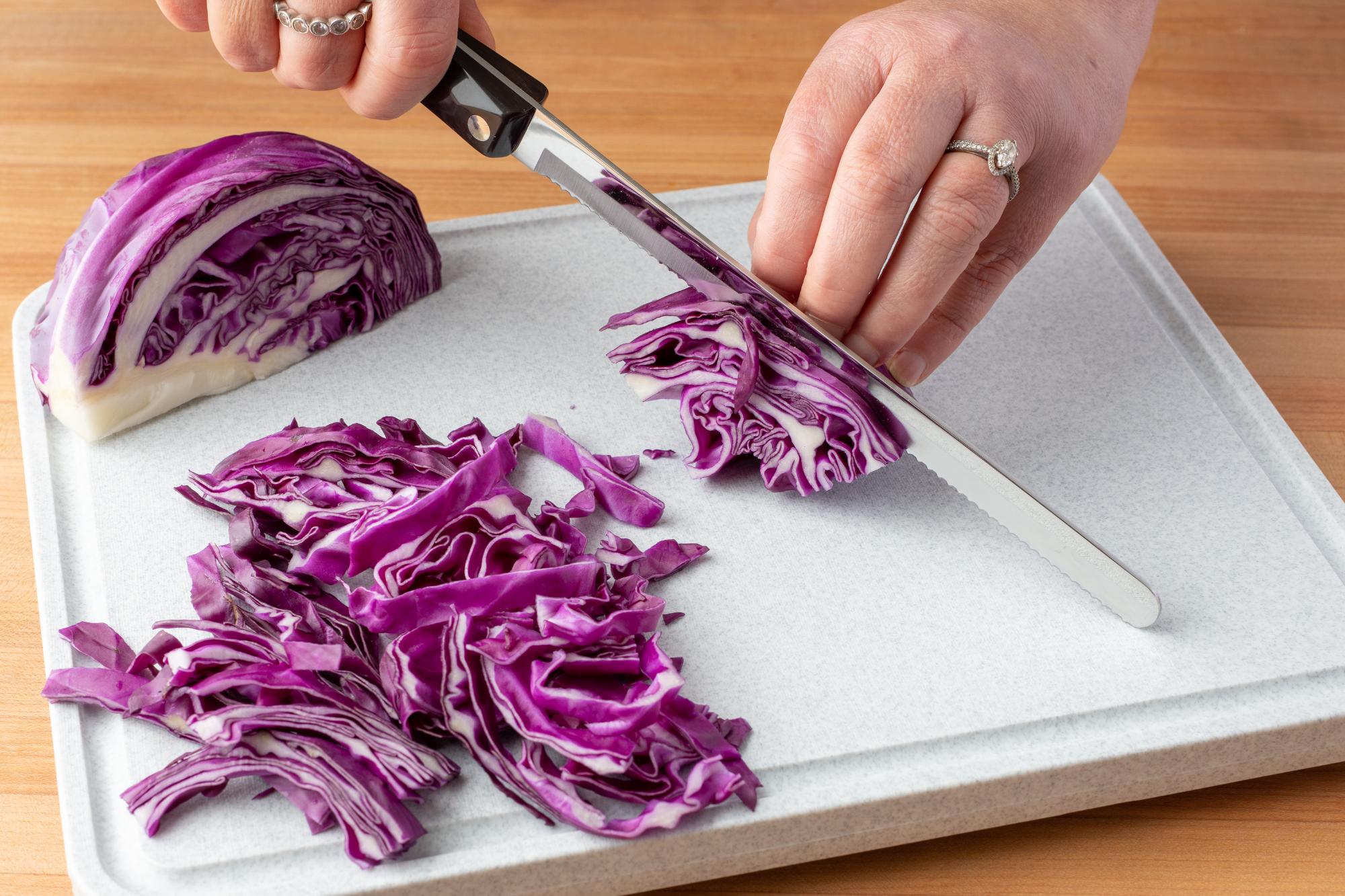 Preparing butternut squash can be tricky since it's such a hard squash with a tough skin. My recommendation is to prick the squash in several places with the tip of a knife and place it in the microwave for 3 to 5 minutes at 50 percent power to soften it. This makes dicing it much easier. Peel the squash once it is cooled and use a Vegetable Knife to cut slices, then batons and then dice it. For more tips on how to dice a butternut squash, check out our handy step-by-step tutorial. One tip that I do recommend for this recipe is roasting the diced squash. It adds a richness of flavor that you can't get by simply pan frying or microwaving.
I also recommend using the Israeli pearl couscous for this recipe. While you can use other forms of couscous, the Israeli variety offers a larger grain that stands up to the kale and butternut squash. It's easier to toss with the other ingredients and gives you a more uniform presentation.
Once you have all of your ingredients prepared and your vinaigrette made, toss all of the ingredients together. I do recommend putting in the butternut squash last and tossing that gently, so it doesn't break down. When everything is mixed together, drizzle some of the vinaigrette over the salad and mix all of the ingredients one more time.
This is another one of those salads that I really need to remember to make more often. Kale, Butternut Squash and Couscous Salad with Vinaigrette offers a wonderful combination of flavors and was a perfect accompaniment to the Crown Roast we prepared earlier. It's not your typical kale salad but it still has all of the benefits of using kale, not to mention a flavorful assortment of other good-for-you-ingredients. Another benefit of kale and purple cabbage is that this is a salad that makes for wonderful leftovers – not that you'll have any.
Ingredients
For the salad:
1 1/2 pounds butternut squash (peeled, seeded, and cut into 1/2-inch cubes, about 3-1/2 cups)
2 tablespoons extra-virgin olive oil
1/2 teaspoon kosher salt
Freshly ground black pepper, to taste
2 cups kale leaves, stems removed, shredded
1 cup purple cabbage, shredded
1 cup mixed spring greens
1 cup Israeli pearl couscous, cooked
1/4 cup pistachios, chopped
4 ounces feta cheese, crumbled
1/2 cup pomegranate seeds
For the vinaigrette:
2 tablespoons extra-virgin olive oil
1 teaspoon maple syrup
1 tablespoon balsamic vinegar
1/2 teaspoon Dijon mustard
1 teaspoon lemon juice
Pinch kosher salt
Freshly ground black pepper to taste.
Directions
Place a baking sheet on the middle rack of oven and heat oven to 425 F.
In a large bowl, toss the butternut squash with the olive oil, salt and black pepper.
Once the oven is preheated, take the baking sheet out and dump the butternut squash onto the pan in one layer.
Place the baking sheet back into the oven and roast for 20-25 minutes (tossing the squash halfway through), until the squash is fork tender. Remove from the oven.
Prepare the vinaigrette by placing all of the ingredients in a bowl and whisking until thoroughly combined. Set aside.
Mix together the kale, purple cabbage, spring greens and couscous. Add the butternut squash, pistachios and feta cheese and toss together.
Drizzle the vinaigrette over the salad and gently toss to combine.
Top with pomegranate seeds and serve.
Recommended Tools